FrSky 900MHz Mini Receiver – R9 Mini
FrSky released the smallest receiver for their 900Mhz Long Range System – R9 mini. With a size of 16*10mm and the weight of only 1.1g it is by far the smallest LRS receiver on the market.
This LRS receiver has SBUS output and 4CH PWM analog outputs, S.Port input for telemetry, Supports F.Port connection to the FC (with special firmware). Outputs RSSI on one of the channels, has redundancy function.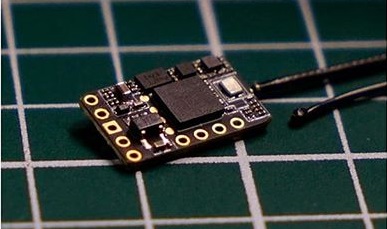 Update 2018-06-11:
"U.FL" antenna connector on the FrSky R9 mini is smaller than regular U.FL connector. Probably it is W.FL connector. More about the differencies on U.FL and W.FL connectors read here: https://www.digikey.com/en/ptm/h/hirose-electric/u_fl-and-w_fl-series-connectors
FPORT firmware can be found here: https://www.frsky-rc.com/r9-mini/
Special sale price is only $9.99
Available @HorusRC: https://www.horusrc.com/en/frsky-r9-mini-900mhz-receiver.html
SPECIFICATION
● Dimension: 16*10mm (L*W)
● Weight: 1.1g (including antenna)
● Numbers of channel:
EU Version: 4/8CH (Telemetry)
Non-EU Version: 4/16CH (No Telemetry) / 4/16CH (Telemetry)
● Operating Voltage Range: DC 3.5V – 10V
● Operating Range: Up to 10km or above
FEATURE
● 915MHz (Non-EU Version)/ 868MHz(EU Version)
● Mini size and superlight weight
● S.Port enabled and support telemetry data transmission
(Support F.Port, download firmware to support the function)
● Supports redundancy function
● Low latency and high precision
● With RSSI output in SBUS
● Detachable Ipex connector antenna (see notes about the size)
History:
Update 2018-06-11 – Notes about antenna W.FL connectors.