Helio RC Spring IMU-F Flight Controller with dual processors
A very interesting flight controller, called Spring IMU-F was released by HELIO RC. It is the first flight controller that includes two processors, F4 and F3 on the board. The first one (STM32F405) runs the main flight controller firmware while the most interesting one, second (STM32F301) is responsible for processing (or pre-processing) and filtering 32kHz gyro data to provide the purified 16kHz output for the main processor. This ensures that the main processor will be offloaded from the filtering and pre-processing tasks and leaving more spare time for running other functions. The firmware for IMU-F gyro pre-processor is propietary closed source, so it is unknown what exactly filtering algorithm it uses. Some rumors say that it is the same Kalman filter as in Butterflight.
Currently the board is supported by Butterflight firmware only. The firmware updates for IMU pre-processor can be applied right from the Butterflight Configurator.
Will this new breed of the Flight Controllers become new trend? Only time will tell. So far there are only positive responses. Anyway thumbs up fot those who are innovating.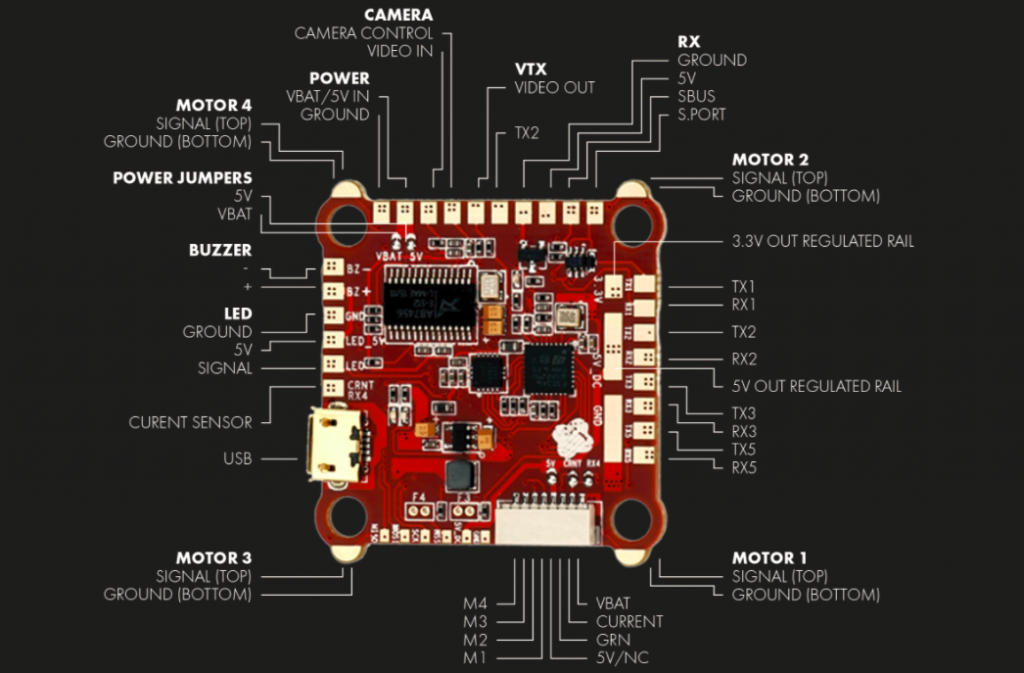 Specifications
Processors: F4 & F3, STM32F405 & STM32F301
IMU: ICM 20601
OSD: Full Butterflight OSD support
Motor Outputs: Full DSHOT and MULTISHOT support.
Receiver Support: PPM, S.Bus (inverter built-in), DSM, HoTT, SRXL, CSRF, FPort ready. 5V or 3.3V supply for receiver.
Telemetry Support: FrSKY Smart Port, FrSKY Sensor Hub, HoTT Telemetry, SRXL, CSRF, FPort ready. Built-in inverter for FrSKY telemetry.
Serial Ports: 5 full serial ports (UARTs). UART1 and UART2 have inverters for S.Bus and SmartPort telemetry.
Buzzer Port: Dedicated port for 5V buzzers.
Analog Inputs: Voltage sensing up to 26V, current and RSSI inputs (3.3V max).
Power: VBAT up to 6s with voltage regulator 2.5A continuous 3.2A burst. Or 5v in (switchable with jumper pads)