KingKong/LDARC TINY GT7 and GT8 2S brushless whoop
The craze for 2S power whoops is rising! LDARC (former KingKong) has announced TINY GT7 and TINY GT8 2S brushless whoops. They are the upgraded brushless versions of the Tiny7x and Tiny8x whoops.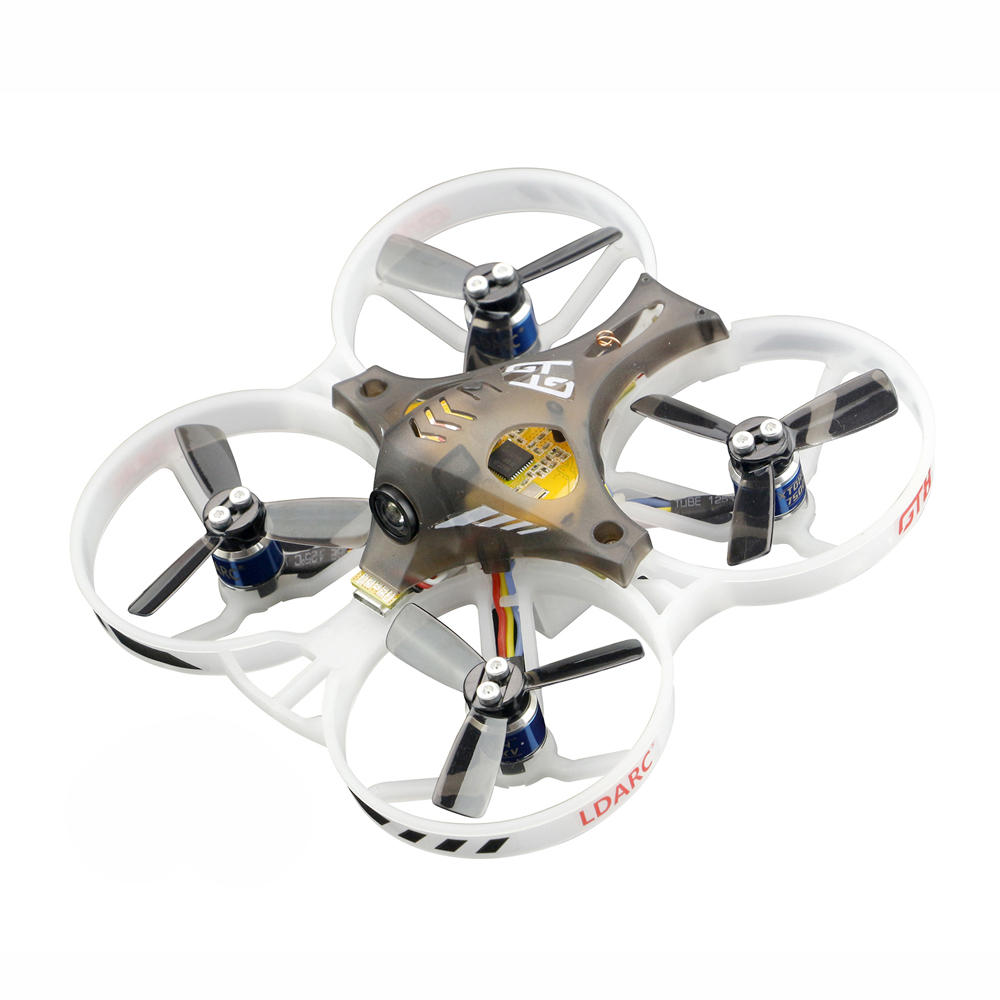 TINY GT7 has 75mm sized frame, new brushless XT0803 sized 9000KV motors and new 1535 propellers, while TINY GT8 has 87mm sied frame, new XT0804 7500KV brushless motors and also new 1935 propellers.
There are already debates on the realtive low KV ratings of these motors.
TINT GT7 weighs 40.5 grams without battery and receiver. The TINY GT8 weights 47.8 grams without battery and receiver.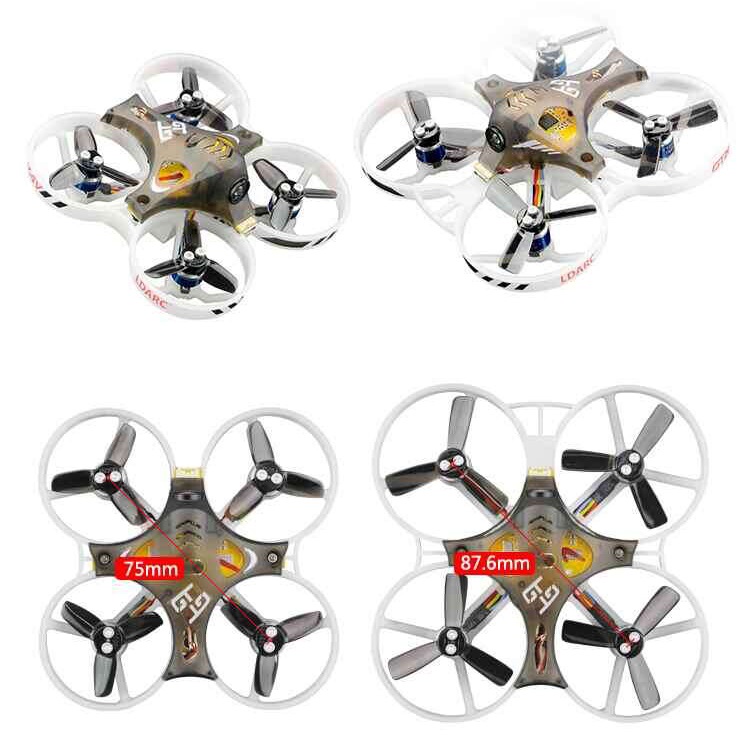 The heart of these brushless whoops is SPRacing F3 based flight controller with 10A ESC's.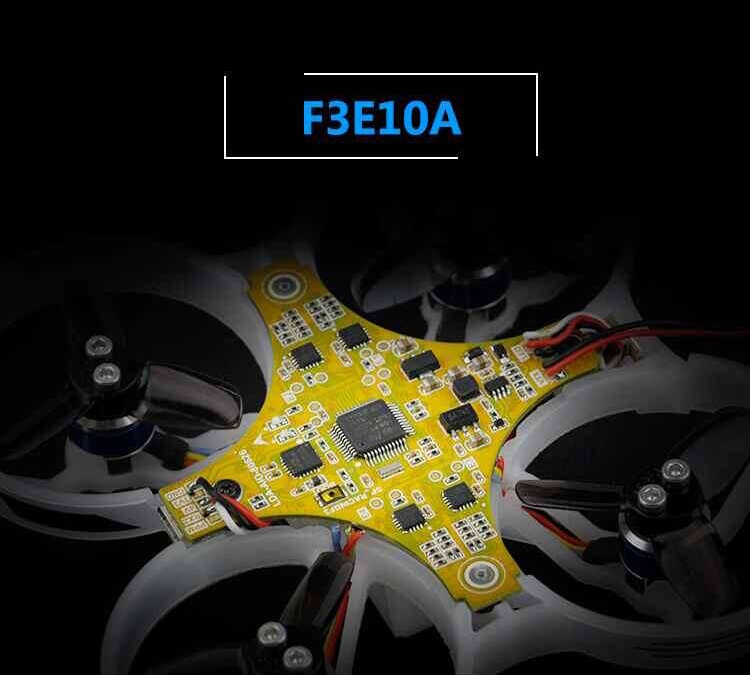 The 0804 motors have all ball bearings, while 0803 motors have one ball bearing and one copper sleeve bearing.

Unfortunately there is no Betaflight OSD on the main board, so KingKong/LDARC decided to add the custom OSD to the VTX board.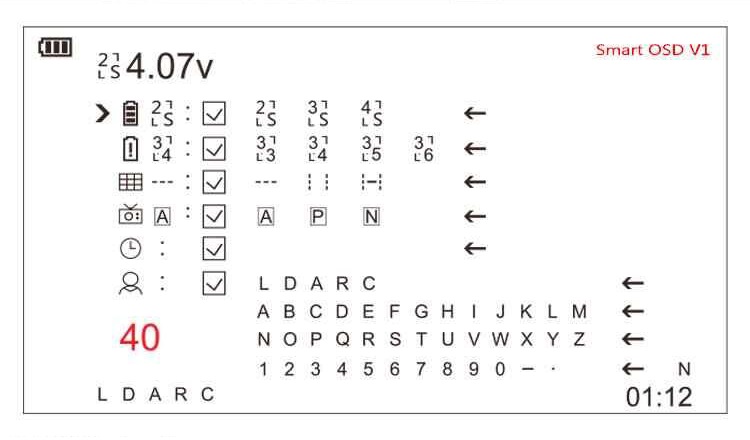 Camera is the same OV231 camera from the ET series big whoops with a dissapointingly small angle of 10 percent.

Links
LDARC TINY GT7 and GT8 User Manual: http://bit.ly/King-Kong-LDARC-TINY-GT7-GT8-User-Manual
TINY GT7 available @ https://www.banggood.com/LDARC-TINY-GT7-75mm-FPV-Racing-Drone-Betaflight-F3-10A-Blheli_S-ESC-800TVL-Cam-5_8G-25mW-VTX-2S-p-1362256.html
TINY GT8 available @ https://www.banggood.com/LDARC-TINY-GT8-87_6mm-FPV-Racing-Drone-Betaflight-F3-10A-Blheli_S-ESC-800TVL-Cam-5_8G-25mW-VTX-2S-p-1362251.html
Specification TINY GT7:
Brand name: LDARC
Item name: TINY GT7 75mm FPV Racing Drone
Frame wheelbase: 75mm
Motor: XT0803-9000KV
Propeller: 1535
Flight Controll+ESC: Betaflight SPRCINGF3 + 4 in 1 10A Blheli_S ESC
Receiver: RX2A PRO(Flysky), DSM2(Spektrum), D16(Frsky Non-EU)
Camera: OV231(800TVL 150 degreee NTSC)
VTX: Q25 OSD (25mW 16CH Smart OSD V1)
Input Voltage: Only 2S
Battery: 7.4V 380mAh 50C
Weight: 40.5g (no receiver and battery)
Package weight: 455g
Package size: 214*184*90mm
Package Included:
PNP Version
1 x TINY GT7 FPV Racing Drone
1 x 7.4V 380mAh 50C
1 x XH2.54 & JST transfer cable
4 x CW 1535 propeller ( color random.)
4 x CCW 1535 propeller ( color random.)
1 x Screw set
1 x User Manual
1 x Sticker
BNF Version
1 x TINY GT7 FPV Racing Drone
1 x Receiver (optional)
1 x 7.4V 380mAh 50C
1 x XH2.54 & JST transfer cable
4 x CW 1535 propeller ( color random.)
4 x CCW 1535 propeller ( color random.)
1 x Screw set
1 x User Manual
1 x Sticker
Specification:
Brand name: LDARC
Item name: TINY GT8 87.6mm FPV Racing Drone
Frame wheelbase: 87.6mm
Motor: XT0804-7500KV
Propeller: 1935
Flight Controll+ESC: Betaflight SPRCINGF3 + 4 in 1 10A Blheli_S ESC
Receiver: RX2A PRO(Flysky), DSM2(Spektrum), D16(Frsky Non-EU)
Camera: OV231(800TVL 150 degreee NTSC)
VTX: Q25 OSD (25mW 16CH Smart OSD V1)
Input Voltage: Only 2S
Battery: 7.4V 380mAh 50C
Weight: 47.8g (no receiver and battery)
Package weight: 451.4g
Package size: 214*184*90mmPackage Included:PNP Version
1 x TINY GT8 FPV Racing Drone
1 x 7.4V 380mAh 50C
1 x XH2.54 & JST transfer cable
4 x CW 1935 propeller ( color will be sent in random.)
4 x CCW 1935 propeller ( color will be sent in random.)
1 x Screw set
1 x User Manual
1 x Sticker
BNF Version
1 x TINY GT8 FPV Racing Drone
1 x Receiver (optional)
1 x 7.4V 380mAh 50C
1 x XH2.54 & JST transfer cable
4 x CW 1935 propeller ( color random.)
4 x CCW 1935 propeller ( color random.)
1 x Screw set
1 x User Manual
1 x Sticker