Rumors: Eachine EV100 – NEW 5.8G FPV Goggles
Eachine will release Fatshark type goggles soon. Rumors say it will be released in late august. We can only say by the supplied pictures that these goggles will be available in three colors, will have built in diversity 5.8GHz receiver, external battery and possibly a fan on the top side of the goggles. There is no more data available yet. This could be a true FatShark killer if the resolution is at least 640×480, FOV is decent and it DVR is present inside these goggles. Time will tell and we will update the information once it will be available.
Edit (2017-08-08): Specifications became available: It will have 720×520 resolution, FOV of 28°, no divesity receiver, but one receiver and double antenna, no internal DVR, but AV out for optional external recorder. Goggles will have external 7.4V 1000mAh battery.
Estimated price is very affordable – only $99 USD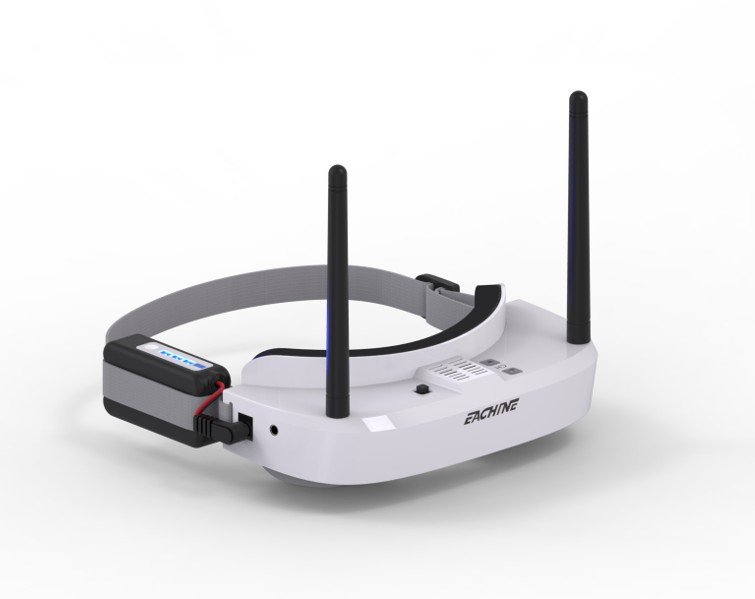 Update (2017-07-28): It turs out that Eachine Goggles will have adjustable IPD and sliders for adjustable focus: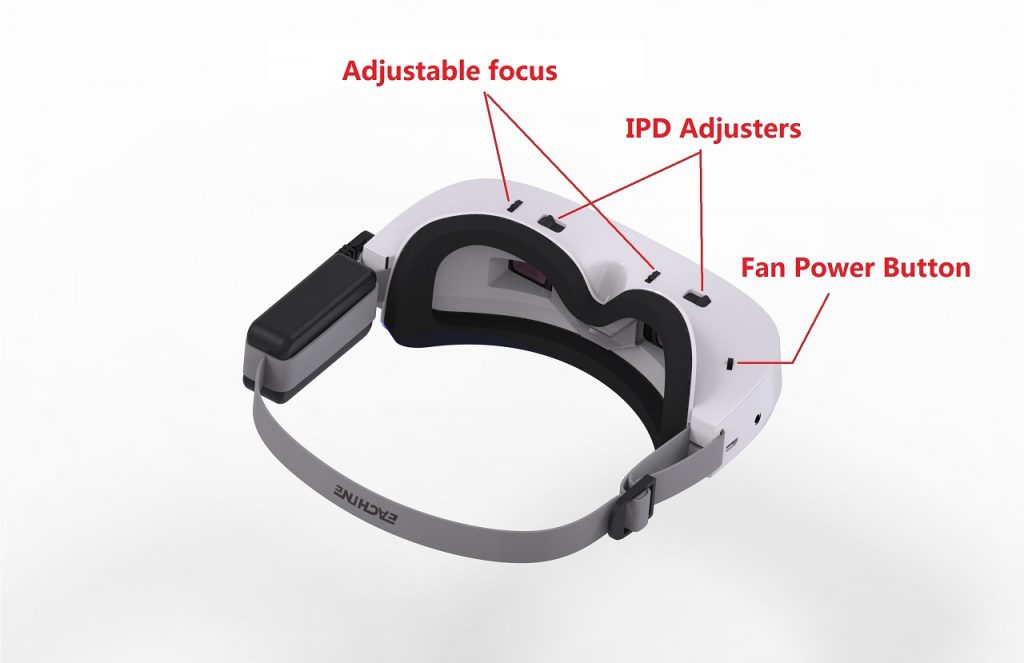 Update (2017-07-31): External power input, audio/video in, Audio/video/DVR out. This probably means that there will be no internal DVR: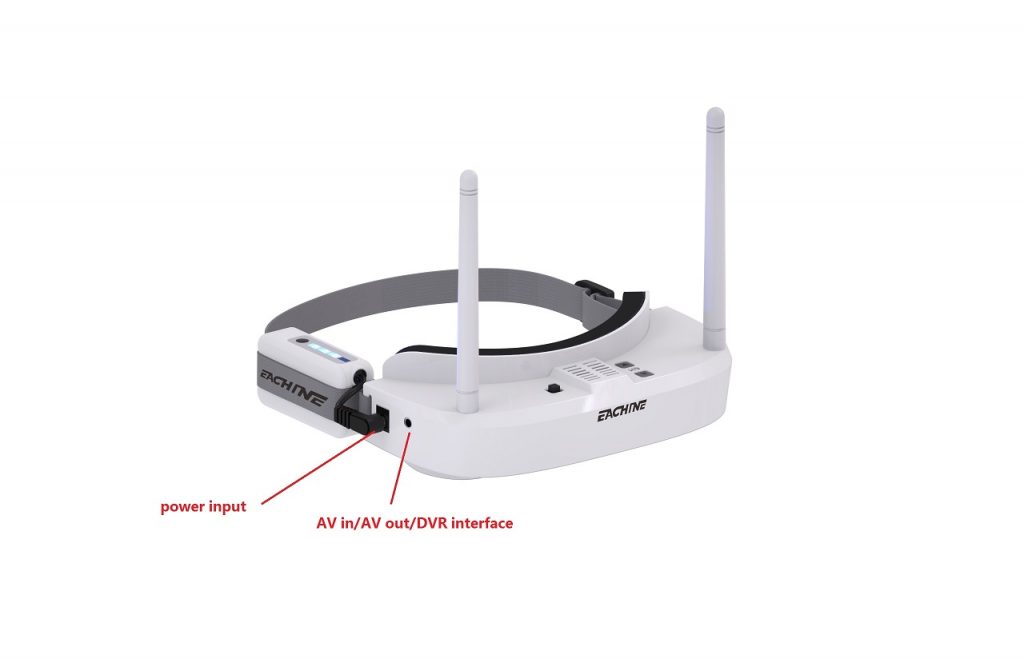 LCD screen settings menu button (joystick) for brightness, contrast and other adjustments, fan and manual channel setting buttons: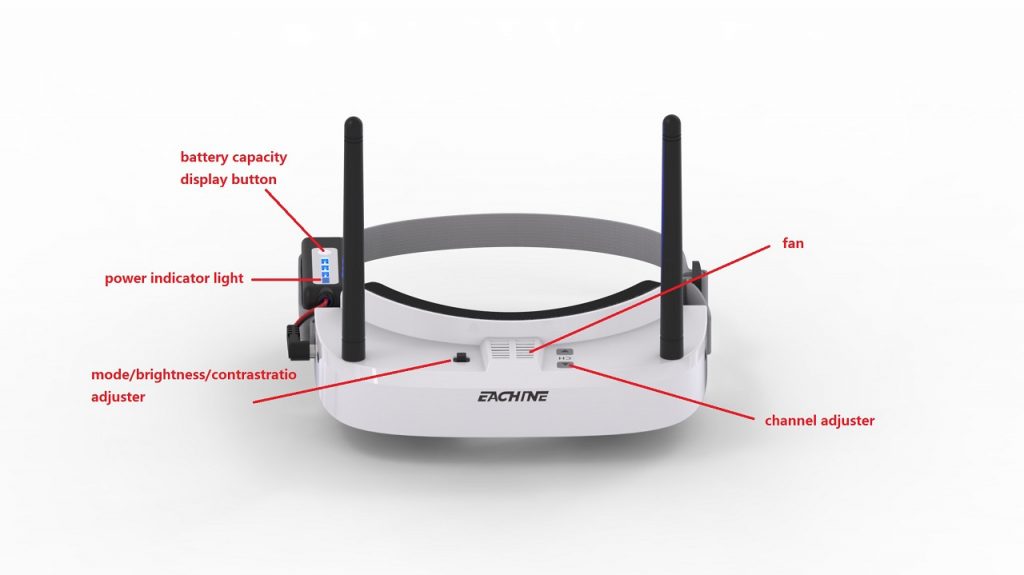 Earphone and USB connectors. There is no information what USB will be used for: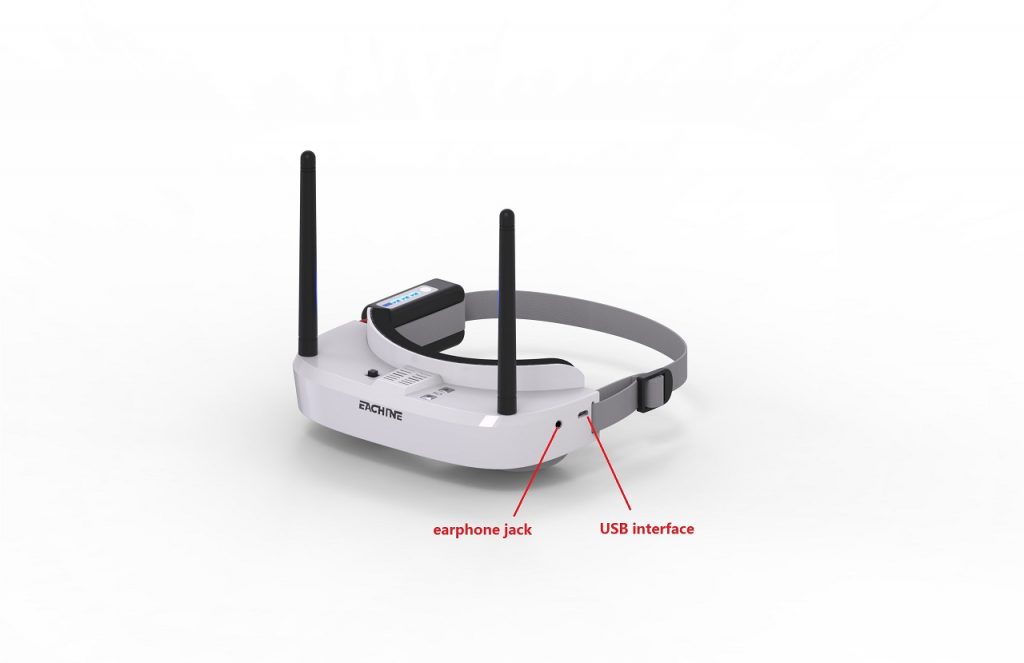 Other rendering pictures:
Display
Resolution  : 720*540
FOV : 28° diagonal
IPD : 58-64mm
Focal length adjusting:  under 400 degree of myopia
Specification
Frequency : 5.8G 5333Mhz-5945Mhz
Sensitivity : <=-93dB
Antenna Impedance : 50Ω
Antenna Gain : 3dBi
Antenna Connector : RP-SMA
Video Formate : NTSC/PAL
Support AV IN/OUT
Support Focal Length/Brightness/Contrast Adjustment
Suport Firmware Upgrading
Power Input : 7.4V
Low Voltage : 6.8V
Battery : 2S 7.4V 1000mAh
Charging : USB Cable(not included)
Working Temp. : -10℃-+40℃
Features 
Support AV Input and Output
Support External HDMI to AV Module
Support External DVR module
Single receiver with Dual Antennas, enhance the reception and stable performance.
With Fan, can defog the glasses for good visual experience.
Adjustable focal length,allows pilots under 400 degree myopia view directly via naked eye
Adjustable IPD 58~64mm
Auto Search function, can auto search all frequencies and select the channel of stongest signal.
Has 3 Racing Modes : 4/6/8 pilots. 60-80MHz interval between adjacent channels greatly decrease interference.
Has Debug Mode, requires a corresponding VTX which support pitmode and extra frequency 5300MHz
Package Included 
1 x EV100 5.8G 72CH FPV Goggles
1 x 7.4V 1000mAh Battery
2 x RP-SMA 3dBi Antenna
1 x User Manual
Listed @ Banggood: https://www.banggood.com/Eachine-EV100-720540-5_8G-72CH-FPV-Goggles-With-Dual-Antennas-Fan-7_4V-1000mAh-Battery-p-1182469.html