Top 5 best cheap flight controllers
What is best inexpensive quadcopter flight controller that we can get with tight budget? This is the question we will try to answer. We will suggest top 5 flight controllers for your multirotors that will not empty your wallet. If you have any suggestions then don't hesitate to write a comment.
The best budget flight controller so far is:
Price ~ $19.00
It has everything you will need from flight controller. MPU6000 gyro working in SPI mode, BMP280 barometer, current sensor, OSD with Betaflight GUI, SD card for black box logging, 5V BEC.
https://www.banggood.com/FLIP32-F4-OMNIBUS-V2-PRO-Controller-Board-Kit-Built-In-OSD-Module-Current-Sensor-p-1221793.html
Price – $20.99
This flight controller is clearly "inspired" by DYS F4 Pro FC. The biggest difference is the price – it is almost twice cheaper. Has MPU6000 gyro working in SPI mode, current sensor, OSD with Betaflight GUI, SD card for black box logging, 5V BEC, supports 2-6S Lipo input. Comes with the rubber grommets for soft mounting.
https://www.banggood.com/9_4g-30_5x30_5mm-Omnibus-F4-Flight-Controller-AIO-OSD-5V-BEC-and-Current-Sensor-p-1226610.html
Price – $24.00
This is the cheapest F7 flight controller. It comes in two options – Acro and Deluxe. Acro has only one ICM20689 gyro and lacks the barometer and black box flash chip.
https://www.banggood.com/JHEMCU-30_5x30_5mm-Dual-Gyro-F7-Flight-Controller-AIO-OSD-5V-8V-BEC-Black-Box-for-RC-Drone-FPV-Racing-p-1460428.html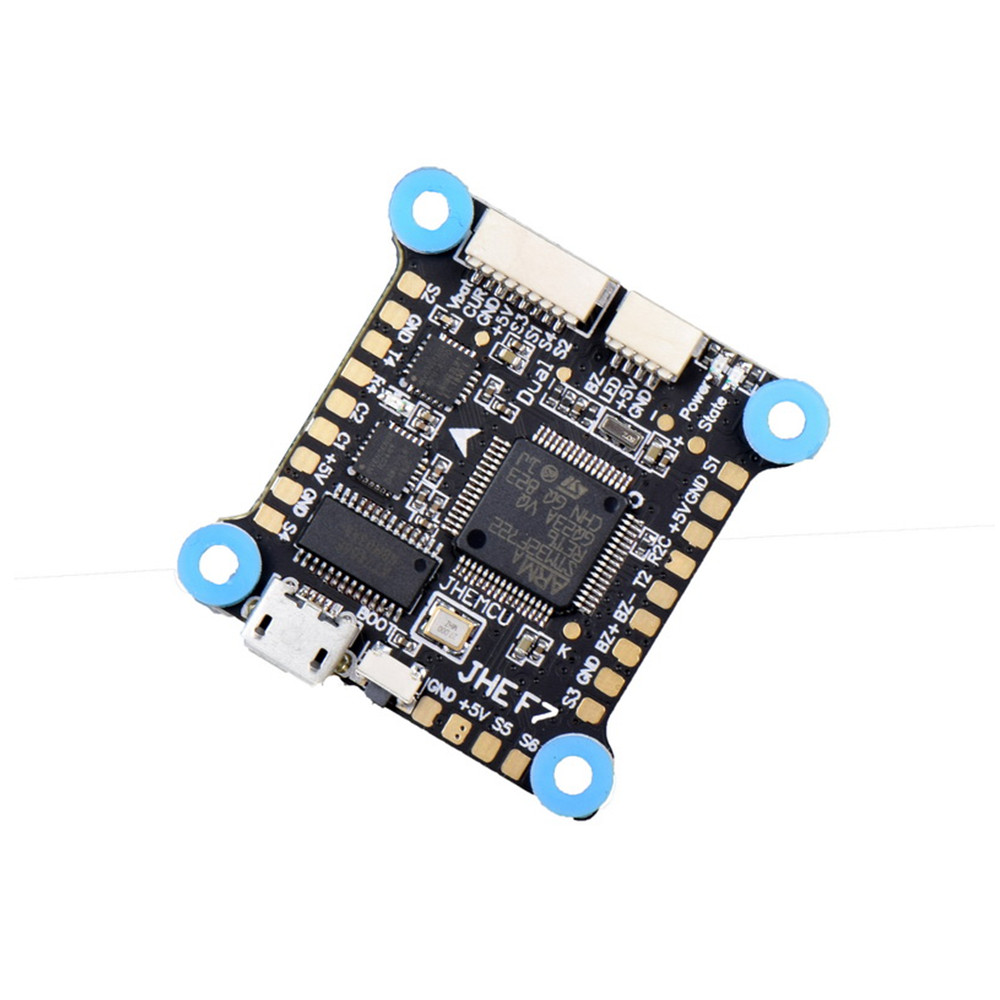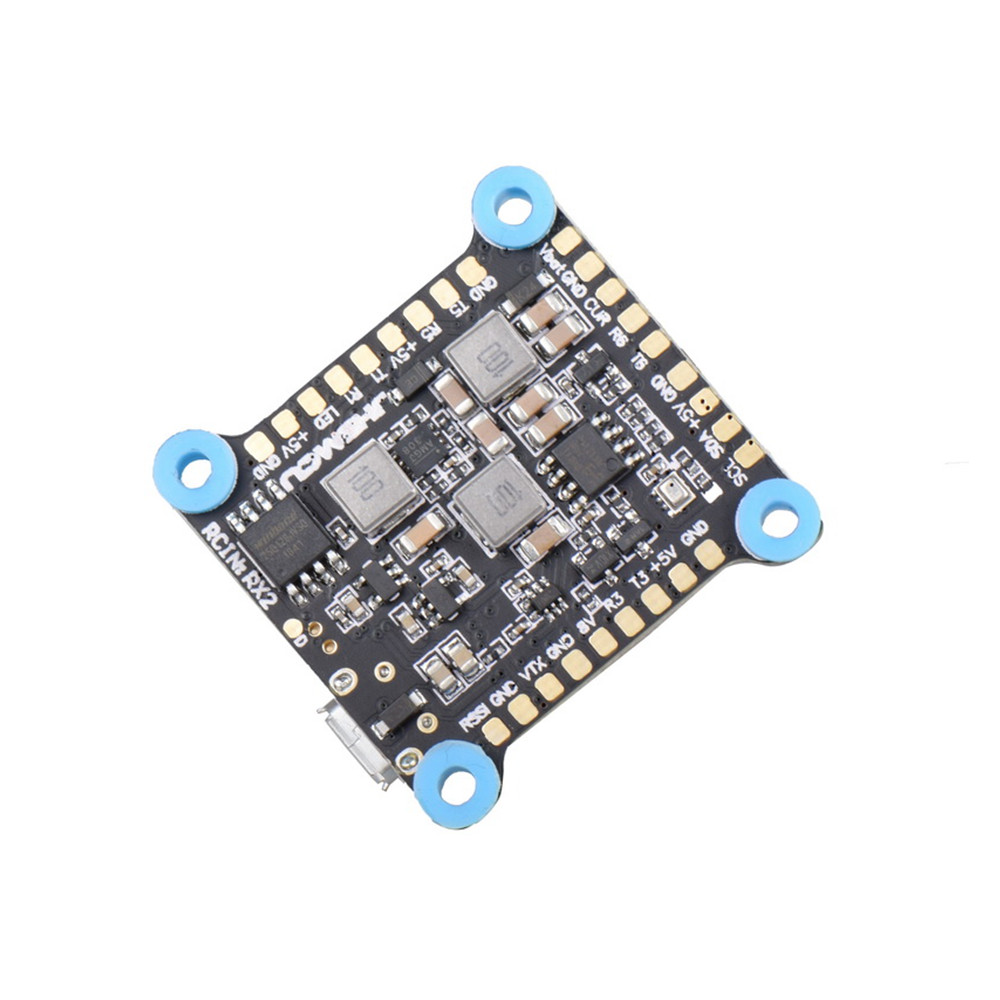 Honourable mention
These flight controllers weren't included into the top 5, but it is worth mentioning them.
KISS flight controllers are totally different breed. They have their own closed source proprietary firmware and their own KISS Configurator. These flight controllers were not a budget devices untill the V2 was released. Now we can buy older V1 board for a really friendly price. Definitely worth if you are willing to try something different.
https://hobbyking.com/en_us/kiss-fc-32bit-flight-controller-1-03.html
Archived
Below is the list of former best budget flight controllers. Now they are either outdated, replaced with beter alternatives or just discontinued.
#2 Betaflight Omnibus F3 Pro Flight Controller
Price – $22.99
In fact its the same board as F4 Omnibus V2 Flight Controller, only the MPU is different.
https://www.banggood.com/30_530_5mm-Betaflight-Omnibus-STM32F3-F3-Pro-Flight-Controller-Built-in-OSD-BEC-Current-sensor-p-1156615.html
#3 SP Racing F4 EVO Pro Flight Controller 2 – 6S LiPo Support
Price – $22.99
https://www.gearbest.com/flight-controller/pp_911096.html
Has got fast ICM-20602 gyro, working on the fast SPI bus. No OSD, but there is 280 barometer and 5v BEC on board. This FC also has SD card slot for black box. Supports up to 6s battery input.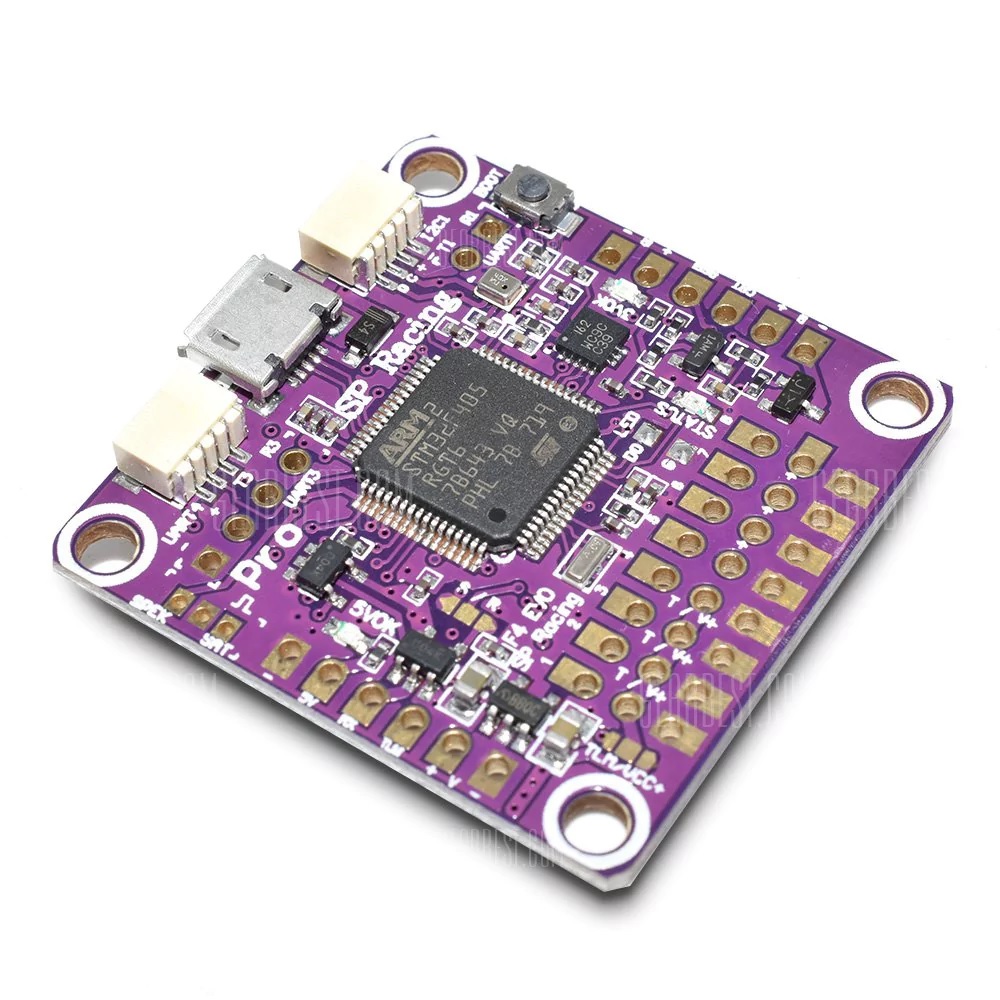 #3 HAKRC Flip32 F4 Flight Controller – DISCONTINUED (2017-09)
Price – $14.97
Bare F4 flight controller, but definitely the cheapest. It features STM32F405 MCU, capabble to work with up to 168MHz clock speed, uses MPU6000 gyro, connected via SPI.
http://www.gearbest.com/flight-controller/pp_629372.html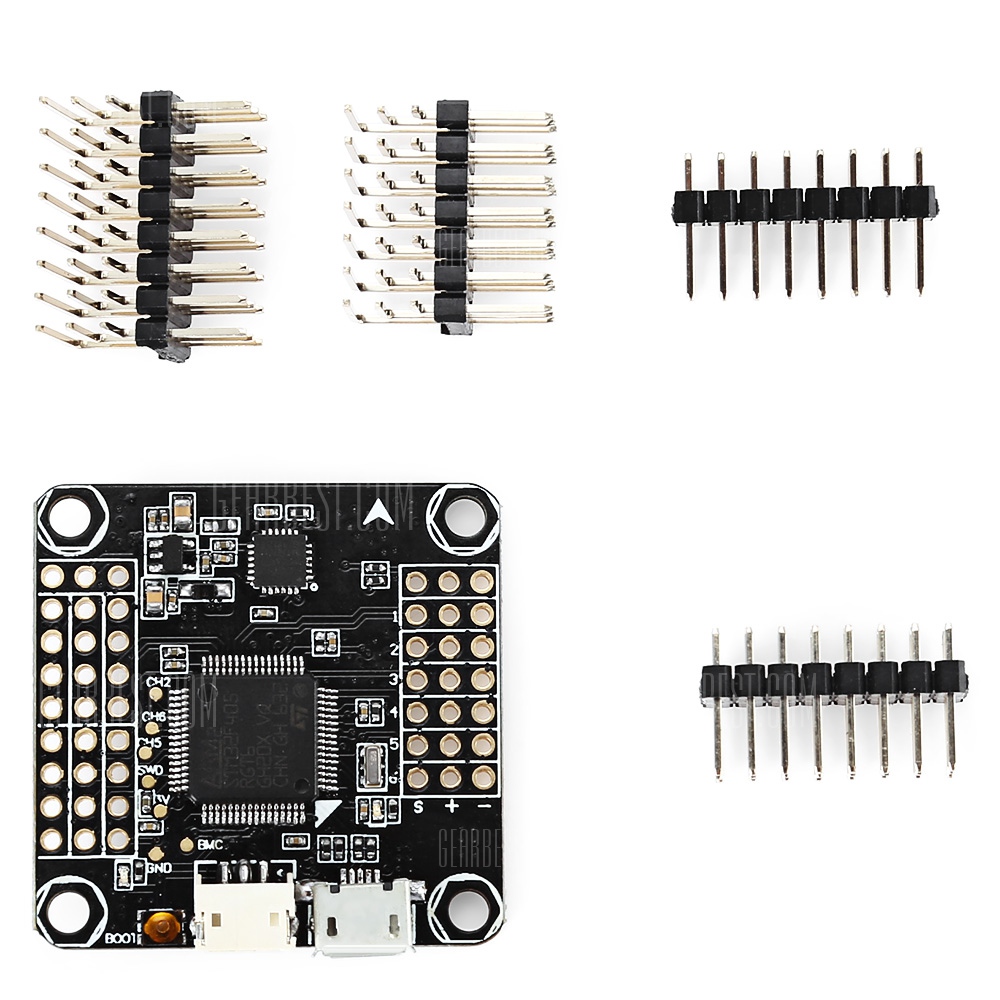 #4 LUX Flight controller V1 – DISCONTINUED
Price – $14.99
This is a copy of original Lumenier LUX flight controller. As long as its original is discontinued, we can buy a copy to save some funds. Do you remember, we are looking for a budget FC?
LUX FC is based on F3 processor. Runs MPU6500 gyro via SPI interface, allowing up to 8/8Khz looptimes. It has Current Sensor, Batter voltage and RSSI inputs. Connectivity – up to 3 UARTS, PPM,S.BUS, SUMD input (configurable by shorting solder pads). Supported by Betaflight and Raceflight. Firmware target: LUX_RACE
Special design of this FC allows to solder wires directly to soldering pads or use pin headers oriented horizontaly. This FC will fit into a very thight frame.
https://www.banggood.com/LUX-32-bit-Processor-Flight-Controller-Support-PPM-or-Serial-RX-For-Multirotor-Racing-p-1060964.html
And the last but not the worst, probably the cheapest F3 flight controller:
Price – $11.37
Its a copy of famous SPRacing F3 flight controller. It has MPU6050 gyro working via slow I2C protocol. But on the other hand it has basic features: 3UARTS, supports SBus, SumH, SumD, Spektrum1024 / 2048, XBus, PPM, PWM receivers, can be connected with LED, Buzzer, GPS, sonar and etc. Old, good and cheap.
http://www.gearbest.com/flight-controller/pp_638475.html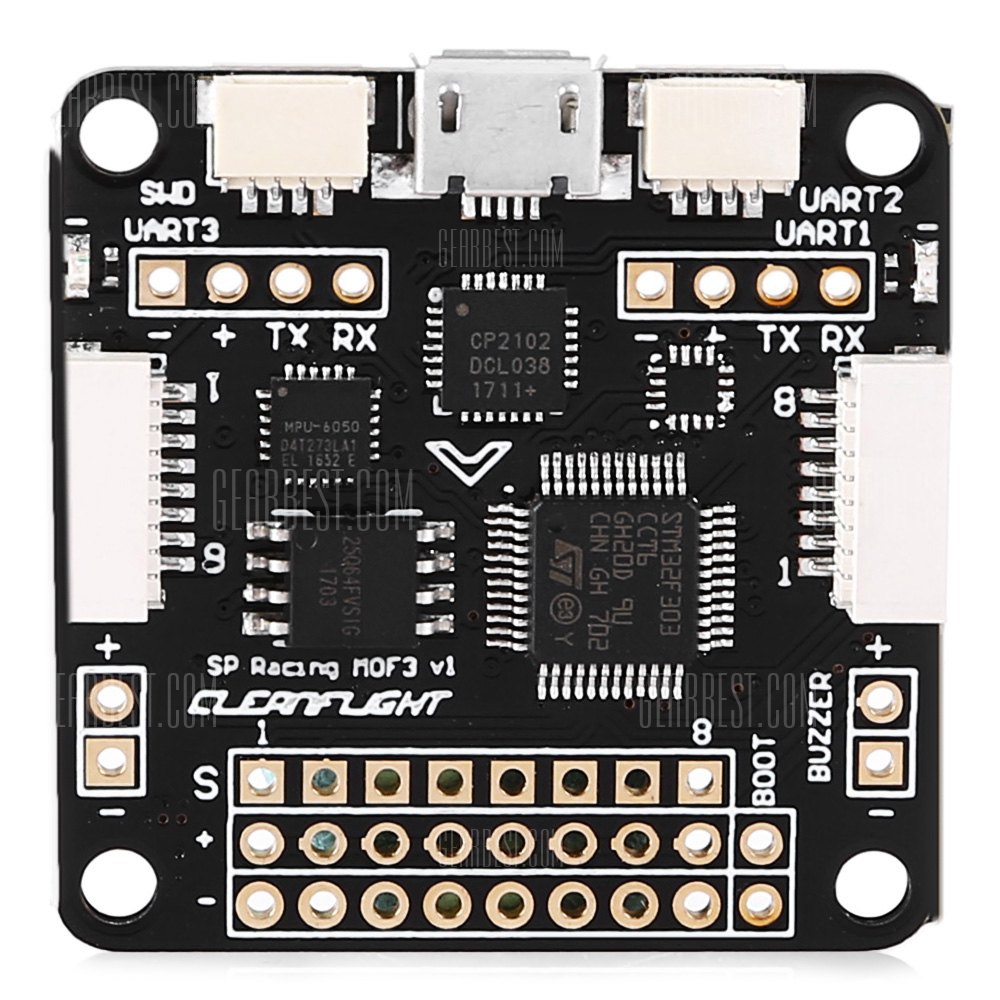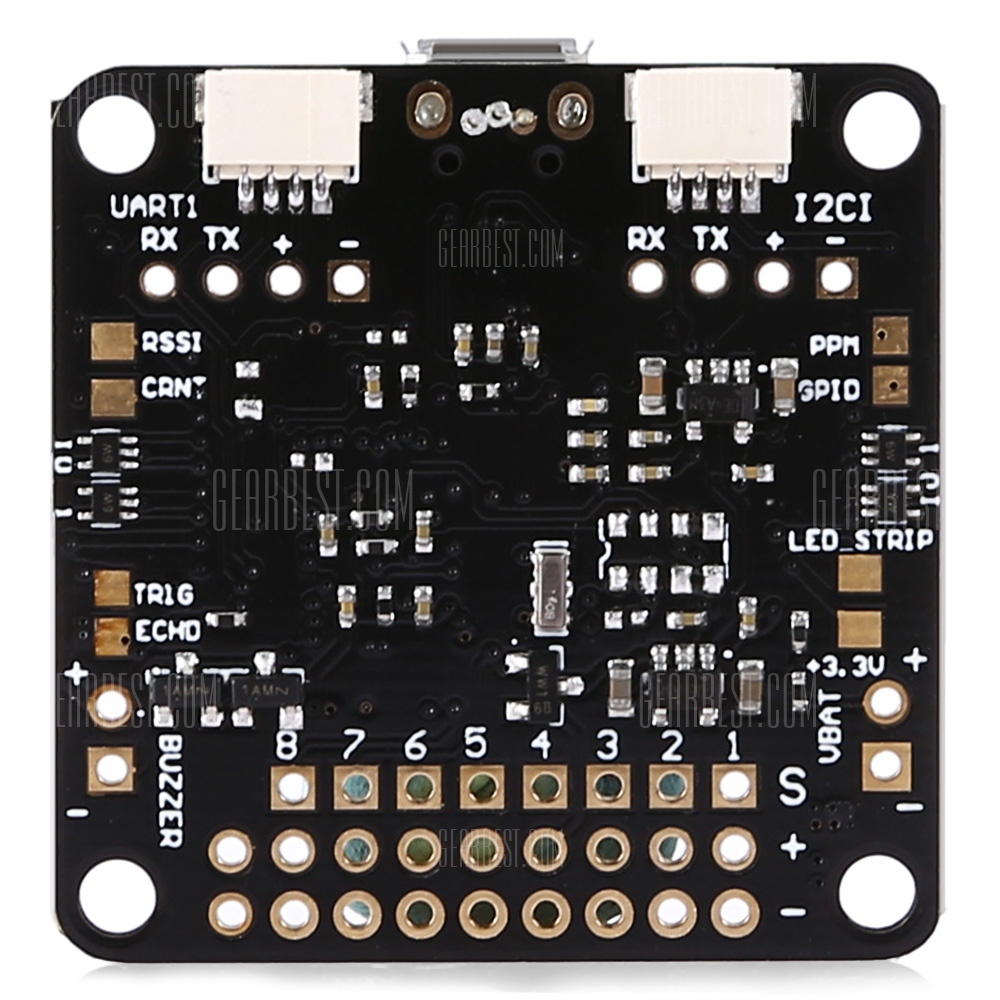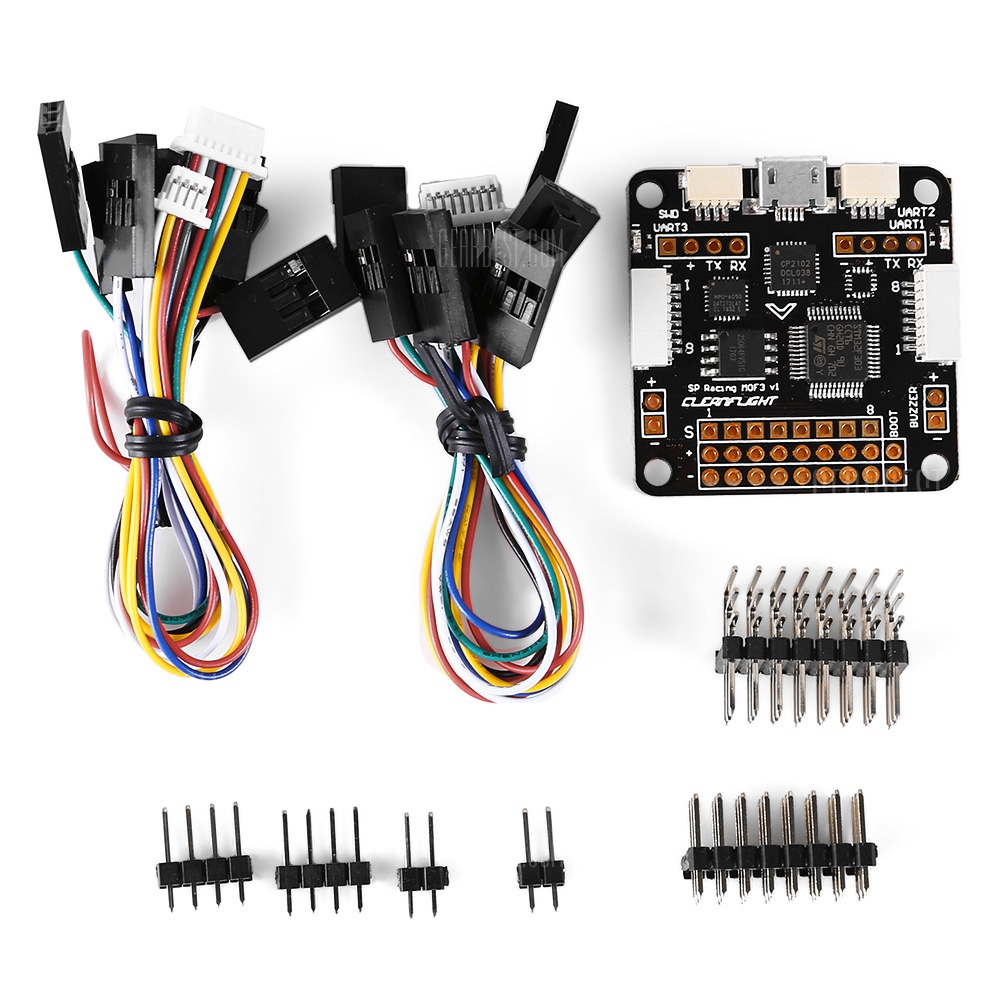 Last updated: 2019-05-01