Radiomaster has unveiled its latest creation, the Radiomaster Pocket Radio, a compact but feature-packed radio designed for pilots seeking a lightweight and super compact solution.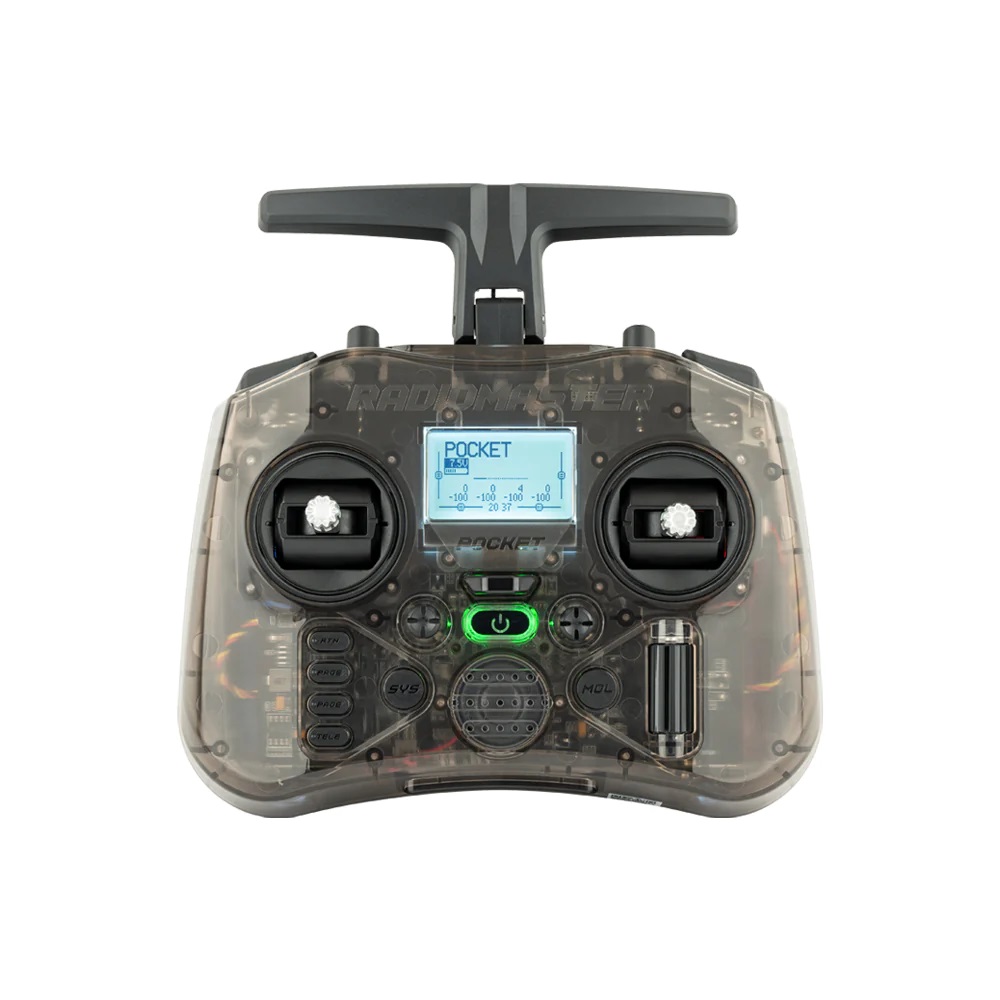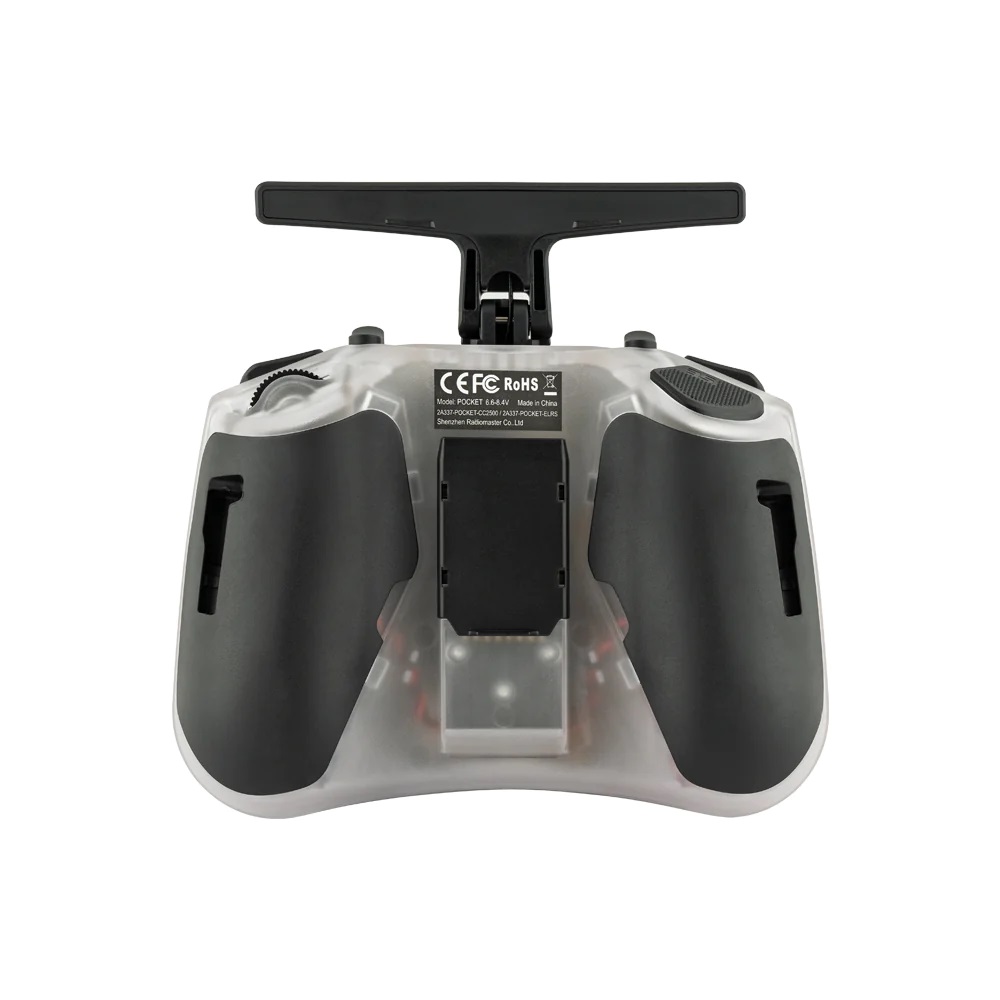 The Radiomaster Pocket Radio boasts a pocket-sized form factor, making it highly portable and easy to carry around. The 128×64 LCD display provides enough information, while the rubberized grips ensure a comfortable and secure hold. The inclusion of a lanyard strap hook allows users to keep the radio close at hand during the flying sessions.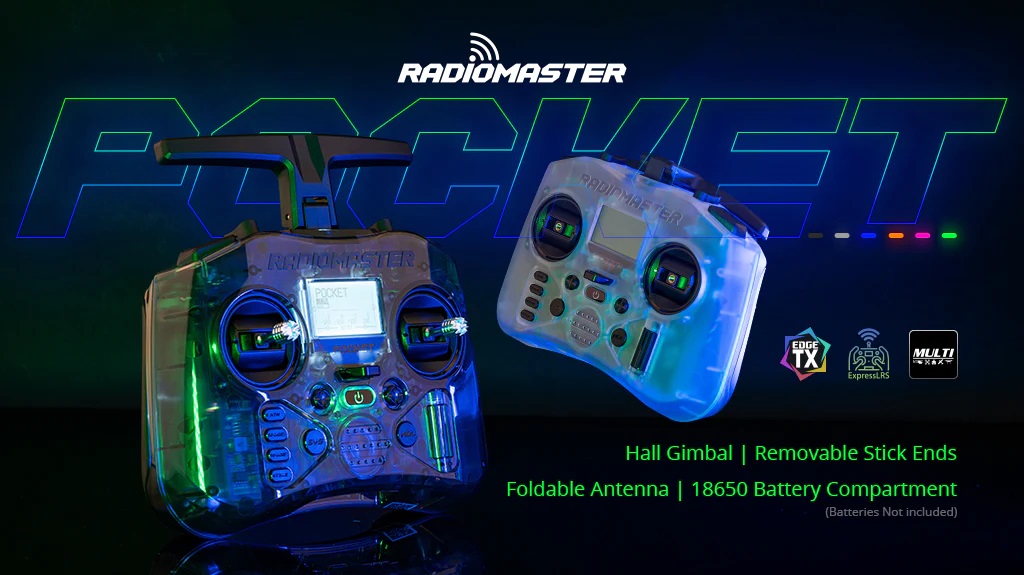 The two hall effect gimbals with removable stick ends provide precise control, and users can conveniently store the stick ends in special slots on the radio's sides. Additionally, the removable antenna makes it easy to transport and store.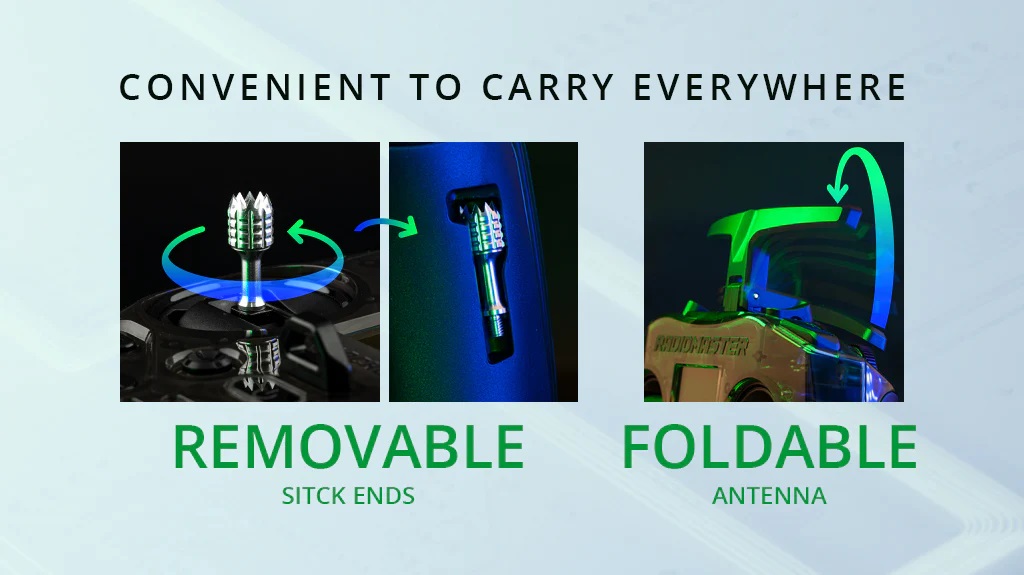 Powered by two 18650 lion batteries, the Radiomaster Pocket Radio offers hours of uninterrupted flying sessions. The USB-C charging port simplifies the recharging process.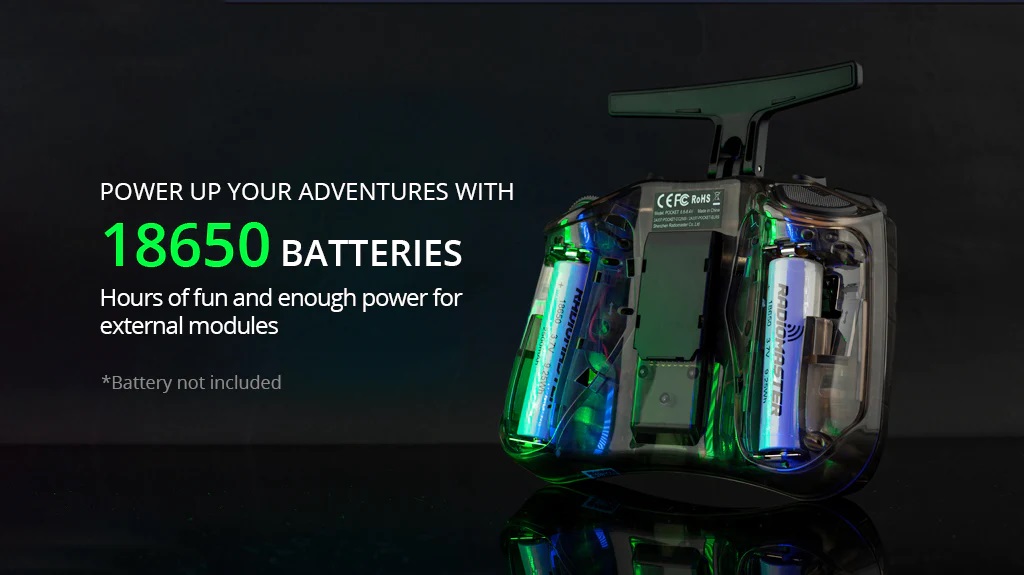 The built-in LEDs offer a simple yet effective way to visualize switch positions.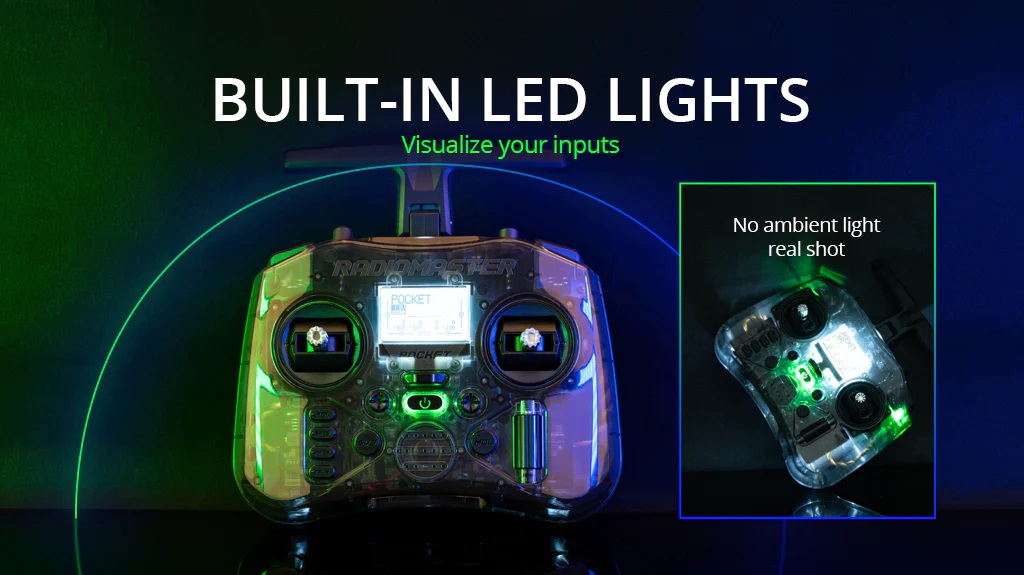 The RadioMaster Pocket Radio is available in two versions: the CC2500 Version and the ELRS (ExpressLRS) Version. The CC2500 supports a wide range of protocols, including popular ones like FrSky and Futaba. On the other option, the ELRS Version comes with internal ExpressLRS 2.4GHz TX module, delivering 250mW of maximum power. Both versions are equipped with the EdgeTX firmware.
With the inclusion of a nano-sized external module bay, the Radiomaster Pocket Radio enables the use of various external modules.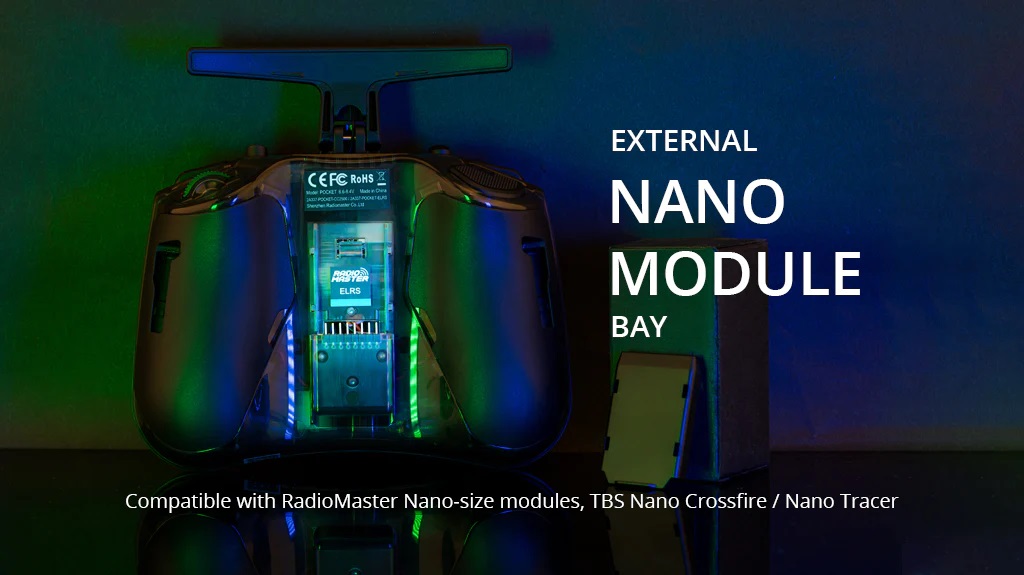 The RadioMaster Pocket is available in two color options, Charcoal and Transparent White. Furthermore, users have the option to choose from a selection of other colors to match their personal style and preferences.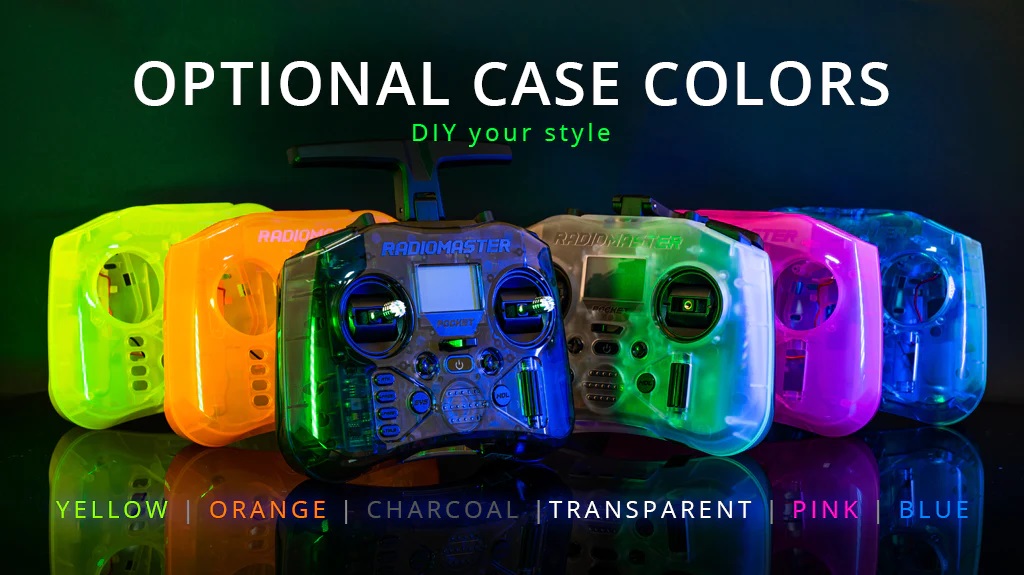 Radiomaster Pocket Radio User Manual: No user manual yet.
Available @
Radiomaster: https://www.radiomasterrc.com/products/pocket-radio-controller-m2
Banggood: https://www.banggood.com/RadioMaster-Pocket-…-Radio-Controller
Specifications
Item: Pocket Radio
Physical dimensions: 156.665.1125.3mm (Folded size) /156.673.1154.8mm (Unfold size)
Weight: 288 grams
Operating frequency: 2.400GHz-2.480GHz
Internal RF Options: CC2500 multi-protocol / ELRS 2.4GHz
Supported protocols: Module dependent
RF power: CC2500:100mW Max (20dBm) / ELRS FCC: 250mW Max (24dBm) / ELRS EU-LBT: 100mW Max (20dBm)
Operational voltage: 6.6-8.4v DC
Control distance: > 2km @ 20dBm
Operating system: EdgeTX
Control channels: Maximum 16 (Receiver dependent)
Display: 128*64 Monochrome LCD
Battery: 2pcs 18650 batteries (Not included)
Charging: Built in USB-C QC3 Charging
Upgradable Firmware: Via USB or the included SD card
Gimbal: Hall-effect
Module bay: Nano size (Compatible with RadioMaster Nano-size modules, TBS Nano Crossfire / Nano Tracer )