TopSky new goggles – Prime 1S and F7X V3
Topsky announced two new products – TopSky Prime 1 goggles and new version of their well known goggles – F7X (V3).
TopSky Prime 1S
These goggles are targeted for entry-level products market. According to announced specifications they will have two LCD displays with only 320×240 resolution each (thus why you'll see "virtual" 640×480 resolution in the specs, but the actual resolution is lower) with massive 86° field of view. Goggles will have adjustable IPD of 58-72mm and adjustable optics (dioptries) from -0 to -8. This adjustment can be made individualy for each eye. This could be great news for customers with not so ferfect vision. Anther intgeresting, but probably unnecessary feature, is double diversity. Well not the full double diversity, but goggles will have two receivers with double antennas making a total of four antennas! I think just two receivers with single antennas would be more than enough. Also goggles will have built-in rechargeable 1200mAh battery with a 3-4 hours of working time. There will also be built-in analog DVR unit for video recording.
Rumoured release date July, 2018. Estimated price around $$ 89 $109.
Update 2018-10-22:
Goggle specifications have been updated prior to beeing released. The name has changed from Prime 1 to Prime 1S. Changes list: First of all it was confirmed that Prime 1S now will have dual 640×480 resolution displays. Also Field Of View reduced to more realistic FOV 80°, but still seems too wide.Adjustable IPD of 58-72mm and adjustable optics (dioptries) from -0 to -8 were not changed. It is now clear that goggles will have two receiver modules, so not a read quadversity but two receiver diversity sistem. Topsky promises superior sensitivity level –95dBm of the two receiver modules. Diversity switching speed is adjustable in the goggles settings via OSD – Slow, Medium or Fast switching. You can also adjust Brightness, Contrast and Color settings in the OSD settings. OSD also has Low battery, Recoding and no SD card warnings.
You can take a picture while recording the live video feed by pressing the dedicated button. Just don't know the real usage of it as you can make screenshot of the video at any time later.
Build-in battery is 2000mAh, providing about 1-2 hours of uptime, can be charged via USB socket. Topsky also added the RX power button to turn down the receivers while the AVin is plugged.
No
I will be reviewing these goggles, so subscribe or come back later for the review.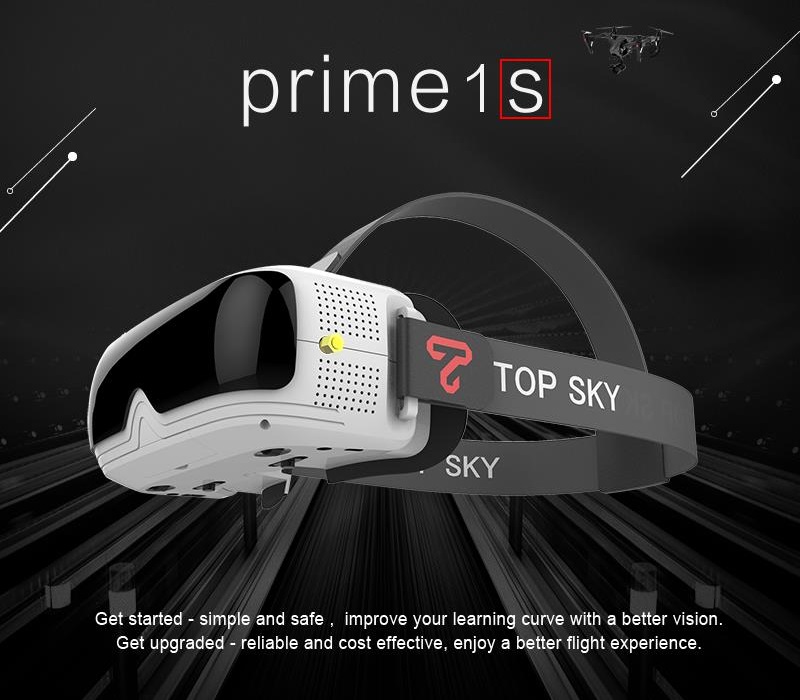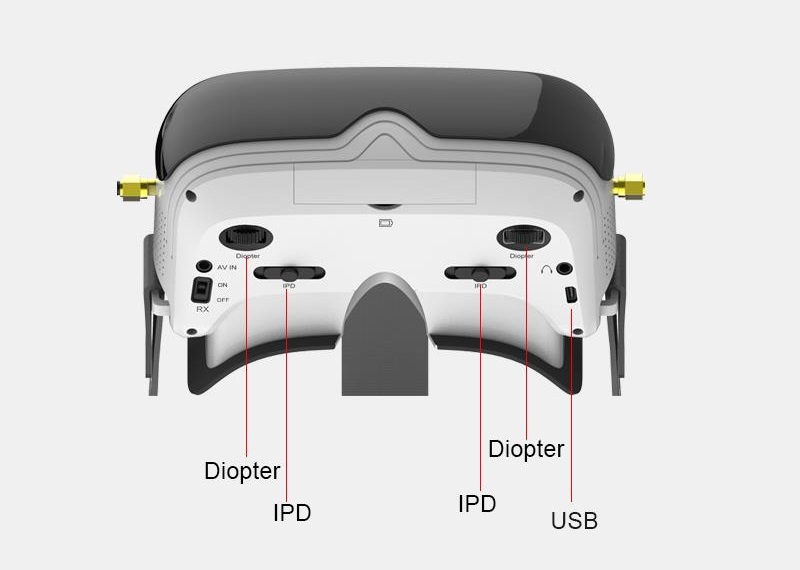 Old pictures. Notice the 4 antennas they were planning to equip.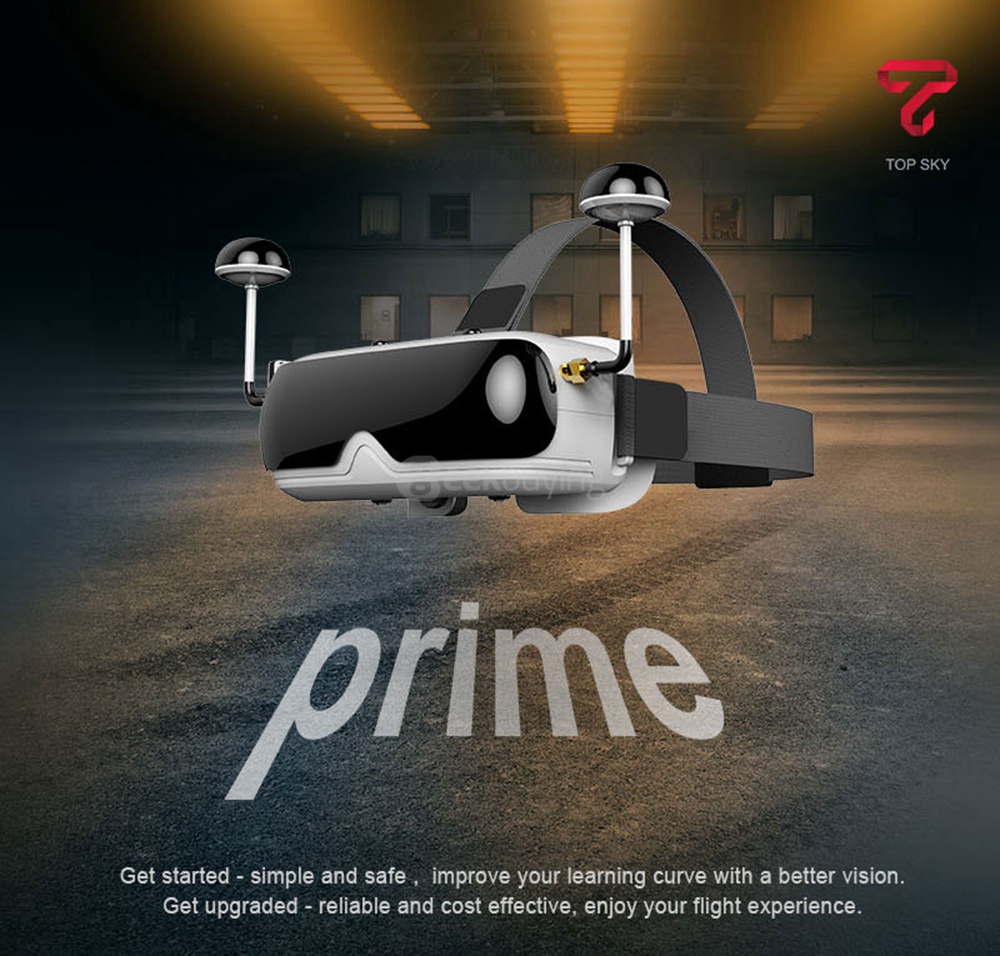 Topsky Prime available:
@ Banggood: https://www.banggood.com/TOPSKY-Prime1S-5_8G-48CH-2_4-Inch-FPV-Goggles-Diversity-Receiver-Built-In-Battery-DVR-For-RC-Drone-p-1367999.html
@ Gearbest: https://www.gearbest.com/fpv-goggles-monitors/pp_009972759312.html
User Manual: http://img.banggood.com/file/products/20181019044238prime1EnglishManual.pdf
Specifications
TV System: NTSC / PAL Switchable
FOV 86° 80°
Resolution 640*480(LCD*2), (actual resolution – 320×240 each LCD)
Screen size: 4:3 2.4 inch
IPD 58-72mm(adjustable)
Battery 1200mAh (3-4hour work time) 2000mAh (1-2hours of work time)
Operating Voltage Range: 7.4 – 9V
Charge time 2h
Module Twin Diversity
Receiver Built-in High brightness Receivers with 40 Channels,
High- speed one click research;
Digital Video Integrated Analog Mode DVR(support RF/AV-IN)Micro TF-card
and up to 32GB. Video Compression Format AVI.
Buttons Saturation Control/Brightness Control/ Contrast Control/ Channel
Control/Display Control/ Saturation Control/ DVR Switch
AV IN NTSL/PAL Auto Selection
Ports Headphone Jack/ AV-IN Port/ DC-IN
Sensitivity: -95dBm
Antenna: 2 5dBi antennas, SMA connector
TopSky F7X (V3?)
There is not much information yet available on their new version, but accordind to the rumours, the new model will have LCD screens, probably with the resolution of 800×600, just like like the HD3 or Aomway Commander V2. But this is just a guess and the real specs will be announced later. Release date – August, 2018.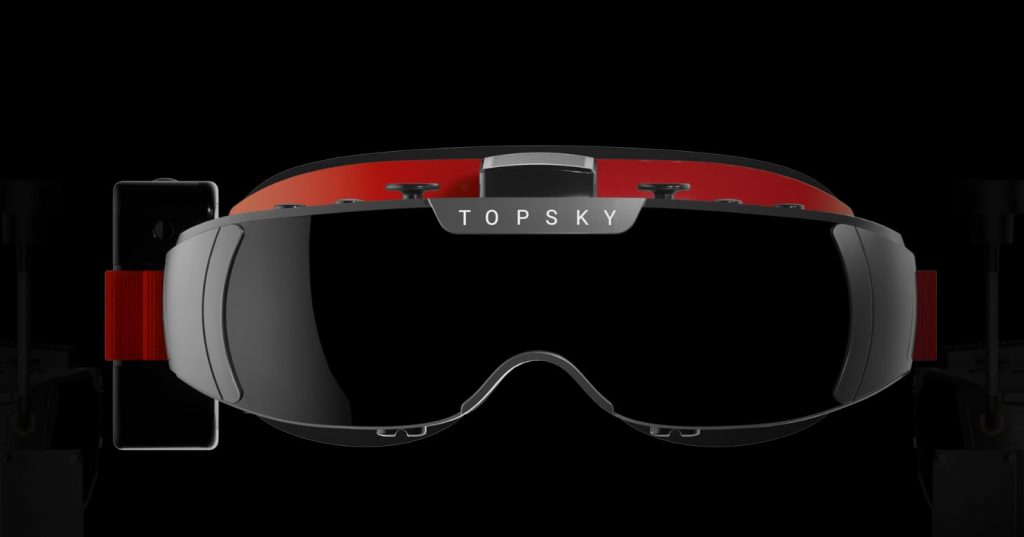 Update history:
2018-06-11 – article created
2018-06-21 – updated description, resolution
2018-07-02 – updated estimated price, more info in actual resolution
2018-10-22 – updated Prime 1S specifications
2018-10-31 – updated Prime 1S description