Aomway RX006 – Advanced diversity receiver with DVR
Aomway is releasing their new diversity video receiver – RX006 (or DIV006 as Aomway calls it). It is successor of the previous model, RX005 and RX004. This receiver is 5.8Ghz 48CH True Diversity Receiver and can auto-detect and always select the antenna with stronger signal. It also has integrated DVR for video recording in D1 resolution (720x480) to SD card with a size up to 64Gb. There is two video outputs, one is low latency  direct video output whilke another is DVR through output eliminating blue screen on some LCD screens, that cant display "snow" on weak signal. Receiver can be powered from 2S-5S battery (7-24V).
One of the most interesting features is ability to automatically save video recording when the power is off, this ensures you will always have closed video file no matter if your battery depletes too sudden or you forget to stop recording and disconnect power source.
You can playback the recorded video right from the receiver via DVR video output. You can slow down or fast forward the video while viewing the recordings.
Frequency table: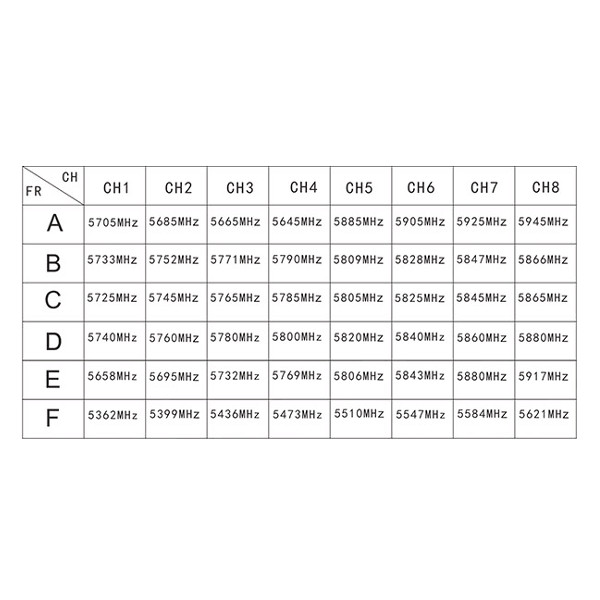 Can be purchased @ Banggood: https://www.banggood.com/Aomway-RX006-DVR-5_8G-48CH-Diversity-Raceband-AV-Receiver-With-Built-In-Video-Recorder-p-1163394.html
Specifications
– Power Supply: DC 7-24V
– Power Consumption: 210mA@DC 12V
– Sensitivity: ≥-95dBm
– Format: PAL/NTSC selectable via menu
– DVR Memory: TF card up to 64GB
– Channel: 48CH (RaceBand included, auto save channel/band when power off)
– Indicator: 2 digits display for band & channel
– Channel Selection: Push 'CH' button to start auto scan for available channel
– Display Quality: HD D1 AVI for recording file
– VGA for direct DVR playback
– OSD: Control for direct playback
– Interface: 2 x AV/Audio output 2 x SMA for antenna
– Outer Case: Aluminum
– Dimension: 80 x 70 x 25 mm
– Weight: 141 g
Contents:
1 x 5dB Dipole Antenna
1 x 6dB Patch Antenna
1x DC Power Cable
2x Video Cable