BetaFPV Literadio 3 is the third generation radio controller in the LiteRadio series. It has upgraded design with the wider body. The gimbals were greatly upgraded and have adjustable length sticks. Internal battery is 2000mAh and provides up to 15 hours of working time. You can attach the radio to the neck strap as it has the hook next to the power button.
In comparison with LiteRadio 2 SE, the LiteRadio 3 is equipped with a 2000mAh 1S battery, allowing up to 15 working hours (without an external module). A Nano (JR lite) bay on the backside of the radio supports an external module (like ELRS Nano TX Module) with CRSF protocol. Also LiteRadio 3 gimbal is newly updated with an accurate potentiometer and adjustable stick ends.
| | | |
| --- | --- | --- |
| Comparison table | LiteRadio 3 Transmitter | LiteRadio 2 SE Transmitter |
| Built-in Battery | 2000mAh 1S Battery | 1000mAh 1S Battery |
| Gimbal | Newest durable and accurate gimbal | Orders from Dec. are the same as LiteRadio3 |
| Lanyard Hook | Support | Not Support |
| BETAFPV Configurator | Support | Orders from Dec. support |
| Nano Bay for External Module | Support | Not Support |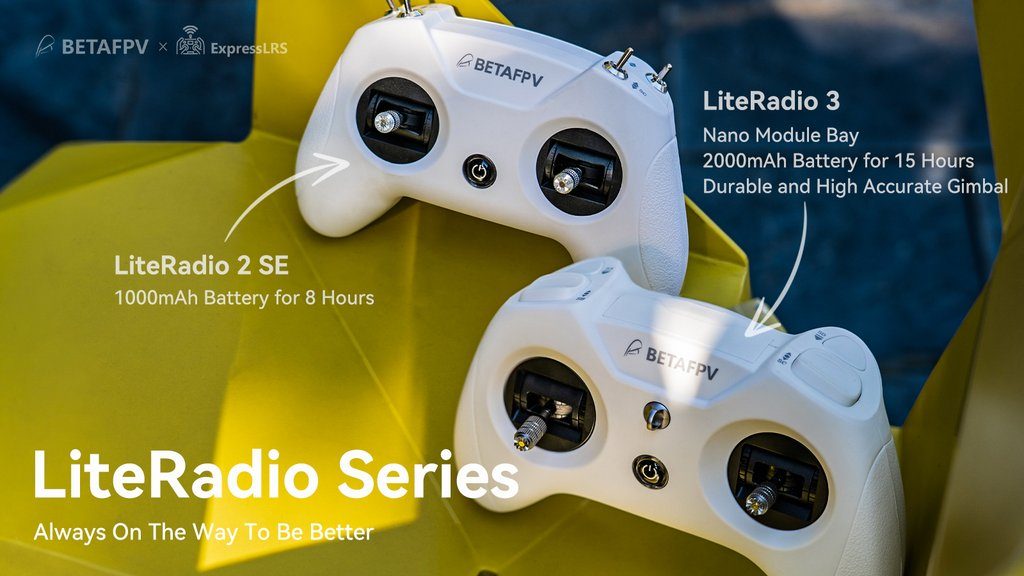 BetaFPV LiteRadio 3 has Nano (JR Lite) external module bay. You can install the external ELRS (or maybe Crossfire?) TX module in it. Radio uses only CRSF protocol to communicate with the external module.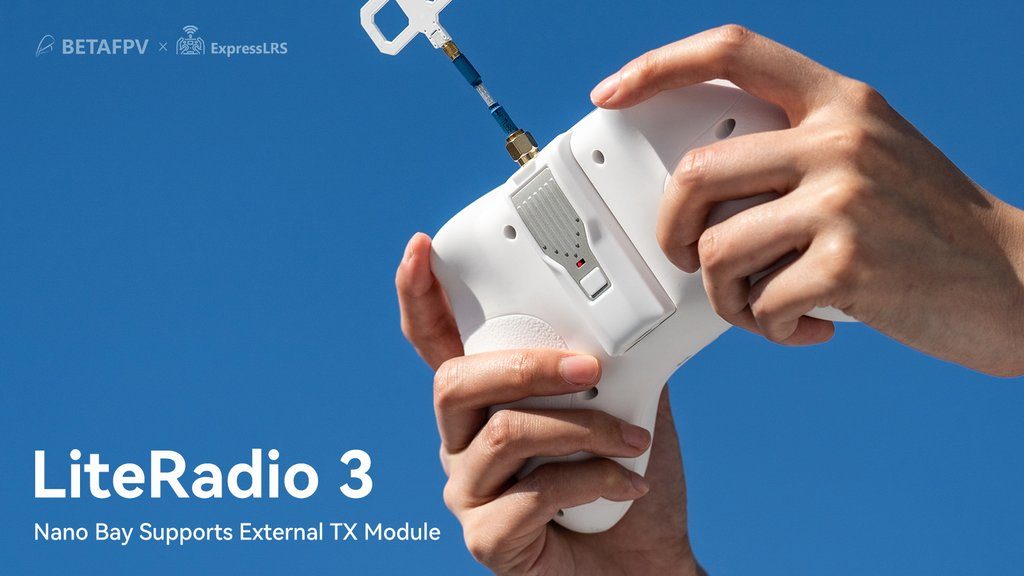 Available @
BetaFPV: https://betafpv.com/products/literadio-3-radio-transmitter
LiteRadio 3 Radio Transmitter User Manual: https://support.betafpv.com/hc/en-us/articles/4412082282009-Manual-for-LiteRadio-3
Specifications:
Item: LiteRadio 3 Radio Transmitter
Frequency: 2.4GHz
2.4GHz System: CC2500/SX1280
Channel: 8
Support Protocol: Futaba S-FHSS/Frsky FCC D16/Frsky LBT D16/Frsky D8, ExpressLRS 2.4G
Power: ELRS version 25mW/50mW/100mW, Frsky version 100mW
Adapted Drone Type: Multirotor, Airplane
Support USB Charging / Firmware Update
Support BETAFPV Configurator / Most Practice Simulator
LED Light: Green-Power On / Red-Warning if the voltage is lower than 3.5V / Blue-Normal
Battery: Built-in 2000mAh 1S Battery
Charging Connector: USB Type-C
Recommend External TX Module: ELRS Nano TX Module
Recommend Accessories: Nano Gimbal for LiteRadio 3, Storage Case, Transmitter Neck Strap