CrazyBee F4 Pro – ultimate whoop FC with F4 MCU
Happymodel has released the all in one integrated flight controller with F4 and 4in1 ESC – CrazyBee F4 Pro. CrazyBee F4 Pro is an updated version of CrazyBee F3 Pro , with updated MCU from STM32F303 to STM32F411 and also with an extra uart added, making it with two uarts in total. Boards have uninverted and inverted RX1 inputs and are available in 4 options – CrazyBeeF4FRPro/CrazyBeeF4FSPro/CrazyBeeF4DXPro with FrSky/Flysky/Spectrum receivers and without receiver. The CrazyBee F4 Pro also have led and buzzer support!
CrazyBee F4 Pro boards were introduced with Trashcan 2S brushless whoop and also with the new version of Mobula 7. The board targets were added in the Betaflight 3.5.5.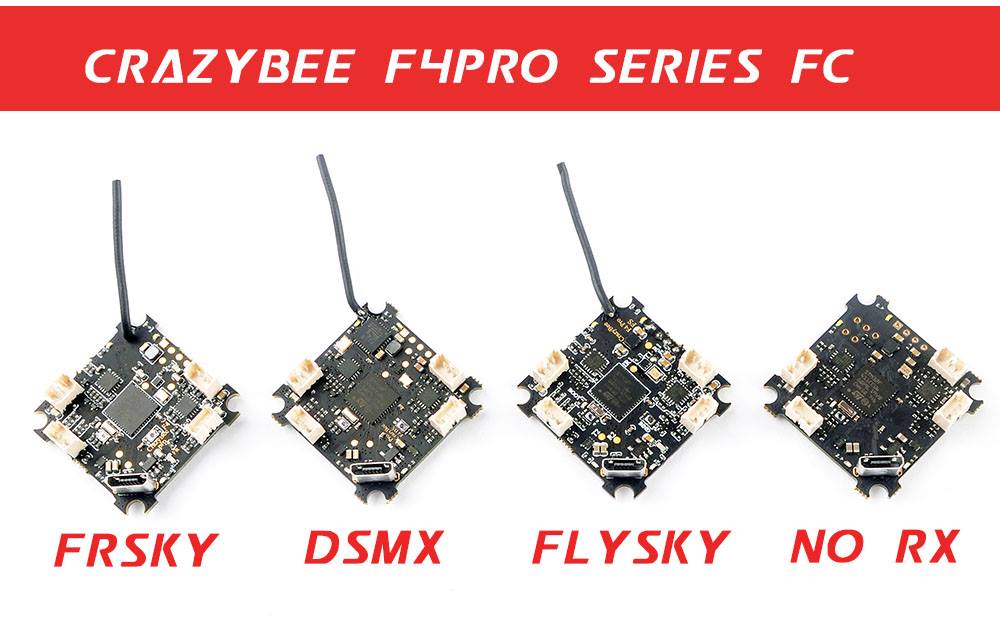 EDIT 28-01-2019: There is an updated version Crazybee F4 PRO V2.0 flight controller, supporting 1S-3S battery input. This FC will be included with the Mobula7 HD.
EDIT 22-05-2019: There is another updated version of the Carzybee F4 PRO V2.1.
The biggest differences between Crazybee F4 PRO V1.0 and V2.0 and V2.1 are:
V1.0 can handle only 1-2s Lipo/LiHV.
V2.0 can handle 1-3s Lipo/LiHV. It uses bigger bind and boot buttons, the BAT/GND pads were changed to "through hole"
V2.1 has voltage regulator changed and now supports 2-3S Lipo only. Also camera/VTX connection is now made via 5pin SH1.0 connector socket instead of the soldering pads.
V3.0 has input voltage of 2-4S Lipo. ESC FETs now support up to 10A (12A burst)
EDIT 23-05-2019: Happymodel has released the statement about the issue with burning out boards:
We received many reports about the 5v regulator or the mosfet burnt out immediately once the battery plug in
We found that most burnt happened after mod the PH2.0 to XT30 . Also, more powerful the battery is(lower esr than stock battery) , more possibility to fail. And, the temporary solution is add a low esr capacitor onto xt30 connector. This capacitor should have a esr less than 0.2 ohm and have a capacitance more than 100uF. Rubycon ZLG/ZLH series and Samyoung NXB series are what we have tested and recommended.
The attached pictures show what happened after plug in battery
(Picture without capacitor)The max voltage is 19v and the voltage spike lasted for about 5us.
(Picture with 100μF capacitor)After add a 100uF/16v (NXB16VB100M5*11_LO) capacitor, we obtained a much slower and smaller spike
So this capacitor could avoid the risk of burning the mosfet or the 5v regulator at the moment of power on
With this Capacitor , we can use 3S 300~350mah battery for the Crazybee F4 PRO V2.0 and Crazybee F4 PRO V2.1 , and 2s 300~350mah battery for the Crazybee F4 PRO V1.0 And if you want to use the battery above 350mah , we recommend use 220 uF or above capacitor.
The V2 Mobula7 HD and Sailfly-X already use the xt30 pigtail with 100μF capacitor, also the Crazybee F4 pro series flight controller will comes with the capacitor too.
And you can also buy this pigtail from Banggood
https://www.banggood.com/Happymodel-XT30-Plug-Pigtail-Power…
Edit 02-07-219: There is new version of the CrazyBee F4 Pro V3.0 preparing to be released! It will have 2-4S battery input (DC 7-17V) capability and built-in Blheli_S 4in1 ESC capable up to 10A (each).
CrazyBee F4 Pro V1
CrazyBee F4 Pro V2.0
CrazyBee F4 Pro V2.1
CrazyBee F4 Pro V3.0
V3.0 board with FrSky RX pinout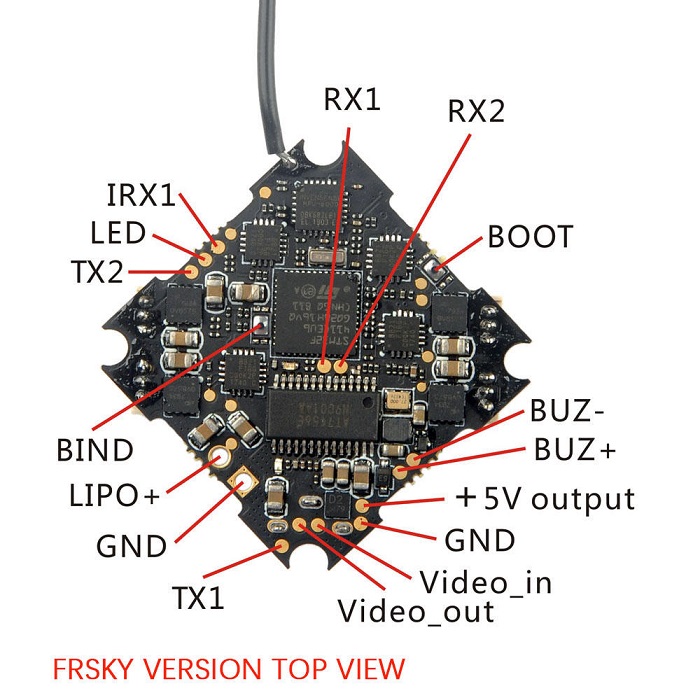 Flight controller
MCU:STM32F411CEU6 (100MHZ, 512K FLASH)
Sensor: MPU-6000(SPI connection)
Board size: 28.5 * 28.5MM
Power supply:
V1: 1-2S
V2.0: 1-3S battery input (DC 3.5-13V)
V2.1: 2-3S battery input (DC 7.4-13V)
V3.0: 2-4S battery input (DC 7.4-17V)
Built-in Blheli_S 4in1 ESC Dshot600 ready
ESC MCU Upgraded to EFM8BB21
Frsky version Built-in SPI Frsky receiver with telemetry (D8/D16 switchable)
Flysky version Built-in SPI Flysky receiver with telemetry (AFHDS/AFHDS-2A Compatible)
DSMX version Built-in Serial-based DSM2/DSMX compatible satellite receiver (Default RX2 was used for DSM2/DSMX receiver)
No RX version support external serial-bus receiver like xm+, crossfire, S-FHSS and Dsm2/DSMX, Ibus protocol etc.
Built-in Betaflight OSD (SPI Control)
Built-in Current meter sensor Max up to 28A
Current meter scale set to 1175
Built-in 5V 1A Buck / Boost with LC filter
Built-in voltage detection
BLHELI_S pass-through Ready
Multi Serial port support
Fully compatible with almost Brushless whoop drone
Weight:4.3g
Onboard 4in1 ESC
MCU upgraded to EFM8BB21
Power supply: 1-3S LiPo/LiPo HV (3.5v/13v)
Current:
V1-2.1: 5A (each)
V3.0: 10A (each)
Support BLHeliSuite programmable
Factory firmware: S_H_50_REV16_7.Hex
Default protocol: DSHOT600
Receiver support
No RX version support external serial-bus receiver like xm+, crossfire, S-FHSS and Dsm2/DSMX, Ibus protocol etc.
Binding the Crazybee F4 Pro
Some users have difficulties binding the Crazybee F4 Pro integrated FrSky receiver in D16 mode. These binding steps might help:
1. Connect the FC and go to BetaFlight CLI.
2. Write the bind command:
For Betaflight 4.x: bind_rx_spi
For Betaflight 3.x: frsky_bind
The Led on the FlightController will stop blinking
3. Activate the bind function on the radio.
4. In the BetaFlight CLI write Save, hit enter
5. Stop the bind function on the radio
6. Reboot the FC
Available @ Banggood:
V1: https://www.banggood.com/Eachine-Crazybee-F4-PRO-Flight-Controller-compatible-Frsky-Flysky-DSM2DSMX-Receiver-for-TRASHCAN-2S-Whoop-FPV-Racing-Drone-p-1413369.html
V2.0: https://www.banggood.com/Happymodel-Crazybee-F4-Pro-V2_0-Mobula7-HD-1-3S-Flight-Controller-w-5A-ESC-Compatible-FlyskyFrskyDSMX-Receiver-p-1442471.html
V2.1: https://www.banggood.com/Happymodel-Crazybee-F4-PRO-V2_1-2-3S-Flight-Controller-5A-ESC-Compatible-DSM2-Frsky-Flysky-RX-for-Sailfly-X-RC-Drone-p-1483474.html
V3.0: https://www.banggood.com/Eachine-Crazybee-F4-PRO-V3_0-Flight-Controller-Blheli_S-10A-2-4S-Brushless-ESC-compatible-Frsky-Flysky-Receiver-for-Cinecan-4K-Racing-Drone-p-1534753.html
Firmware target:
Frsky version betaflight_4.0.0_CRAZYBEEF4FR.hex
Flysky version betaflight_4.0.0_CRAZYBEEF4FS.hex
DSM2/DSMX version betaflight_4.0.0_CRAZYBEEF4DX.hex
No RX version betaflight_4.0.0_CRAZYBEEF4DX.hex
Firmware download link: http://www.happymodel.cn/index.php/2019/01/05/crazybee-f4-pro-series-flight-controller-firmware/
User Manuals, diagrams:
Crazybee F4FR Pro V2.0 Frsky Version Connection diagram
Crazybee F4FS Pro V2.0 Flysky Version Connection diagram
Crazybee F4DX Pro V2.0 DSMX Version Connection diagram