Eachine has released the new EV300D goggles. Following the success of the EV200D goggles, these goggles also have dual diversity receiver system, similar shape and format. The main difference is in the LCD microdisplays. LCD microdisplays have 1280*960px resolution. This means the goggles will have native 4:3 aspect ratio! Eachine EV300D has the same wide 42° FOV as EV200D. Goggles IPD is adjustable in the 56-72mm range. They have even individual eye focal adjustment feature with optional astigmatism lense inserts.
Eachine EV300D has the power button also!
Eachine EV300D goggles aspect ratio can be switched between 4:3/16:9, but Eachine offers also more options, such as Panorama, Zoom1, Zoom2, 16:9, 4:3 and Auto aspect ratio detecting mode.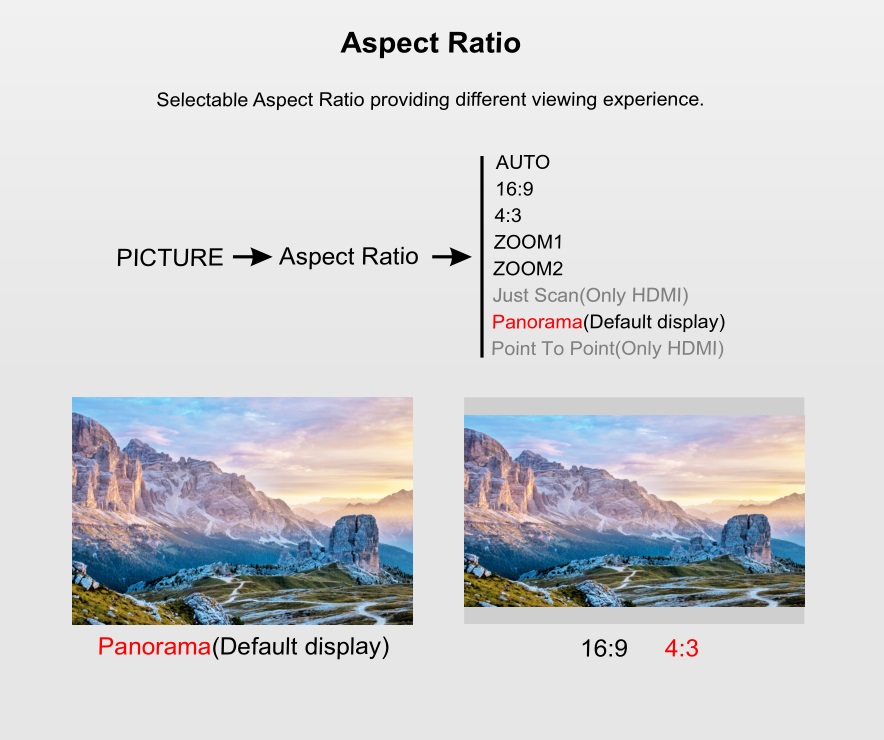 Eachine has greatly improved OSD and now it provides more information. There are 4 individual RSSI (signal strength) bar indicators for the each of the goggles antenna/receiver. There are defogging fan, SD card and recording indicators on the screen. Of course there is battery status indicator on the screen also.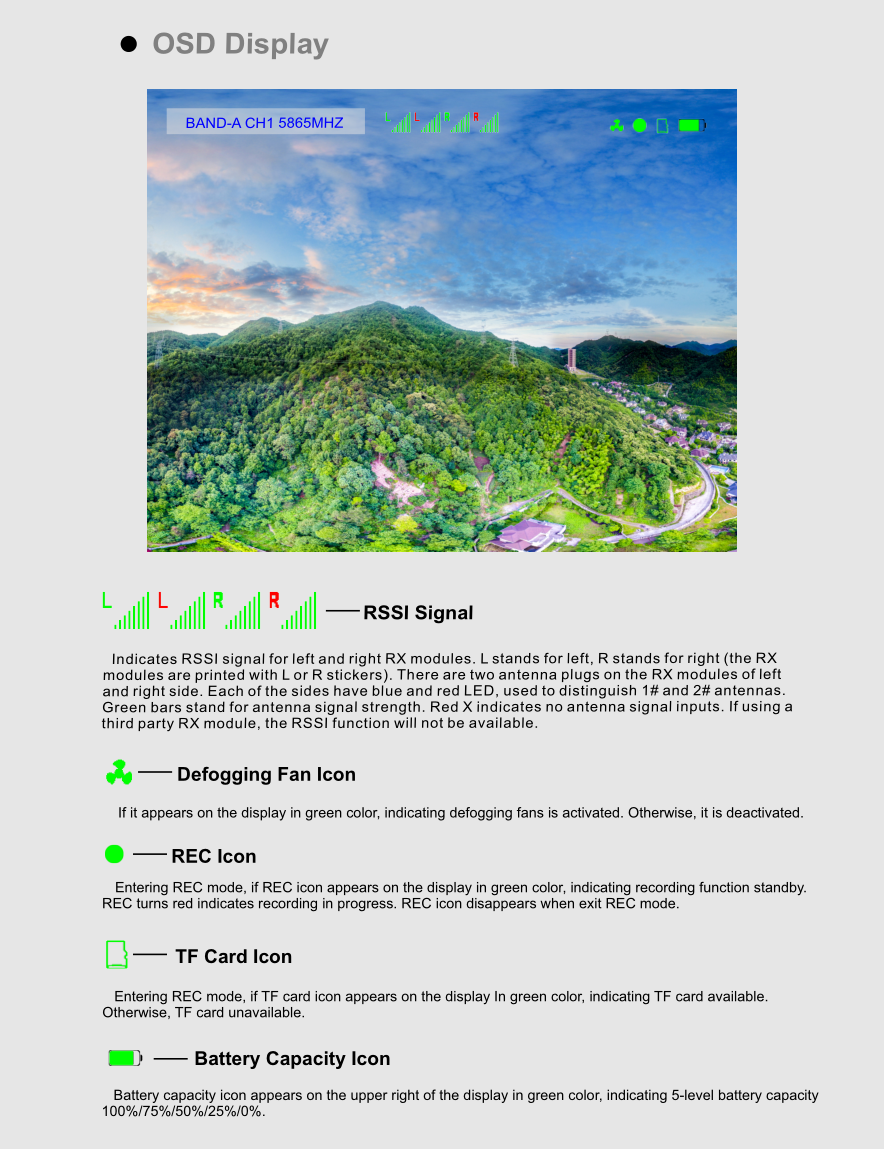 Eachine EV300D goggles have two individual focus adjustment dials for fine tuning according to each person's vision.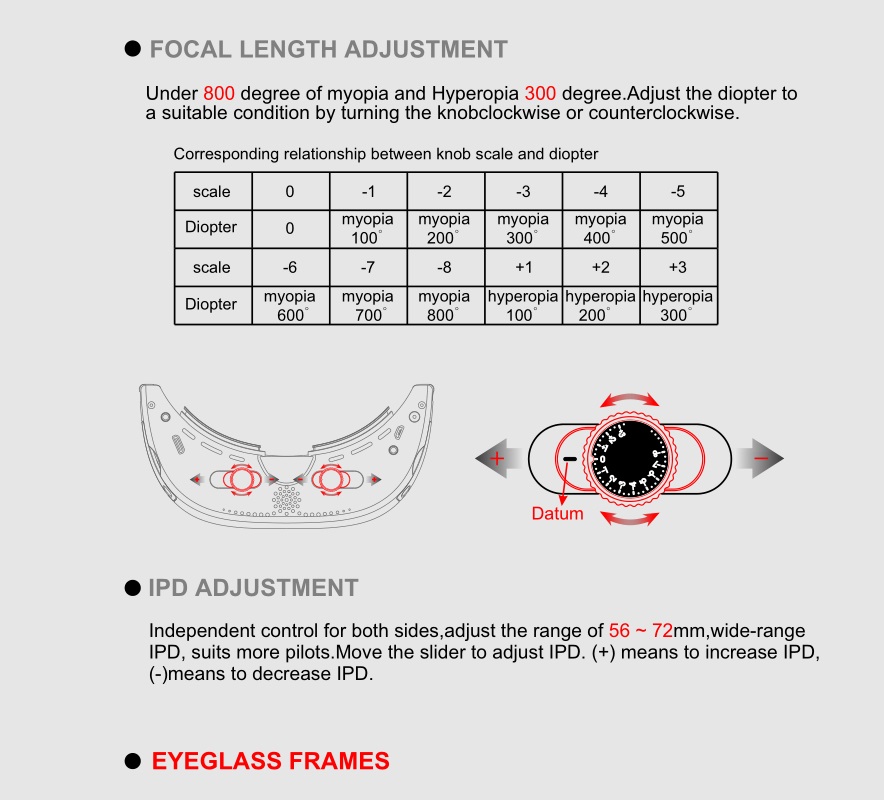 Goggles firmware can be easily upgraded by using the SD card or by copying the firmware to U disk via the USB.
Eachine EV200D goggles has power button and can be powered from the USB source or by Li-on 18650 batteries with the supplied battery case with charging circuit.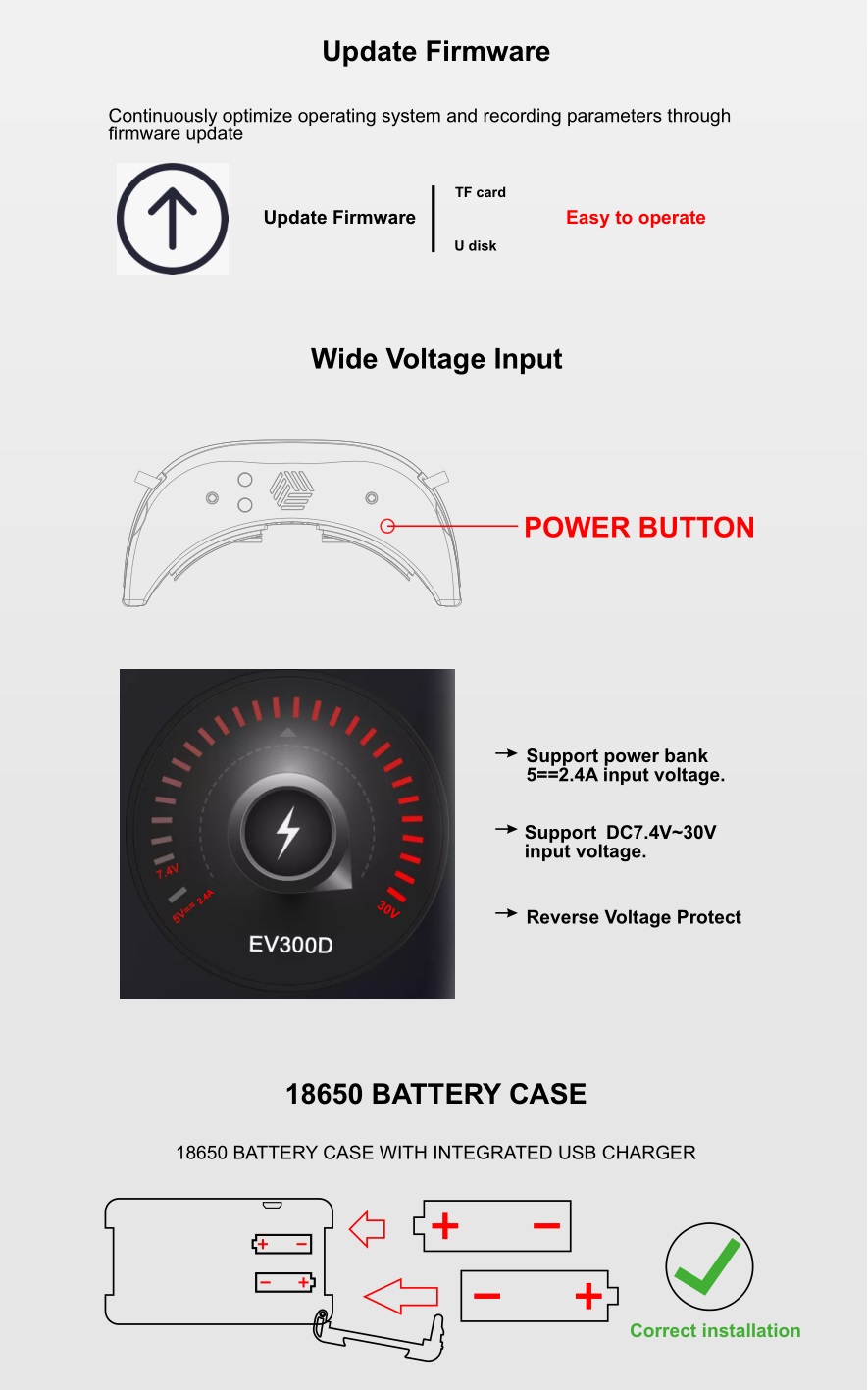 Available @ https://www.banggood.com/Eachine-EV300D-1280960-5_8G-72CH-Dual-True-Diversity-HDMI-FPV-Goggles-Built-in-DVR-Focal-Length-Adjustable-With-Chargeable-Battery-Case-p-1595594.html
Specifications:
Resolution : 1280*960
FOV : 42° diagonal
IPD : 56-72mm
Aspect ratio : 16:9/4:3
Receiver Sensitivity: ≤-93DB
Antenna impedance: 50Ω
Audio and video: AV in/out
Video format: NTSC/PAL
Brightness: Adjustable
Contrast: Adjustable
IPD adjusting: 56-72mm
Focal length adjusting: Under 800 degree of myopia and Hyperopia 300 degrees
Eyeglass frames: astigmatism/ myopia/hyperopia(Diopter lens not include)
Power input: DC 7.4V-28V
Minimum voltage: 6.8V
Operating temperature:-10C ~ 40C
Features:
FOV 42°
Built-in DVR
USB power supply support
Resolution 1280*960
Lion 18650 battery case with integrated charger
Supported display mode: HD Port in 2D/3D; AV in 2D/3D
Optional diopter lens,compatible with Fatshark diopter lens,200/400/600 degrees selectable
With Fan, can defog the glasses for good visual experience.
Dual true diversity,supports open source RX modules
Firmware upgrates via SD card.