Eachine 2S whoop TRASHCAN – seriously?
Eachine has announced the new 2S whoop called… TRASHCAN! No, it is not a joke. Eachine was in the mood of the black humour and decided to give the quad this funny and sarcasic name. And the specs are not rubbish for sure: TC0803 16000KV brushless motors, CRAZYBEEF4 PRO Flight controller with integrated Flysky, Frsky or DSM2 receiver, OSD and current meter. Eachine has chosen to use Caddx EOS2 1200TVL camera and this is really good choice for whoop camera. Eachine has redesigned the canopy to allow the camera to be tilted 0-35° degrees. VTX is smartaudio capable with power levels of 25mW and 200mW.
Eachine TRASHCAN is powered by two 1S batteries via twin 2.0 JST power connector. It is made so due to huge popularity and avilability of the 1S 250-300mAh batteries. The TRASHCAN package includes 4 pieces of 1S 300mAh 40/80C batteries.
The weight is 33 grams, compared to BetaFPV 75X – 41g and Mobula7 – 26g.
The price is $99 for PNF version and $105 for BNF version.
An a nice touch – Trashcan on the tail!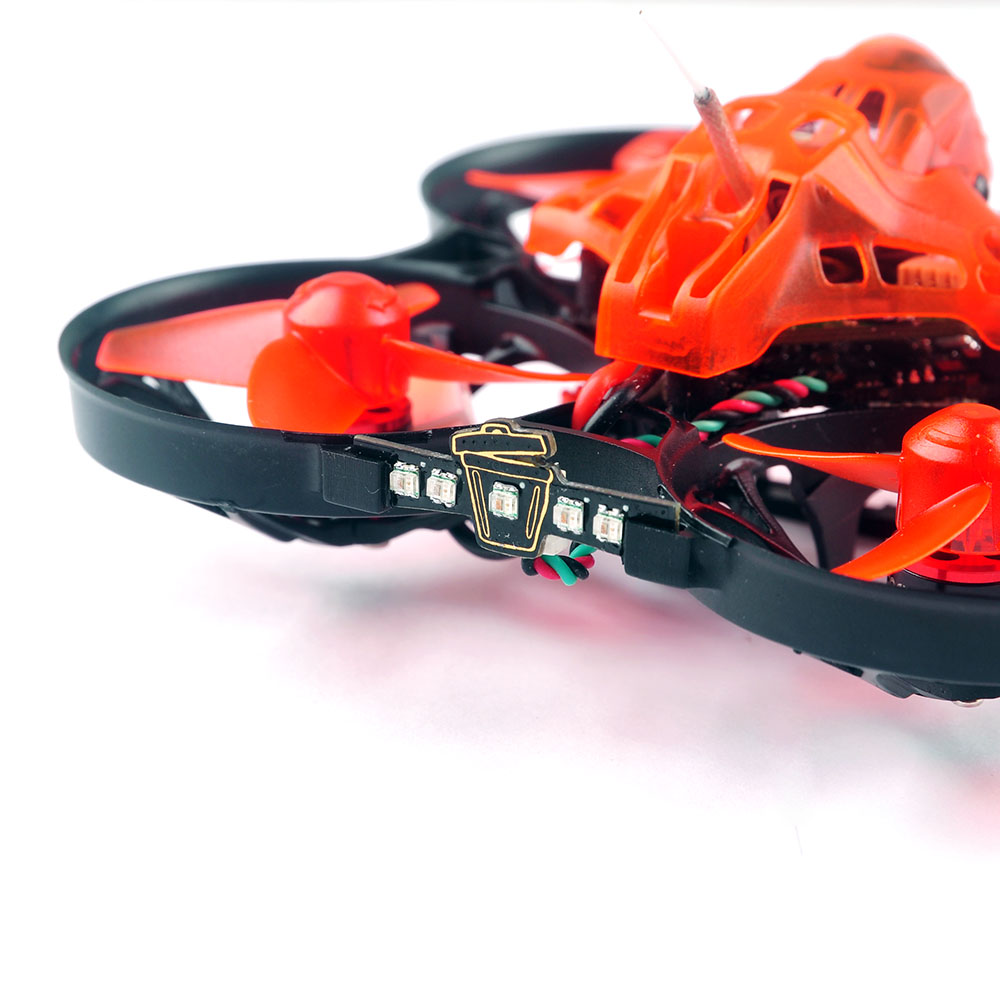 Package includes 4 pcs of 1S 300mAh batteries and a super simple charger. I hope Eachine will upgrade this charger to the one tha URAV65 whoop has. We need to charge at least 2 batteries at a time.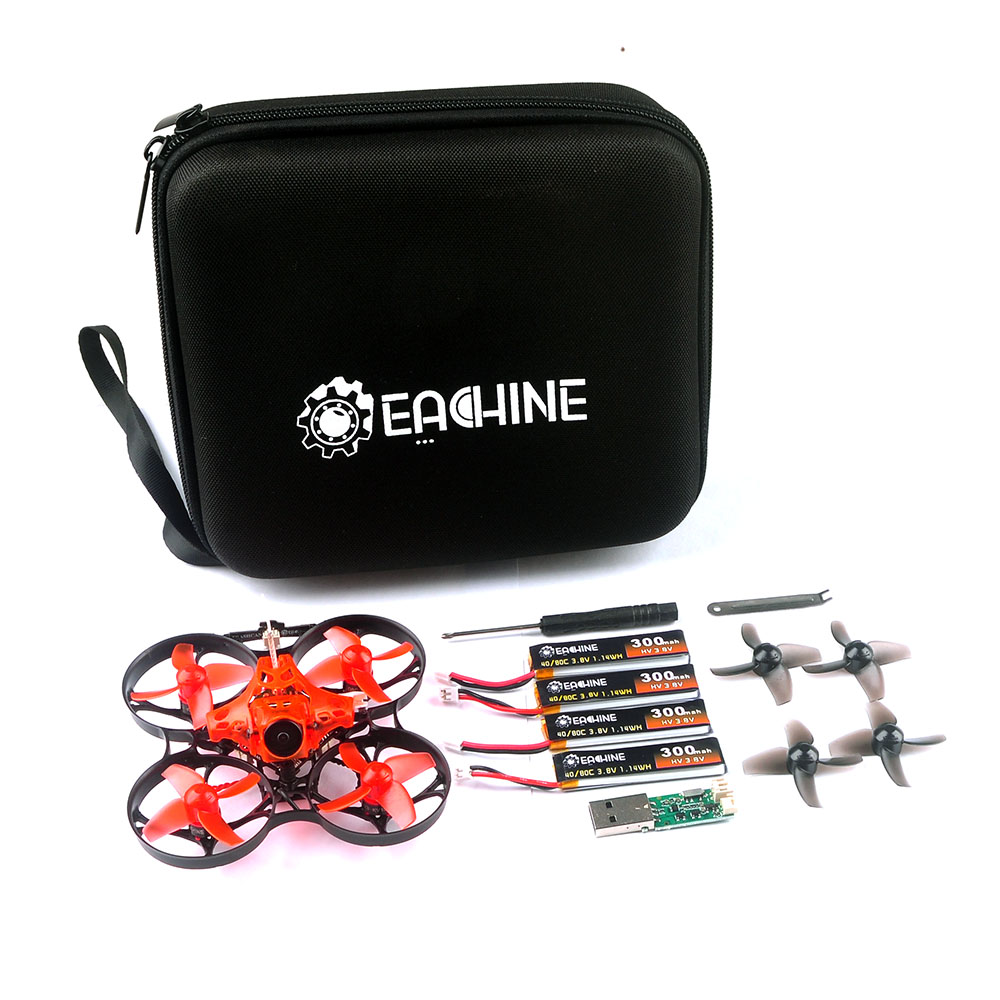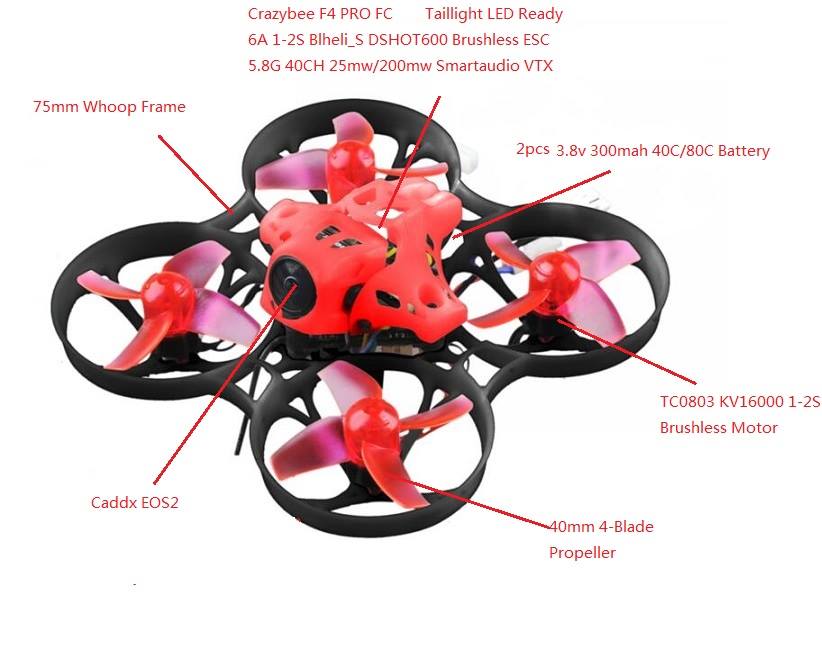 Available @
Banggood: https://www.banggood.com/Eachine-TRASHCAN-75mm-Crazybee-F4-PRO-OSD-2S-Whoop-FPV-Racing-Drone-Caddx-Eos2-Adjustable-Camera-p-1386071.html
Eachine website: https://www.eachine.com/Eachine-TRASHCAN-75mm-Crazybee-F4-PRO-OSD-2S-Whoop-FPV-Racing-Drone-0803-16000KV-1200TVL-Adjustable-Camera-25-or-200mW-VTX-Swtichable-p-1328.html
Specifications:
Item Name: Eachine TRASHCAN 2S 75mm Brushless Whoop racer drone BNF/PNP
Wheelbase: 75mm
Weight: 33g (without battery)
Weight: 48g (with Original 1s 300mah lipo battery x2)
Spare parts specifications:
Motor
Mode: TC0803 KV16000
Configu-ration:9N12P
Stator Diamter:8mm
Stator Length:3mm
Shaft Diameter:Φ1mm
Motor Dimension(Dia.*Len):Φ10.5mm*14.5mm
Weight(g):2.2g
No.of Cells(Lipo):1S-2S
Flight controller
(Frsky version) CRAZYBEEF4 PRO FR Firmware target: CrazybeeF4FR
(Flysky version) CRAZYBEEF4 PRO FS Firmware target: CrazybeeF4FS
(DSM2/DSMX version) CRAZYBEEF4 PRO Firmware target: CrazybeeF4DX
(No RX version) CRAZYBEEF4 PRO FR Firmware target: CrazybeeF4FR
MCU:STM32F411CEU6 (100MHZ, 512K FLASH)
Sensor: MPU-6000(SPI connection)
Board size: 28.5 * 28.5MM
Power supply: 1-2S battery input (DC 3.5-8.7V)
Built-in 6A(each) Blheli_S 4in1 ESC Dshot600 ready
Frsky version Built-in SPI Frsky receiver with telemetry(D8/D16 switchable)
Flysky version Built-in SPI Flysky receiver with telemetry(AFHDS/AFHDS2A switchable)
DSM2/X Version built-in Serial-based DSM2/DSMX compatible satellite receiver
No RX version need to add external Receiver
Built-in Betaflight OSD(SPI Control)
Built-in Current meter Max 28A
Current meter scale set to 1175
Built-in 5V 1A Buck / Boost with LC filter
Built-in voltage detection
BLHELI_S pass-through Ready
Taillight LED Ready
Onboard 4in1 ESC
MCU upgraded to EFM8BB21
Power supply: 1-2S LiPo/LiPo HV (3.5v/8.7v)
Current: 5A continuous peak 7A (3 seconds)
Support BLHeliSuite programmable
Factory firmware: S_H_50_REV16_7.Hex
Default protocol: DSHOT600
Frsky NON-EU receiver Version
SPI BUS receiver
Frsky D8/D16 switchable
Compatible Non EU transmitter both D8 and D16 mode
Channels: 8ch or 16ch
Failsafe support
No ground interference ( Transmitter and receiver 1 m from the ground): 300m
Flysky receiver Version
SPI BUS receiver
Protocol: AFHDS and AFHDS-2A Switchable
Channels: 8ch(AFHDS) or 14ch(AFHDS-2A)
No ground interference ( Transmitter and receiver 1 m from the ground): 300m
Failsafe support
DSM2/DSMX receiver version
Serial bus receiver
Protocol: DSM2/DSMX compatible
Channels:6-9 (Depend on your radio)
No ground interference ( Transmitter and receiver 1 m from the ground): 300m
VTX
Output power: 25/200mw switchable
Frequency: 40CH
Input voltage: 3.3V 5.5V
Current consumption: 300mA(type)
Antenna: RG178 antenna
Frequency: 5.8GHz 5bands 40 channels
With Raceband
Smart Audio ready
Weight: 3g
CADDX EOS2 camera
1/3″ CMOS Sensor
1200 TVL
2.1mm lens
4:3 Image size
NTSC
Global WDR
Internal Synchronization
Lipo Battery
Capacity:300mAh
Voltage:3.8v
Continuous Discharge Rate: 40C
Instantaneous discharge rate: 80C
Size: 55mmx12mmx6.5mm
Weight: 7.8g
Connector: PH2.0
*Notes: Need 2pcs batteries for Series circuit

Features:
New Crazybee F4 PRO Flight controller 1-2s Lipo Compatible
2S whoop more powerful and more flight time
Betaflight support , multi flight mode: ACRO/AIR/ANGLE
New 0803 Powerful and High efficiency Brushless motor and Smooth ESC
Betaflight OSD support ,easy to get RSSI, Voltage ,current from your goggles(DSMX version no RSSI output)
Caddx EOS2 camera ready , More comfortable FPV experience
Camera Angle adjustable (0-35°)
VTX power switchable 25mw~200mw
Smart Audio ready , change VTX bands, powers, channels via OSD
Adjust the settings and the PID of the flight controller via OSD
Frsky Non-EU version support NON-EU Frsky transmitter D8/D16 compatible
Flysky version support both AFHDS and AFHDS-2A protocol transmitter
DSM2/DSMX version support DSM2 and DSMX compatible Spektrum transmitter
No RX version support external serial-bus receiver like xm+, crossfire, S-FHSS etc..
Full telemetry function ready (Frsky Non-EU and Flysky version support)
Taillight ready
Real Bind and Fly version
Compatible both for 1s-2s
Package Included:

PNP/ NO Receiver Version
1 x 75mm Brushless whoop Frame
1 x Crazybee F4 PRO FC no RX verion
4 x TC0803 KV16000 Motor
1 x 40mm propeller(4cw+4ccw)
1 x Caddx EOS2 camera
1 x 5.8G 40ch 25mw-200mw VTX
4 x 3.8v 300mah 40C/80C battery
1 x USB Lipo/LIHV Charger
1 x Propeller disassemble tool
1 x LED board
1 x Screwdriver
BNF Version
1 x 75mm Brushless whoop Frame
1 x Option1: Crazybee F4 PRO FC built-in Frsky NON-EU receiver
Option2: Crazybee F4 PRO FC built-in Flysky AFHDS and AFHDS-2A Switchable receiver
Option3: Crazybee F4 PRO FC built-in DSM2/DSMX receiver
4 x TC0803 KV16000 Motor
1 x 40mm propeller(4cw+4ccw)
1 x Caddx EOS2 camera
1 x 5.8G 40ch 25mw-200mw VTX
4 x 3.8v 300mah 40C/80C battery
1 x USB Lipo/LIHV Charger
1 x Propeller disassemble tool
1 x LED board
1 x Screwdriver