EMAX Magnum Mini 2 AIO stack
EMAX announced their new mini sized AIO stack – Magnum Mini 2. This stack features F4 FC with on board OSD, MPU6000 gyro, connected via fast SPI. 4in1 ESC was upgraded to BLHELI_32, supporting 35A (40A burst) current rates. That hudge Amp rate means you can use this mini stack for 5″ quads! This stack supports from 2S up to todays's modern 6S batteries. There was also VTX added to the stack, that supports TBS Smart Audio control. VTX has selectable 25mw/200mW power levels.
Magnum Mini 2 has 20x20mm mounting pattern, but the lowest plate ins tack (4in1 ESC) size is 37x32mm, because it has larger MOSFETs and two LowESR caps on board.
Previous version of Magnum Mini had F3 processor and only 12A ЕSC in stack.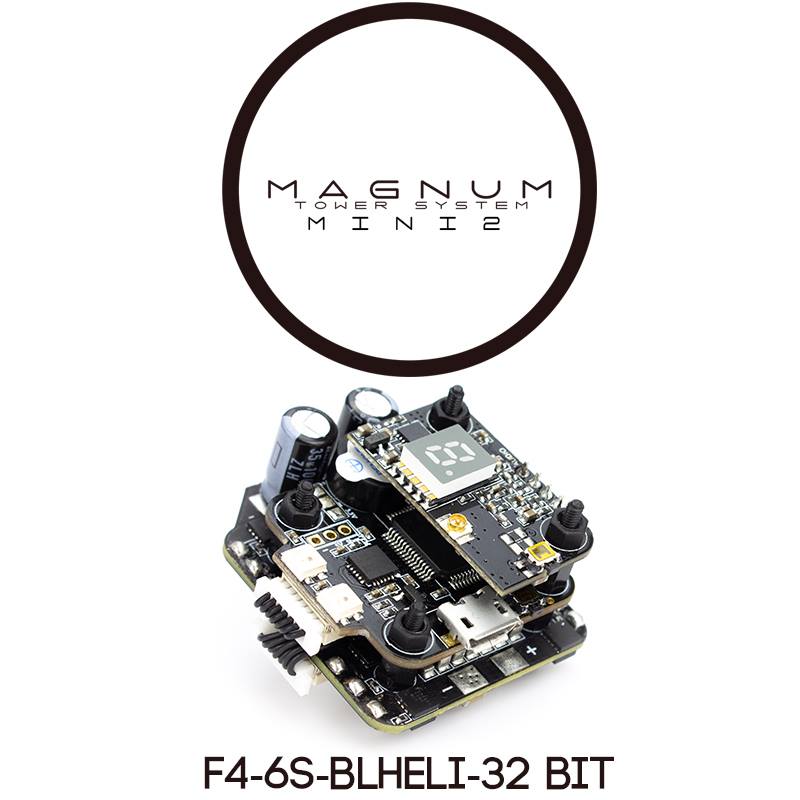 Citation from Emax announcement: "Engineered around an F4 processor with an MPU6000 gyro, tuning and perfect flight performance will be easier to achieve than ever. Including built-in programmable RGB LEDs, distinction between different builds and custom status updates offer a wide variety of customizability for any situation and requirement.
Utilizing a newly engineered video transmission frequency controller, channel selection can now be programmed from an external transmitter without the need to physically access the video transmitter. With On-Screen-Display, information regarding your craft will be easy to access while in flight directly on your video feed.
With all the electronics needed, assembled together in an accessible package, building a custom craft will only require a frame, camera, set of motors, and a compatible receiver.
Installation has never been easier, thanks to the universal form factor of the tower system"
Available @
Banggood: https://www.banggood.com/EMAX-Mini-Magnum-2-F4-…-1316934.html
User Manual: https://drive.google.com/file/d/1WrHFXpbMGCUid6cFjpGZrQJQBhHBxpz1/view
Features
Flight controller
(OMNIBUSF4 Firmware)
o STM32F405 MCU
o MPU6000 accelerometer/gyro (connected via SPI)
o On-board OSD
o On-board Buzzer
0 Integrated 5V/3A BEC
o Dedicated PPM/ SBUS receiver input
o 2omm mounting holes.
ESC
o Continuous current 35A ( max burst 4oA)
o Supply voltage 2S-6S (1700KVMotor LIMIT for 6S)
o STM32Fo51K6U6 ESC MCU
BLHeli_32 firmwares supporting. DSHOT MULTISHOT ONESHOT125
o Top quality MOSFET
o 3OZ high TG PCB board
o 32x37mm board with 2omm mounting holes.
VTX
o Frequency band: 5658-5945MHz FCC Compliant Channels / with HAM unlock)
o TBS Audio Control (Smart Audio)
o Channels: 37
o Transmit power: 13dBm/23dBm (25mW/20omW)
o Supply voltage: 4.5V-5.5V
o Antenna port : u.FL
0 Total weight: 17.21g