EMAX new RS1606 and RS1306 motors
EMAX is introducing new RS1606 and RS1306 series motors.
RS1606 3300KV 4000KV
3-4 inch quadcopters always struggle as the old motor choices were limited to 14xx series motors or bigger 18xx series motors. EMAX brings the 1606 sized powerful motor in a small package to get the correct AUW for 3-4 inch quadcopters. This is also great for frames that are using more HD style components like the RunCam split to carry the extra payload.
RS1606 motors are available in 3300KV and 4000KV ratings. Weights only 15.8 grams and provide more than 1kg of thrust on 4S!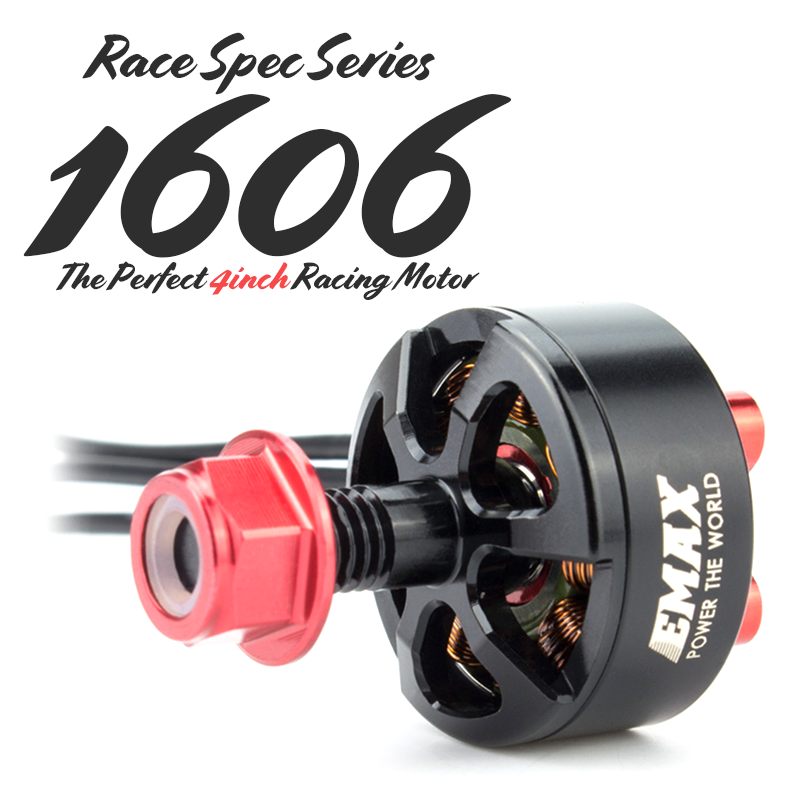 Available @
https://www.emaxmodel.com/rs1606-brushless-racing-motor.html
https://www.banggood.com/EMAX-1606-RS1606-3300KV-4000KV-Brushless-Motor-3-4S-For-RC-Drone-FPV-Racing-Multi-Rotor-p-1369436.html
Framework: 9N12P
Length: 28.1
Diameter: 20.8mm
No. of Cells: 3-4S
Max. Thrust: 4000-1027g (on 4s) 3300kv-875 g (on 4s)
Prop shaft thread type: M5
Propeller: 3″ – 4"
Weight: 15.8g (W/O silicone wire)
Wire Length: 85mm 24AWG
Motor mount bolt pattern: 12mmx12mm M2 Thread
RS1306 V2 2700KV 4000KV
EMAX also introduced new line of RS1306 motor. We can call it RS1306 Version 2 . Motor was redesigned from the ground up to have better performance. The older motor pulled about 315g of thrust on 4S battery and the new one pulls up to 500g of thrust on 4S! The bottomless design and T-mount system allowed to make the smaller and lighter motor. The weight of the new RS1306 motor is only 9.6g versus the 12.7g of the older one.
Availagle @:
https://www.emaxmodel.com/rs1306-version-2-brushless-racing-motor.html
https://www.banggood.com/EMAX-1306-RS1306-Version-2-RS1306B-2700KV-4000KV-Brushless-Motor-3-4S-For-RC-Drone-Multi-Rotor-p-1369435.html
Framework: 9N12P
Length: 19.4mm
Diameter: 16.8mm
No. of cells: 3-4s
Max thrust: 4000kv–500g(on 4s) , 2700kv–336g(on 4s)
Shaft diameter 1.5mm
Propeller: 3″
Weight: 9.6g (W/O silicone wire)
Wire Length: 65mm 26AWG
Mounting : T-Mount (M2 holes, 5mm eye to eye)
Motor mount bolt pattern 12mmx12mm M2 Thread
Bearing: 2x5x2.5