FlySky PL18 Paladin transmitter
FlySky is preparing to release new transmitter – PL18. Lets take a closer look at it.
FS-PL18 (Paladin)
The PL18 or Paladin or FT18 or even FT10 (as it was named earlier) is basically a reborn Flysky FS-i18 transmitter that was introduced back in the 2013 (!). This old new radio is full size TX with hall effect gimbals, colour LCD and FlySky OS. It will have 8 switches (2 of them 3-pos), 3 turning pots, 2 sliders on the sides and 4 additional trims. So a lot of the controls. PL18 will have a total of 18 channels. This radio is rumored to have a new AFHDS3 protocol with overal latency minimized down to 3ms.
Some update, after the main release, probably will add a Bluetooth module for wireless communication and wireless trainer function. Also rumored to have some fancy wireless charging capability.
Let's hope this radio will be released eventually.
EDIT 2019-06-10: Hard to believe, but the Banggood started to take preorders for Flysky FS-PL18 (Paladin) Radio for $285.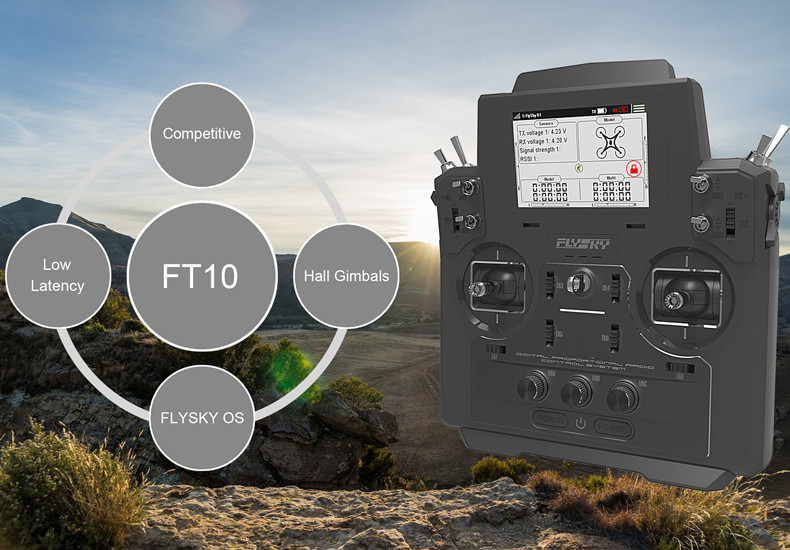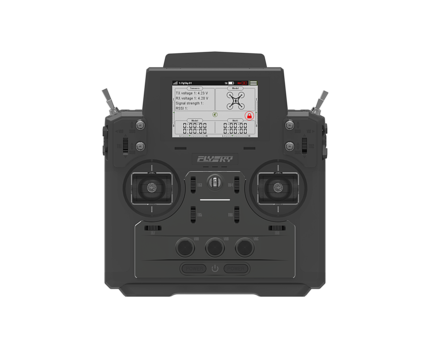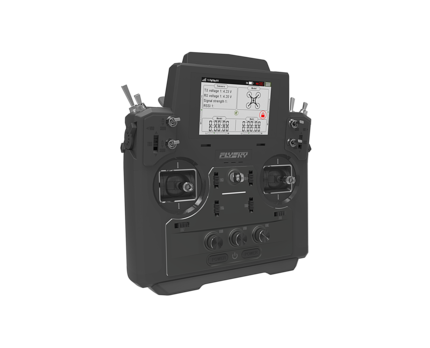 Early prototype of Flysky FS-PL18 (FT10) as shown in some of the expo's: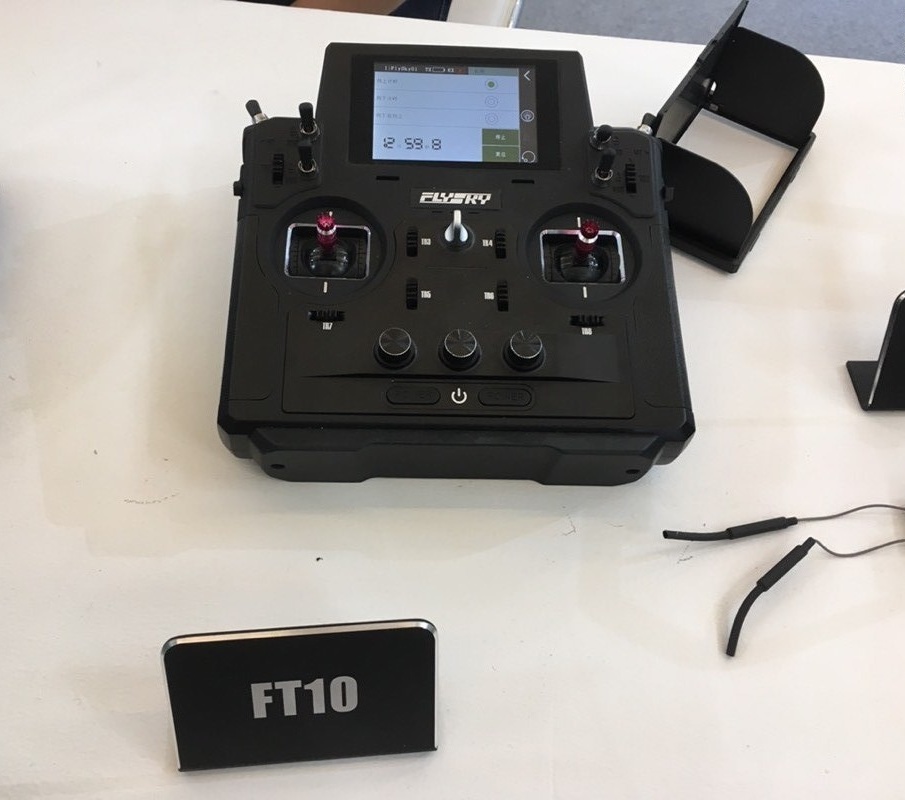 The similarity between FS-i18 and FS-PL18 is striking. Here is the photo of the black and white FS-i18: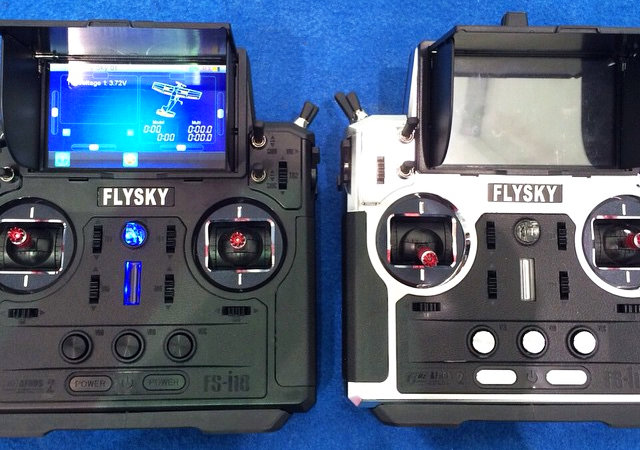 FS-i18 was a prototype radio, produced in the year 2013. FlySky's shelved this project until now.
Update 2019-02: Flysky has released first video with FS-PL18 Paladin transmitter.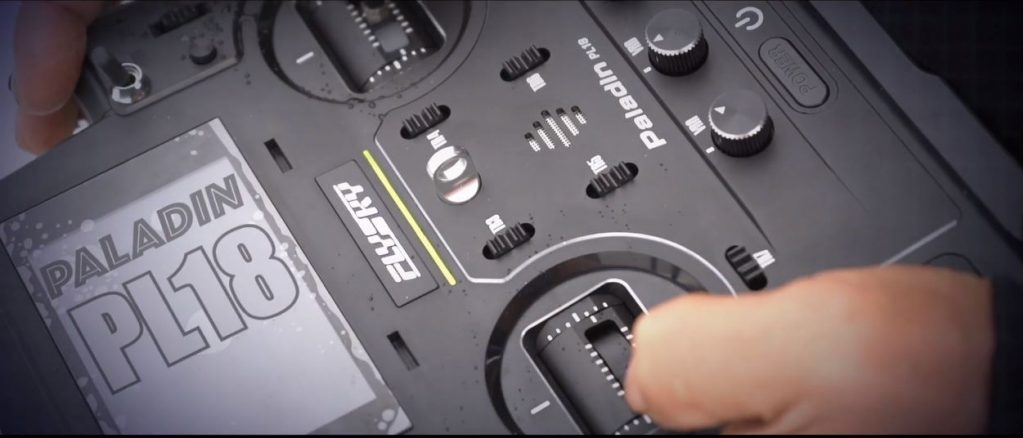 New Flysky AFHDS 3 TX module.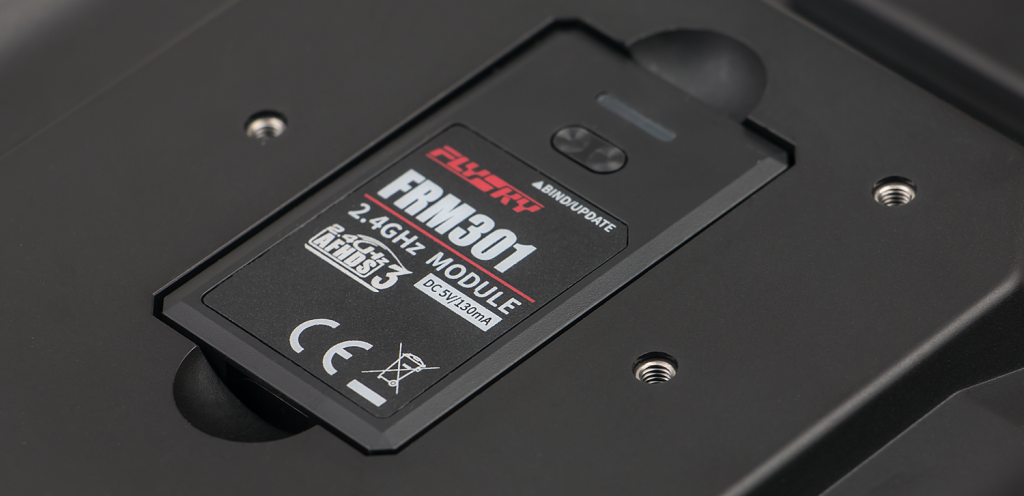 Update 2019-08-31: Flysky released video with the range test of their Paladin PL-18 and FTr16S receiver. Pretty impressive 9.2km.
Funny, but FTr16S receiver cannot be found anywhere! Looks like nobody sells them yet.
Here is the AFHDS 3 protocol compatible receivers chart: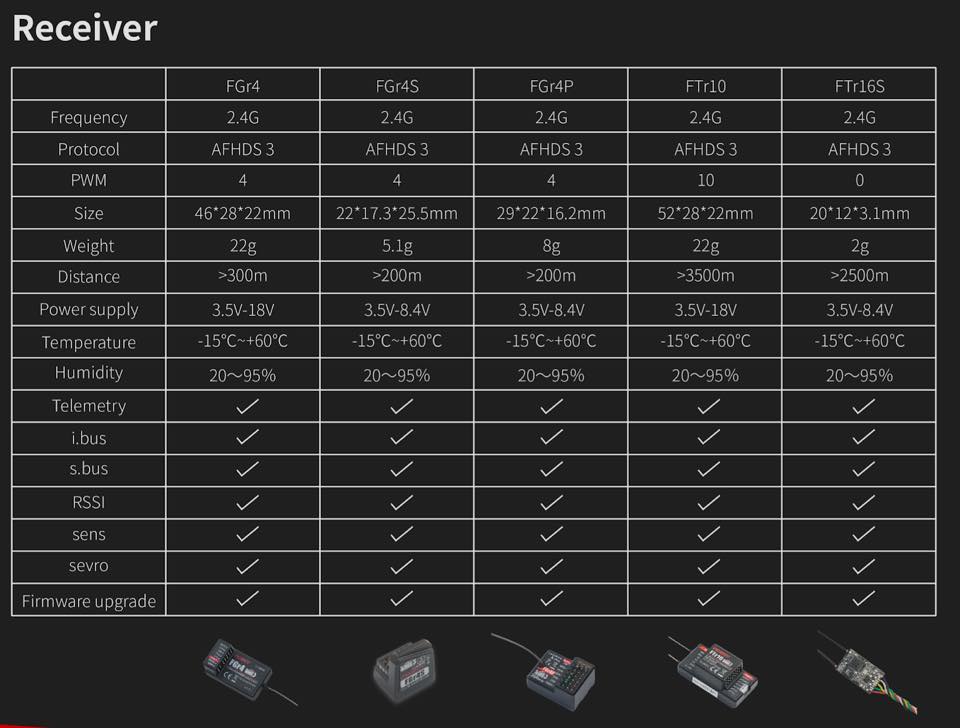 Info from Flysky about the support of the AFHDS 2A and other receivers/modules:
"…AFHDS 2A receivers will be supported in the subsequent firmware. PL18 support TBS CrossingFire and FRM301, FRM302. it will support other PPM RF modules in the subsequent firmware, too."
…these are the AFHDS 2A receivers that PL18 will support in the future: iA10B, iA10, iA6B, iA6, iA4B, iA4C, BS4, A6, A3 and X6B."
Flysky Paladin PL18 User Manual: https://static1.squarespace.com/static/5bc852d6b9144934c40d499c/t/5d566362cc94a50001ada9ae/1565942814227/PL18+user+manual+20190816.pdf
Available @
Banggood (coupon BGFSPL18): https://www.banggood.com/Flysky-FS-PL18-Paladin-2_4G-18CH-Radio-Transmitter-with-FS-FTr10-Receiver-HVGA-3_5-Inch-TFT-Touch-Screen-for-RC-FPV-Racing-Drone-Airplane-Helicopter-Vehicle-p-1441613.html
Hobbyking: https://hobbyking.com/en_us/flysky-paladin-pl18-2-4ghz-afhds3-18ch-radio-system-m2.html
Specification:
Name: Flysky FS-PL18 (Paladin)
Channel: 18CH
Built-in internal AFHDS 3 ( new 2.4GHz protocol)
HVGA 3.5-inch TFT color screen, 320 * 480 dot matrix, LCD white backlight, capacitive touch screen (TBD)
Strong Anti-interference Capabilities
Stability with strong anti-interference capabilities with a focus on competitive use
Micro USB Port: Micro USB Port added for convienince and simulator use.
RF Module Support: Support for other companies RF modules
Size: 250x280x130mm
Weight: 1.87kg
Note:The product price and parameters has not been finalized and will continue to be updated.
Feature:
– External diversity dual antennas, distance: 2KM
– FRM301 module It is the fastest and lowest latency module developed by FLYSKY. Minimum delay: 3mS (faster than Frsky and Futaba, slower than SANWA)
– OS design: mixing, curve, timer and reverse, voice, vibration and other functions
– GPS, spectrum analysis, ambient lights and other functions will be come ture in the near future firmware
– Wireless bluetooth, wireless charging and other functions as firmware update
2018-05-02 Article created
2018-07-10 Updated FT18 description, specs.
2019-03-04 First PL18 video
2019-06-10 Preorders started
2019-09-06 Info updated