FrSky Horus X10 and X10S Express 2019
Frsky has released the new 2019 version of the Horus premium radios lineup – the X10 Express and X10S Express.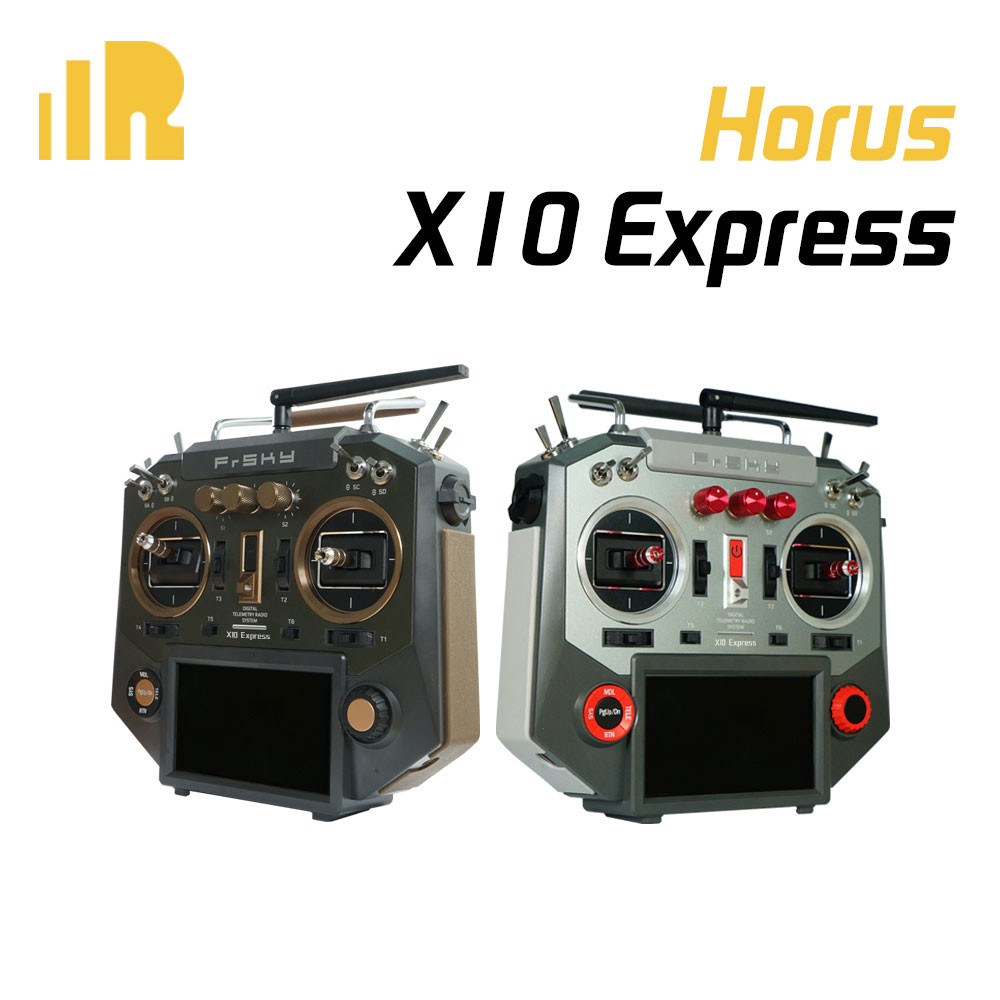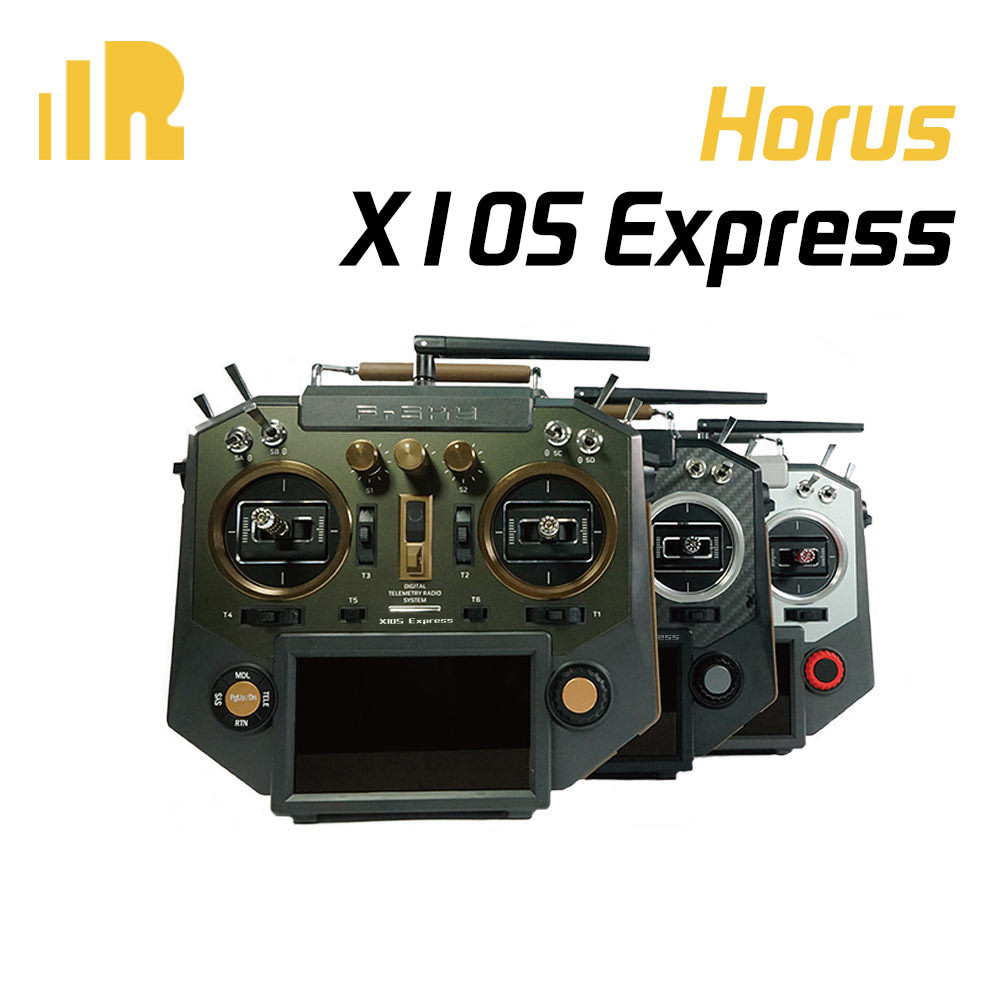 The main differencies from the older versions are: New internal radio module ISRM-S-X10, supporting ACCESS and ACCST systems (D8 protocol is not supported anymore). ACCESS system allows to extend the number of controlable channels up to the 24. ACCESS also allds the PARA wireless training system allowing to connect other radio or any mobile device to FrSky Free Link App and AirLink S.
X10 Express and X10S Express radios now can be powered by 2pcs of Li-on 18650 batteries and they can be recharged via USB connection. Of course the Li-on batteries can be easily accessed via battery compartment.
Horus X10S Express have M10 hall sensor gimbals and extendable stick ends
Horus X10S Express have MC12P all CNC digital higher accuracy ten bearings hall sensor gimbals and extendable stick ends
Description from the manufacturer:
Horus X10/S Express use the ACCESS communication protocol, it boasts 24 channels with a faster baud rate and lower latency equipped with a high-speed module digital interface. Along with the new spectrum analysis function and added FrOS/OpenTX firmware, it is now possible to check the airwaves for RF noise.
Both X10 and X10S Express support balancing charge for 2S Li-ion battery via a collateral USB cable. The accessible battery compartment design is another change worth mentioning, with two 18650 Li-ion batteries you can expect to be able to fly all day. The Express carries forward all of their predecessor' features like the industrial LCD color screen, and the highly-accuracy M10/MC12P hall sensor gimbals which offer the most precise control. Additionally, it features a remarkable PARA wireless trainer function which also makes them compatible with the FrSky Free Link App and AirLink S. All that makes the Express version an ideal transmitter for, gliders, helis, multirotor and every type of fixed-wing imaginable.
FrSky Horus X10 Express
FrSky Horus X10S Express
FrSky Horus X10 Express available @
HorusRC: https://www.horusrc.com/en/frsky-horus-x10-express-transmitter.html
Banggood: https://www.banggood.com/FrSky-HORUS-X10-Express-24CH-ACCESS-ACCST-D16-Mode2-Transmitter-PARA-Wireless-Training-System-for-RC-Drone-p-1539844.html
FrSky Horus X10S Express available @
HorusRC: https://www.horusrc.com/en/frsky-horus-x10s-express-transmitter.html
Banggood: https://www.banggood.com/FrSky-HORUS-X10S-Express-24CH-ACCESS-ACCST-D16-Mode2-Transmitter-PARA-Wireless-Training-System-for-RC-Drone-p-1539843.html
Specifications
Dimension: 213*225*112mm (L*W*H)
Weight: 900g (without battery)
Operating system: FrOS / OpenTX
Internal RF module: ISRM-S-X10
Number of Channels: 24 channels
Operating Voltage Range: 6.5 ~ 8.4V (2S Li-battery)
Operating Temperature: -10℃- 60 ℃ (14℉ -140℉ )
Operating Current: 240mA@7.4V (typ)
Charging Current: ≤1A ±200mA
USB Adaptor Voltage: 5.0+0.2V
USB Adaptor Current: >2.0A
Backlit LCD resolution: 480*272
Compatibility: ACCST D16 and ACCESS receivers
Features
High-speed module digital interface with installed ACCESS protocol
Supports spectrum analyzer function
Supports wired training function
New PARA wireless training system
– High-speed training system with a lower latency
– Compatible with FrSky Free Link App and AirLink S via mobile devices
2 internal antennas and detachable external antenna
Antenna detection and SWR warning
Industrial LCD: 480*272 readable outdoor color screen
Supports 2S Li-battery balancing charge with Mini USB interface
Easily accessible battery compartment (*Batteries not included)
Horus X10 Express – M10 hall sensor gimbals and extendable stick ends
Horus X10S Express – MC12P all CNC digital higher accuracy ten bearings hall sensor gimbals and extendable stick ends