FrSky has released the new radio – Taranis X9 Lite. This is entry level radio with the new low latency ACCESS protocol and is running er9x or OpenTX firmwares.
Taranis X9 Lite is a little bit smaller and lighter than Taranis X9D radio, has the same LCD display from Taranis Q X7 with a resolution of 128×64 pixels. Radio has SD card slot, haptic and voice feedback, wired trainer port, smart port and Micro USB port. X9 Lite radio has 24 channels (expandable to 48), 60 models (expandable by SD Card).
Taranis X9 Lite has improved navigation, introducing the roller button (look at the Jumper T16). The gimbals look to be the same as in Taranis Q X7, but X9 Lite has less controls – 6 switches and one turn pot.
New radio accepts the 18650 Li-on batteries, but no built-in charging capabilites.
Info from the product webpage:
As a portable radio, the FrSky Taranis X9 Lite is a remarkable fusion of traditional radio design with the innovations of the latest ACCESS protocol. The X9 Lite inherits its classic form factor from the FrSky Taranis X9D series remote control, along with completely preserving the comfort of the classic grip design, it also adds a program scroll button adding convenience when navigating the menu further improving the user experience. For beginners, the wired training function is retained, allowing beginners to improve their skills with the security of an instructors input upon command.
Like the Taranis X-Lite Pro, the new Taranis X9 Lite also uses the latest ACCESS communication protocol, along with ErskyTX / OpenTX open source operating system, it boasts 24 channels with a faster baud rate and lower latency with a high-speed module digital interface. Additional ACCESS features like wireless firmware updates and wireless configurations will be gradually unlocked, providing a more reliable, more secure link between the remote and model. Making the X9 Lite a fully functioning remote control with tons of extra features.
Letter from the FrSky on the older receivers compatibility:
Hello sir,
The X-Lite Pro/S, X9 Lite and new coming FrSky radios will support R9M Lite to work compatible with and will update the firmware for this module to let it support in one week as soon as possible. We will release another upgraded R9M Lite Pro module, you can also find some information: https://www.instagram.com/p/BxKu4AtpllZ/
For the customers who have the older original FrSky receivers including the receivers working in D8 and L12 modes, and want to let them work with these newly released ACCESS radios, we will release an XJT Lite module for these customers soon.
We have got some contacts from some manufacturers who want to make the multi-protocol module and we are discussing now. And the manufactures who meet the requirements to make the external modules to compatible with FrSky radios, they will be supported.
Information from FrSky ACCESS webpage:
Q: Regarding the external module for the FrSky new coming radios. new
A: FrSky will mostly adopt the 8 pins module interface (Lite version) for the new coming radios. For the manufacturers of the third-party external module who follow the requirements below, FrSky will offer the necessary supports of software and hardware including the technical material, interface design and etc.
1. The third-party external modules should be verified by FrSky compatibility tests;
2. The manufacturer does not infringe on others (individual, organization and company) intellectual properties.
Using an unverified external module can cause product impairment. The unverified third-party manufacturer is responsible for any damages that may occur, and the FrSky users warranty will be invalid.
Compatibility Table
Below is the FrSky official compatibility table of the Taranis X9 Lite internal (ISRM-N/S/P) and furthercomming X9 Lite external (XJT Lite) modules. We can see that support of ACCST D16 protocols is planned for the internal X9 Lite radio module.
Internal RF Module
(ISRM-N/S/P)
External RF Module
(XJT Lite)
ACCESS
√
ACCST D16
√
√
ACCST D8
√
EDIT 2019-06-06: There is a firmware update on the FrSky website, that enables the support for receivers with ACCST D16 protocol.
Firmware date: 2019-06-05, Firmware version: 1906051.
1. Fix the power management unit issue for external module.
2. Add the support of R9M Lite module (ACCST) .
3. Add the support of D16 mode for ISRM.
4. Fix other small bugs.
* ISRM_N is the firmware for internal module.
* Please make sure to update the radio firmware firstly and then ISRM and PMU.
419KBDOWNLOAD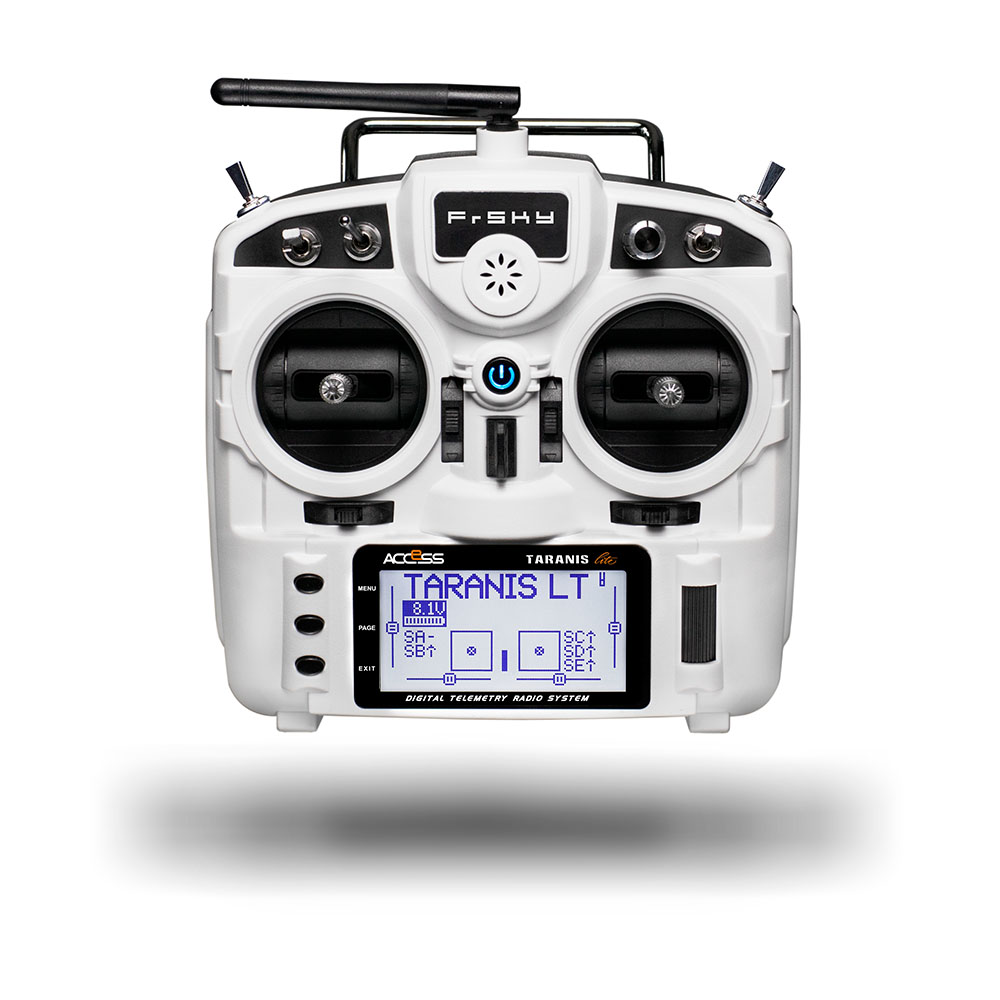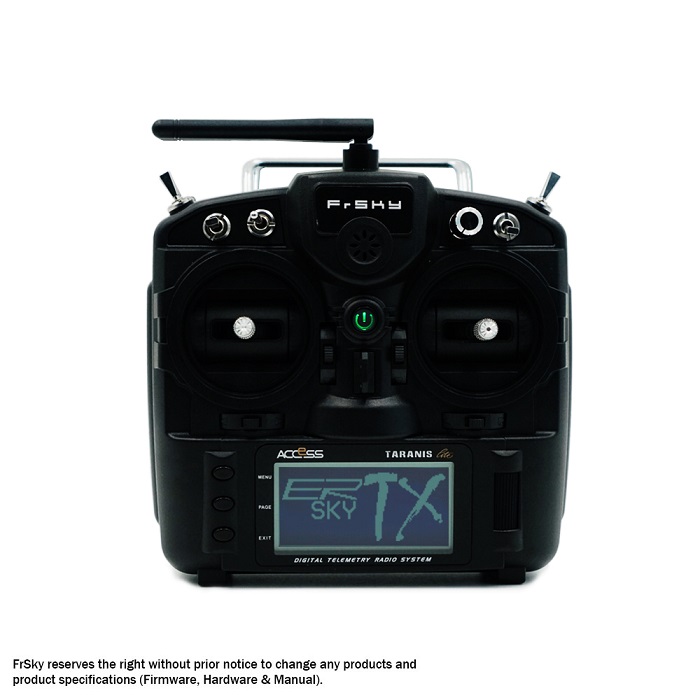 FrSky Taranis X9 Lite will be available in White, Silver, Light Blue and Dark Blue colors.
Taranis X9D, Q X7 and X9 Lite Comparison:
| | | | |
| --- | --- | --- | --- |
| | Taranis X9D Plus | Taranis Q X7 | Taranis X9 Lite |
| Operating System | OpenTX | OpenTX | ErskyTX/OpenTX |
| Communication Protocol | ACCST/ACCESS | ACCST/ACCESS | ACCESS |
| High-speed module digital interface | × | × | √ |
| Program Navigation Button | × | √ | √ |
| Wired Training System | √ | √ | √ |
| Haptic Vibration Alerts | √ | √ | √ |
| Voice Speech Outputs | √ | √ | √ |
| Outdoor Legible Backlit LCD | √ | √ | √ |
| Easily Accessible Battery Compartment | √ | √ | √ |
| Potentiometer Gimbal | √ | √ | √ |
| Battery Charging System | √ | × | × |
MSRP Price: $89.99
There is promotional price for the sales startup, only $59.99 !
Available @
Specifications:
Brand name: FrSky
Item name: Taranis X9 Lite Transmitter
Dimension: 184*170*101mm (L*W*H)
Weight: 505g (without battery)
Operating system: ErskyTX / OpenTX (Default: OpenTX)
Number of channels: 24 channels
Internal RF module: ISRM-N
Operating voltage range: 6.0~8.4V
Operating current: 190mA@7.4V
Operating Temperature: -20℃ ~ 60℃ (-4℉ ~ 140℉)
Backlit LCD resolution: 128*64
Model memories: 60 models (expandable by Micro SD card)
Smart Port, Micro SD card slot, Micro USB Port and DSC Port

Features:
Ergonomic and compact design
Installed with ACCESS protocol
Supports spectrum analyzer function
High-speed module digital interface
G7 Noble potentiometer gimbal
Supports wired training function
Haptic vibration alerts and voice speech outputs
Easily accessible battery compartment (*Batteries not included, adaptive with replaceable 18650 button top Li-ion batteries)