GEPRC GEP-12A-F4 4S Brushless whoop FC
GEPRC has announced their version of the AIO flight controller for the currently most trendy brushless whoop and toothpick style quadcopters – GEP-12A-F4 . This tinywhoop FC sized board has F411 MCU and 4xESCs capable up to 12A continuous current and accepts up to 4S batteries! This makes it currently the most powerful brushless whoop flight controller in the market.
This FC with ESCS is designed for use with 1103-1105 sized motors, has MPU6000 gyroscope, connected via SPI interface, of course OSD, current, voltage meters are on board also.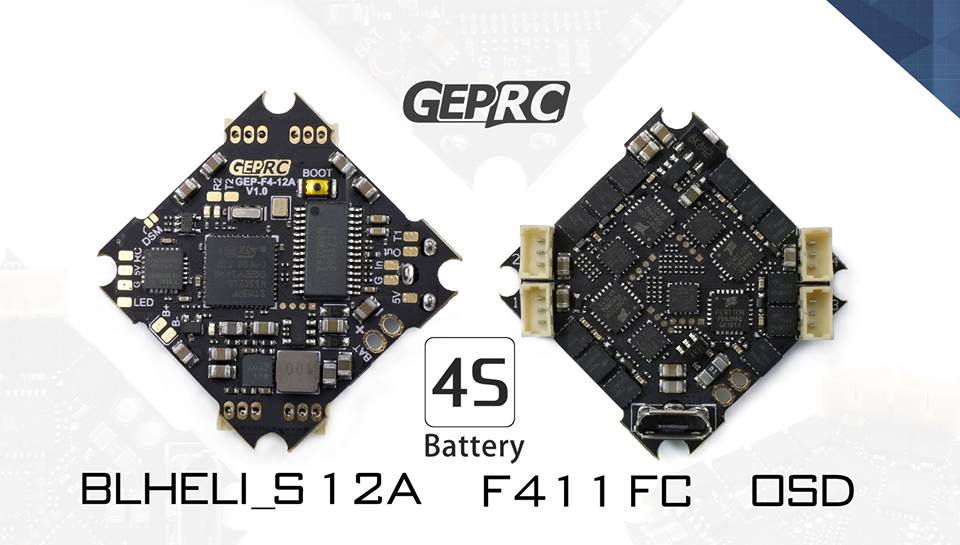 Available @
GEPRC: https://geprc.com/product/gep-12a-f4-flight-controller-12a-esc
Specifications:
Model Name: GEP-12A-F4
MCU: STM32F411
IMU: MPU6000 gyro/accelerometer (SPI)
OSD: BetaFlight OSD w/ AT7456E chip
Baro: NO
BEC Output: 5V@1A
Integrated LC Filter
Firmware target: MATEKF411
Size: 28.5×28.5mm board,25.5mm mounting holes (M2)
Installing Hole: 25.5×25.5mm, M2
ESC MCU: BB21F16G
Continuous current: 12A
Input:2-4s lipo
Supports Dshot600 ,Oneshot,Multishot
Current meter: 210
BlHeli_S Target: G_H_30
Features:
BLheli_S 12A ESC GEP-12A-F4 the largest support 4S Lipo battery, with Current meter
Silica gel shock absorption, solve the problem of vibration
F411 Flight Controller
MPU6000 Gyro
Include Buzzer pad
Weight: 5.6g