Happymodel has added another flight controller in their portfolio – Happymodel Pancake FC with integrated OpenSource VTX and ExpressLRS RX. It is rare to see video transmitter and radio receiver integrated on the single FC board, except highly integrated whoop/toothpick AIO boards. Happymodel Pancake is an interesting exception.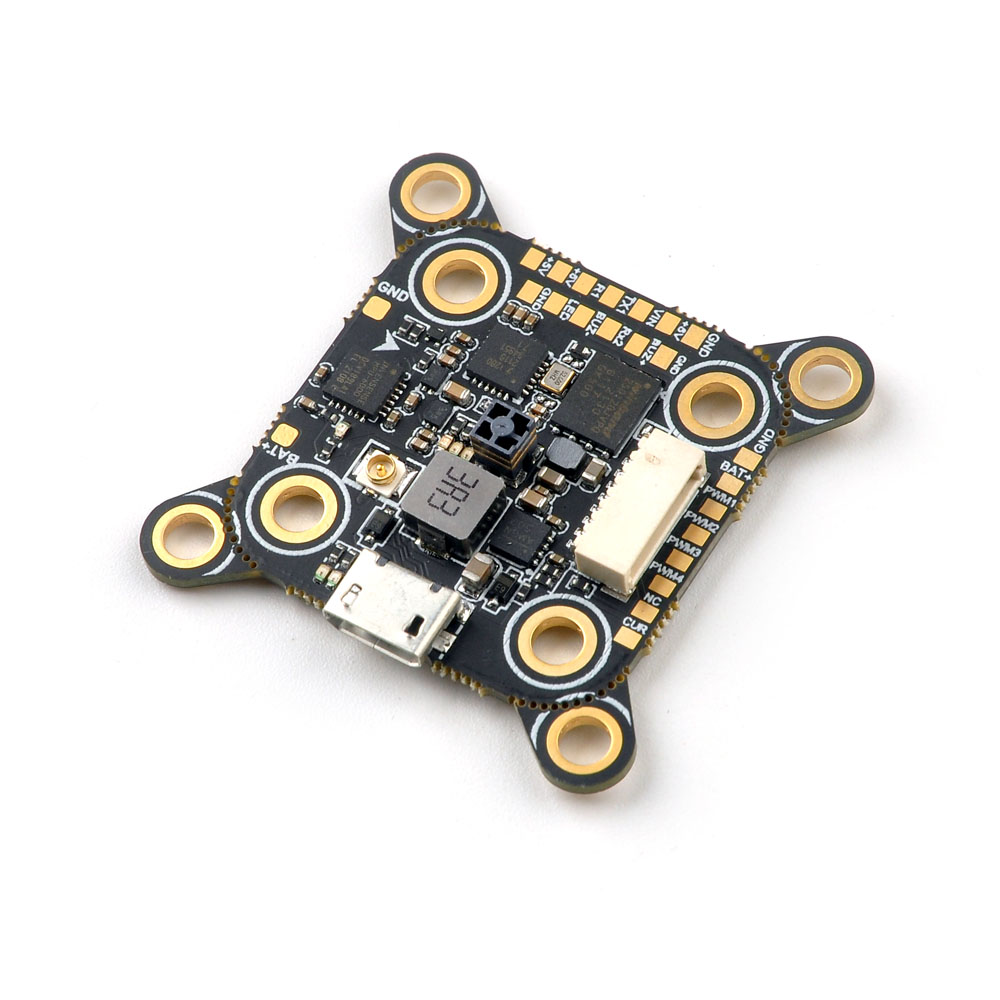 Happymodel Pancake is powered by STM32F411 MCU and has old trusty MPU6000 gyro. Flight controller can be powered from 2-6S battery directly and has only one 5V power out regulator on board.
The board has multiple (20x20mm and 30.5×30.5mm) mounting options. The FC itself is 20x20mm mount size with breakable tabs for mounting on the bigger 30.5×30.5mm stack.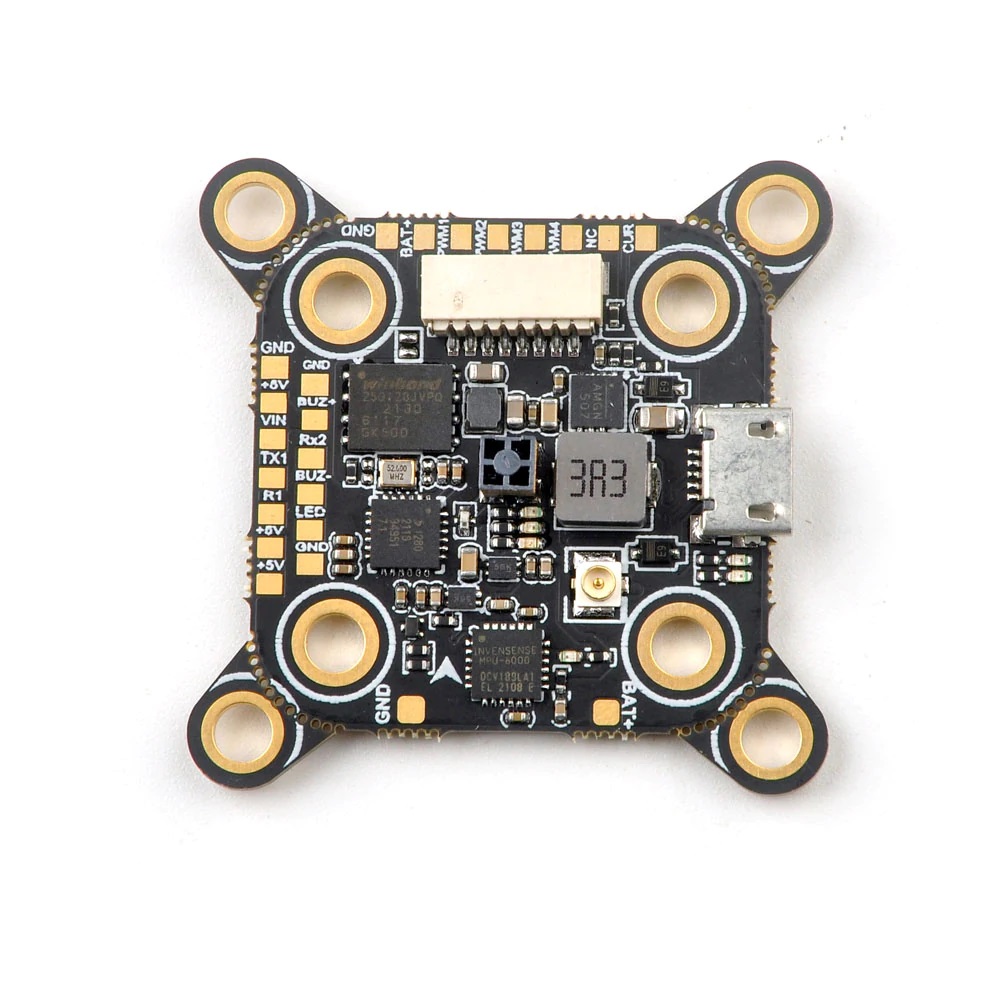 Onboard video transmitter is based on the open source project Open VTX (https://github.com/OpenVTx/OpenVTx). It can output 0, 25, 100 and 400mW output power. OpenVTX firmware also has so called RCE (Race) mode. It will force pitmode on boot and only use 25mW.
Onboard ExpressLRS receiver is connected directly to the MCU via SPI interface. This means the ExpressLRS receiver firmware is embedded into the Betaflight source code. You cannot update the ExpressLRS firmware separately from the Betaflight firmware. New ExpressLRS firmware versions must be updated in the Betaflight code and we all know how rarely the new Betaflight versions are released (approximately once in a year). This is the biggest problem with integrated SPI RX. ExpressLRS receiver has ceramic antenna on the board, so you don't need to worry where to place the receiver antenna. The range is somehow limited in comparison to the regular antenna, so this board is definitely not for the long range.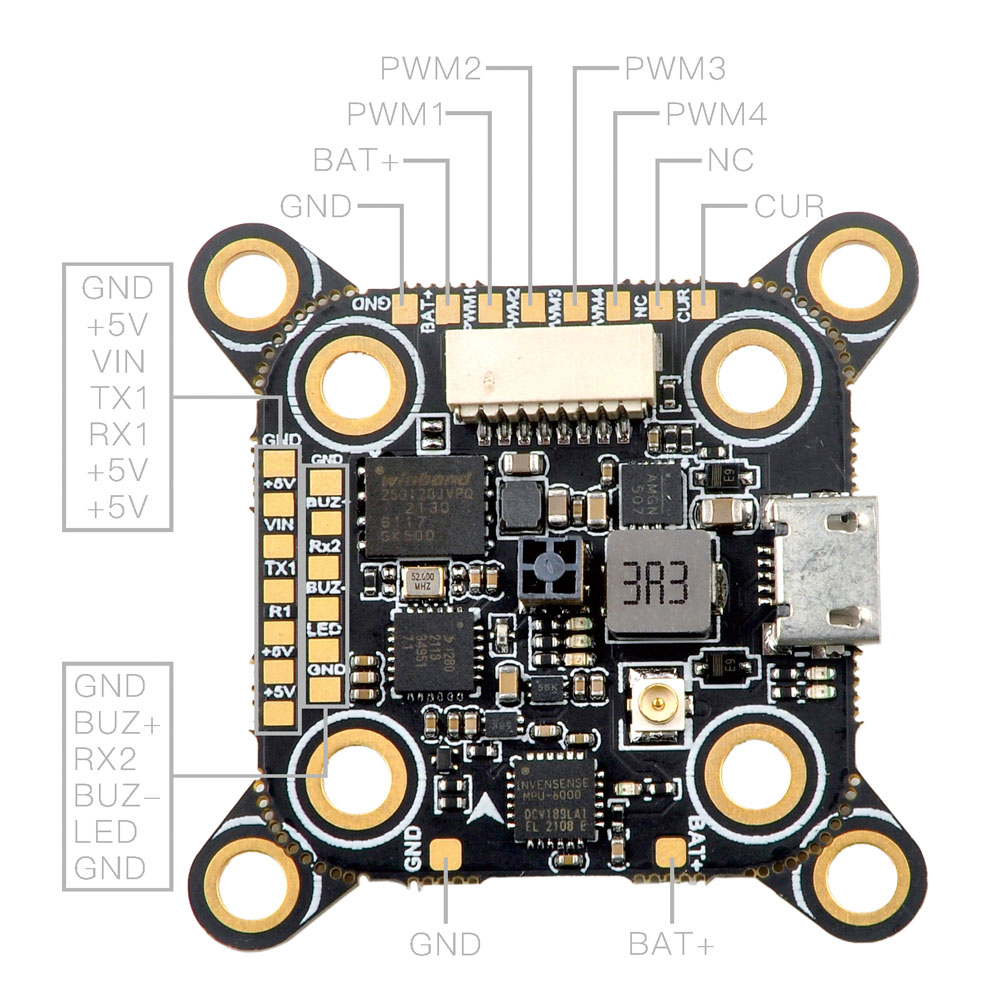 Available @ Banggood: https://www.banggood.com/20x20mm-or-30_5x30_5mm-Happymodel-Pancake-2-6S-AIO-F4-Flight-Controller-…-1959155.html
Makerfire: https://shop.makerfire.com/products/happymodel-pancake-2-6s-aio-f4-flight-controller
Aliexpress: https://www.aliexpress.com/item/1005003647809577.html
Specifications
Flight controller
Firmware Target: CRAZYBEEF4SX1280
MCU: STM32F411CEU6 (100MHZ, 512K FLASH)
Sensor: MPU6000 (SPI connection)
Mount hole type: 20×20mm or 30.5×30.5mm
Power supply: 2-6S battery input
Built-in Betaflight OSD(SPI Control)
Built-in 5.8G OpenVTX 0mw~400mw
Built-in ExpressLRS 2.4G ELRS V2.0 firmware compatible
Weight: 5.18 g
Onboard SPI ExpressLRS 2.4GHz
Receiver Packet Rate option: 50Hz/150Hz/250Hz/500Hz
Support ExpressLRS v2.0 or latest*
RF Frequency: 2.4GHz
Antenna: SMD ceramic antenna
Telemetry output Power: <12dBm
Receiver protocol: SPI ExpressLRS
Compatible with ExpressLRS V2.0 TX Module
ExpressLRS firmware cannot be flashed separately
Onboard 5.8g OPENVTX
Firmware: OpenVTX
Smartaudio v2.1
PIT Mode support
RCE Mode support
Channels: 48ch
Transmitting Power: 0/RCE/25mw/100mw/400mw
Power supply: DC 5V
Current (5v): <650ma (400mw)
Antenna connector: U.FL