HDZero digital FPV family just got new member – HDZero Whoop Lite VTX. It is lighter and smaller HDZero whoop board, capable to work on 1S battery (1S-3S) and targeted for small tiny whoops.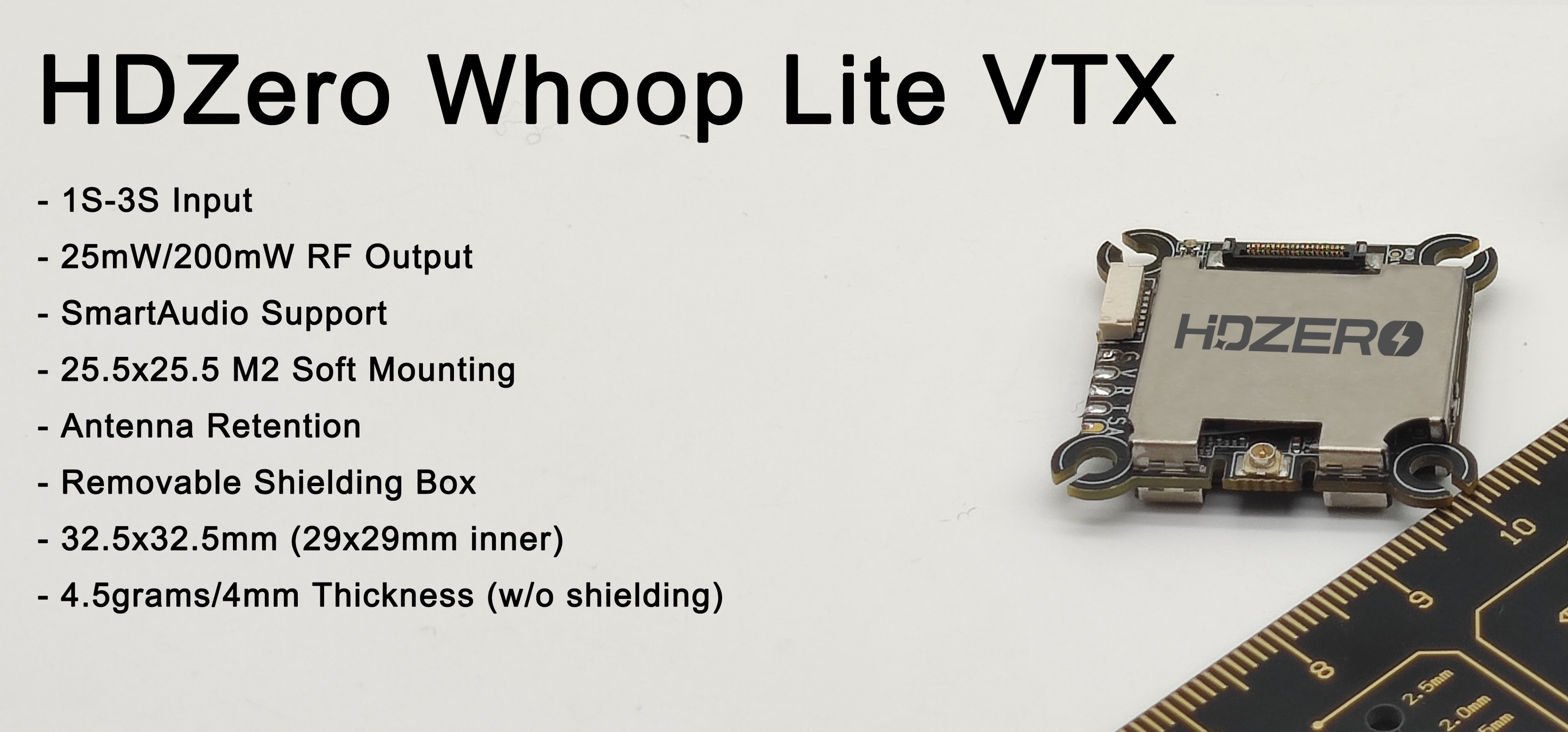 HDZero Whoop Lite VTX now has SmartAudio support (the older Whoop VTX had no SmartAudio capability). It is outputting 25mW and 200mW of RF power. The board size is 29x29mm with 25.5×25.5mm M2 mounting holes. The weight of the board is 4.5 grams without RF shielding and antenna.
HDZero Nano Lite Camera
Info from the Carl Zhou:
"HDZero Nano Lite Camera is designed for feather-lite drones where every gram counts. At a weight as low as 1.5g, combined with the new Whoop Lite VTX at 4.5g with 0.4g dipole antenna enables a world's-first production digital FPV solution of about 7g.
Since this camera uses the same sensor as the Micro v2, it has switchable 4:3 / 16:9 modes, customizable image settings, and excellent low light performance. In 4:3 mode, there is 84deg vFOV vs 69deg vFOV in Nano HDZero.
Please note that the Nano HDZero camera will continue to be sold. This is because the lens options for the Nano HDZero are more flexible for user's needs. Also, for 16:9 aspect ratio, the Nano HDZero offers more FOV than Nano Lite."
There will be a digital HDZero FPV kit available for under $100:
$99.99 Bundle: Nano Lite camera + Whoop Lite VTX + 40mm MIPI cable + Antenna
$49.99 Nano Lite camera
$54.99 Whoop Lite VTX
$5.99 40mm MIPI cable
$4.99 Antenna
Available @ (mostly not in store yet or out of stock)
https://www.hd-zero.com/products