JHEMCU GSF405 5A ELRS AIO FC
JHEMCU GSF405A is a 1-2S F4 AIO with integrated 4-in-1 5A ESC and ELRS 2.4GHz receiver. It has 5 serial ports (UART1, UART2, UART3, UART4, UART6), one I2C port, and one SBUS interface. (The serial port used by SBUS is RX2), onboard a WS2812 LED light, and WS2812 LED pads. Also built-in 8MB blackbox and BMP280 barometer, buzzer interface, camera interface.
GSF405A AIO FC has the built-in full ELRS receiver, connected on the UART1 port. It is not an SPI receiver, so it the ELRS firmware can be updated via Wi-Fi or Betaflight serial passthrough. ELRS firmware target is DIY_2400_RX_ESP8285_SX1280.
And the board weights only 3.3grams (without antenna).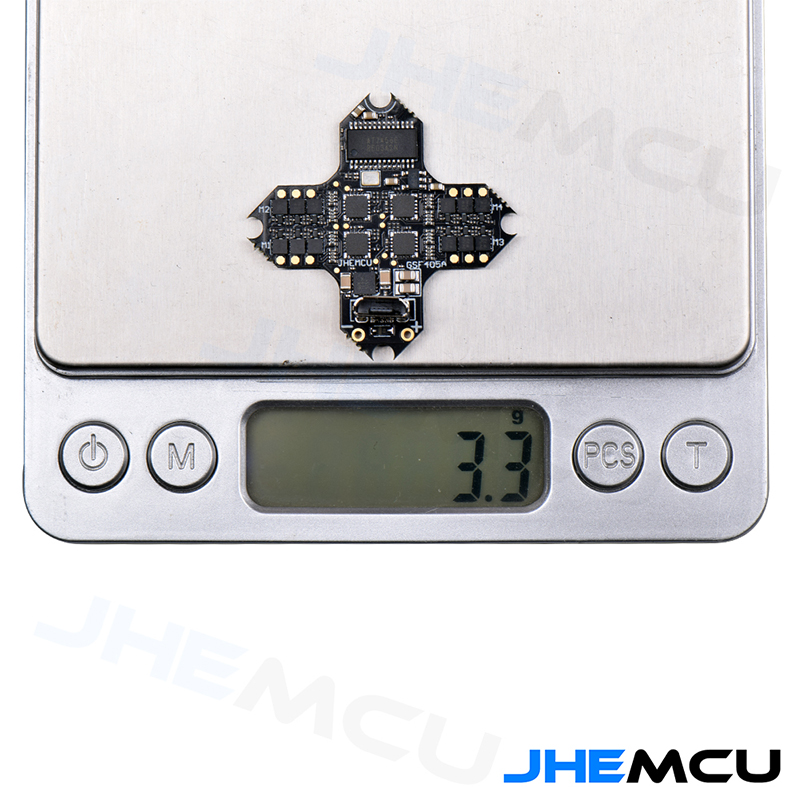 JHEMCU GSF405 5A ELRS AIO connection diagram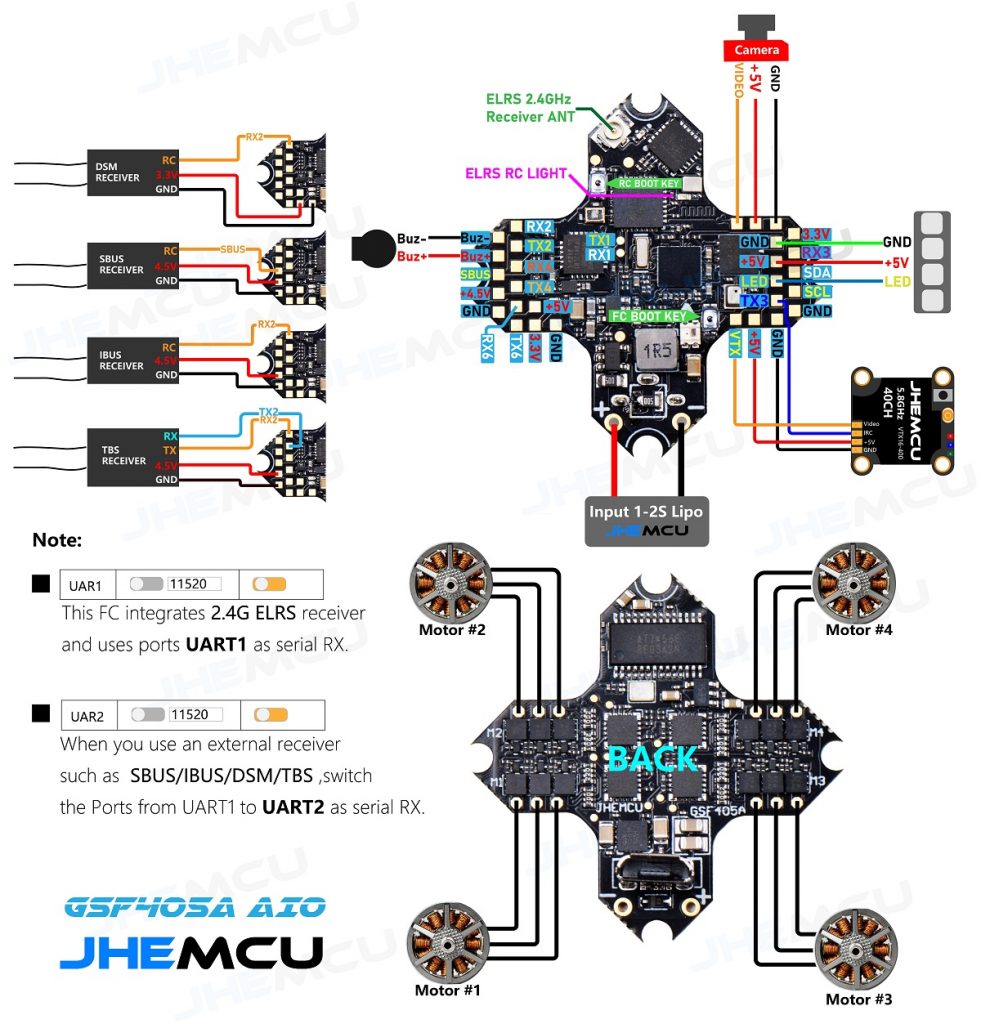 Available @
Aliexpress: https://www.aliexpress.com/item/4000822415771.html
Flight control parameters:
CPU: STM32F405
Gyroscope/Accelerometer: MPU6000
OSD: AT7456E
Barometer: BMP280
Black box: 8MB
I2C: Support
BEC: 5V
UART: UART1 (ELRS), UART2 (external RC), UART3, UART4, UART6
USB: micro USB
Size: 25.5*25.5MM M2
Receiver: ELRS (CRSF), TBS (CRSF), SBUS, IBUS, DSM2, DS MX
Support programmable LED such as WS2812
Support buzzer
Built-in voltage and current sensors
Weight: 3.3 grams
ELRS RX parameters:
Frequency: 2.4GHZ
Working Agreement: CRSF (Betaflight)
Firmware: DIY_2400_RX_ESP8285_SX1280
ELRS receiver indicator status:
Double flash: code matching mode
Slow flashing: No transmission signal received
Steady on: Received transmit signal
ESC parameters:
Support PWM, Oneshot125, Oneshot42, Multishot, Dshot150, Dshot300, Dshot600
Input voltage: 1S-2S Lipo
Continuous current: 5A
Firmware: BLHELI_S S_H_50_REV16_7.HEX
Package contents:
GSF405A board *1
2.4G antenna *1
2.0MM plug cord *1
470UF/10V capacitor *1
M2*6.5MM shock-absorbing ball *4
2S series board *1
Binding:
1. Connect USB to power the flight controller. After inserting the USB for the first time, disconnect the USB as soon as the LED on the receiver turns off. Repeat the operation twice, when the USB is inserted for the third time, the LED will start to flash double, and the receiver will enter the binding mode.