Jumper is preparing to release new gamepad style radio controller presumably called T-Pro. On the early photos you can see that its design is clearly similar ("inspired by") TBS Tango 2 and/or DJI Remote Controller V2 radios.
It most probably will have internal 4-in-1 multiprotocol at first and then maybe options for 900MHz (and/or 2.4GHz?) ExpressLRS modules with foldable and non removable antennas that can't be oriented vertically (be the way, the recommended position of the dipole antenna should be vertical)
Jumper T-Pro will have the same gimbals as on the Jumper T-Lite radio, navigation scroll wheel as on TBS Tango 2 and three buttons for menu control. There are two trimmer joystick switches and the neck strap hook in the middle. 6-pos push buttons are located on the top side of the radio. T-Pro is equipped with 128×64 monochrome LCD screen.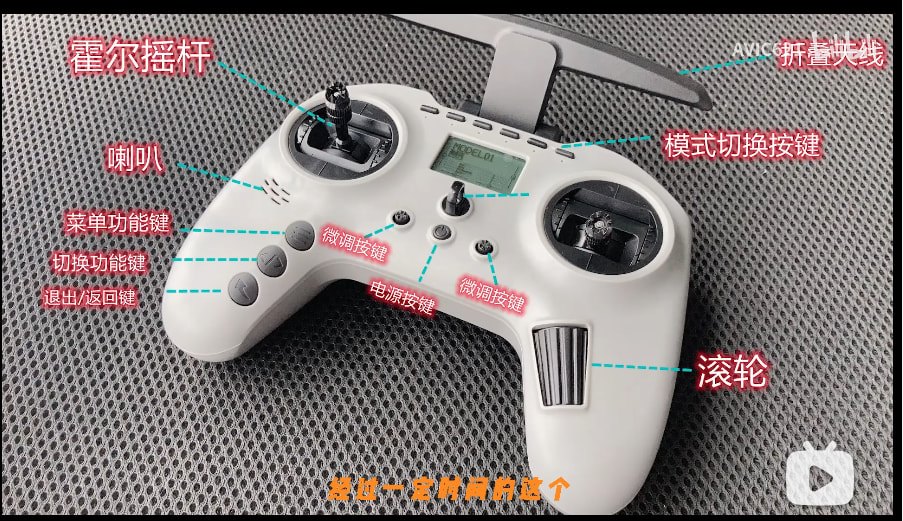 There will be two 3-pos toggle switches (similar as on TBS Tango 2), two momentary switches and two scroll wheels.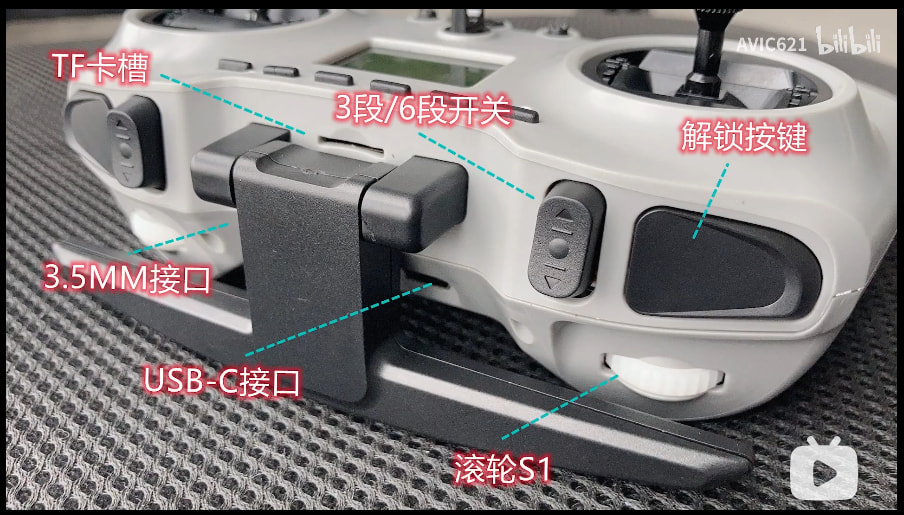 Jumper T-Pro will have JR Lite (Nano) TX module slot for Multiprotocol or TBS Crossfire/Tracer modules.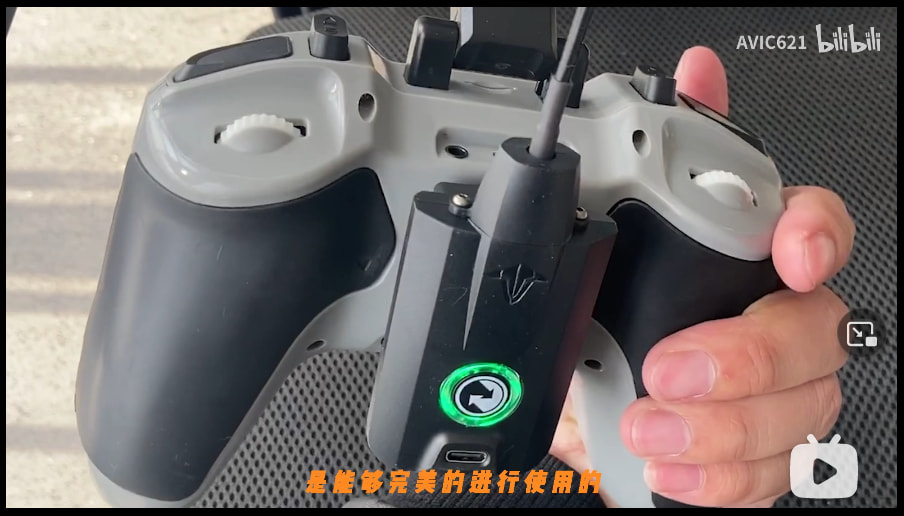 Jumper T-Pro switches and buttons layout diagram. (Glossary: "Hall rocker" – hall effect gimbal, "Fine-Tuning" – trim button, "Unlock button" – momentary button 🙂)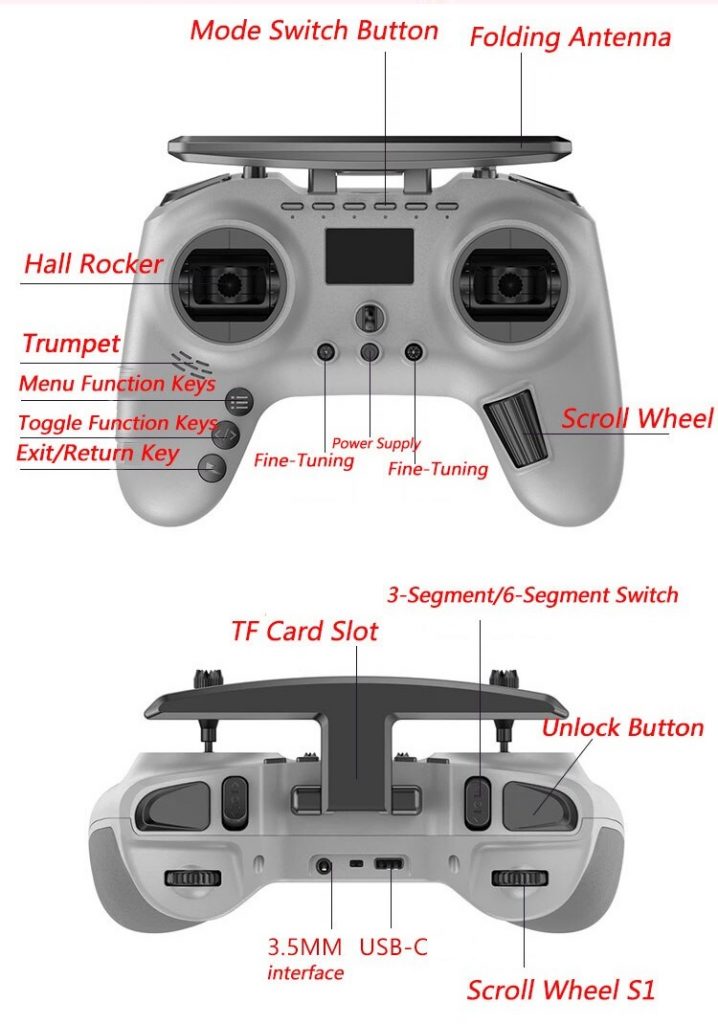 A video of the working prototype:
Jumper will be offering the external ELRS AION Nano TX module. It will have the LCD screen for settings display. No joystick, so you need to use LUA script for settings.
The first rendering pictures of Jumper AION Nano TX module: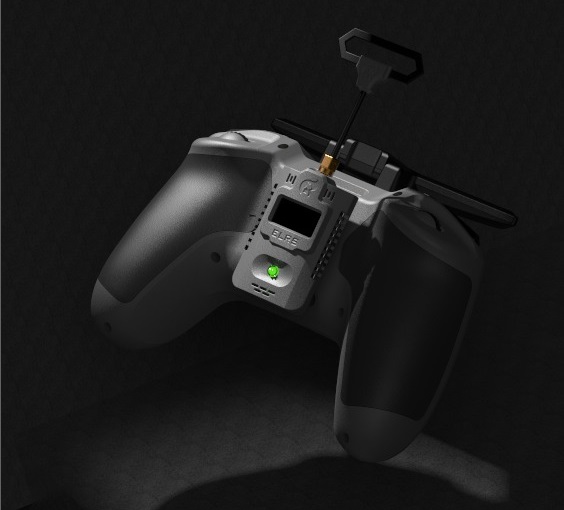 Specifications:
Model: AION ELRS 2.4TX-NANO
Main control chip: ESP32
Transmitting power: 10-500mw
Frequency bandwidth: 2.4GHz-2.5GHz
Compatible firmware: ELRS
Antenna: omnidirectional high gain diamond antenna
Quick socket: NANO (JR lite) interface
Working voltage: DC5-8.4V
Maximum refresh rate: 500Hz
Screen form: 0.96 inch white light OLED
Screen resolution: 128*64
Menu button: five-way joystick
Upgrade method: UBC-C or Bluetooth
Simulator: supports Bluetooth and WIFI wireless mode
Eta: Around 25th December
Available @
Makerfire (pre-order, you can use my 5% discount code "MONTIS"):
https://shop.makerfire.com/products/jumper-t-pro-jp4-in-1-multi-protocol-remote-controller
Features:
JP4-in-1 Multi-protocol module included. DSM2/X, FrSKY, SFHSS, FlySky, FlySky AFHDS2A, Hubsan etc.
OpenTX firmware
Hall sensor gimbals
ELRS Nano / TBS CRSF Nano compatible module bay on rear side.
USB-C internal charging
Up to 16 channels of output (depending on the receiver)
Power supply: 2 x 18650 Lion batteries
Haptic feedback function
Support telemetry (depending on the receiver)
LUA Script support: Yes
Specifications:
Working voltage: DC 6V-8.4V (2S)
Firmware: OpenTX
Display: 1.3 inch LCD display, 128* 64 resolution
Gimbal Type: HALL Sensor
Upgrade method: USB online upgrade
Simulator mode: 3.5mm standard ppm output or USB
Battery: 2×18650 (Battery not included)
External Micro SD Card: micro SD card slot
Size: 160*128*68
Weight: 488g (without battery)