Matek FCHUB-W – PDB for fixed wing
Matek announced the newest product of their PDB line – FCHUB-W. This PDB is designed for fixed wings (hence the letter "W" in the naming of the PDB). It is connected to the Matek Flight Controller by means of the flat ribbon cable that transfers all the needed signals to the PDB. There are 4 servo powered outputs that can be broken into servo headers. This simplyfies the wiring greatly. PDB also has current sensor, 5V, 10V and even 3.3V BEC's, RX and TX connections (UART5) for GPS or other peripherals.
Well, it is not exactly multirotor stuff, but still interesting product. The first PDB for planes ever. As long as I know.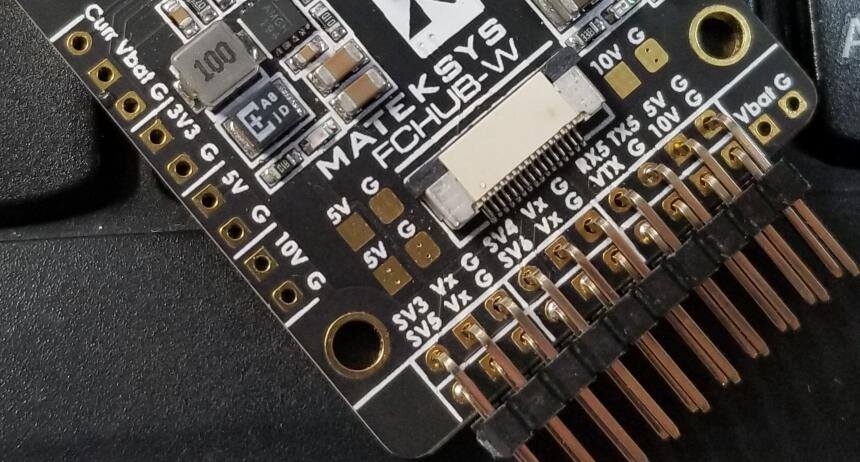 This is only an announcement of the upcomming product. More info will be available later.
Update 2018-02-08: More specifications and photos are available.
Listed @ Banggood: https://www.banggood.com/Matek-FCHUB-W-PDB-3-6S-…-1261371.html
Specification (user manual):
Input voltage range: 9~30V (3~6S LiPo) w/TVS protection
Current Senor: 104A, 3.3V ADC, Scale 317
Mounting: 30.5 x 30.5mm, Φ3mm
Dimensions: 52 x 36 x 6 mm
Weight: 13g
2x ESC power pads
4x BEC on board
3x LED indicators for 5V, 10V & Vx
Soldering Holes & Pads:
+ & – : Bettery & ESC power pads
Curr: Current sensor output
Vbat: Bettery voltage
G: Ground
3V3: LDO 3.3V
5V: BEC 5V
10V: BEC 10V
Vx: BEC 5V/6V/7.2V ADJ
FFC connection:
Compatible with MATEKSYS FC F405-STD, F722-STD, F405-OSD
MT1: Motor1 of INAV Flying Wing & Airplane
MT2: Motor2 of INAV Flying Wing & Airplane
SV3~SV6: Servo 3~6 of INAV Flying Wing & Airplane
VTX: Video Transmitter signal
TX5 & RX5: UART5 of F405-STD/F722-STD/F405-OSD
BEC 5V output:
Designed for Flight controller, Receiver, OSD, Camera, Buzzer, 2812 LED_Strip, GPS module
DC/DC synchronous buck regulator
Voltage: 5.0 +/- 0.1VDC
Continuous current: 2 Amps, Max.3A
Output Ripple: 20mV (VIn=24V, VOut=5V@2A load)
Short-circuit tolerant (2 seconds)
BEC 10V output:
Designed for Video Transmitter, Gimble
DC/DC synchronous buck regulator
Voltage: 10.0 +/- 0.2VDC (Input voltage >11V)
Continuous current: 2 Amps, Max.3A
Output Ripple: 20mV (VIn=24V, VOut=10V@2A load)
Short-circuit tolerant (2 seconds)
BEC Vx output:
Designed for Servos
DC/DC synchronous buck regulator
Voltage adjustable, 5V Default, 6V or 7.2V via jumper
Continuous current: 5 Amps, Max.5.5A
Output Ripple: 50mV (VIn=24V, VOut=5V@5A load)
Short-circuit tolerant (2 seconds)
BEC 3.3V output
Designed for Baro / Compass module and Spektrum RX
Linear Regulator
Continuous current: 500mA
Last article update: 2018-02-08