Matek VTX-HV – stackable video transmitter
Mateksys is expanding their product range and releasing their own video transmitters. The first one is Matek VTX-HV. It is separate half size of a normal FC, stackable board with OSD. 'HV' probably stands for High Voltage, as this VTX works directly from up to 6S HV LiPo battery. Has 5V output for camera, audio input, iPEX antenna connector, LED's for channel band and power indication and traditional button control.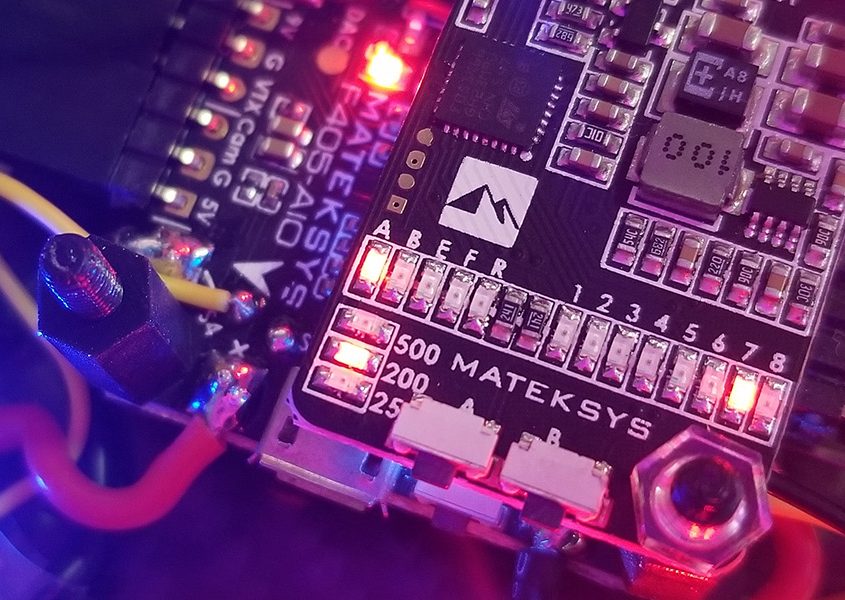 Some wiring tips:


Connection scheme: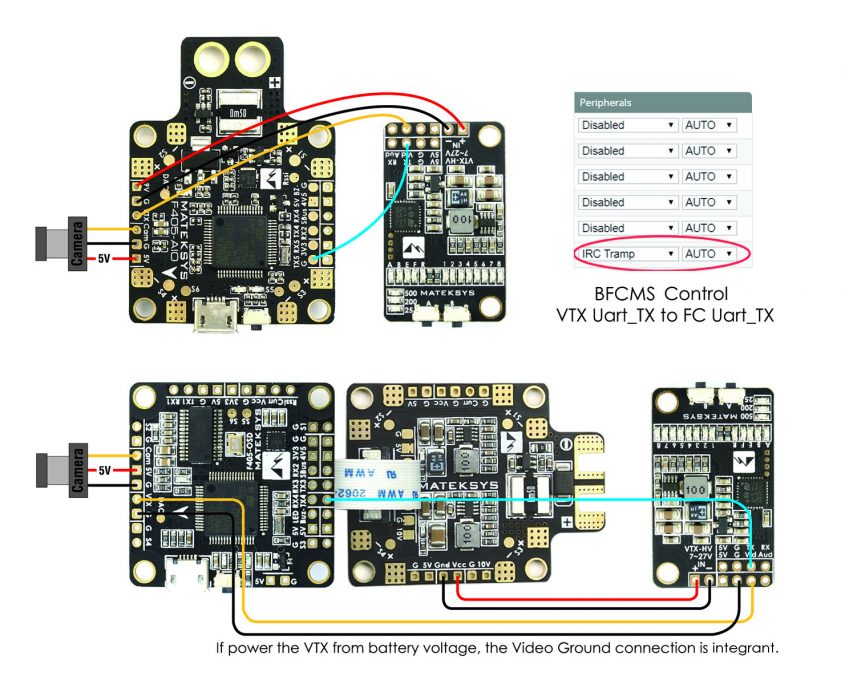 VTX package: Video transmitter, heat shrink, antenna pigtail with SMA connector and whip style antenna.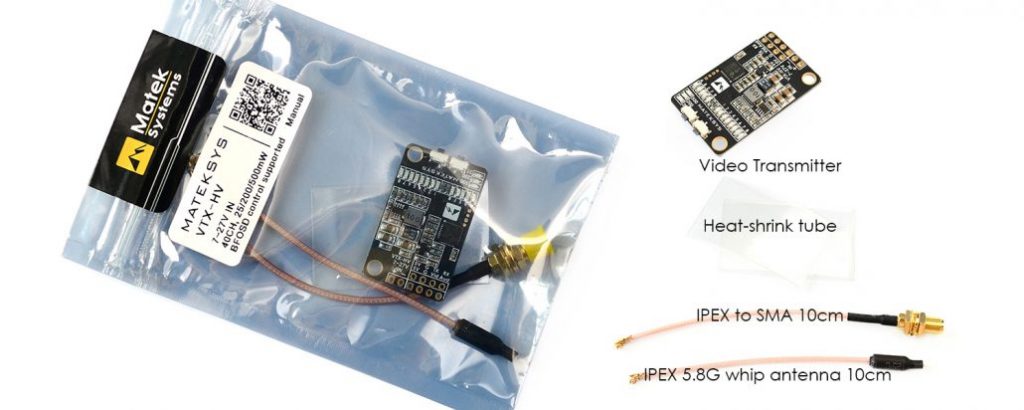 VTX settingscan be changed via LUA script right from your  TX:

Instructions for settings: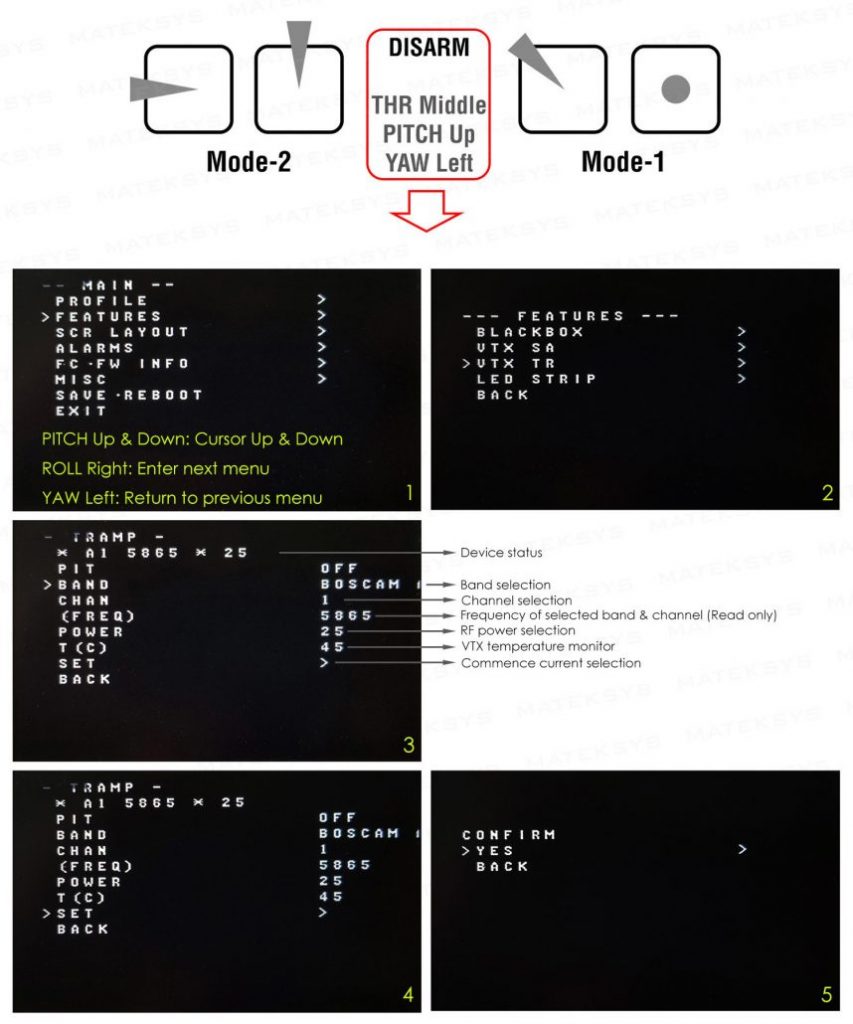 Also all settings can be changed by two buttons on the board.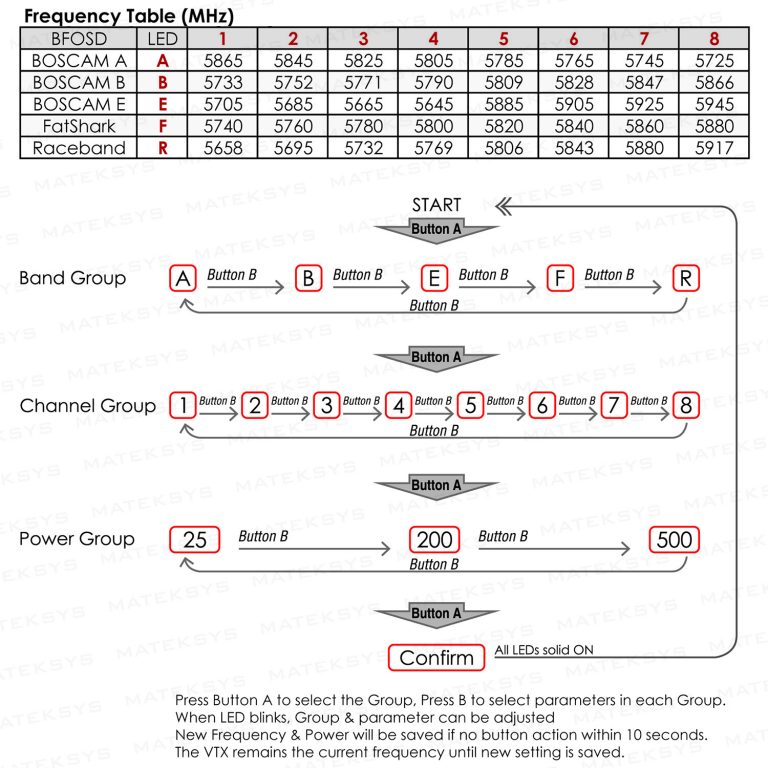 Listed @ Banggood: https://www.banggood.com/Matek-5_8G-40CH-25200500mW-switchable-Video-Transmitter-VTX-HV-with-5V1A-BEC-Output-p-1175514.html
We have heard the rumors that Matek is also preparing to release VTX integrated into PDB. This will be direct fit to Matek F405 FC board.
Specifications:
Input voltage: 7~27V(2~6S HV LiPo)
40 standard channels, A/B/E/F/R Band
Output Power: 25, 200, 500mW switchable
BEC Output: 5V/1A for Camera or FC
Traditional button+LED control of frequency and power
BFCMS control via FC UART _TX
Firmware upgradeable
Power Consumption: 3.1W Max. @ 500mW
Video Input Impedance: 75 Ohm
Audio Subcarrier Frequency: 6.5 MHz
RF Connector: U.FL (IPEX)
Video Format: NTSC/PAL
Weight: 6g (Tx only, w/o SMA cable)
Size: 36*22*6.5mm w/30.5mm mounting