Matek F722-STD new F7 controller from MATEKSYS
Betaflight wiki has a new board target listed from MATEKSYS – MATEKF722-STD. It features STM32F722 MCU+ICM20602, w/ Betaflight OSD & SD Card Slot. Should have the same flat ribbon cable connector to FCHUB-6S PDB board as MATEK F405-OSD for easier installation – no soldering or adittional wires required.
Picture of the BETA version of the board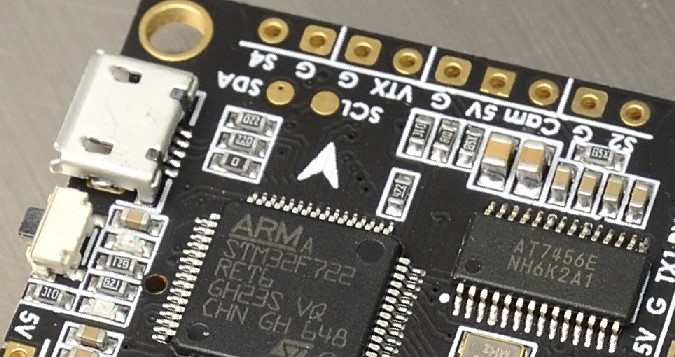 Update 2017-11-13: And now Matek has officially announced the new board: http://www.mateksys.com/?portfolio=f722-std
Now we know it is happening for shure. The board has 5 (!) hardware UART ports (UART1, UART2, UART3, UART4, UART5). Gyro is fast 32K rate capable ICM20602 , workin in fast SPI bus. BMP280 barometer was added to the board as well. I2C bus pads (SDA SCL) for external devices. This FC has 3 variants of ESC connection: 1 – Group of G/S1/S2/S3/S4 pads for 4in1 ESC Signal/GND on the back side of the FC, 2 – ESC signal connection pads on the every corner of the FC ans 3 – flat ribbon cable connection with the FCHUB-6S or FCHUB-VTX connection.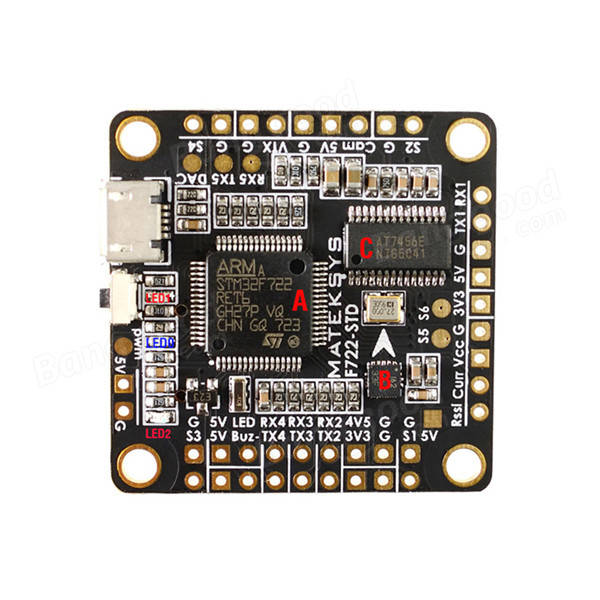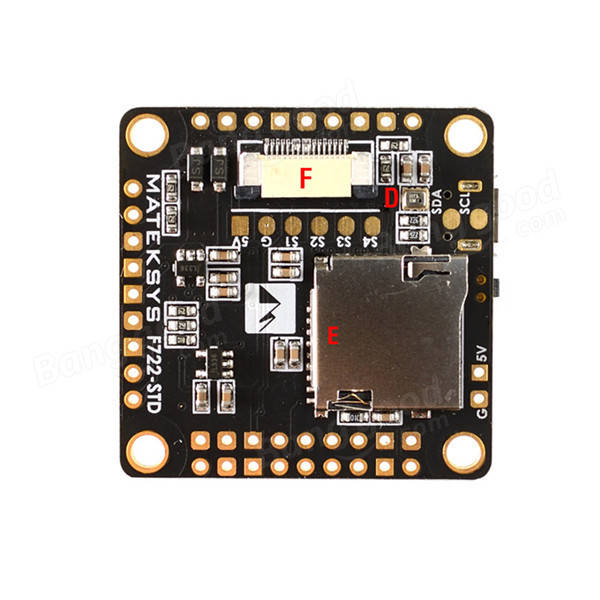 It is listed @ Banggood: https://www.banggood.com/Matek-Systems-F722-STD-STM32F722-Flight-Controller-Built-in-BetaFlight-OSD-BMP280-Barometer-Blackbox-p-1225166.html
Specifications:
MCU: STM32F722
IMU: ICM-20602(SPI)
OSD: BetaFlight OSD w/ AT7456E chip
Compass & Baro: no
VCP: Yes
Hardware UARTS: 1, 2, 3, 4
Blackbox: Micro SD Card
PPM/UART Shared: UART2-RX
Battery Voltage Sensor: Yes 1:10
Currsnt Sensor: No (FCHUB-6S option)
Integrated Voltage Regulator: No (FCHUB-6S option)
Brushed Motor Mosfets: No
Buttons: BOOT button
6 PWM / DShot outputs
WS2812 Led Strip : Yes
Beeper : Yes
Features:
32K Gyro ICM-20602
Support Gyro sample rate 32K & PID Loop 32K
SD Card Slot
VCP, UART1, UART2, UART3 & UART4
w/ Anti-vibration Standoffs
Package includes:
1x F722-STD flight controller
2x 0.5mm*16Pin 5cm Flexible Flat Cable
4x M3 Anti-vibration Standoffs