RunCam is about to release the real GoPro Session competitor – RunCam 5. It has SONY IMX377 1200MP sensor, supports recording at 4K up to 50fps and 1080p up to 120fps and also 1440p in 4:3 format. RunCam 5 has so called "SuperView" feature – it can stretch the entire image horizontally in same proportion from the whole 4:3 sensor into the 16:9 ratio video.
The dimensions of the RunCam 5 is exactly the same as GoPro Session 5 camera, so almost all the GoPro mounts will be compatible with the RunCam 5. New camera housing is made from high intensity hardened PC (Germany brand polycarbonate) plastic and it has Corning Gorilla Glass 3 lens protection screen.
RunCam 5 weight even less (56g) than previous RunCam 3S (69g).
Unfortunately new RunCam camera will not have WiFi capability. So it means camera cannot be controled and set up remotely. Camera settings can be changed via CameraConfig.ini file on the SD card. You can either manually change the settings directly in the file or use an online app (https://app.runcam.com/runcam5/) to make a configuration file and save it on the SD card.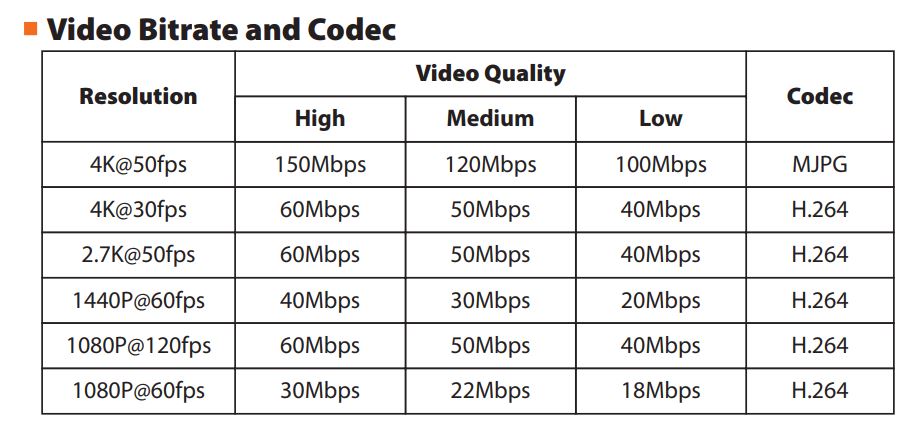 Release date: June 2019, MSRP price: US$99.99
Available @ Banggood: https://www.banggood.com/RunCam-5-12MP-56g-Smallest-4K-Cam-…-1494081.html
RunCam: https://shop.runcam.com/runcam-5/
RunCam 5 User manual: https://www.runcam.com/download/runcam5/RunCam5-Manual-EN.pdf
Specifications:
Image Sensor: SONY IMX 377 (1200MP)
Video Resolution: 4K@50fps / 4k@30fps / 2.7K@50fps / 1080P@120fps / 1080P@60fps / 1440P@60fps
Field of View (FOV): 145°
Video File Format: MOV
TV out mode: NTSC (720*480) / PAL (720*576) Switchable
Communication Interface: Micro USB
microSD Card supported: Up to 128G.
U3 recommended (4K50/2.7K50/1080P120 requires
U3 or above; other solutions require U1 or above)
WiFi: No
USB Power Input: DC 5-15V
Battery Capacity: 950mAh
Power Consumption: Max 620mA @5V
Dimension: 38*38*36mm
Net Weight: 56g (with battery)