Skyzone SKY03O OLED goggles
Skyzone now has OLED goggles also. They have released SKY03O goggles with 1024×768 resolution OLED microdisplays. The diagonal field of view (FOV) is 35 degrees, which is just a bit lower than previous SKY03 LCD goggles. Skyzone says that SKY03O and improved SKY03S goggles have better faceplate for better fit to the pilots face.
Recently Skyzone has released updated SKY03 goggles firmware, which has voltage calibration feature, added RSSI indicator on the screen and other fixes.
Alongside with the new OLED SKY03O goggles, Skyzone has released and updated SKY03S goggles. They have the updated firmware and upgraded faceplate. Both goggles have the same spacs, same outlook except the microdisplays.
All the newest Skyzone goggles, SKY03, SKY03S and SKY03O goggles have one of the users most desired features – power button on the right side of the goggles!
Skyzone has the widest variety of the color to choose from: Black, White, Red, Midnight Blue, Metallic Orange, Metallic Black, Ice Blue, Camouflage and Amber.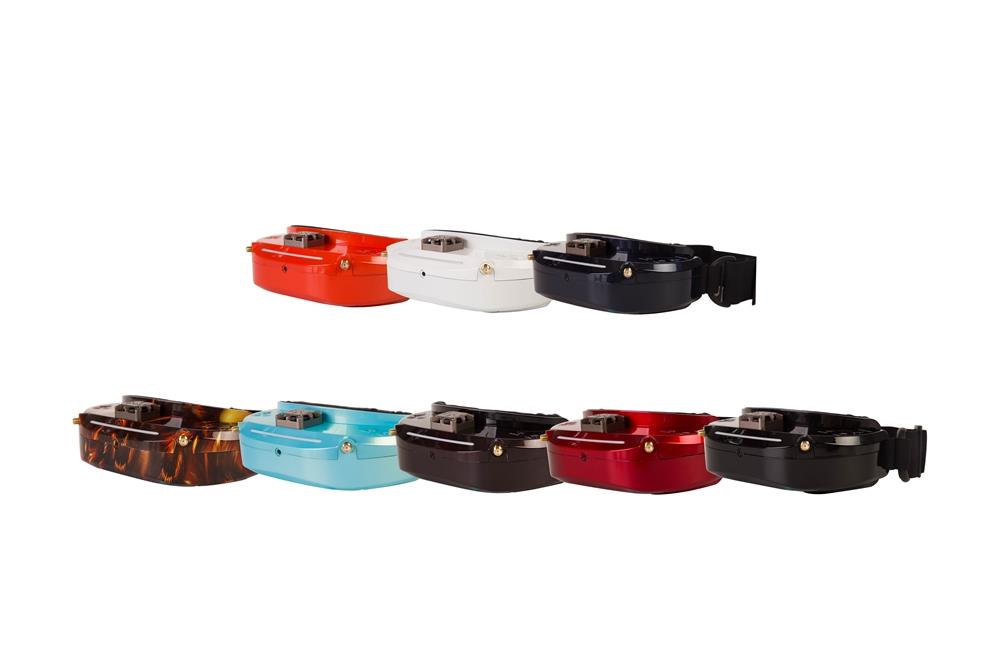 Manufacturer decription:
SKY03S is the update version of Original sky03, we update the ergonomics, which fits pilots face perfectly, and we update the software off the goggles, pilots can calibrate the voltage readings of the goggles.
The SKY03O is the OLED version of SKY03, with resolution of 1024*768 and OLED display, the vivid color and high contrast ratio, pilots can see more details, the new optical make the image crystal clear and no image distortion and blur edge.
Operational Guidance:
The two 5.8GHz wireless receiver modules and the new DVR system are built in the SKY03O FPV goggles. The wireless receiver system can work in the diversity mode to improve the receiving effect. In this mode, the channel and band settings for wireless receiver can be compatible with most of the conventional ISM 5.8GHz transmitters, in order to support the 6 bands and the 48 channels (for detailed bands and channels, see the specification).
DVR system use high-quality H.246 video compression technology to better restore the video screen, save the more storage space, support the 128GB high-capacity memory card(UHS-I U1), and support the automatic video recording function. For details, see the description of the "Video" section.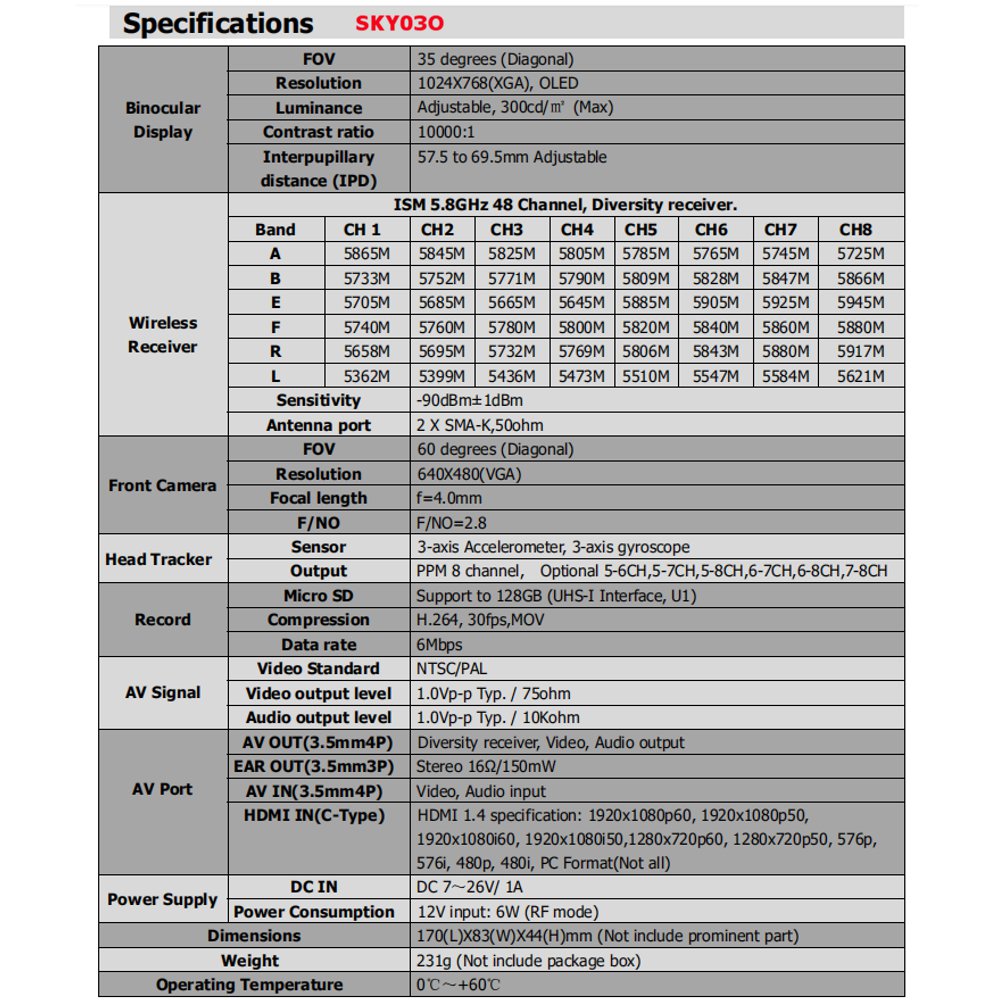 Available @
Specifications:
Brand Name: Skyzone
Item Name: SKY03S / SKY03O
Color: White, Black, Red, Camouflage, Diamond Midnight Blue, Vagary Ice Blue, Amber, Super Glossy Metallic Orange, Super Glossy Metallic Black Rose (optional)
Features:
– Support head tracking; Pan : 180°/120°/90°; Tilt: 120°/90°/60°
– Adjustable 57.5 to 69.5mm wide ran-ge IPD.
– RSSI Signal Inten-sity Indicator.
– Diversity 5.8Ghz receiving modules,total 48CH and 6 bands.
– Support RF Normal, RF Racing, HDMI IN, AV IN and PLAYBACK modes.
– Built-in fan for defogging and dissipate the heat.
– With a display window for the LED light. The LED MODE can be set in the system menu.
– Support 2S~6S battery, more convenient in the field.
Package Included:
1 x SKYZONE SKY03S/SKY03O 5.8Ghz 48CH Diversity FPV Goggles
1 x Carry Case
1 x Data Cable
1 x JR Data Cable
2 x 5.8Ghz 2dBi Antenna
1 x AV Cable
1 x Power Cable