SpeedyBee VTX & DVR in one
SpeedyBee has released 2in1 VTX-DVR unit. It is similar to HGLRC DVR-VTX unit, but with some differencies. This is 30.5×30.5mm mounting size board with Video transmitter and DVR unit in one. Video transmitter has Smart Audio ability, 25mW / 200mW / 600mW power levels, PIT mode and MMCX antenna connector. DVR is standart HMDVR-like unit, capable of recording 640×480 with 30/25 fps HTSC/PAL. There is also microphone on board, so DVR is also recording audio.
No on board LED display, only the simple LED indicators for working modes, bands and onel led indicator for channels.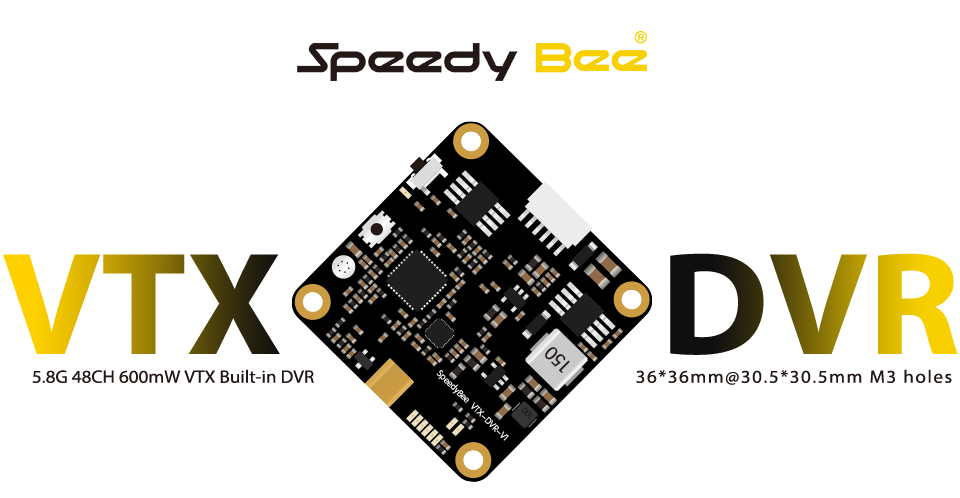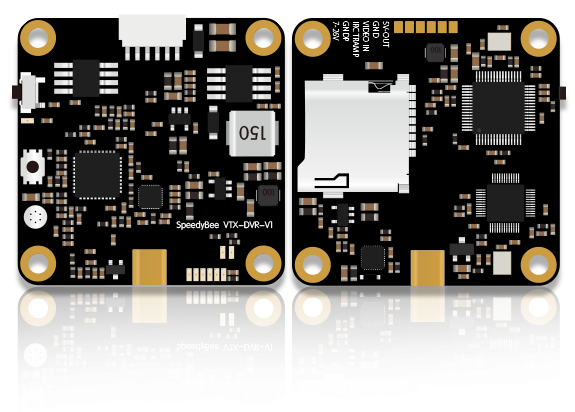 User manual: https://www.speedybee.com/product_images/download/SB-VTX-DVR-manual.pdf
Listed @ SpeedyBee: https://www.speedybee.com/speedy-bee-vtx-dvr/
Model
Speedy Bee VTX-DVR
DVR
Video in
CVBS@1Vp-p 75Ω
Encoder
MJPEG@AVI
Resolution
VGA ( 640 x 480 ) @ 30fps ( NTSC ) / 25 fps ( PAL )
Audio
Built-in MIC
Micro SD Card
Max 32G
VTX
Frequency Channel
5.8G 48CH
Output Power
25mW / 200mW / 600mW
Video Input Impedance
75 Ohm
Antenna Connector
MMCX
Power in
DC 7-26V
Working Current
DC 9V @Max 450mA
Power out
DC 5V @Max 250mA
Net Weight
7.5 g (without antenna)
Dimension
36mm*36mm @30.5 × 30.5 M3 holes