Stackable transmitter VT5804 Pro – a copy of RUSH VTX V1
VT5804 Pro stackable video transmitter is a copy of the successful RUSH VTX V1. Despite the fact, that it is a copy, there are some differencies. It does not have (at least not stated) audio input or microphone on board. The output power levels are 25/200/600mW. Also it features SBUS input pin so you can control the channel switching with your TX.
Weight without antenna is about 6 grams only. It uses MMCX (micro-miniature coaxial) connector for antenna pigtail. This allows to save space and weight. Look at this size comparison picture between regular RP-SMA and MMCX connectors.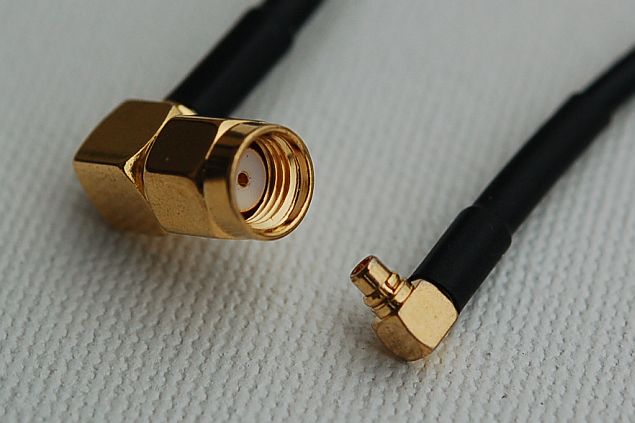 Unfortunately the package includes a MMCX with some linear dipole antenna on the end of the pigtail. It would be better to include a MMCX to RP-SMA or SMA pigtail instead. Or even better to add antenna and pigtail.
There is also no on-board microphoen and no audio input, so not a good new for audio lovers.
This VTX can be found @ Banggood: https://www.banggood.com/VT5804-Pro-5_8G-40CH-25mW200mW600mW-Switchable-S_BUS-FPV-Transmitter-p-1149558.html
User manual: PandaRC_VT5804_Pro_User_Manual
Specification:
Item Name: 5.8G 40CH 25/200/600mW Switchable FPV Transmitter
Model: VT5804 Pro
Input Voltage: 7-24V
Power: 25/200/600mW  (Switchable)
Transmission Distance: 0.5KM+@25mW; 1KM@200mW; 2KM+@600mW
Connector: MMCX
Antenna: IPEX
Video System: PAL/NTSC
Frequency: 40CH , 8CH in E for Raceband
Output Impedence: 50Ohm
Video Band Width: 1-8.0Mhz
Audio carrier requency: 6.5Mhz
Video Input Level: 08-1.2Vp-p
Audio Input Level: 0.5-2.0 Vp-p
Audio Input Impedence: 10K Ohm
Weight: 6g (without antenna)
Size: 36x36x5mm (LxWxH)
Frequency Table and Setting:
S.Bus Long-range Control:
Input S.Bus sign to VTX, change the CH1-CH8 in the original FR (A-E)  by the Radio Remote Controller's 6th Channel.
Last update: 2017-07-03