Team BlackSheep Tango 2 radio
TBS has released the long waited Tango 2 radio controller. It is actually a little different radio than I expected, but I didn't know what Tango 2 will look so its pretty reasonable that expectations and reality don't match. Anyway the release of this radio aroused a lot of reactions on social media.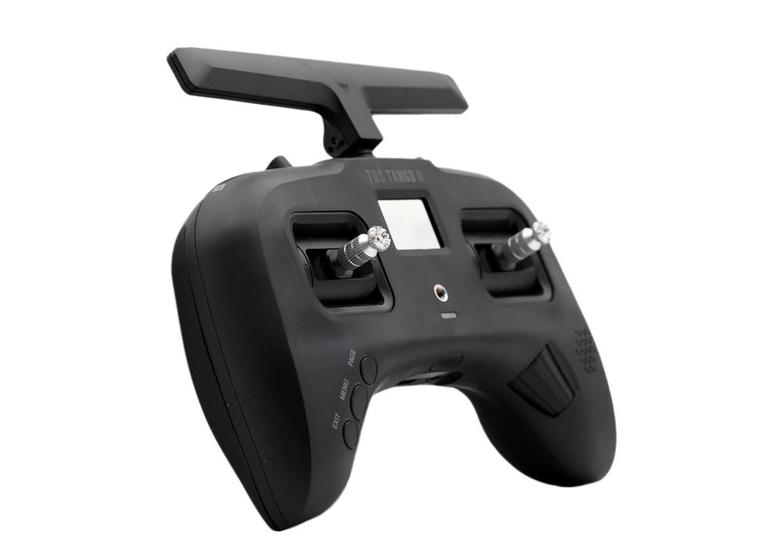 Size and shape
Tango 2 is small, game controller shaped radio. It is smalller than first Tango and even smaller than FrSky X-Lite radio. It has curved and slightly rounded edges with ruber grip on the bottom side of the radio. It has large, but foldable Crossfire antenna, that can be turned vertically for better radio performance and even be used as a stand for radio.
Switches
At first look it seems that Tango 2 has no switches, but actually it has 3 pairs of 2 position, 3 position switches and momentary push buttons. So total of 6 switches is such a small form factor.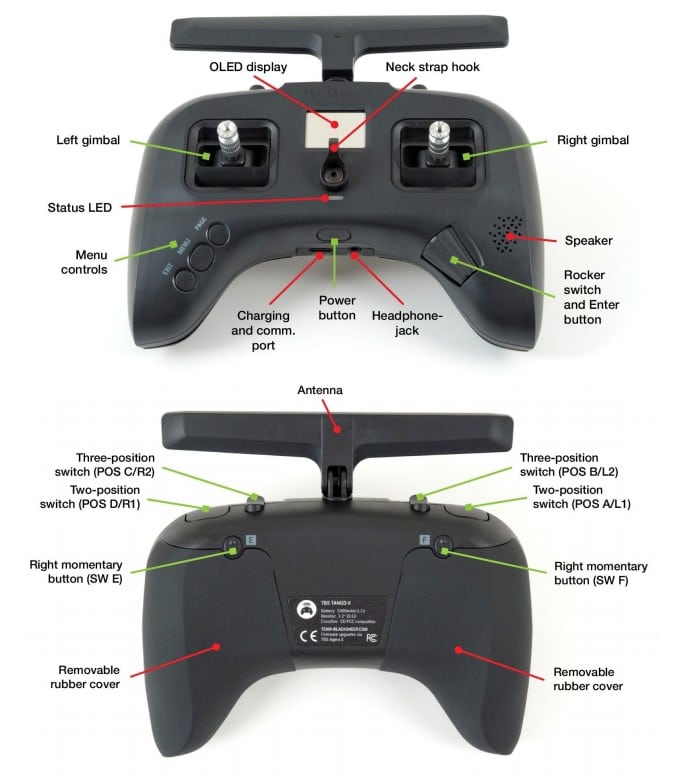 Sticks
TBS Tango 2 has "full size" HALL effect gimbals. Actually they are not full size and smaller than in Taranis X9D or Jumper T16. Their travel distance from edge to the edge is non simetrical – about 28mm in vertical and about 30mm in horizontal. The Pro version of the Tango 2 has foldable sticks, that allows transporting this radio without a dedicated case and without risk of breaking the sticks.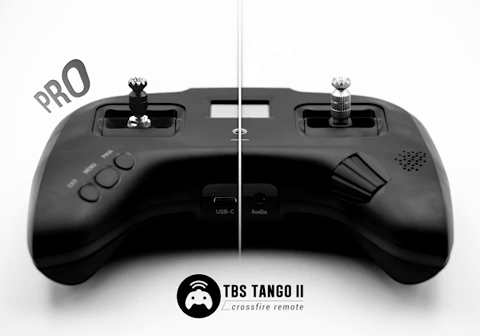 Dispaly
Tango 2 has 128*96px black & white OLED display with backlight. The sceen size is really small, but it can be clearly seen in the direct sunlight.

Integrated Crossfire
TBS Tango 2 has an integrated CrossFire transmitter. The power output of the tramitter ranges from 25mW to 250mW (the same as in the Crossfire Micro TX). Unfortunately there is no external module bay on the back of the radio and no other modules can be used except the Crossfire. This is bad news for all the whoop owners with integrated Frsky or Flysky receivers.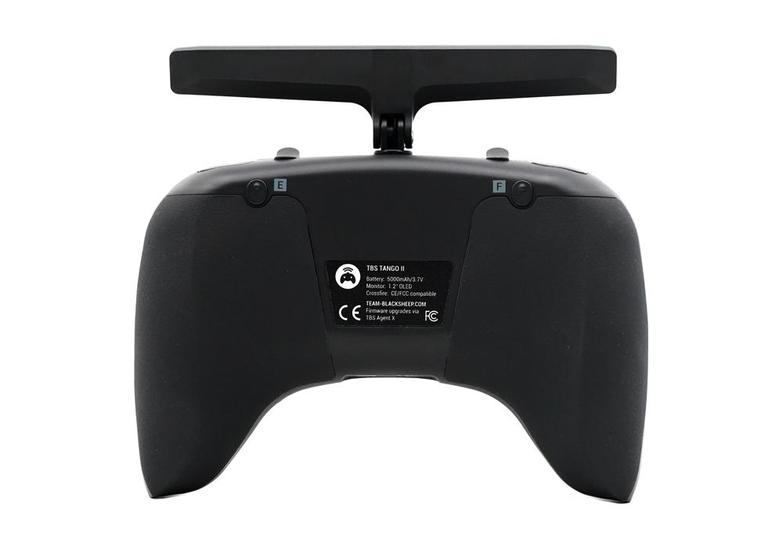 Other bits and pieces
Tango 2 is running open source remote control operating system FreedomTX (temporary fork of OpenTX. GitHub page: https://github.com/tbs-fpv/freedomtx). Tango 2 has built-in 5000mAh 1S LiPo with USB-C 2A charging capability (2.5 hours for full charge).
Range tested to 51Km!
There is video with range test of the Crossfire transmitter in the Tango 2 Radio. Receiver was TBS Crossfire 8Ch Diversity Rx.
TBS Tango 2 User Manual: https://www.team-blacksheep.com/tbs-tango2-manual.pdf
Available @
GetFPV
Tango 2: https://www.getfpv.com/tbs-tango-2-fpv-rc-radio-controller.html
Tango 2 Pro: https://www.getfpv.com/tbs-tango-2-pro-fpv-rc-radio-controller.html
Specifications
Full size HAL sensor gimbals
Ball-bearing

Configurable resistance and tension
Adjustable throttle & pitch throw (+/- 10 degrees)
Spare spring set included for lower tension
Foldable gimbal sticks (Pro only)

Ergonomic and compact design with comfy rubber grips
Robust, streamlined switches

2x 2-position switches
2x 3-position switches
2x momentary buttons

TBS Crossfire built-in

CRSFShot for lowest latency and most direct response of any remote control available
Range of up to 30km / 20mi from the palm of your hand
Swivel-antenna that doubles as a kick-stand
Up to 12 channels supported

Built-in 5000mAh 1S LiPo with USB-C 2A charging (2.5 hours for full charge)
Speech audio output with audio jack & haptic vibration alert
Open Source remote control operating system (FreedomTX, temporary fork of OpenTX)
Rocker dial and 3 button menu for super simple navigation
High resolution (128*96) black & white OLED screen w/ backlight
Digital rocker dial trim
100+ model memory with included SD-card
TBS Cloud compatible