Review: BetaFPV 20A Toothpick F4 AIO FC
BetaFPV, the leader manufacturer of the whoop flight controllers, has released the next level whoop and toothpick AIO FC with F4 MCU and 20A 4in1 ESC. BetaFPV 20A F4 AIO FC comes in two options, the toothphick and the whoop version. Both boards have 20A 4in1 ESC, that can handle 25A burst! As far as I know it is the first 20A capable and the most powerful whoop/toothpick FC in the market up to date.
Specifications
CPU: STM32F411CEU6 (100MHZ)
Six-Axis: MPU6000 (SPI connection)
Size: 32.5*32.5mm (26.5mm mounting holes)
Firmware version: Betaflight MATEKF411 (MK41)
OSD: Built-in BetaFlight OSD (OSD chip: AT7456E)
Receiver: Support Frsky XM/XM+ Receiver/ Futaba Receiver/ Flysky Receiver/ TBS Crossfire Receiver/DSMX Receiver
Support programmable LED like WS2812 etc
Built-in current sensor
Weight: 6.63g (toothpick version), 5.63g (whoop version)
ESC
Support BLheli/BLHELI_S suite Pass-through ready
Support PWM, Oneshot125, Oneshot42, Multishot, Dshot150, Dshot300, Dshot600
Input voltage: 2S-4S Lipo
Continue current: 20A
Peak current: 25A
Firmware: BLHELI_S
Processor: SILABS EFM8BB21F16G-C
Motor Connectors: 1.25mm header pins connector
Factory firmware: G-H-30-16.7
The toothpick 20A board is slightly heavier than previous 12A version 6.63g vs 6.20g, but the power output was almost doubled!

This 20A flight controller has a huge margin of the power. It was possible to achieve by populating 12 MOSFET chips on the board instead of the 6 MOSFET chips on the 12A board.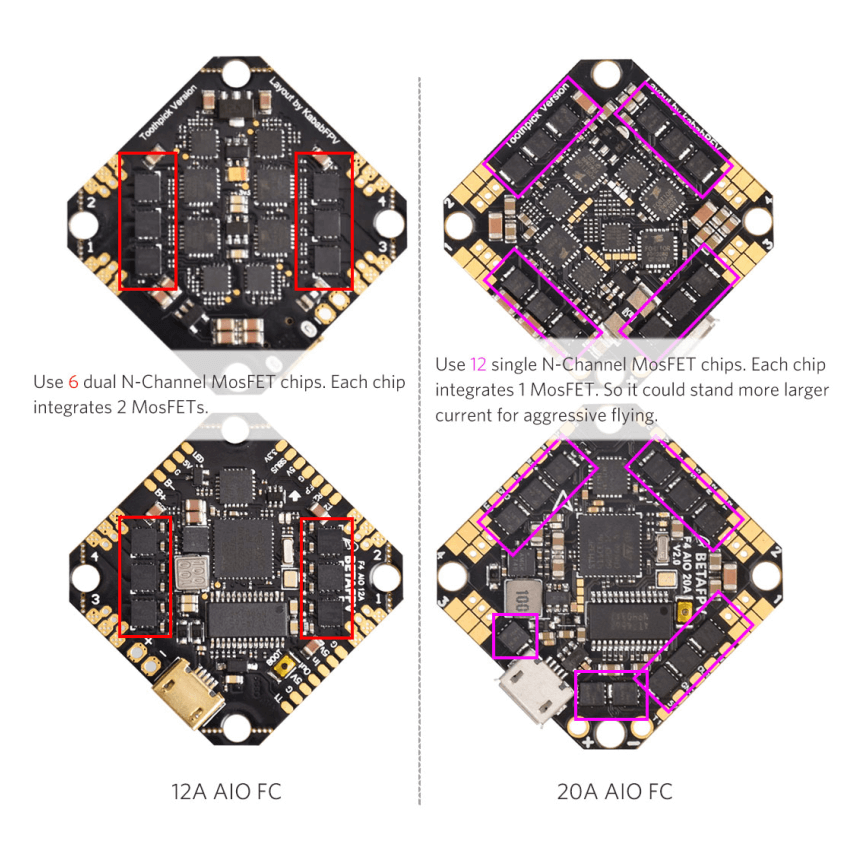 BetaFPV has released V3 version of this flight controller. The V3 version has all the function of V2 board plus following 2 additional functions:
8M Flash chip for Betaflight Black Box.
Additional pads for DJI digital FPV unit and Caddx Vista digital FPV unit support. Additional UARTs – TX1/RX1, TX2/RX2, TX6/RX6
See the notes about the ports on this board below.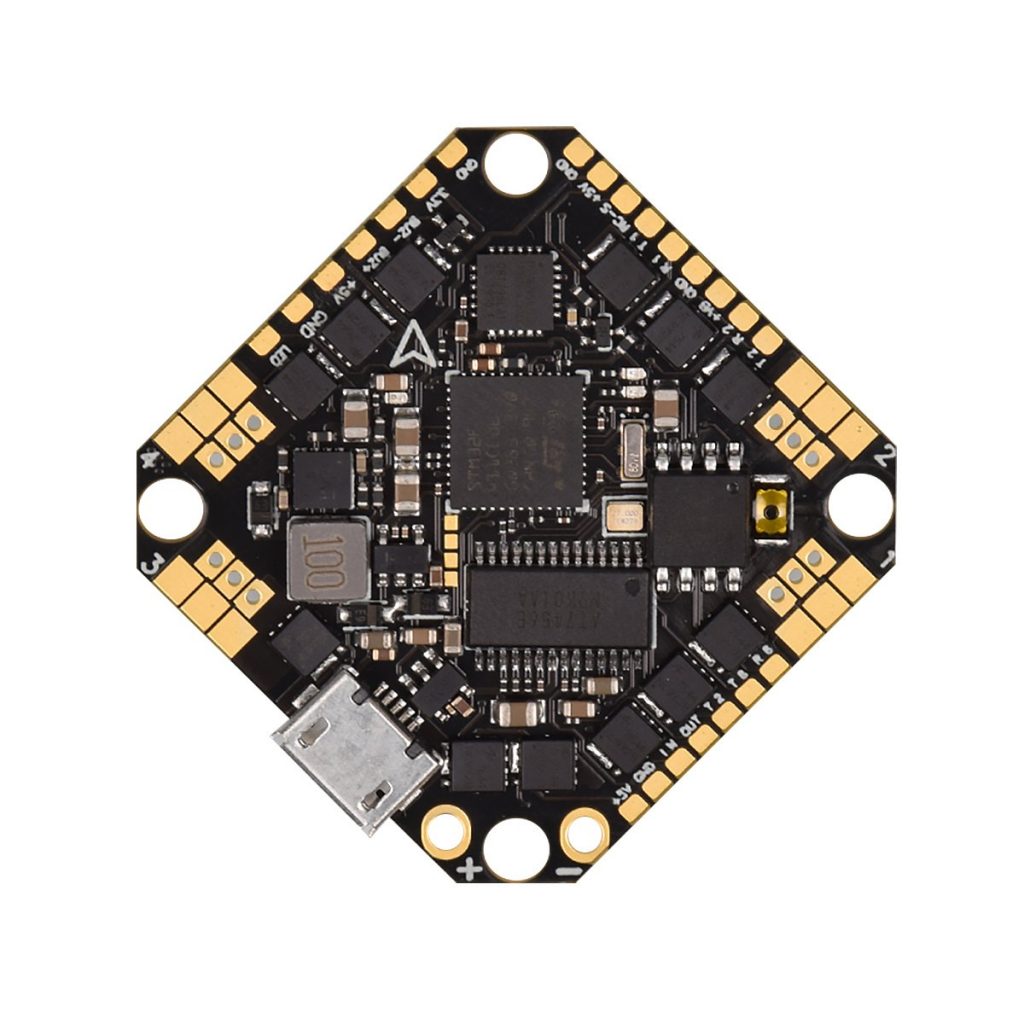 Closer look
BetaFPV F4 20A AIO FC comes with the FC with XT30 pigtail, motor pluggable sockets, rubber vibration dampers and screws with nuts.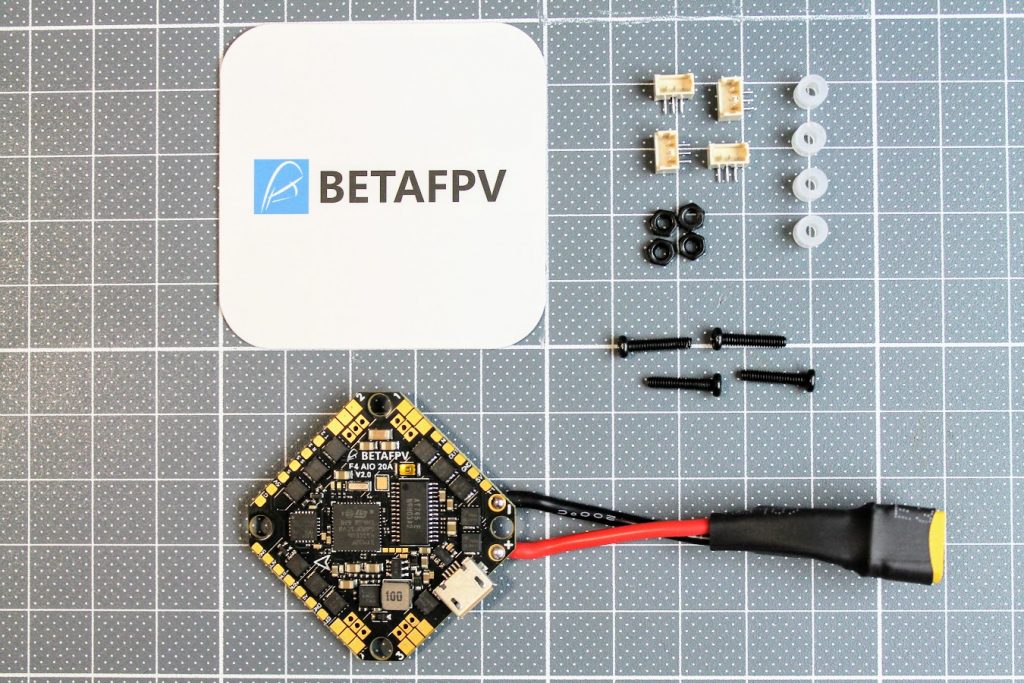 The top side of the board has all the connections as solder pads. All pads are big enough and easy to solder. They are also clearly marked. USB socket is located on the top side for easy access.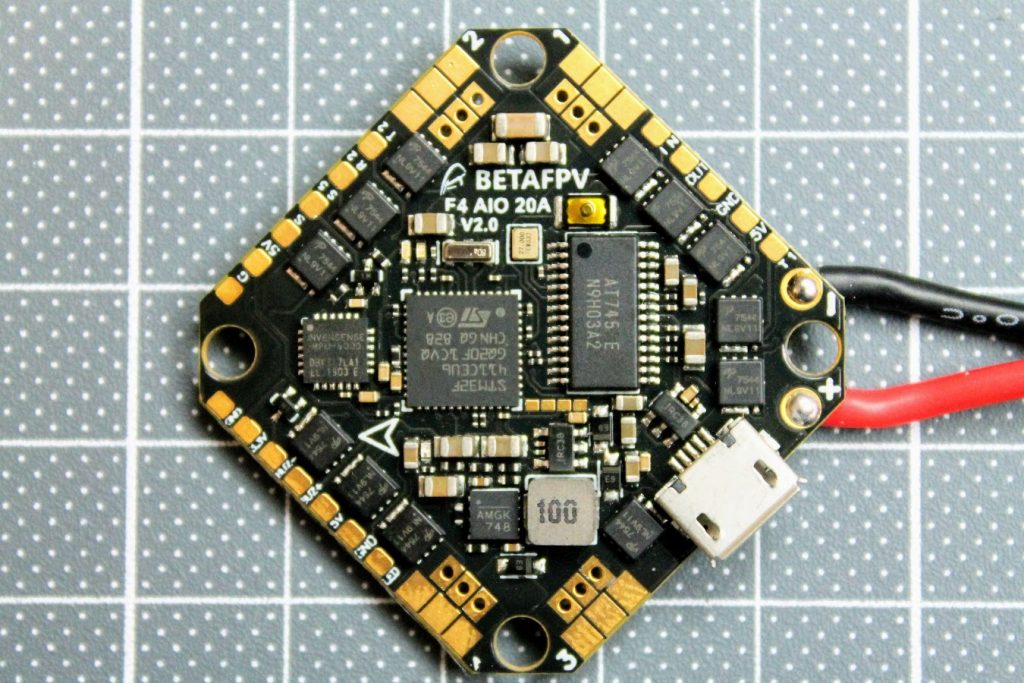 There are also motor solder pads on the bottom side of the board, so you can choose the side where to solder the motor wires.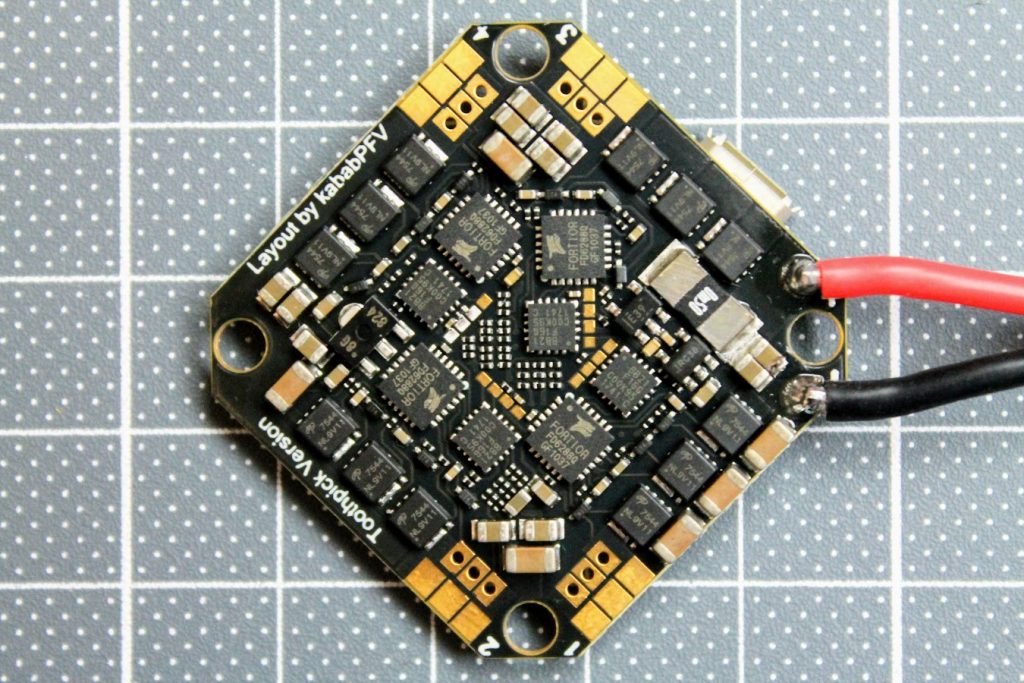 If you want, you can solder the motor plug sockets. Motor sockets are installed in horizontal orientation – this is far better than vertical for toothpick type quadcopters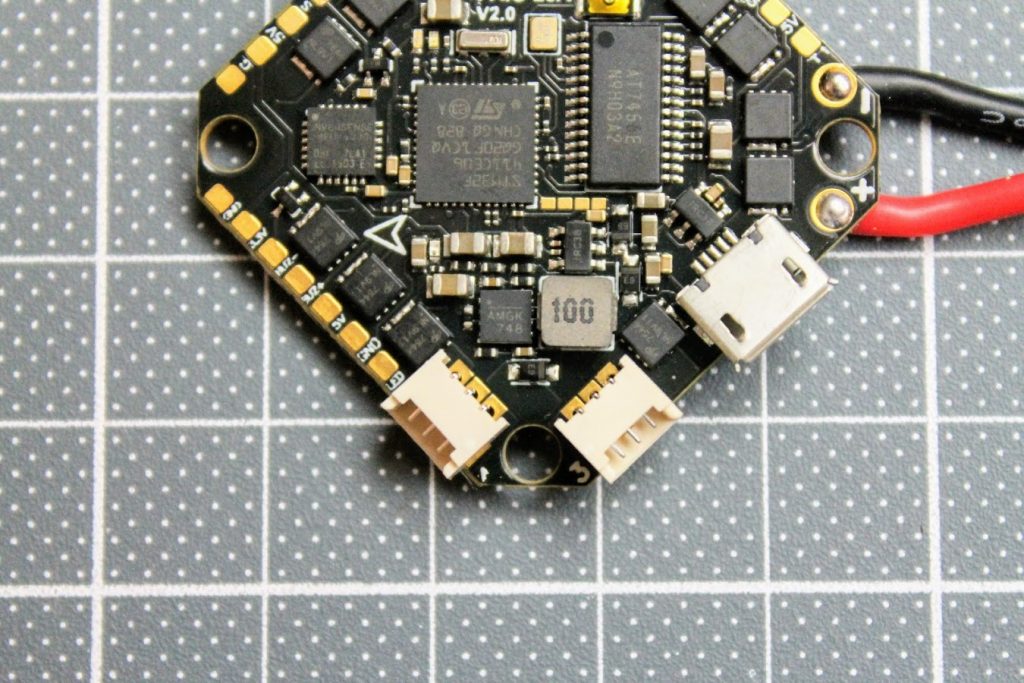 It is fascinating how the electronics have evolved. Jus in the year 2017 we had separate F4 and 20A ESC full size boards. Here is the BetaFPV F4 20A AIO comparison with the DYS F4 FC and F20A 4in1 ESC.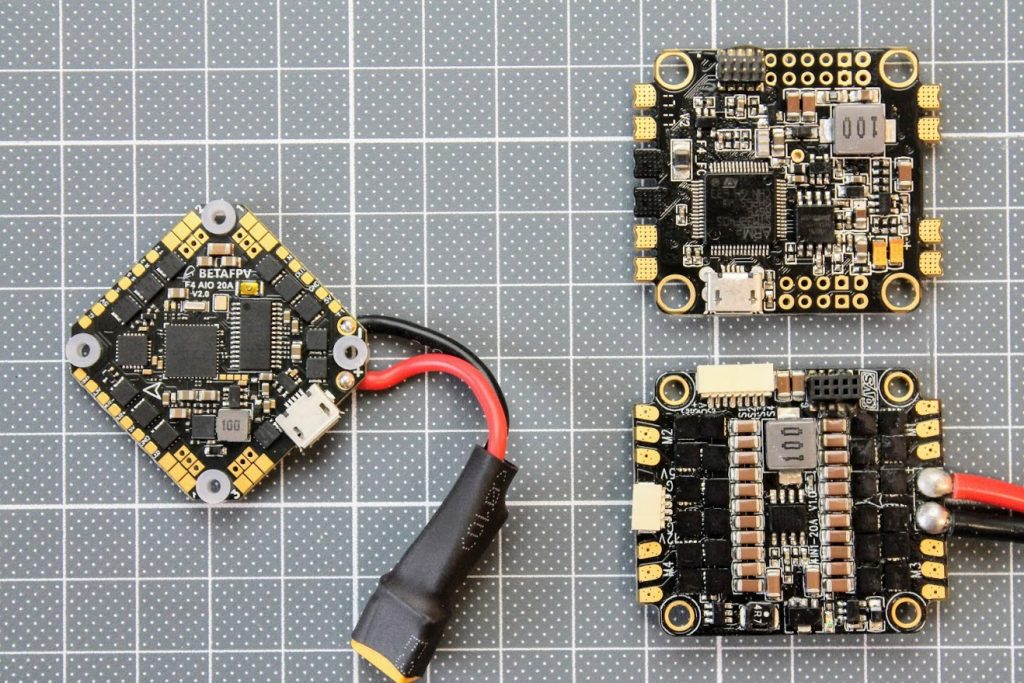 The difference in the weight – DYS F4 and 20A ESC combo weights about 32 grams.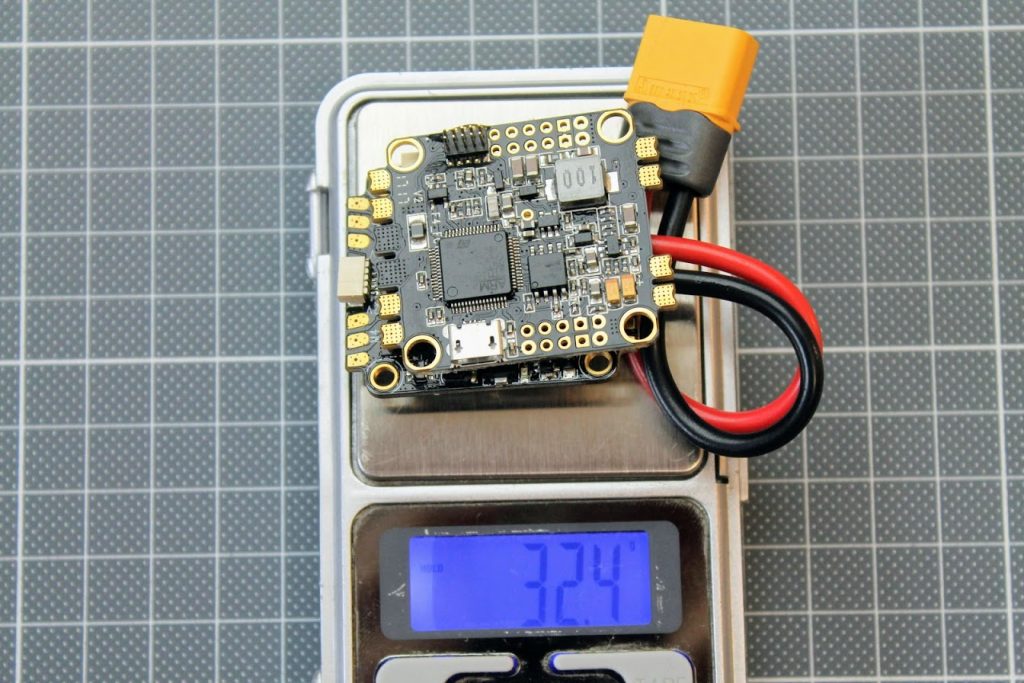 And BetaFPV Toothpick F4 20A AIO board weights only 10.1 grams.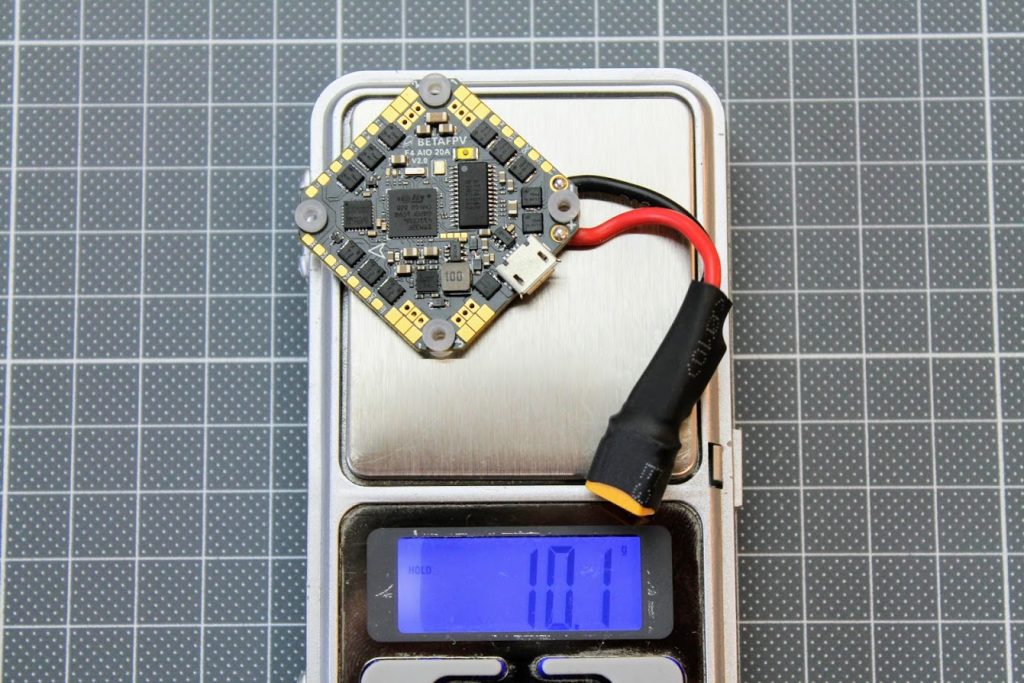 The dry weight of the BetaFPV F4 20A AIO board is about 6.7 grams.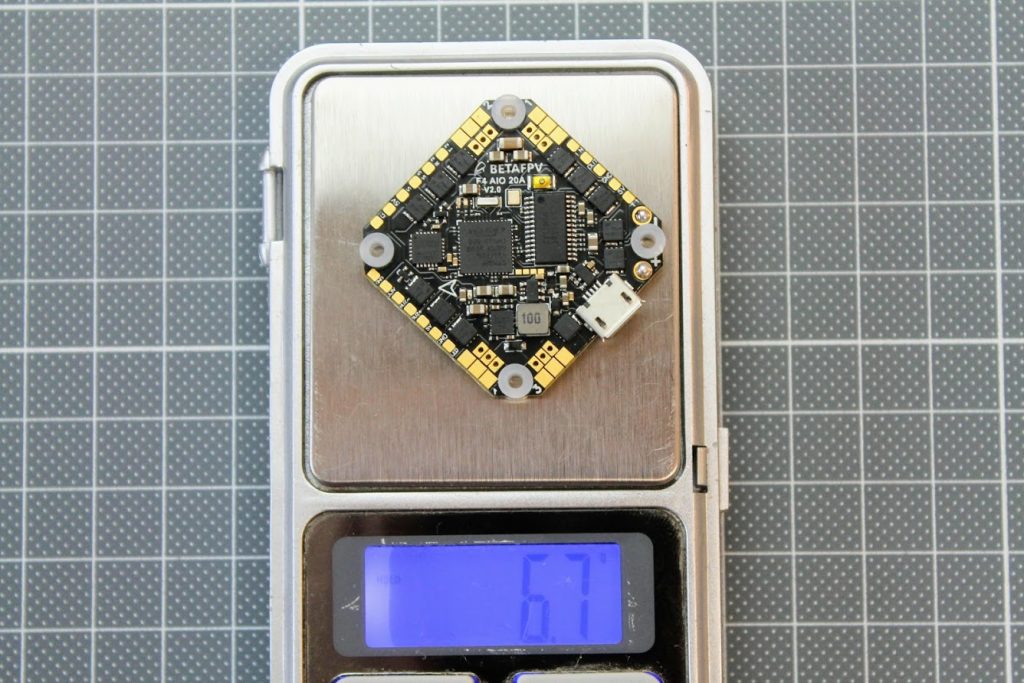 And the supplied XT30 pigtail with capacitor weights 3.4 grams.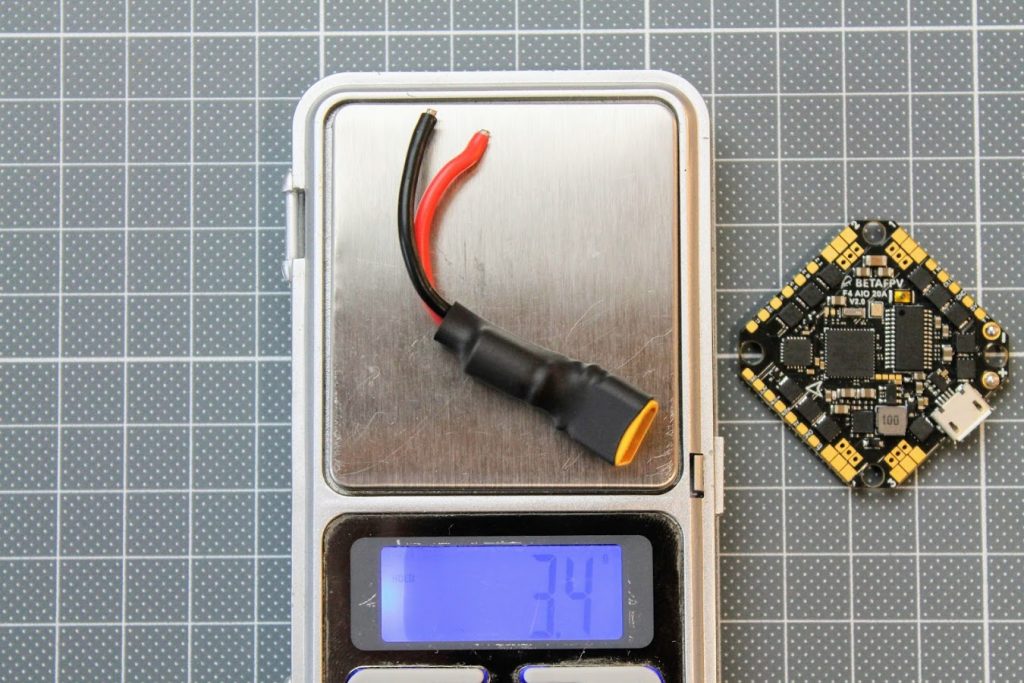 Installation and configuration
BetaFPV F4 20A FC V2 connection diagram.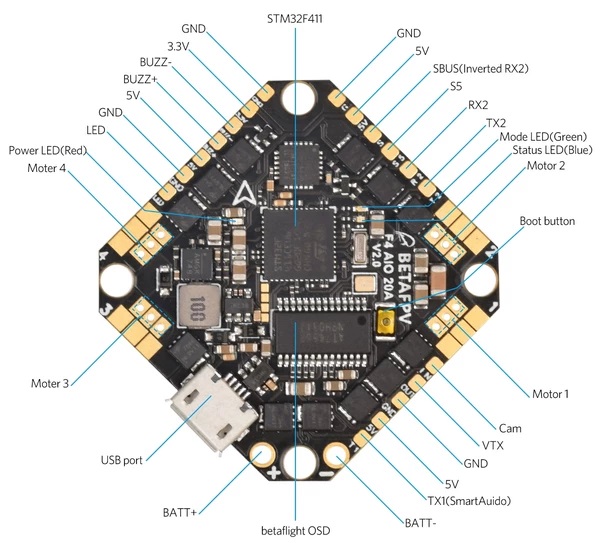 BetaFPV F4 20A FC V3 connection diagram.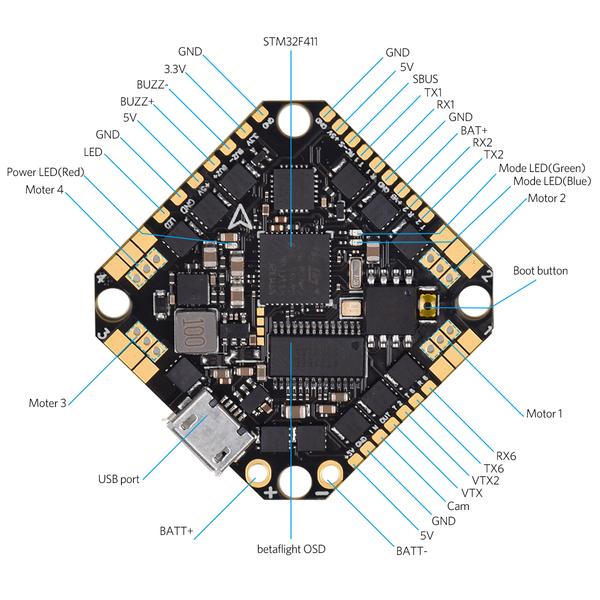 Note about the UART6 on V3 board: The TX6/RX6 ports are actual softserial UART ports and unfortunately they are not configured in factory and you will see only UART1 and UART2 in the betaflight configurator. You will need to open the CLI iwindow and type the following commands in order to set the softserial port on the BetaFPV 20A toothpick FC V3 :

resource SERIAL_TX 11 B03
resource SERIAL_RX 11 B10
save

Read more about the setting up the softserial ports here: Guide: How to set up the Softserial UART
If you have a receiver with SBUS output, then you should connect the SBUS wire to the S pad on the BetaFPV board.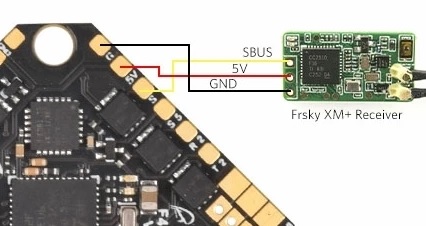 For the DSM Spectrum receivers the SBUS signal wire should be connected to the R2 (UART2) pad.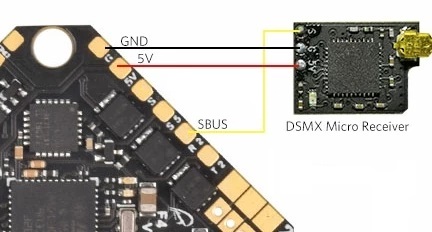 If you want to connect the TBS Crossfire Nano receiver, then you should connect signal and telemetry wires as shown below.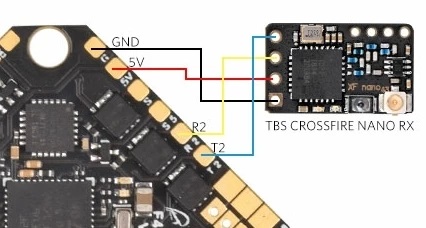 BetaFPV F4 20A AIO is available @
BetaFPV: https://betafpv.com/products/toothpick-f4-20a-aio-brushless-flight-controller
GetFPV: https://www.getfpv.com/betafpv-toothpick-f4-2-4s-20a-aio-brushless-v3-flight-controller-blheli-s.html
Disclaimer: This item was supplied by BetaFPV for a fair and unbiased review. BetaFPV never asked for a positive review and never infuenced my opinion in any way. I'm trying my best to stay uninfluenced and give only my own opinion. All affiliate links if there are any help me purchase items for future reviews.
2019-10-28 – Article created
2020-01-24 – Updated with V3 version info
2020-09-11 – Fixed Spektrum DSMX receiver connection diagram.