Review: BetaFPV F4 12A AIO ELRS FC
BetaFPV F4 12A 1-2S AIO FC is the second version of the BetaFPV 1-2S AIO with integrated ExpressLRS receiver. The first version had some issues operating on 2S battery and BetaFPV released updated 1-2S AIO FC. Lets take a look at his FC board.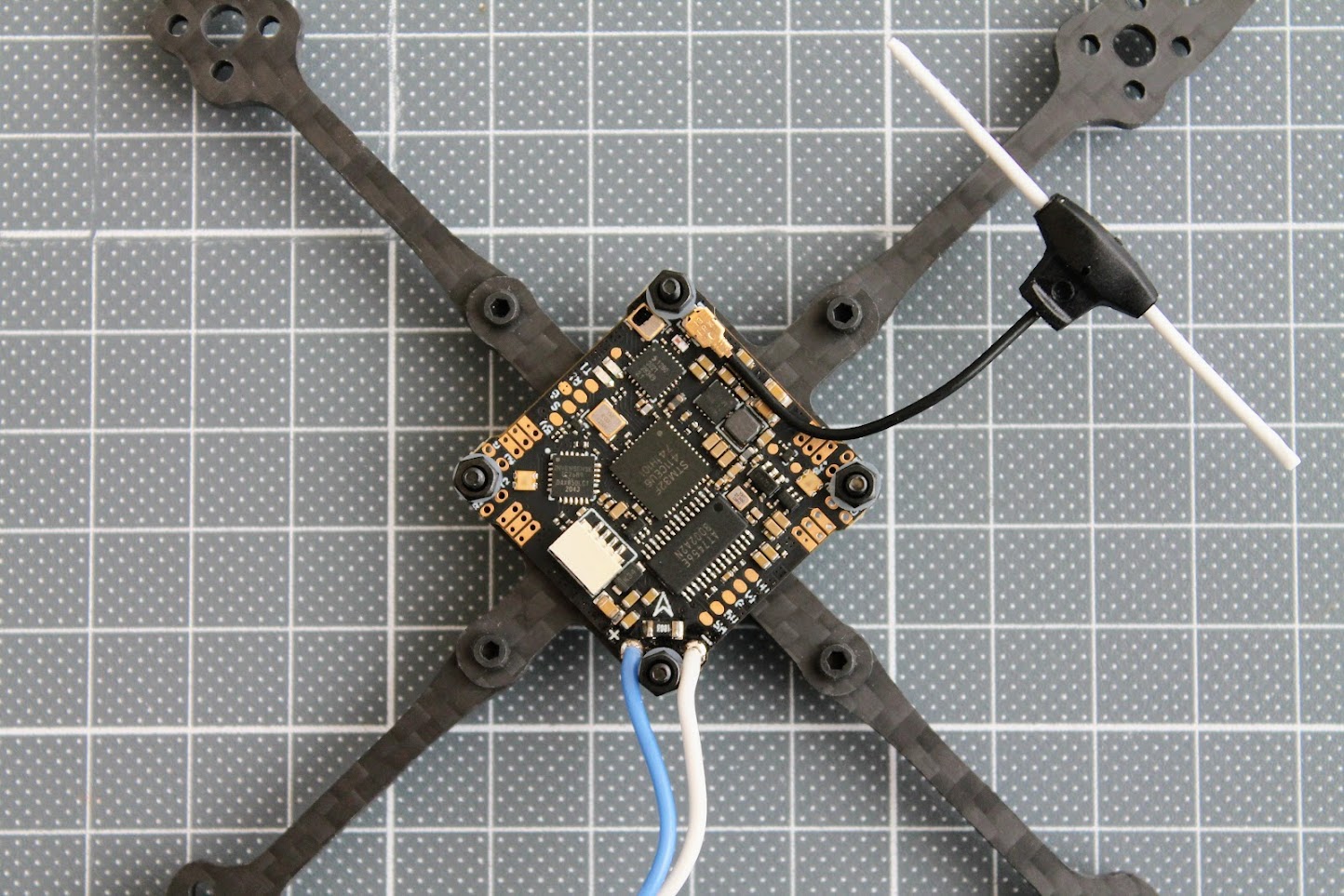 Page Contents for Review: BetaFPV F4 12A AIO ELRS FC
Specifications
Item: F4 1S 12A AIO FC
Weight: 4.74 g (without power cable and BT2.0 connector)
CPU: STM32F411CEU6 (100MHZ )
Six-Axis: MPU6000 (SPI connection)
Firmware target: BETAF4SX1280
OSD: Built-in BetaFlight OSD (STM32 controls OSD chip over SPI in DMA mode)
Receiver: Integrated SPI Frsky Receiver / Futaba Receiver / ELRS Receiver
Motor Pin Connecter: 1.25mm Header Pins
Mounting Hole Size: 26mm x 26mm (suitable for whoop pattern mounting hole)
USB Port: Type-C (V1.0 board), SH1.0 4-Pin (V2.0 board)
Built-in ESC with 12A continuous and peak 25A current
Input voltage: 1S Lipo (V1.0 board), 1S-2S (V2.0 board)
ESC firmware: Z_H_30_REV16_7.HEX
Signal support: D-shot150, D- shot300, D-shot600, Oneshot125, Multishot, PWM
Closer look
Package contains BetaFPV F4 12A AIO FC board, nylon M2 bolts and nuts, silicone dampeners, 3pin 1.25mm motor sockets with straight and angle mounting position, 2.4GHz dipole t-mount antenna with u.fl pigtail, USB-C socket board and cable for connecting it to the FC.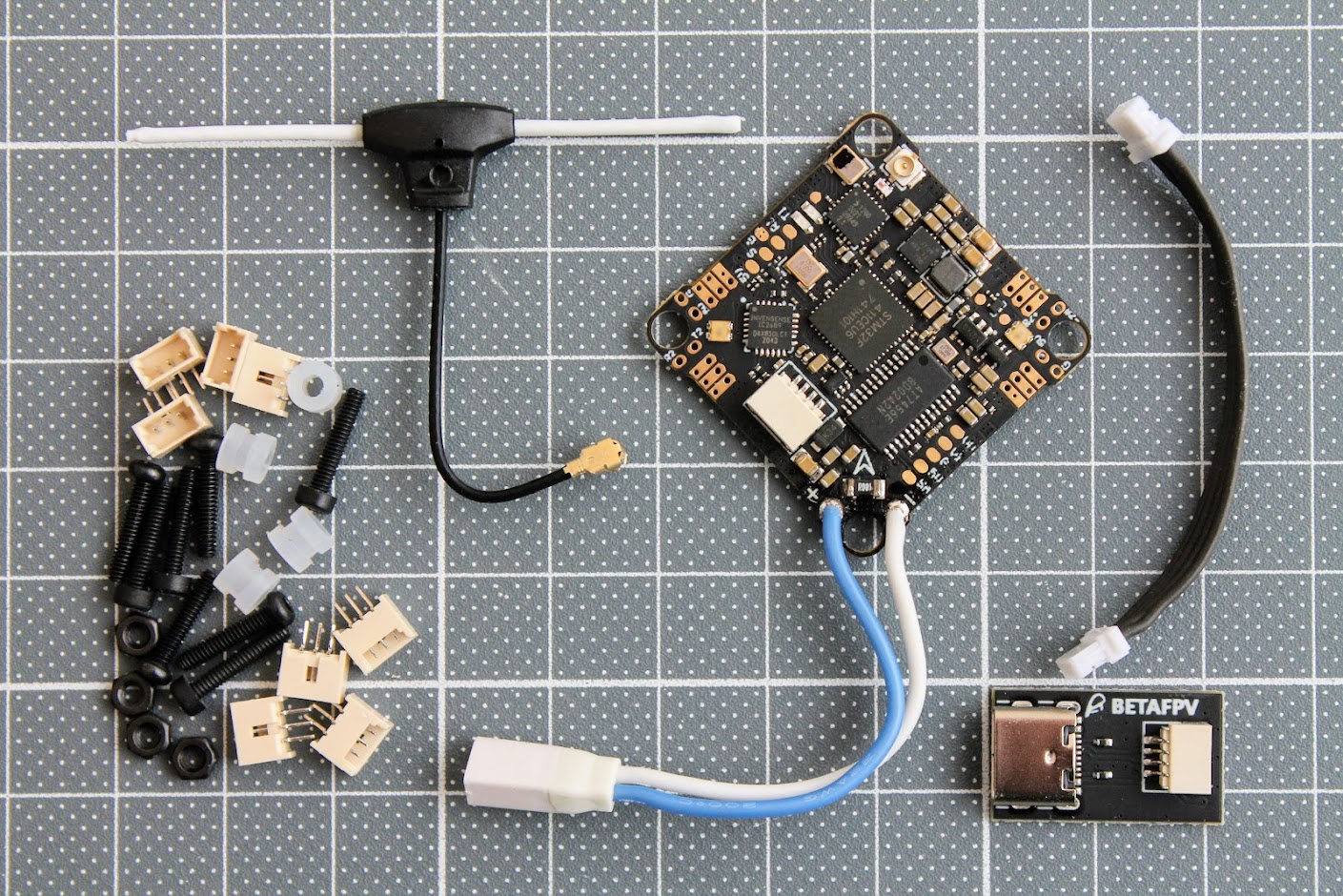 On the top side of the board you can find the Invensense ICM20689 gyro (replacement for MPU-6000). The board has ExpressLRS receiver RF chip (SX1280) connected to the main STM32F411 MCU via SPI line. So this ELRS receiver does not have Wi-Fi update possibility as the ELRS receiver firmware is incorporated into the main Betaflight firmware.
There are also two programmable RGB LEDs on the top side of the board.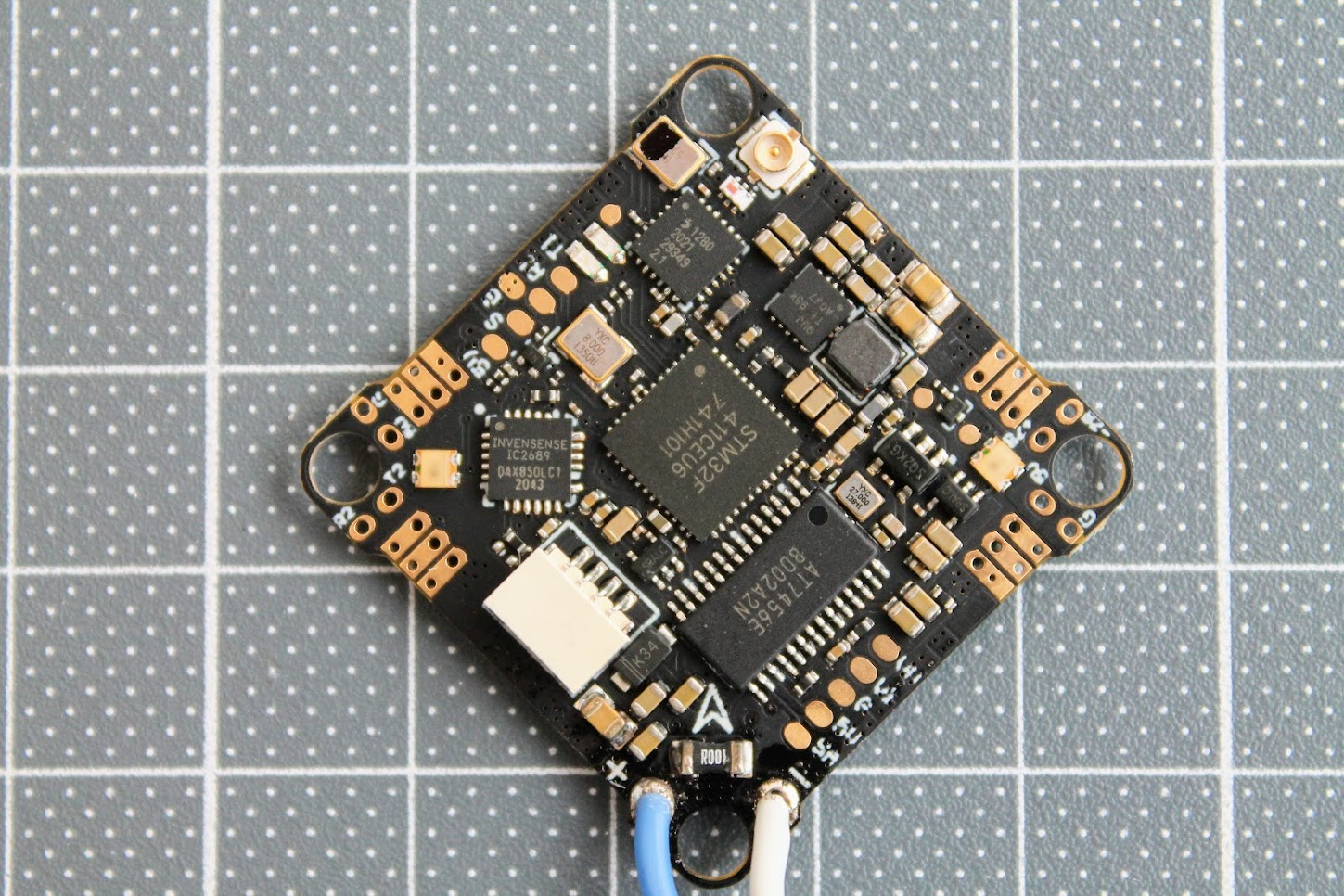 On the back side you can find the ESC part of this AIO FC. There are 12 Dual N-Channel 25V 30A SiZ322DT mosfets.
There is also a BOOT/Bind button on the board for Entering the bootloader mode on the FC or starting the binding process on the ExpressLRS RX part.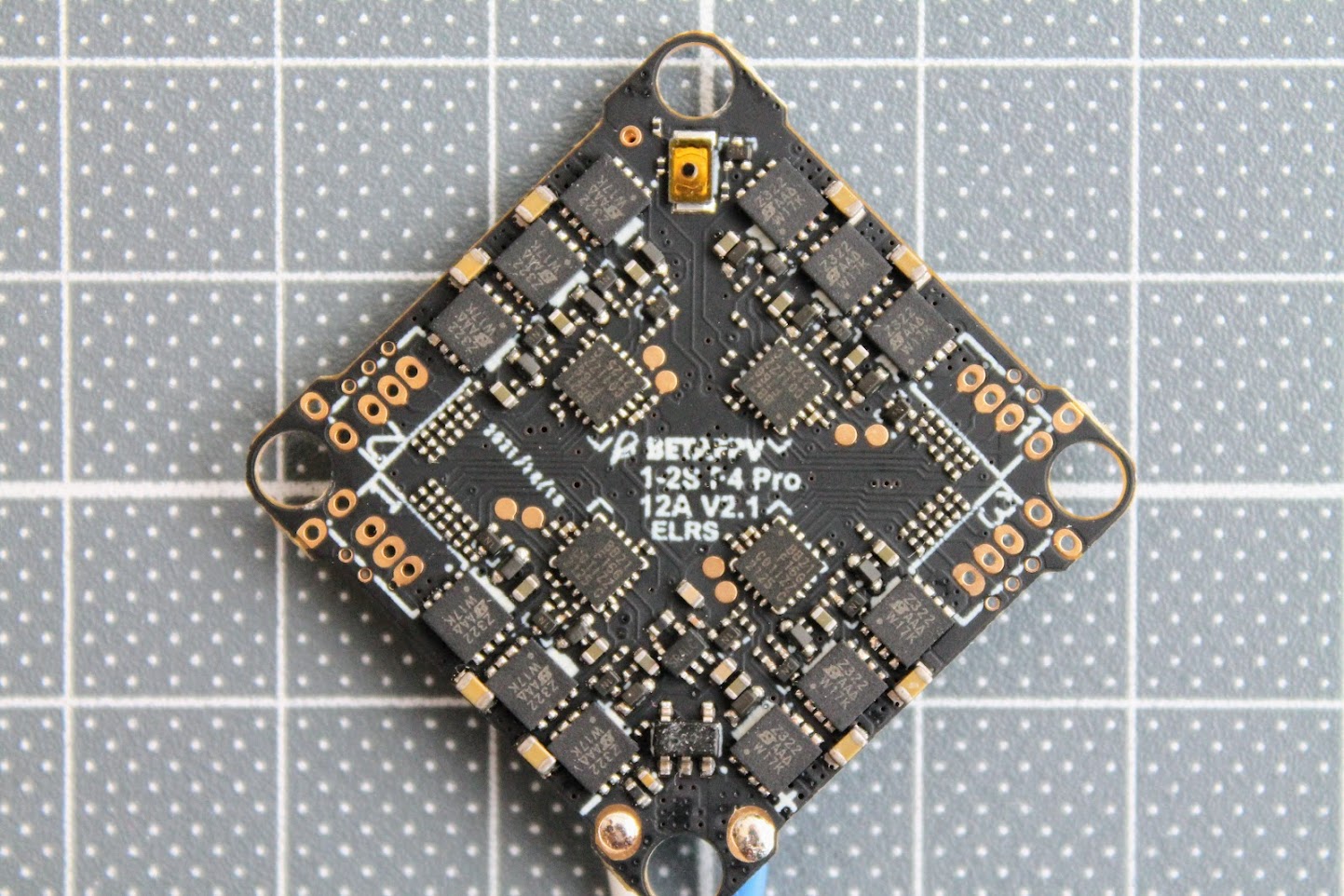 BetaFPV AIO FC board comes with motor connectors unsoldered. You can choose between the horizontal or vertical connectors, or you can solder the motor wires directly to the board motor pads.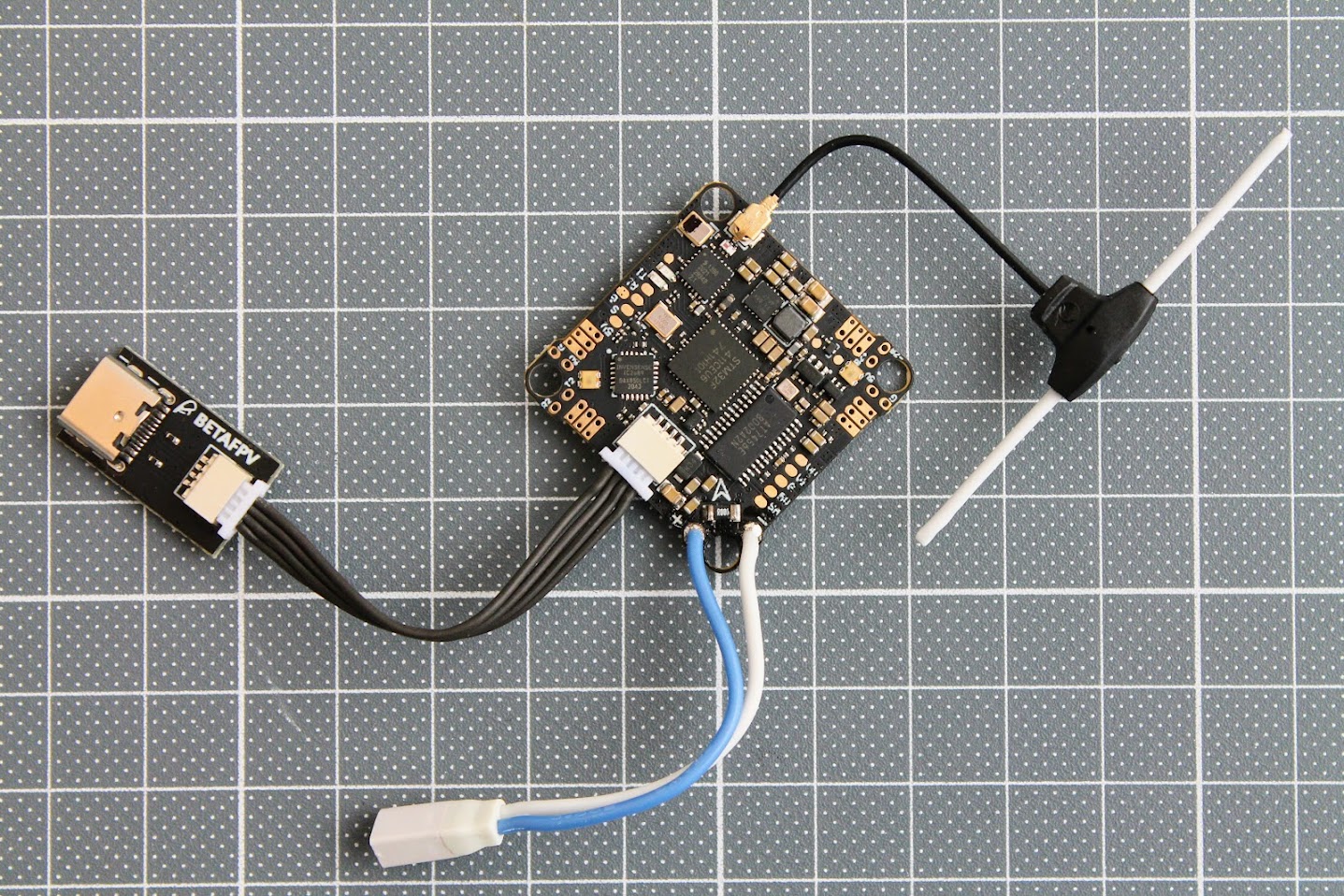 Weight without the antenna is 4.8g.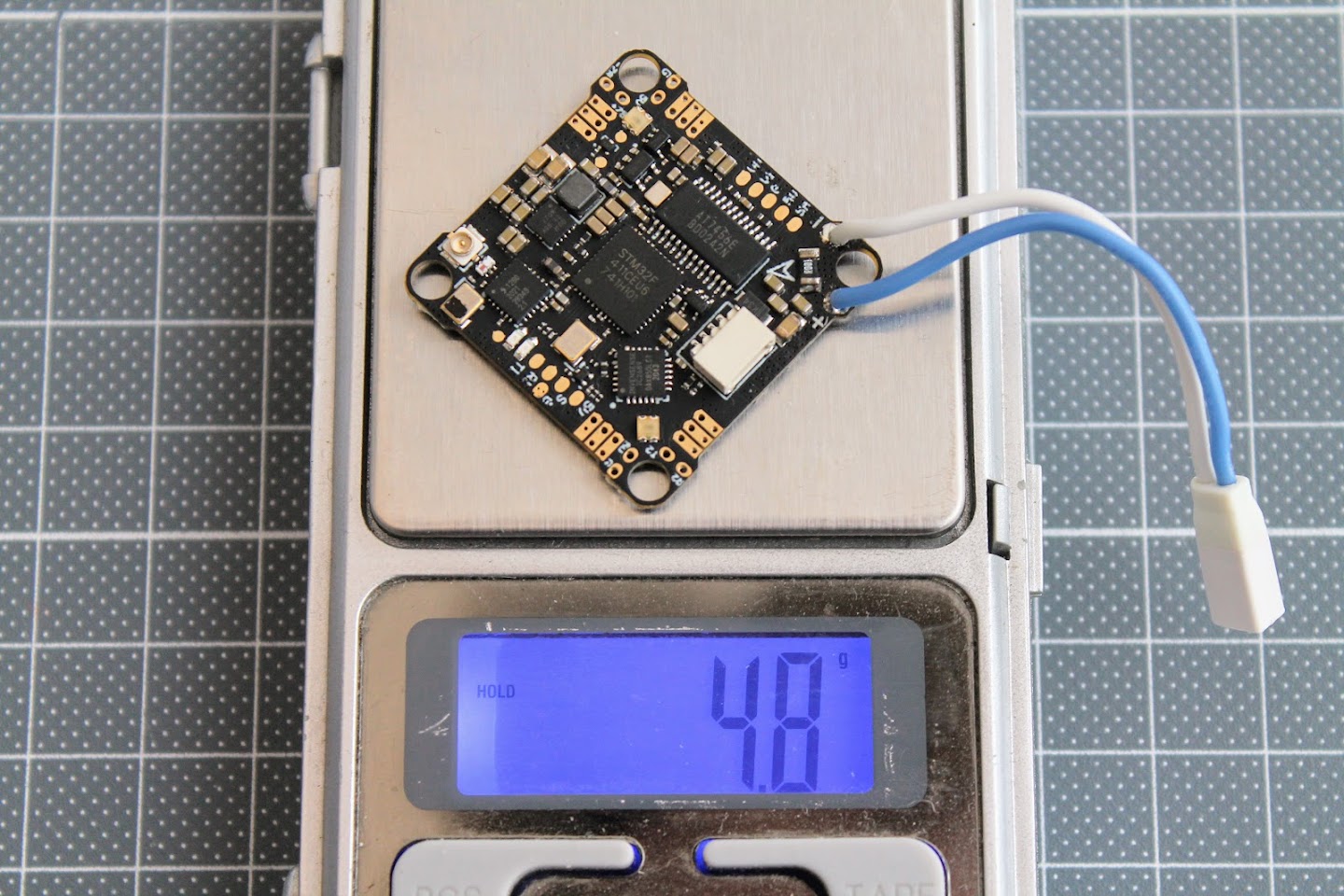 Full weight with dipole antenna and BT2.0 battery lead is 5.8g.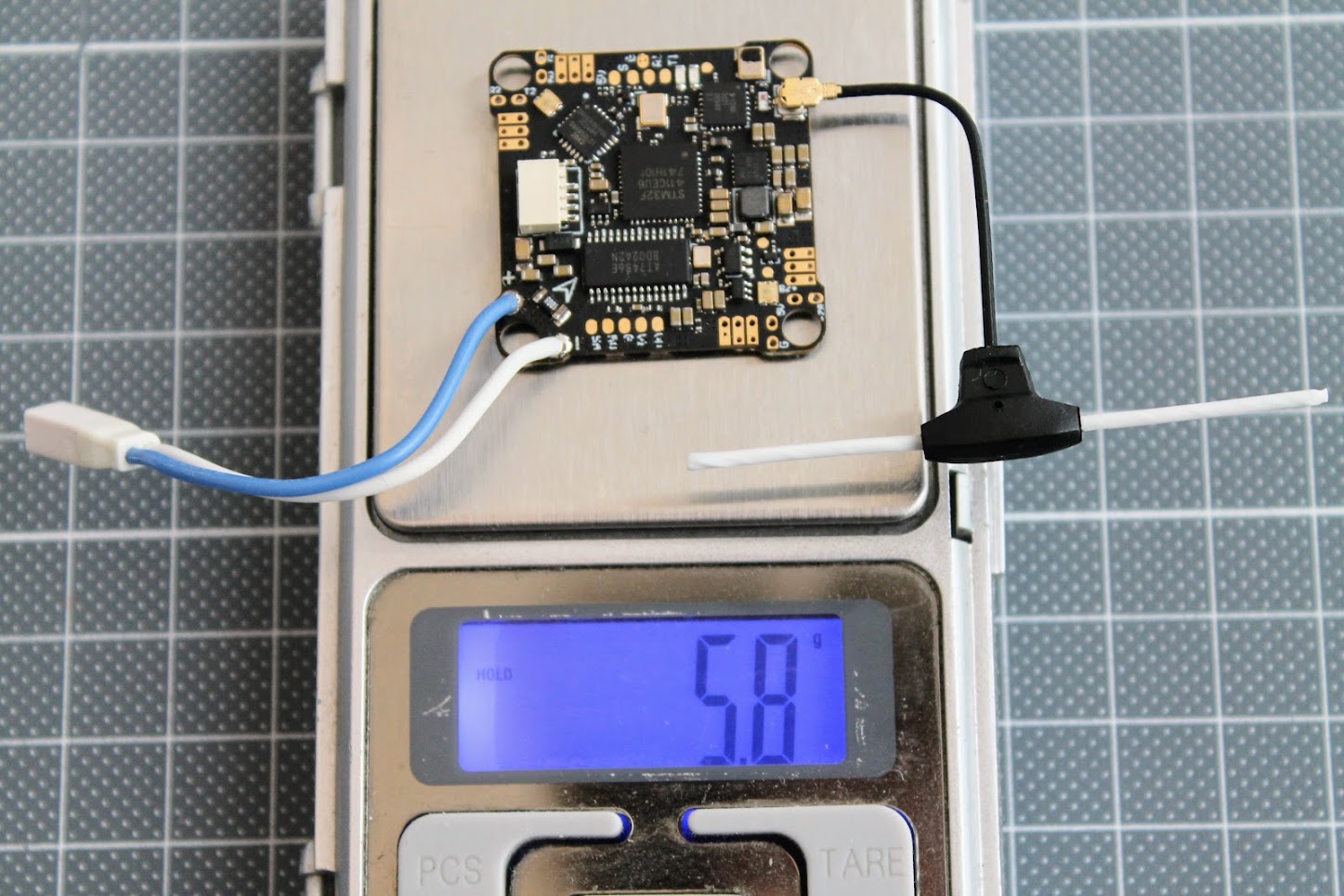 Pinout diagram
BetaFPV F4 12A AIO FC Connection pinout diagram.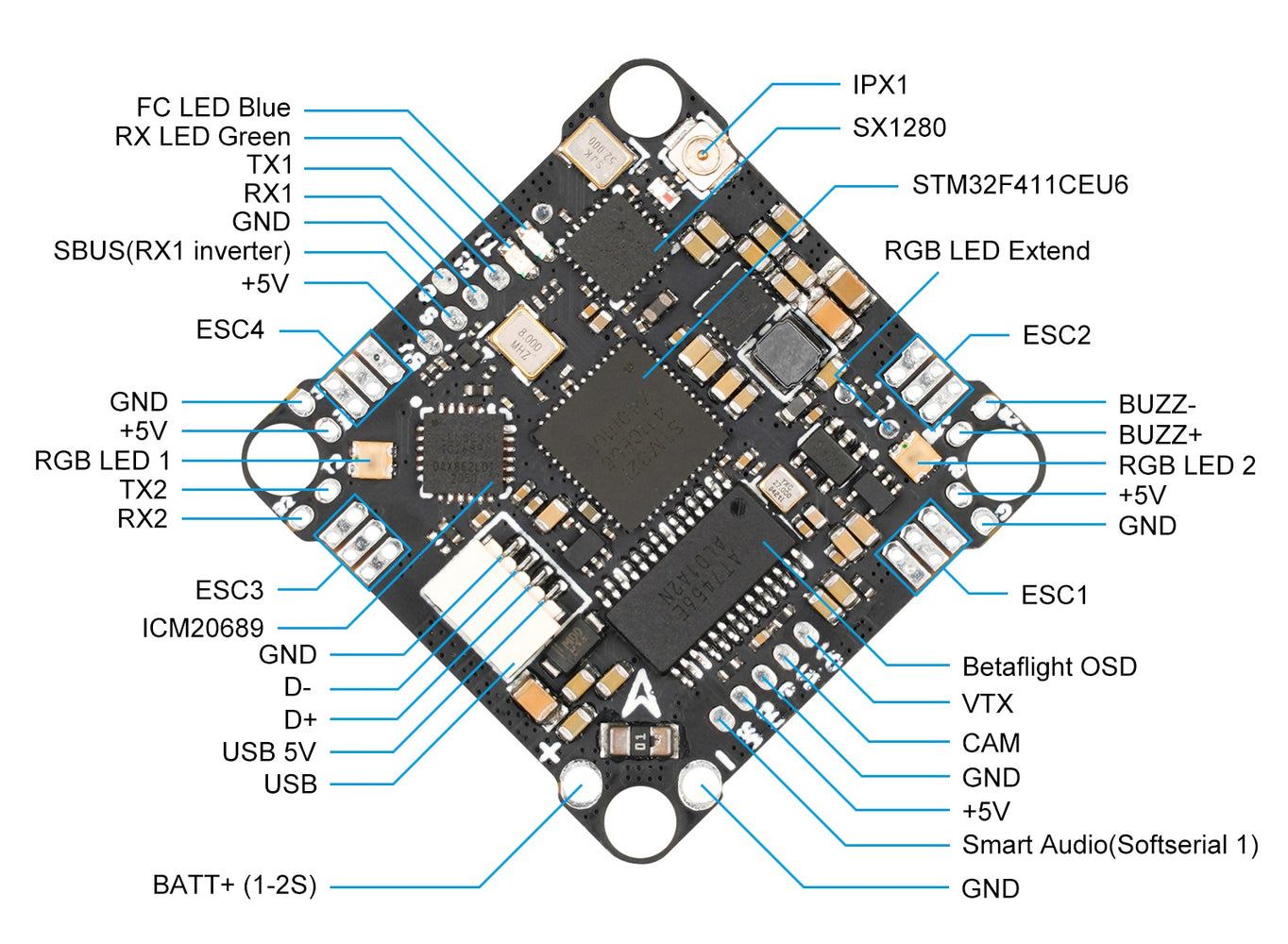 Binding procedure
There are several ways on how to bind the BetaFPV F4 12A AIO board with ExpressLRS transmitter.
Press [Bind Receiver] button in the Betaflight Configurator, Receiver Page.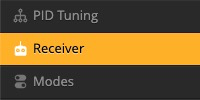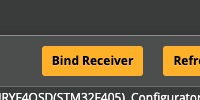 Using the Betaflight Configurator CLI, type in BIND_RX and press enter.

Using the Betaflight Configurator CLI, type in set expresslrs_uid = 0, press Enter, then hit the [Save] and reboot
 Press the bind button on the flight controller.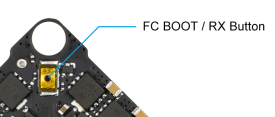 After the receiver enters the binding state, the receiver indicator on the FC will flash quickly.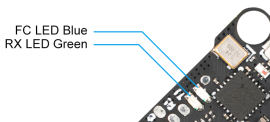 Firmware update
The on-board ExpressLRS receiver is connected to the MCU via SPI interface, this means the MCU is driving the RF chip directly and the ExpressLRS firmware is included in the Betaflight firmware. You need at least Betaflight version 4.3.0 RC3 (or newer) for the BetaFPV F4 12A AIO to work with ExpressLRS 2.0 transmitter.
Firmware target is BETAFPVF4SX1280.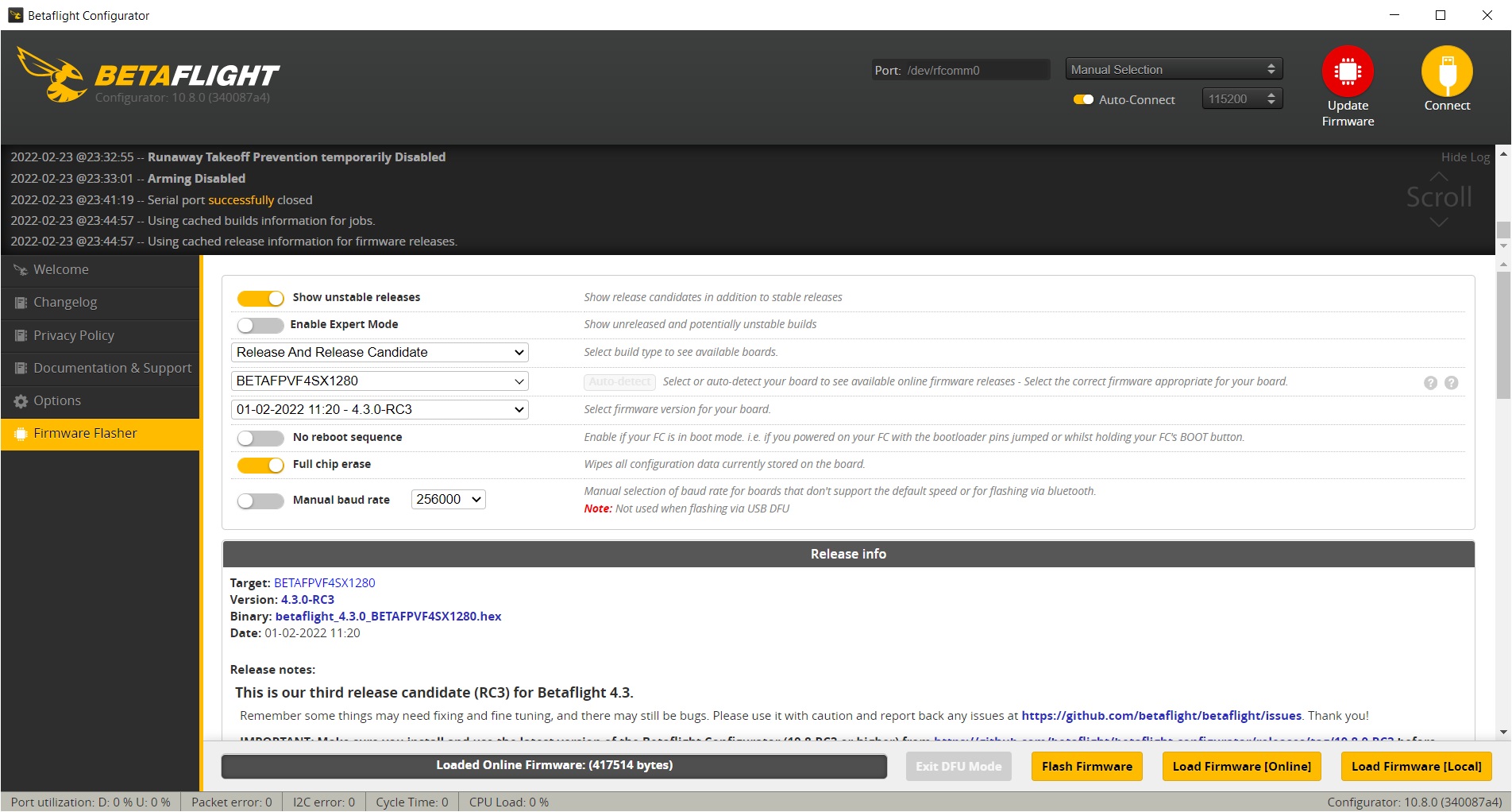 Betaflight setup
Configuration tab. Default PID loop is set to 4.00kHz. If you set up the bidirectional DShot and your CPU Load is higher than 50% and you get unstable RC link, it is recommended to lower the PID loop to 2.00kHz.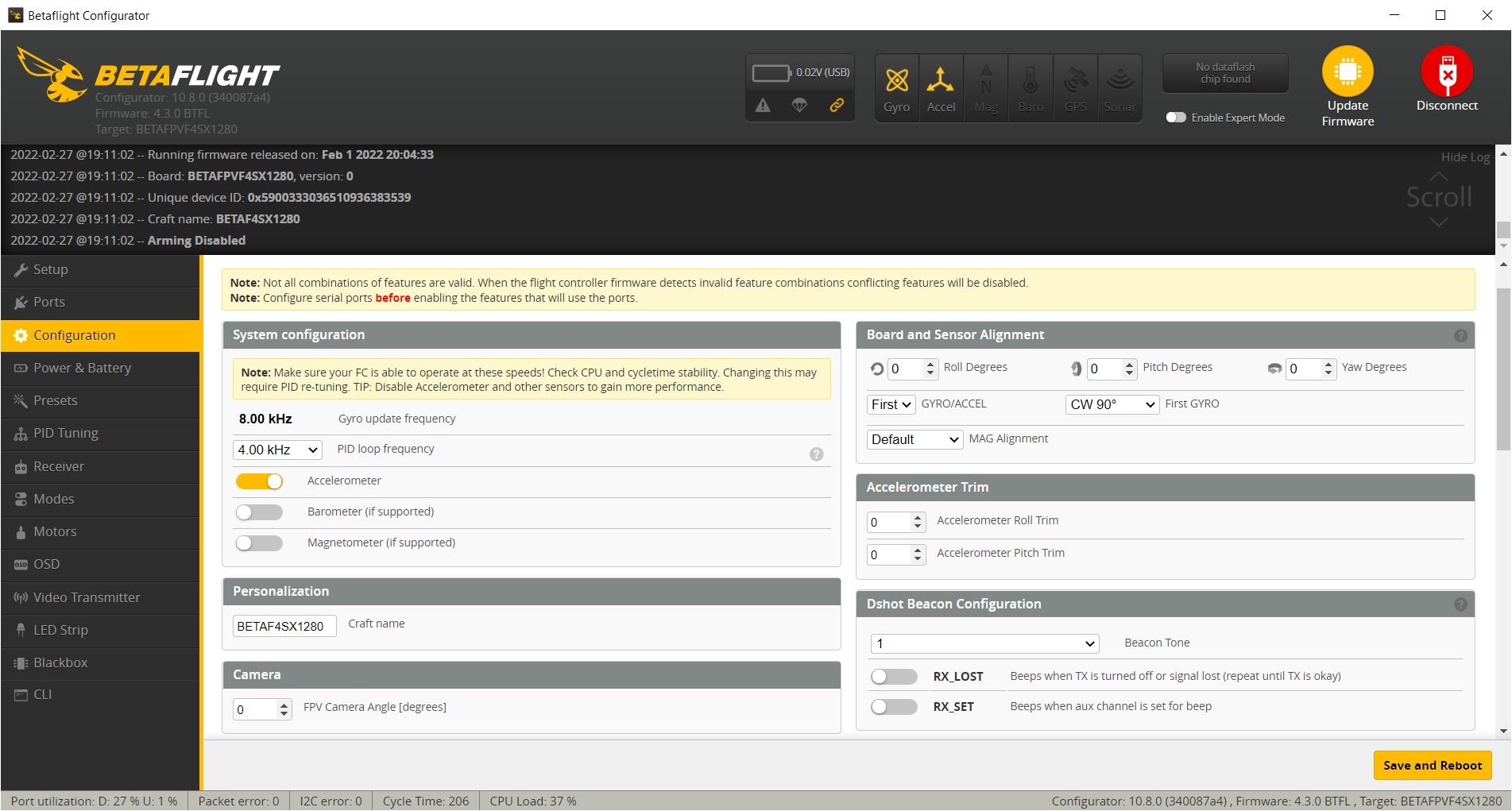 This BetaFPV AIO has two addressable LEDs on board. They can be controlled by Betaflight to indicate the status information and for some decoration.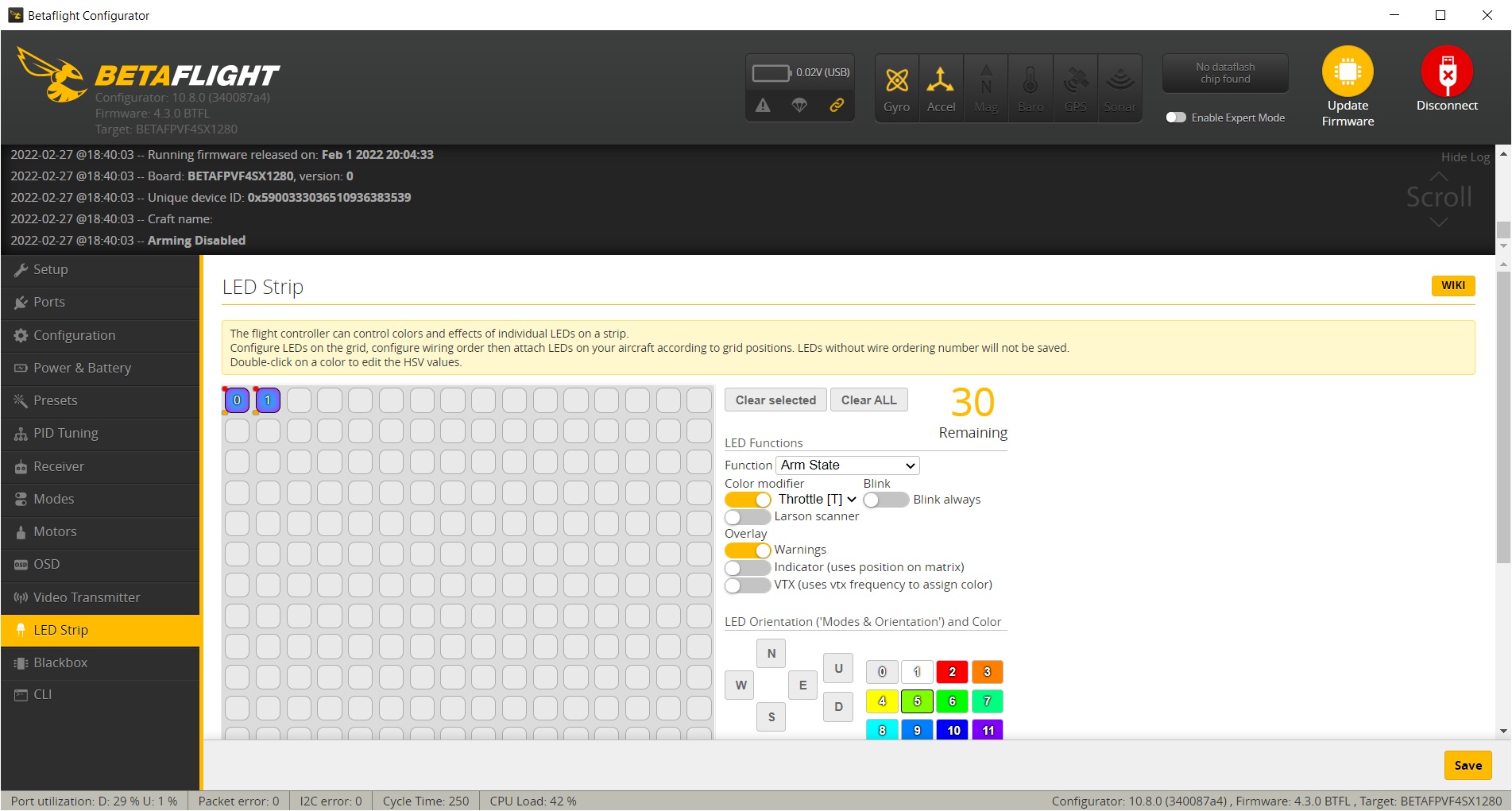 In the "Receiver" tab you should select the "SPI Rx" option in the "Receiver Mode" dropdown list and "EXPRESSLRS" option in the "SPI Bus Receiver Provider" list.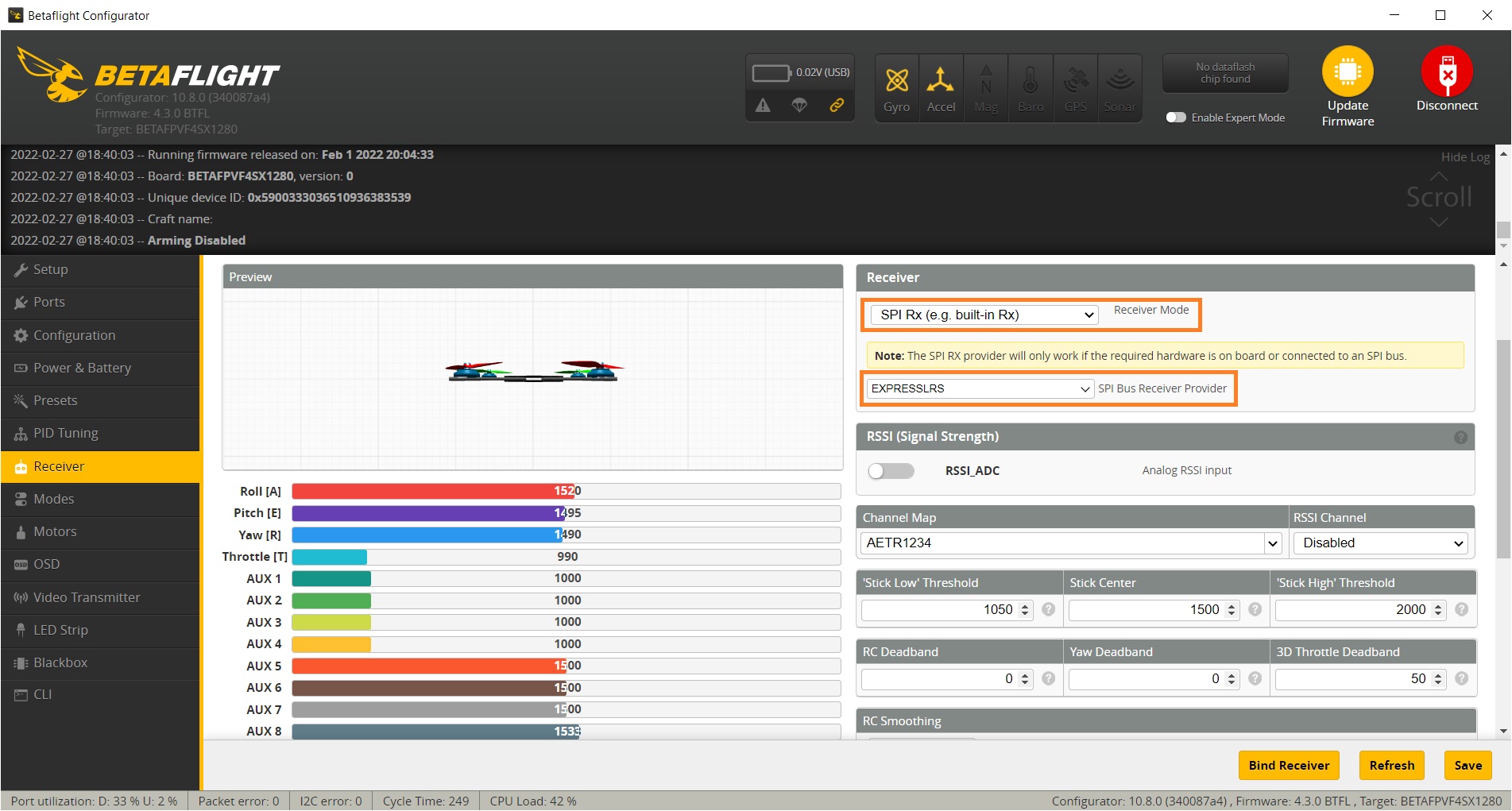 Default PID's that come predefined with the BetaFPV F4 12A AIO FC.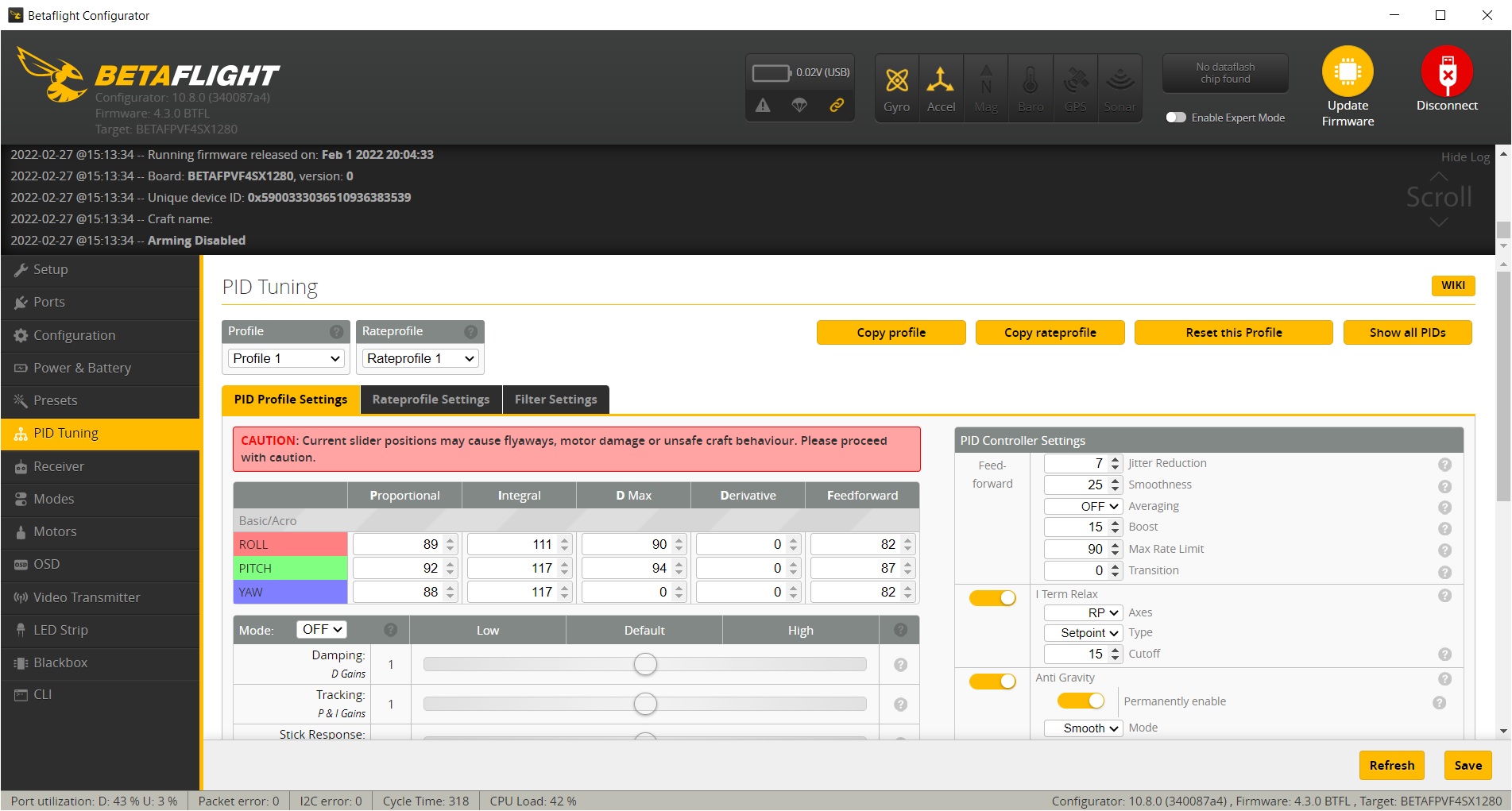 BetaFPV F4 12A AIO Betaflight CLI DIFF file : https://drive.google.com/drive/folders/1Vfovc2wgBWpITYRWCNo4QtgQGru4PK37
BetaFPV F4 12A AIO is available @
BetaFPV: https://betafpv.com/products/f4-1s-12a-flight-controller
GetFPV: https://www.getfpv.com/betafpv-f4-1s-12a-aio-brushless-flight-controller-elrs-2-4g-v2-0.html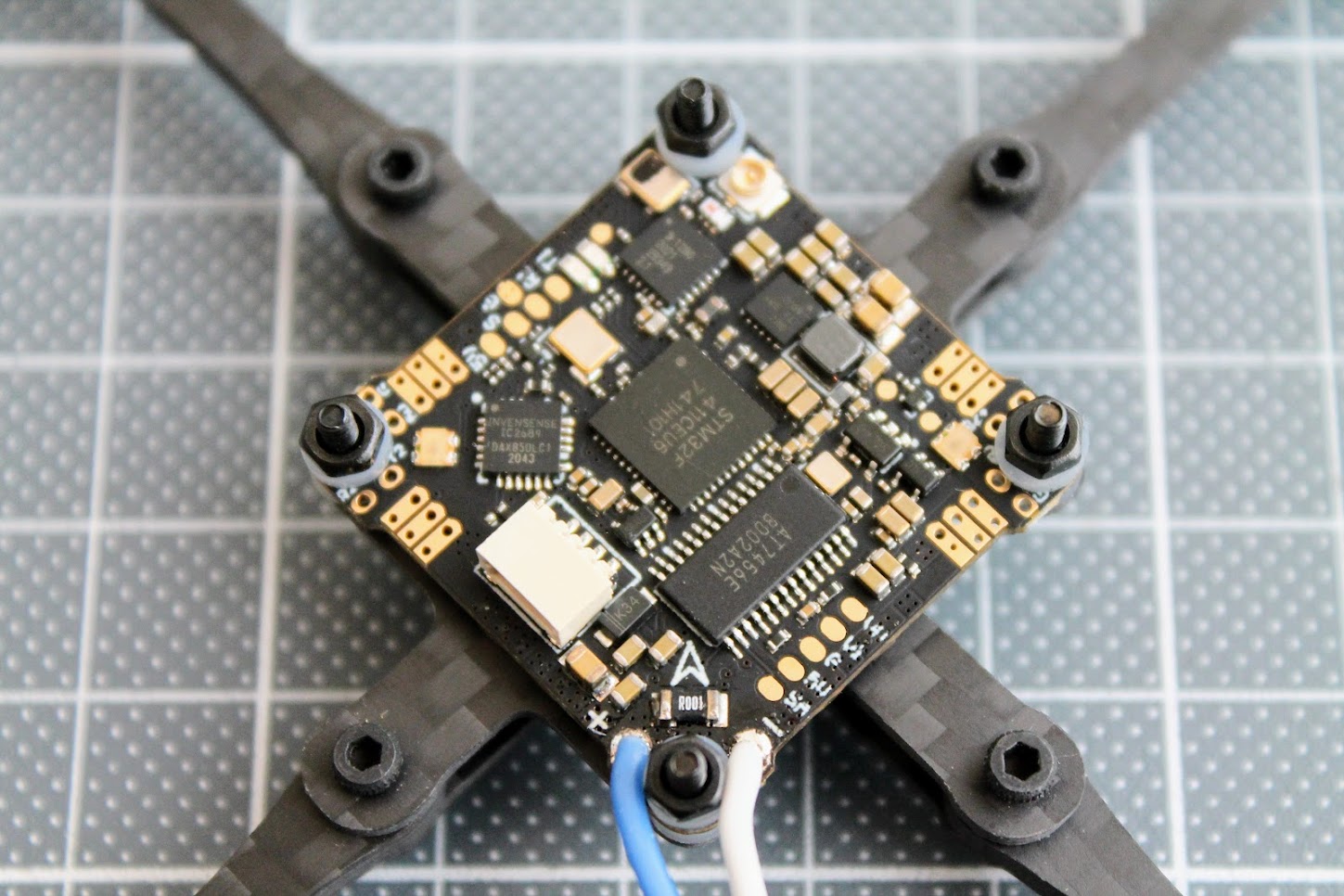 Disclaimer: This item was obtained by participating in the giveaway by BetaFPV. BetaFPV never asked for a positive review and never influenced my opinion in any way. I'm trying my best to stay uninfluenced and give only my own opinion. All affiliate links if there are any help me purchase items for future reviews and tests.