Review: Eachine ATX03 – micro transmitter with audio
Eachine has a series of micro video transmitters – VTX01, VTX02 and VTX03. They all are very small, lightweight and can be used where space and weight requirements are tight. VTX01 has fixed output level at 25mW, VTX02 – fixed at 200mW while VTX03 has switchable power levels from 0 to 200mW. They all can be used from micro quadcopters to large sized FPV planes. One thing they all lack is audio. So recently Eachine released new micro video transmitter with audio function – ATX03.
Eachine ATX03 has 4 power output levels 0/25/50/200mW. So it can be used on small 1S brushed quadcopters where power source has limited current and it also can be used on the other FPV aircrafts with the power level set to 200mW for a longer range flights. You will need to power it from separate +5V BEC if you'r aircraft is using 2S and bigger batteries.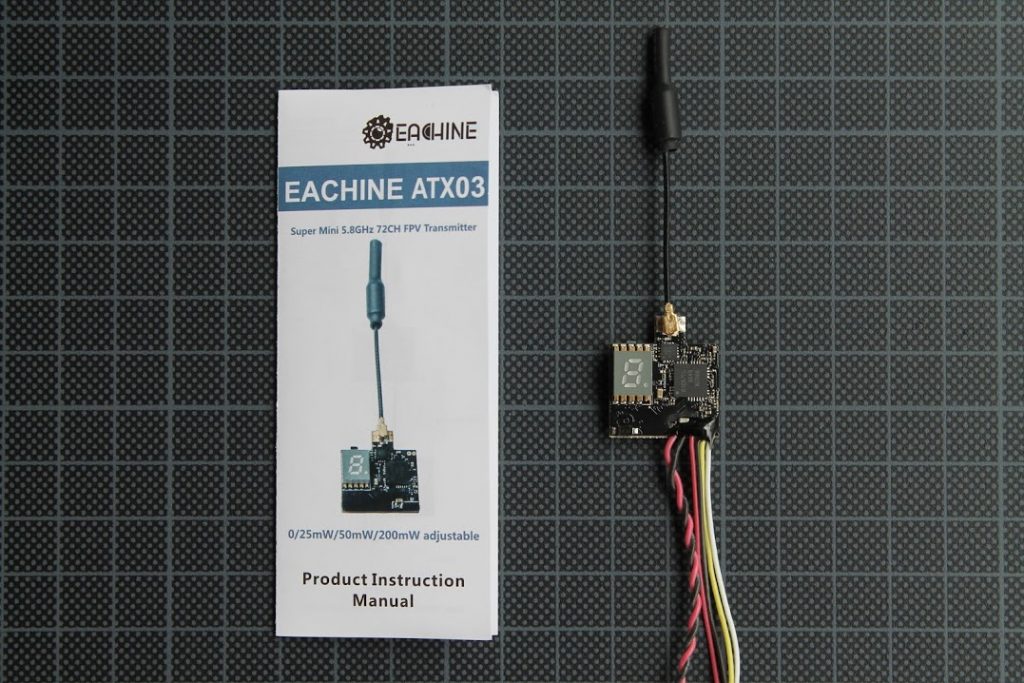 Channel, band and power output can be changed by one button, located on the top side of the transmitter. Transmitter has 9 bands with 8 chanels in the each band. Channel can be chosen by short pressing of the button. Band can be switched by pressing the button for more than 2 sec. Output power level can be switched by pressing the button for more than 5 seconds. You can toggle between 0mW, 25mW, 50mW and 200mW. Full band/channel list with frequency table below: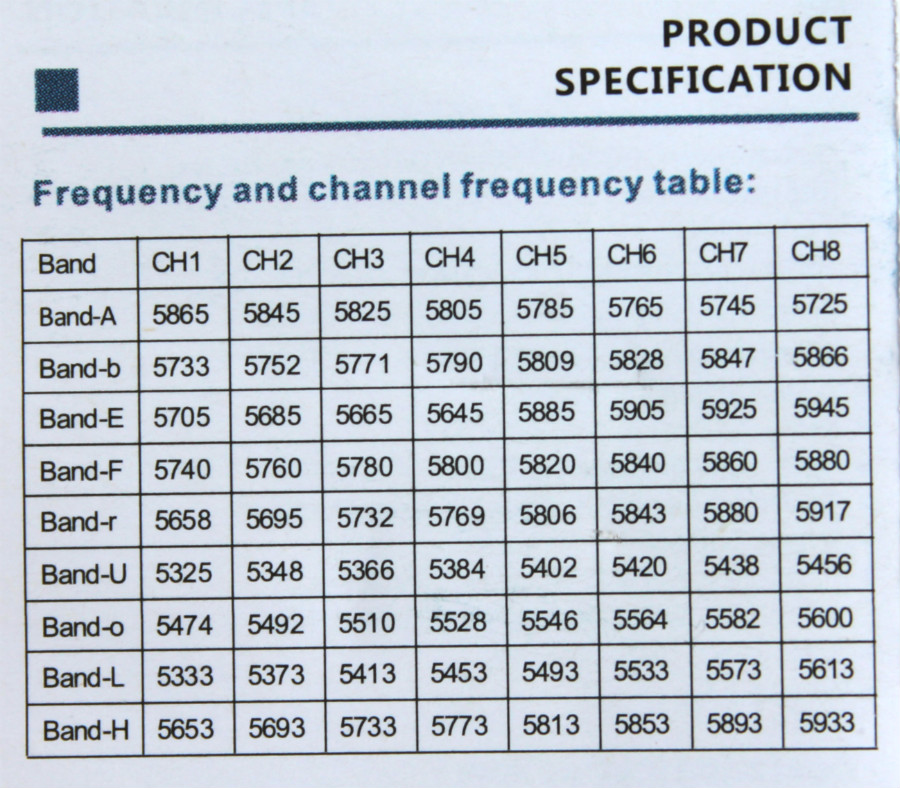 Antenna is very flexible and almost indestructable in the case of the crash. Antenna is linear polarized dipole, connected via IPEX connector.
The replacement antennna can be found here. Also you can change this linear polarized antenna to cloverleaf antenna with a IPEX connector to reduce the multipathing interferences.
A special notice should be taken on this VTX pinout. Both sources, supplied user manual and product page on the website shows incorrect pinout of the transmitter.
For the correct pinout you should use common sense and common color coding of the power and signal wires. Two of the innermost twisted wires are the Power In (3.2-5.5V) and Ground. These two wires end with a mini JST 1.5mm power connector. Other wires are Red – 5V output for camera, Black – ground, Yellow – video input, White – audio input.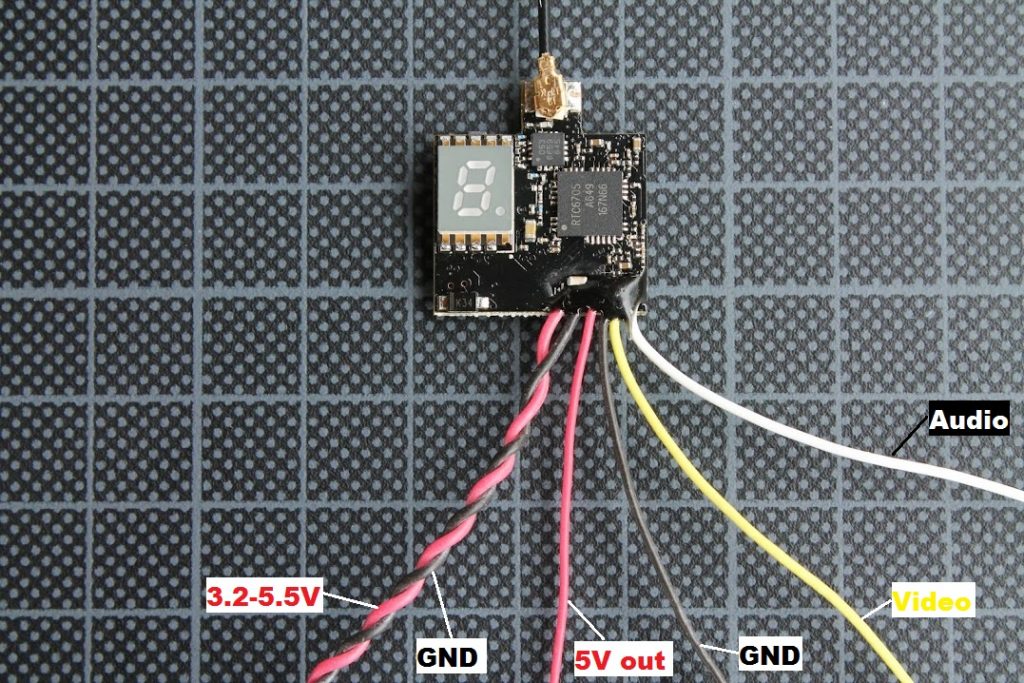 One of the negative sides of this video transmitter – it comes with 1.0mm JST-SH 4 pin connector (if you dont know, JST stands for "Japaneese Solderless Terminal"). I don't know any of the FPV camera, that somes with this type of connector. Usually cameras have 1.25mm Molex-PicoBlade (or so-called 1.25mm micro JST) connectors. This means you will definitely have to cut the suppllied connector and crimp on your own connector or solder the VTX wires to the micro camera pads directly. I have to notice, that wires, comming from this VTX are silicone coated, flexible and it is real pleasure to solder them.
This VTX works perfectly in combination with variuos micro cameras. Lets try to connect 600TVL 1/4 1.8mm CMOS FPV 170 Degree Wide Angle Lens Camera to this video transmitter. There is a tiny microphone soldered to the camera bottom side.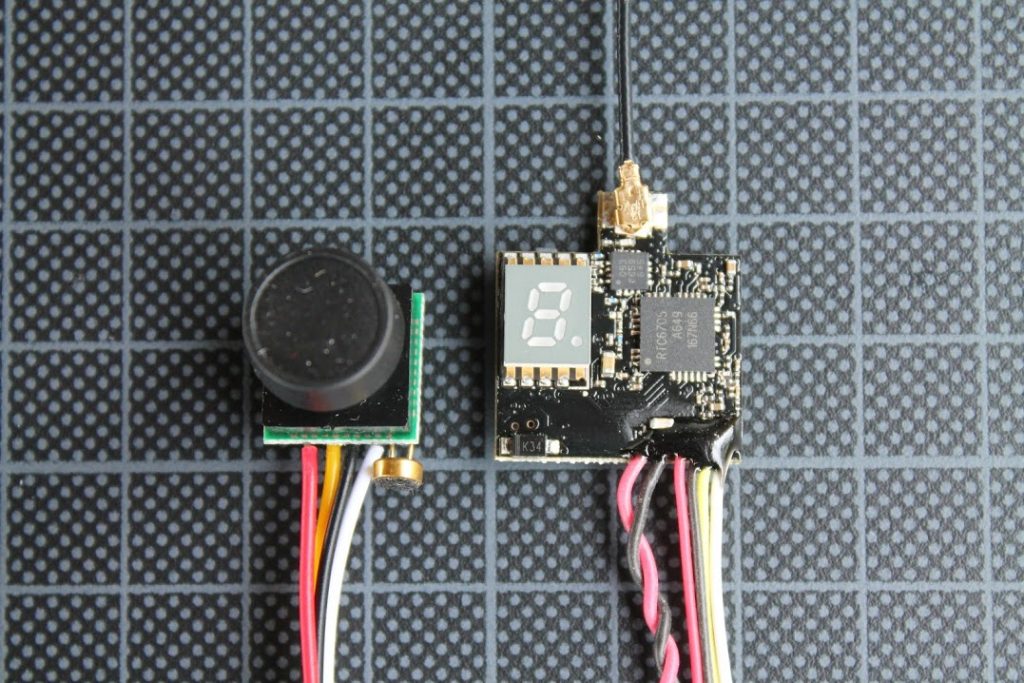 Back view of the camera nad VTX. Camera has 4 wire pads: audio, ground, video and +5.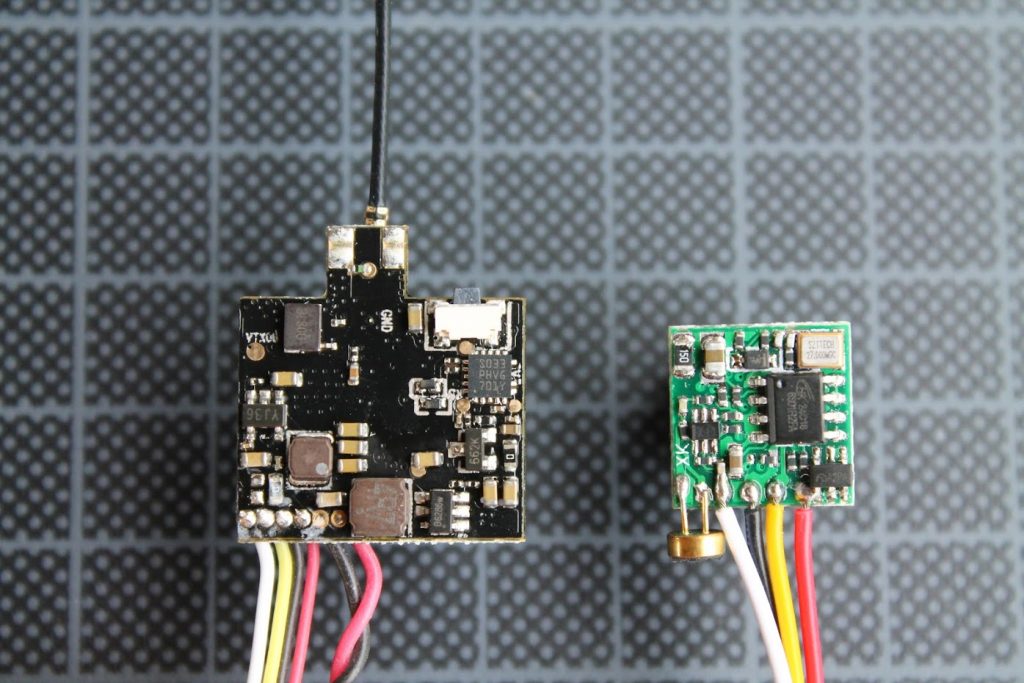 So it is only needed to solder the same color wires from the VTX to the same color wire pads.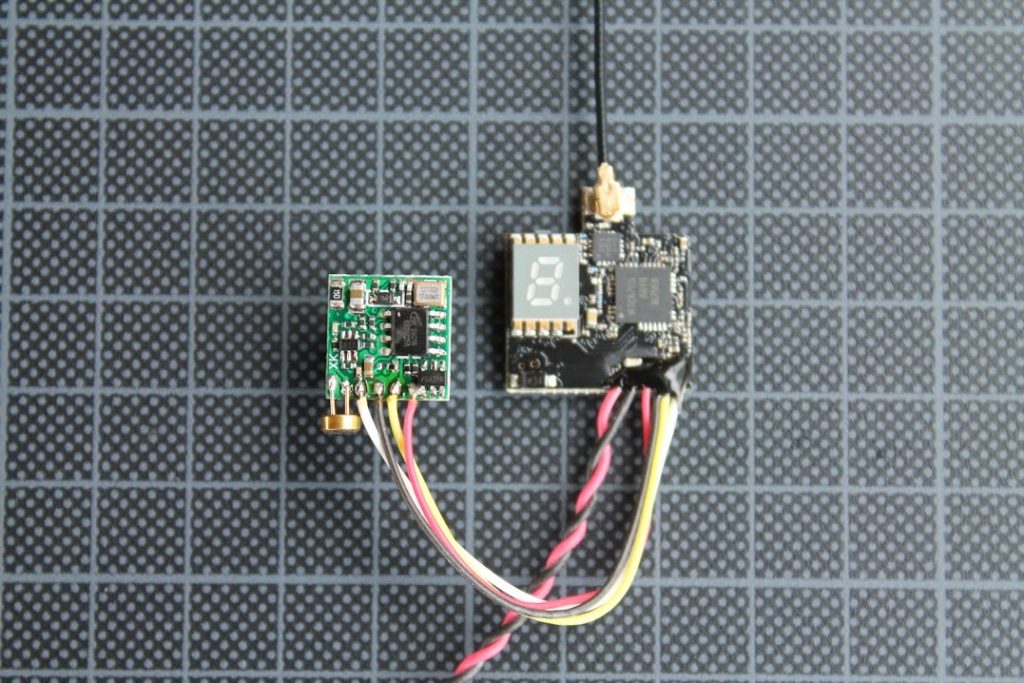 Final result: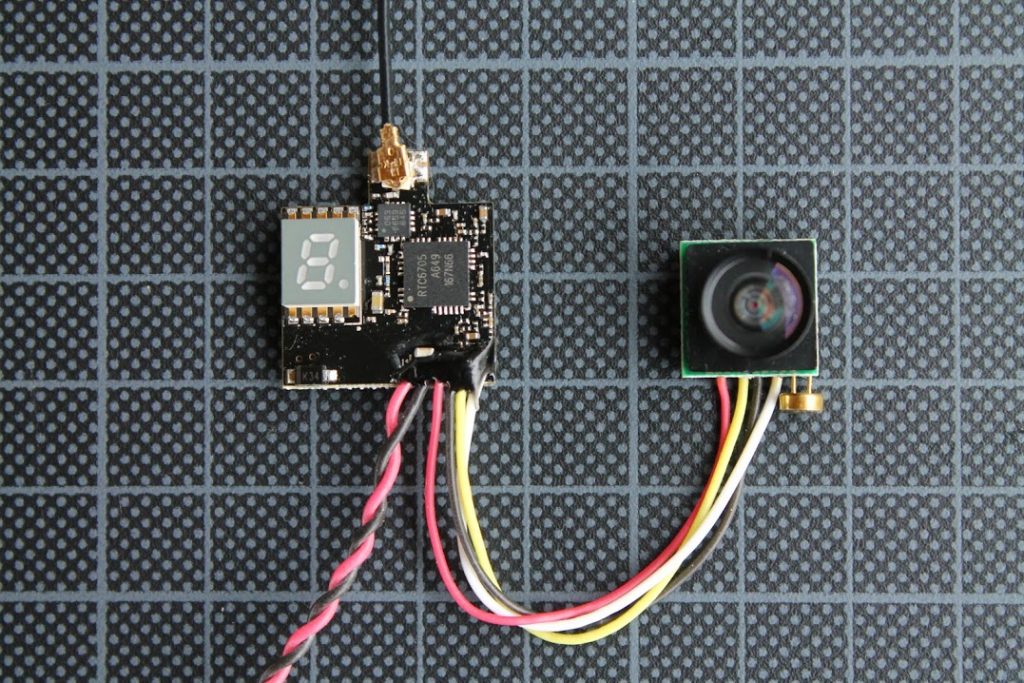 Total weight – only 4.9grams.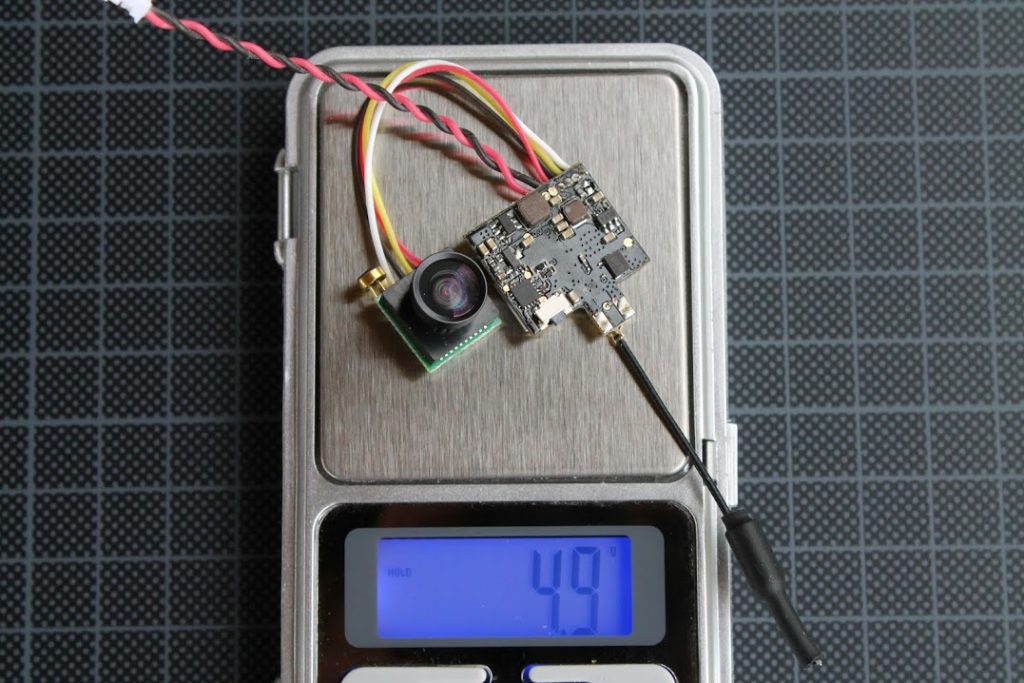 Sample flight video (and audio):
Pros
72 Channels, 0/25/50/200mW powel levels
Silicone insulation wires
Lightweight
Flexible antenna
Has audio input(!)
Cons
Supplied 1.0mm JST-SH camera connector is useless.
Conclusion
If you have audio out on your goggles or your DVR is capable to record audio, then this VTX is your way to go. I personaly like the sound of the motors. It makes the FPV more immersive. Also you can receive more information about the throttle state via audio feed back and thus have a better experience in the flight. This ATX03 transmitter weights the same as Eachine VTX03 and costs only a fraction more, so I would highly recommend ATX03 over VTX03.
Disclaimer: This item was supplied by Banggood for a fair and unbiased review. Banggood never asked for a positive review and never infuenced my opinion in any way. I'm trying my best to stay uninfluenced and give only my own opinion. All affiliate links if there are any help me purchase items for future reviews.