Review: Eachine TX805 VTX
Eachine TX805 has 5 bands A, b, E, F, r, 40 total channels (including illegal channels 4, 7 and 8 on the band E, according to the FCC regulations), 5 power levels 25-200mW-600mW-800mW (I will be testing the actual power output), SmartAudio for controlling the VTX settings remotely via Betaflight OSD. Eachine TX805 even has microphone on board for audio. TX805 can be mounted in the stack as it has two mounting holes with a pattern of 30.5mmx30.5mm. It has MMCX antenna connector which is superiour to small IPEX connector.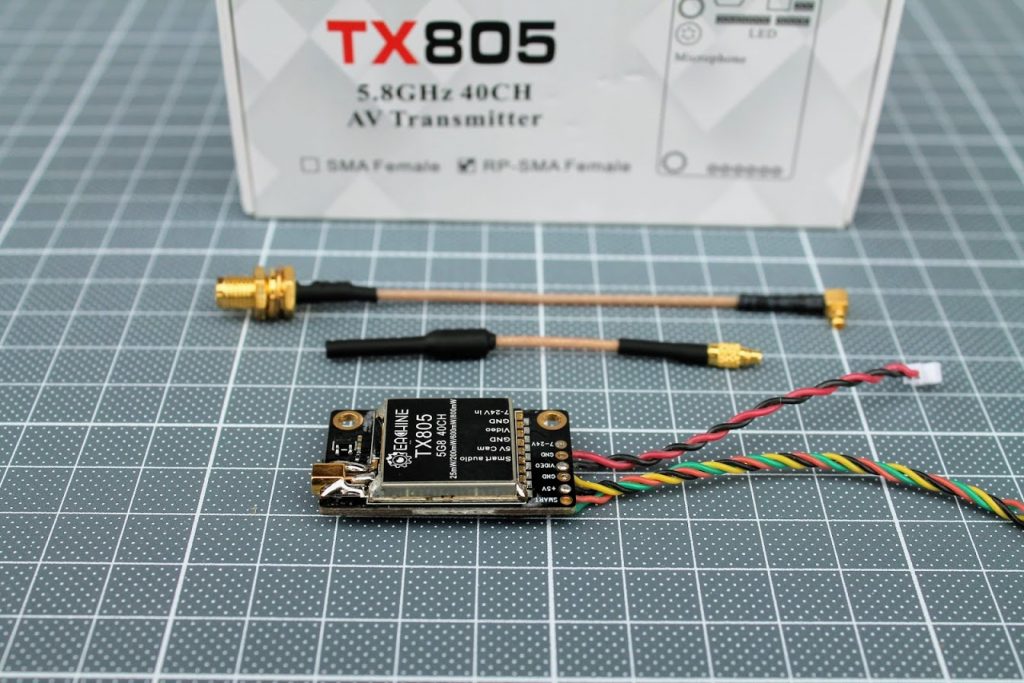 Package contents
TX805 comes with a VTX, MMCX linear dipole antenna, MMCX to RP-SMA or SMA adapter pigtail (can be selected on purchase) and a small instructions leaflet.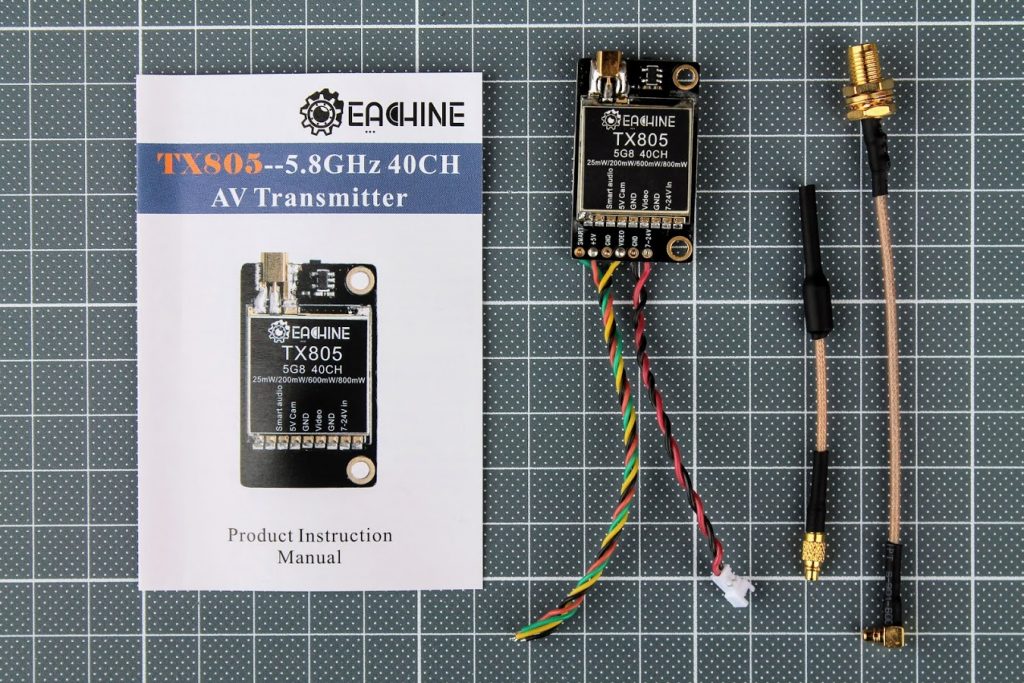 TX805 has 8 LEDs for channel, 5 LEDs for band and 4 LEDs for power output status display instead of the 7 segment LED module. This saves some weight and reduces the height of the VTX.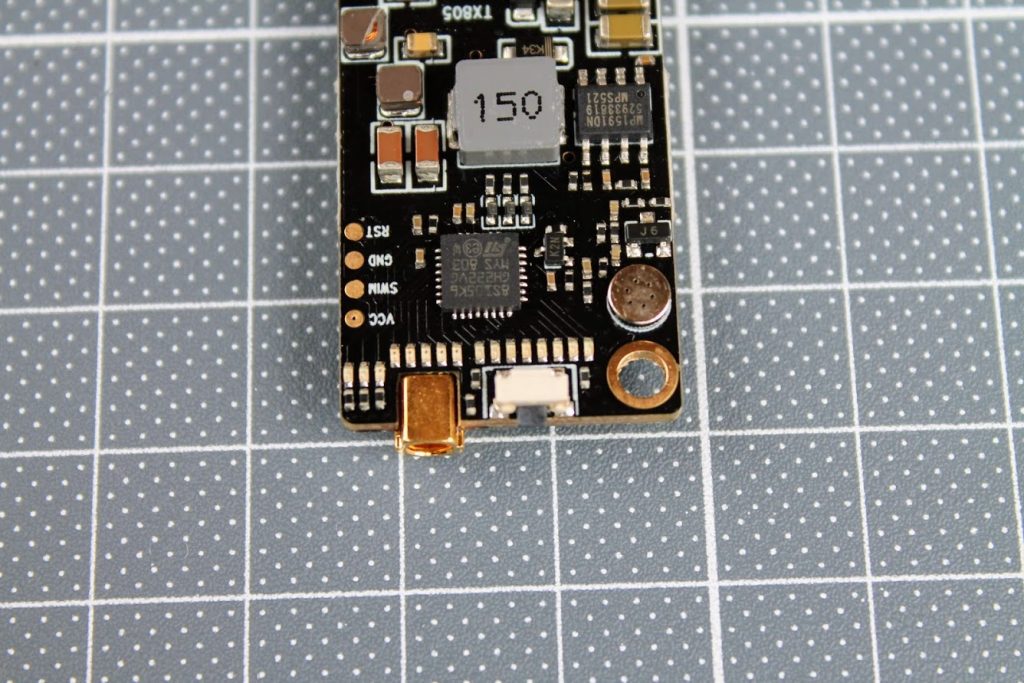 Actually it look very similar to AKK FX2-Ultimate-Mini, probalably was "inspired by" that VTX.
The weight of this VTX is 8.2 grams with wires.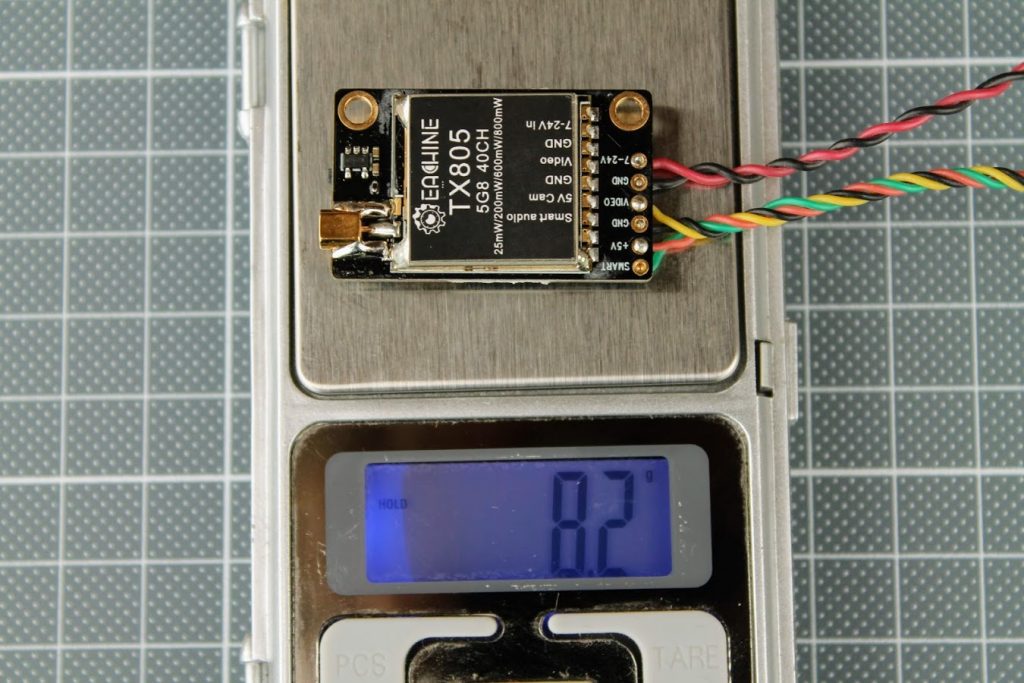 So the specs of this VTX look good. What about the power output?
Power output measurements
Connected the TX805 to the RF power meter via supplied MMCX pigtail. VTX was actively cooled with fan while taking the measurements.
First test: 25mW output setting. In the reality it is outputting almost 44mW (16.4dBm).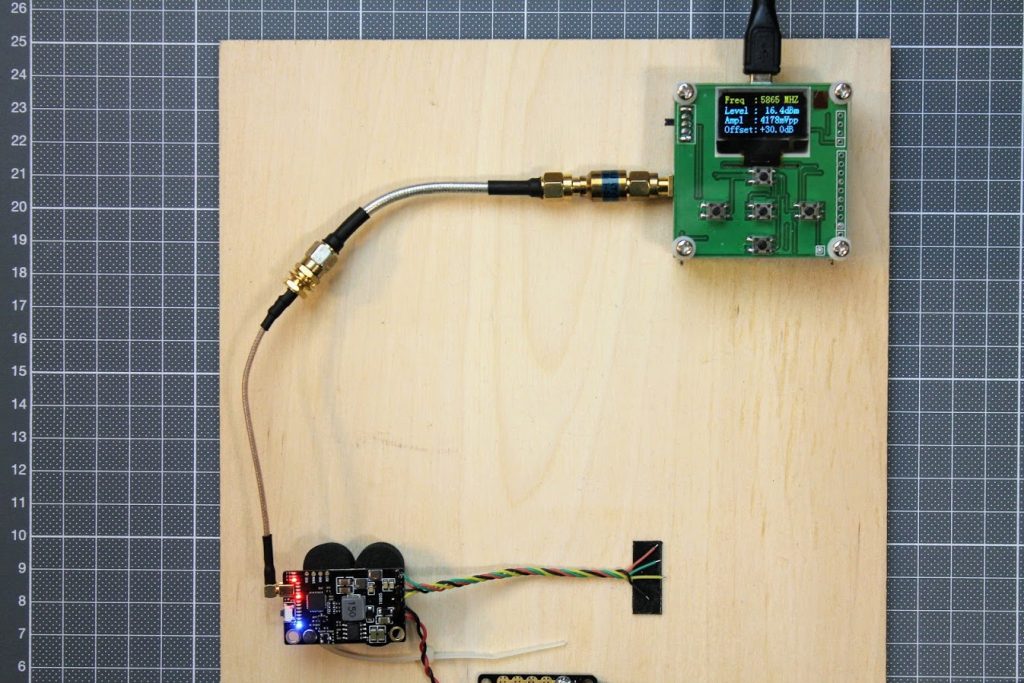 Next step 200mW – outputs much more than should, enormous 417 mW (26.2dBm).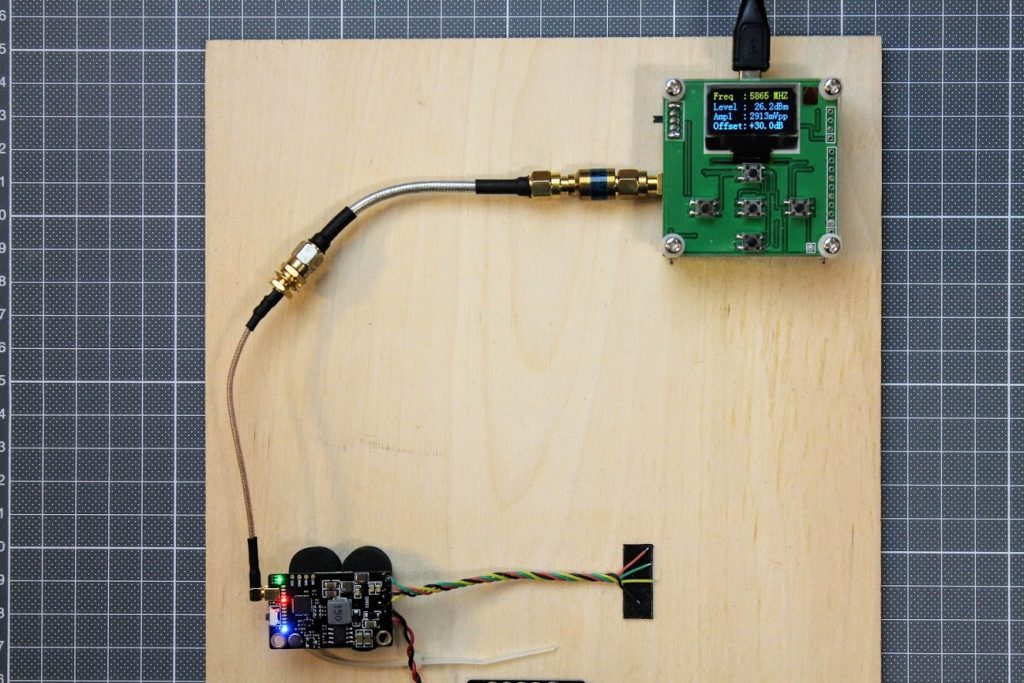 At 600mW setting it outputs the correct 603 mW (27.8 dBm)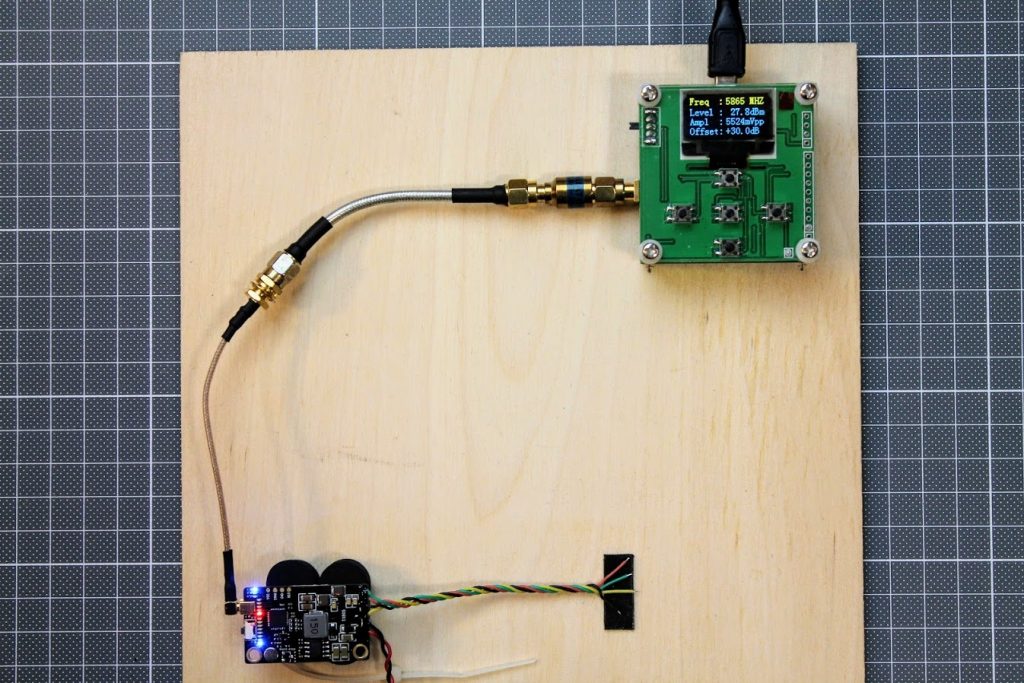 And at max setting of 800mW it outputs even less than 600mW, only 598 mW (27.7d Bm)!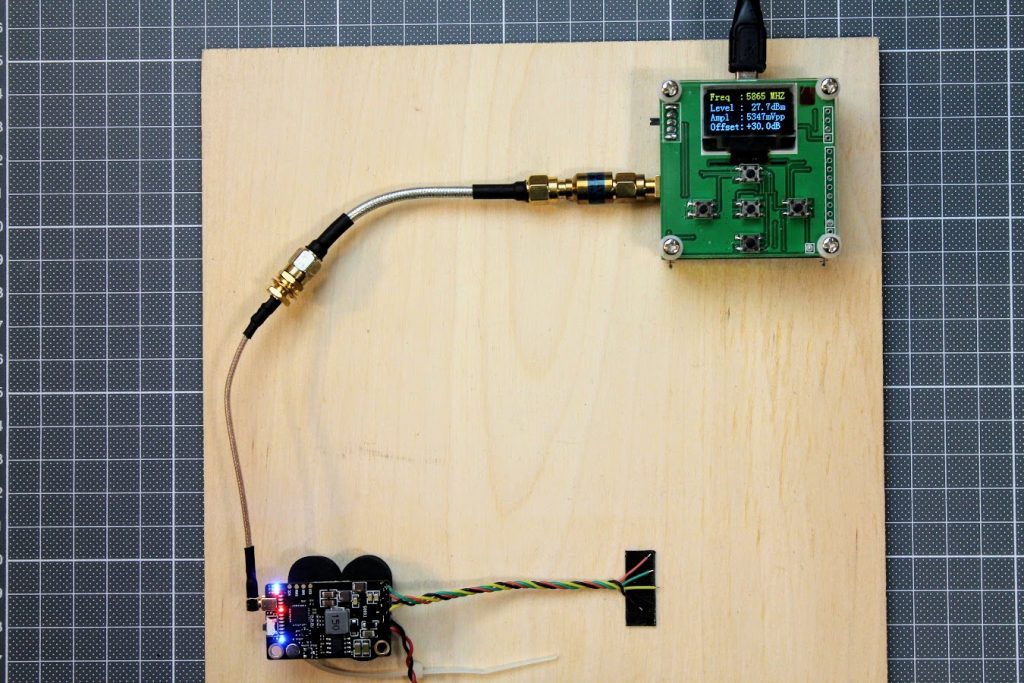 Again the power output test results are disappointing. 25mW power setting exceeds the declared output by 2 times, outputting 44mW!
Look at the similar results I've got while testing Eachine VTX03S: Review: Eachine VTX03 micro VTX with smart audio
Here is graph of the TX805 power output test: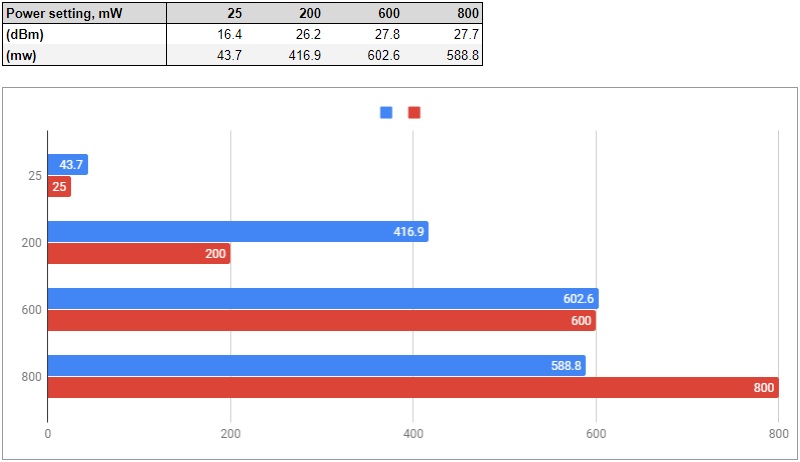 Red bar is expected value and blue bar is real power output.
Power output linearity on the Raceband channels with 25mW setting: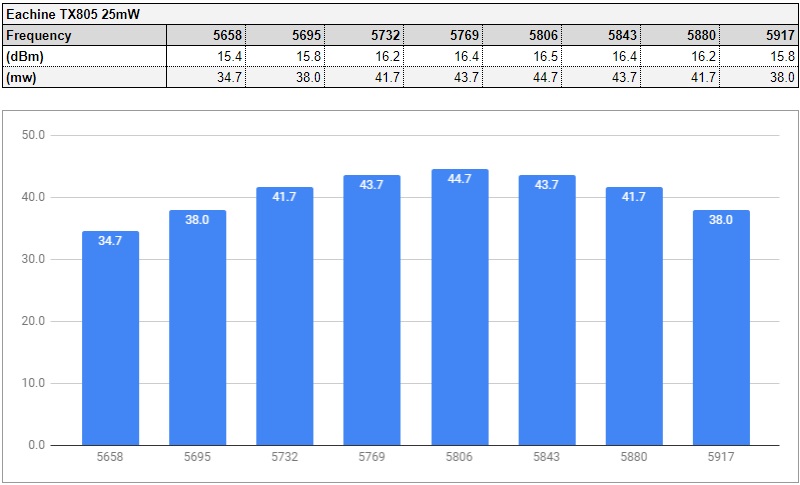 And with 200mW setting: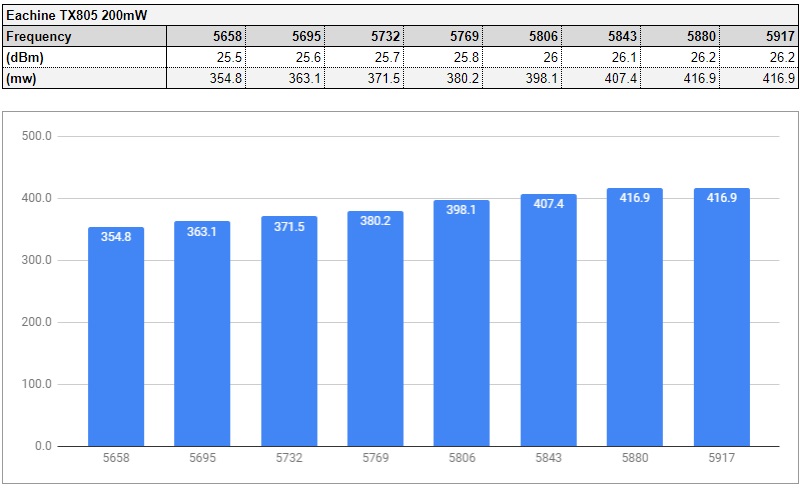 VTX Tables setup
You can download the VTX Table for Eachine TX805 here: https://drive.google.com/open?id=1swlDDYEOrGW6fhkW1neRvwSCjr_ruxKM
Open the downloaded file in the Betaflight Configurator VTX Tables tab and save. More info in this guide: VTX Tables and how to set them up
PROS
Can be mounted in the stack
Pit mode/25m/200/600/800mW switchable power modes
Smart Audio control (to be tested)
Microphone on board (to be tested)
CONS
Output power is boosted on 25mW, does not reach 800mW on the max setting.
CONCLUSION
Eachine VTX805 seems to have everything that quad VTX needs to have: TX can be easily mounted in the stack, has audio microphone on board, MMCX antenna connector, SmartAudio control, 40 channels and 5 switchable output power modes – Pit/25/200/600/800mW. However, again bad news for racers – output power does not correspond the to expected values. 25mW mode outputs 44mW, 200mW – outputs 417mW, while at 800mW it outputs less than on 600mW setting – only 598mW. On the race events you probably will be asked to turn your quad off after the VTX power measurements – you cannot exceed the 25mW requirements. If you expect this VTX to have 800mW of power then you will be dissapointed. If you are comfortable with these RF power level deviations, then TX805 can be good alternative for your quad VTX.
To be tested: Audio feed from microphone, SmartAudio feature.
Available @ Banggood: https://www.banggood.com/Eachine-TX805-40CH-25-200-600-800mW-FPV-Transmitter-TX-LED-Display-Support-OSD-Pitmode-Smartaudio-p-1333984.html
Disclaimer: This item was supplied by Banggood for a fair and unbiased review. Banggood never asked for a positive review and never influenced my opinion in any way. I'm trying my best to stay uninfluenced and give only my own opinion. All affiliate links if there are any help me purchase items for future reviews.