Review: EWRF e709TM3 video transmitter
EWRF e709TM3 is the first stackable VTX from EWRF. It was released back in the August of 2017. This VTX has remarkable list of features. Some of them other VTXes doesn't even have:
* 25mW/ 200mW/ 600mW adjustable
* Clean powerup and channel switching without interference to others
* Betaflight OSD control of power, bands, channels and Pitmode
* Overheating protection.
* Additional protection allows for powering up without antenna
* Pit mode (power is set to OFF) – test and set your quad without interference to others
* Channel changes and Pitmode setting through PWM
* 2-6S input power supported
* 5V BEC output for camera,RC receiver
* Stack mountable with 30.5×30.5 mm mounting holes
Lets take a deatiled view at this VTX.
Package includes e709TM3 VTX, MMCX to RP-SMA pigtail, cable with JST 2.0 power plug and 5pin JST-1.25 connector.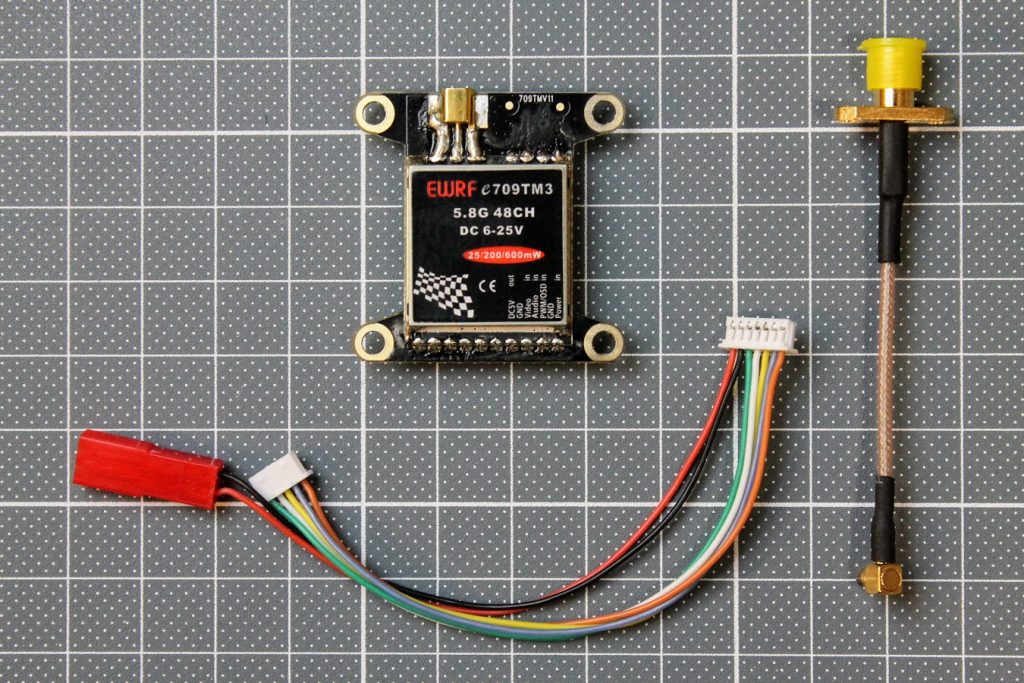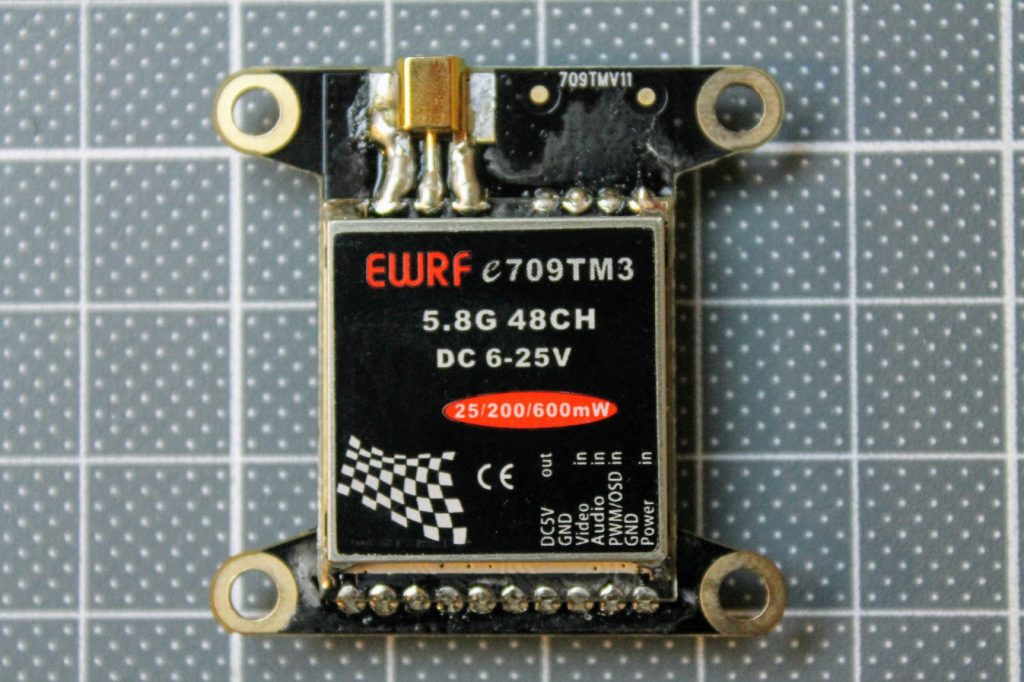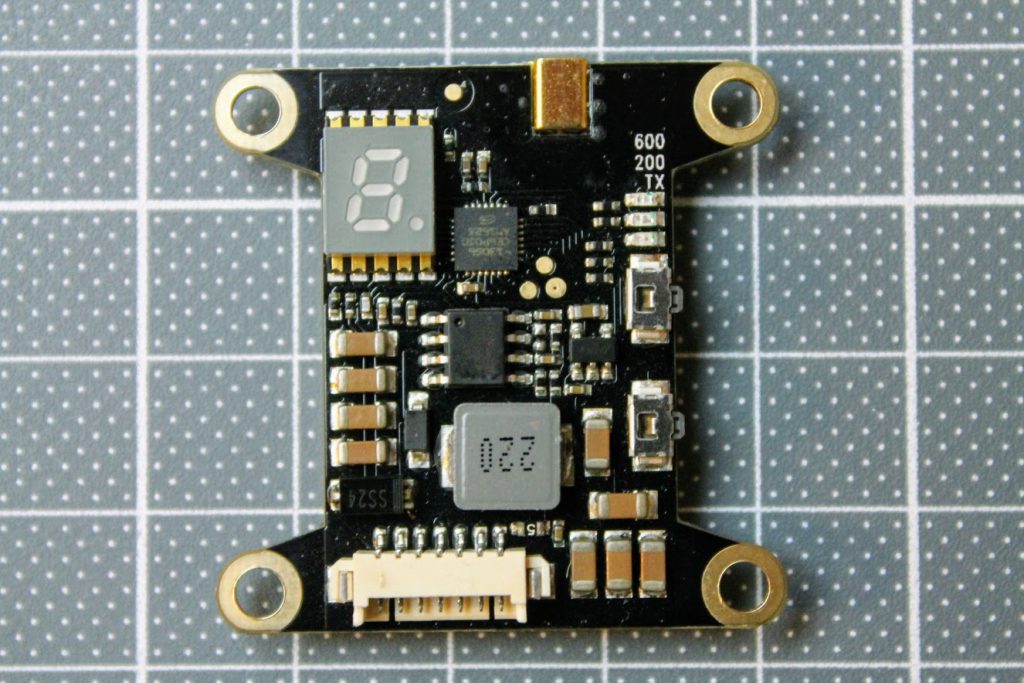 Connection diagram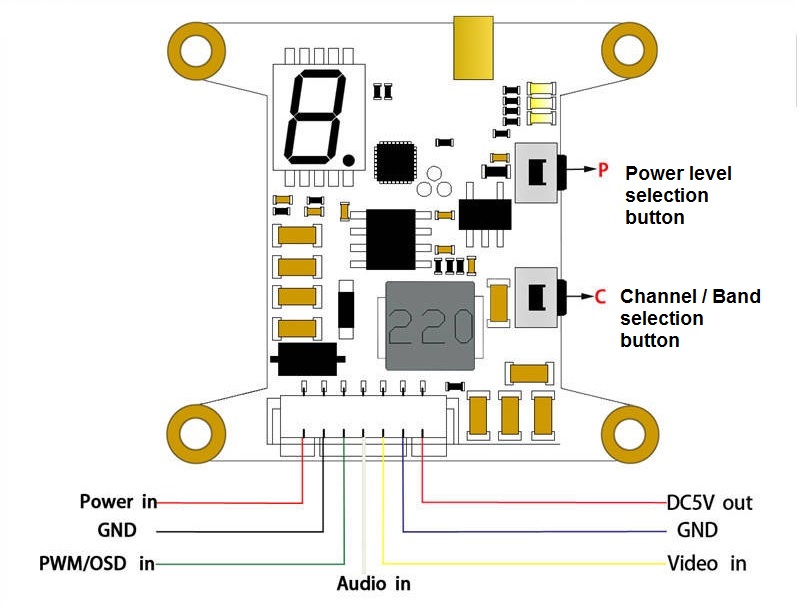 RF Power tests
Connected the EWRF E709MT3 to the RF power meter via MMCX pigtail. VTX was actively cooled with fan while taking the measurements. Power measurements were taken on channel A1 (5865 MHz).
First test: 25mW output setting. In the reality it is outputting almost 46mW (16.6dBm).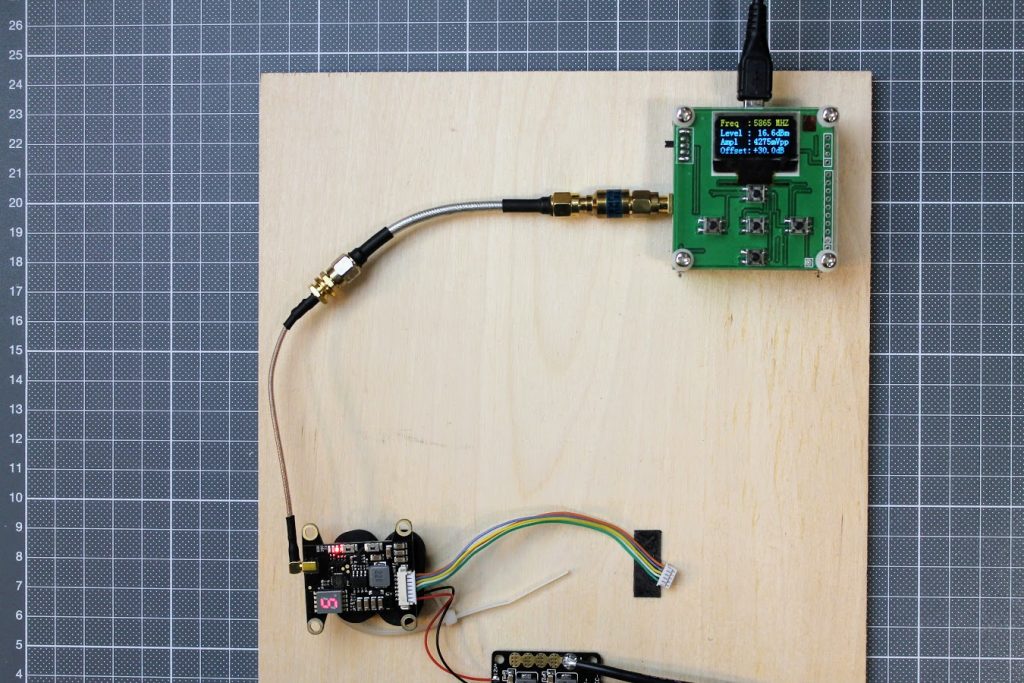 At 200mW setting VTX outputs more than expected value 234 mW (23.7dBm), but in the aceptable range of 15% deviation.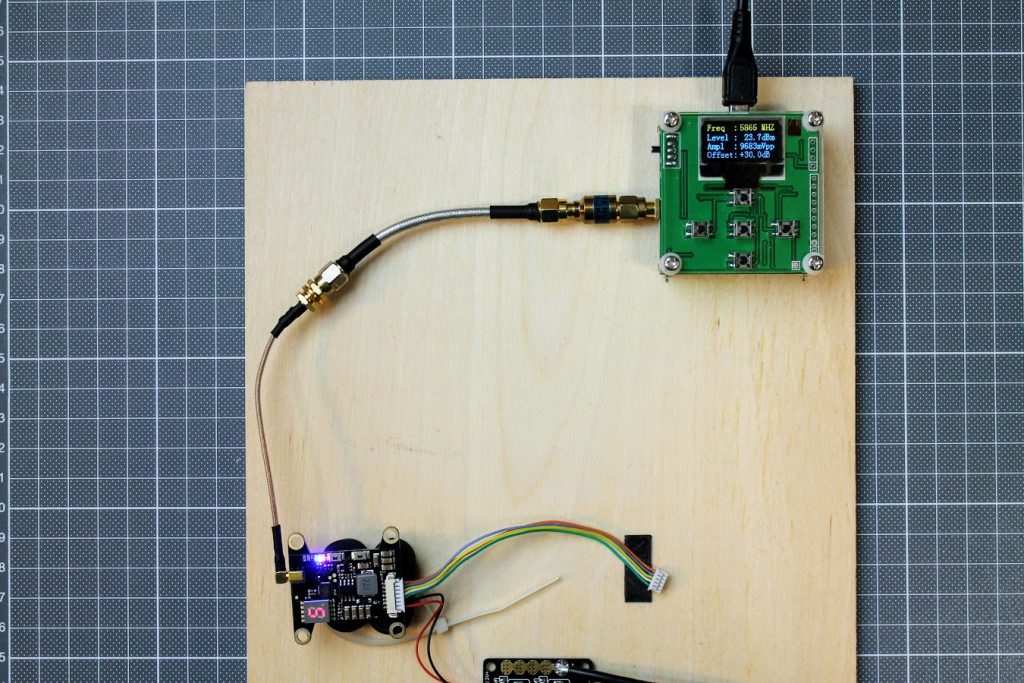 At 600mW setting VTX outputs much more than expected – 871 mW (29.4dBm), and also heats up quickly. Overheating protection soon turns on if not properly cooled.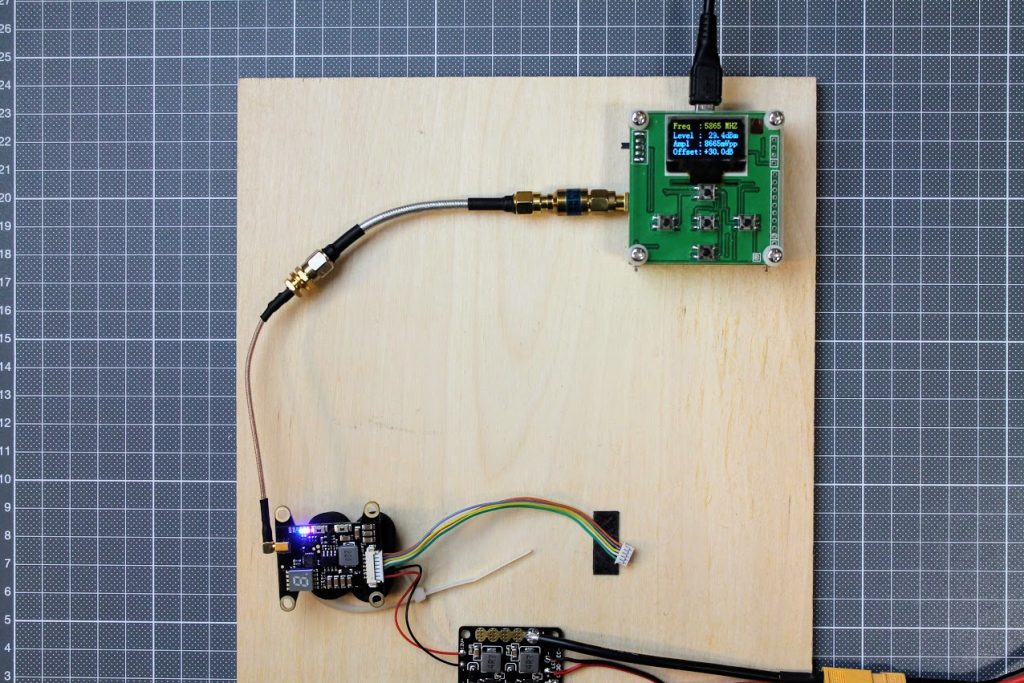 Graphic repepresentation of the power output. Red bar is expected value, blue bar is actual measured value.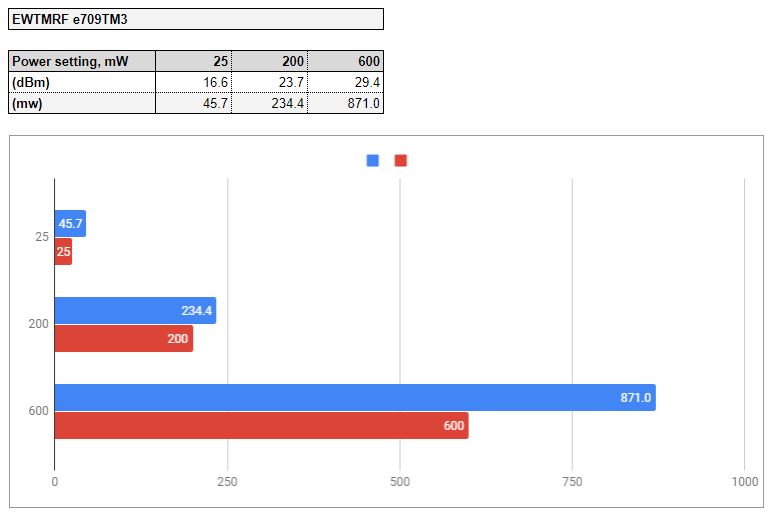 Power output linearity on the Raceband channels with 25mW setting: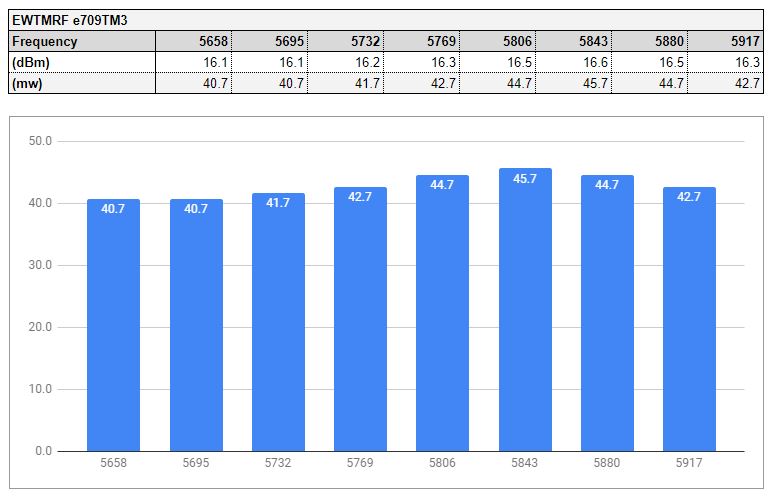 Power output linearity with 200mW setting: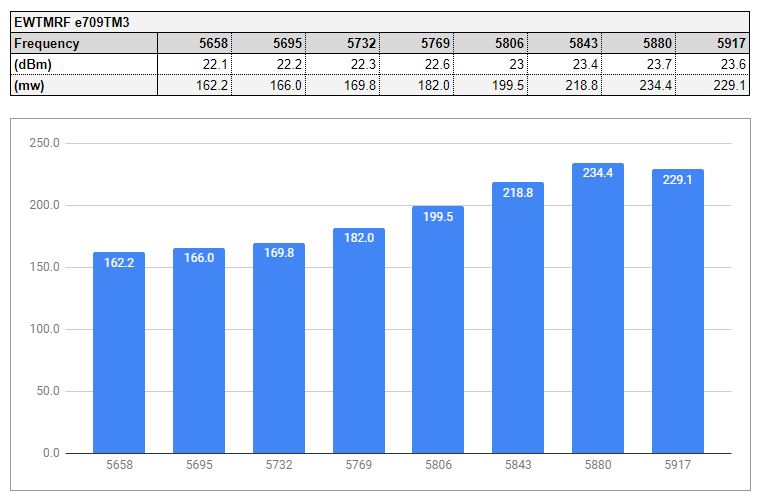 Power output linearity with 600mW setting: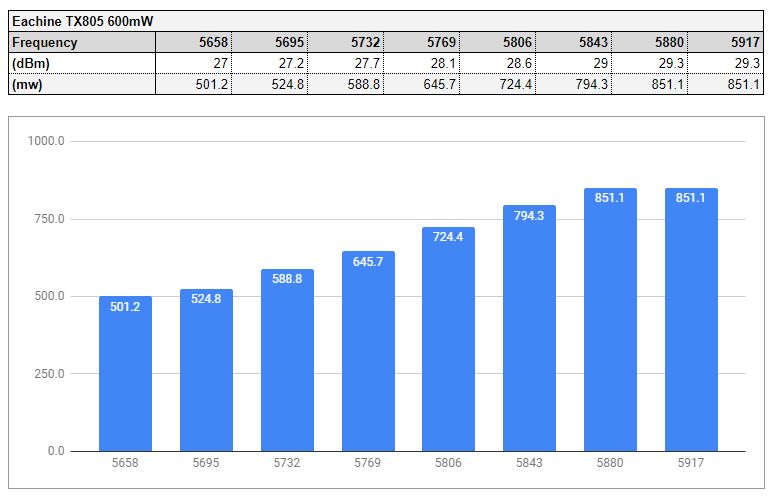 Links:
Available @ Banggood https://www.banggood.com/E709MT3-5_8G-40CH-25mW-200mW-600mW-Adjustable-AV-Transmitter-w-Mounting-Hole-for-Flight-Controller-p-1191064.html