Review: Foxeer ClearTX VTX
Foxeer has released ClearTX in the April, 2018. This VTX is the most advanced VTX that Foxeer has developed to date. It should provide clear video signal (hence the word "Clear" in the name), without interference from the ESC's even when applying the full throttle.
Lets take a closer look at this VTX and test it out.

Specifications
Size: 22.5mm x 31.5mm x 6.6mm
Connector: MMCX
Display: 9LED
Weight: 6.8g
Power: 25/200/600mW & Pit Mode (Adjustable)
Input: 2~6S
Output: 5v
Channel: 48CH including raceband
Audio: Supports
This VTX has 9 LED indicators for displaying band, channel and power. Using LED instead of the 7-segment display allows to save weight and reduce footprint.
ClearTX comes with the 6pin JST-SH cable, has two connectors on the other side and two wires for powering the VTX. Also comes with small instructions manual leaflet. No antenna and no pigtail included.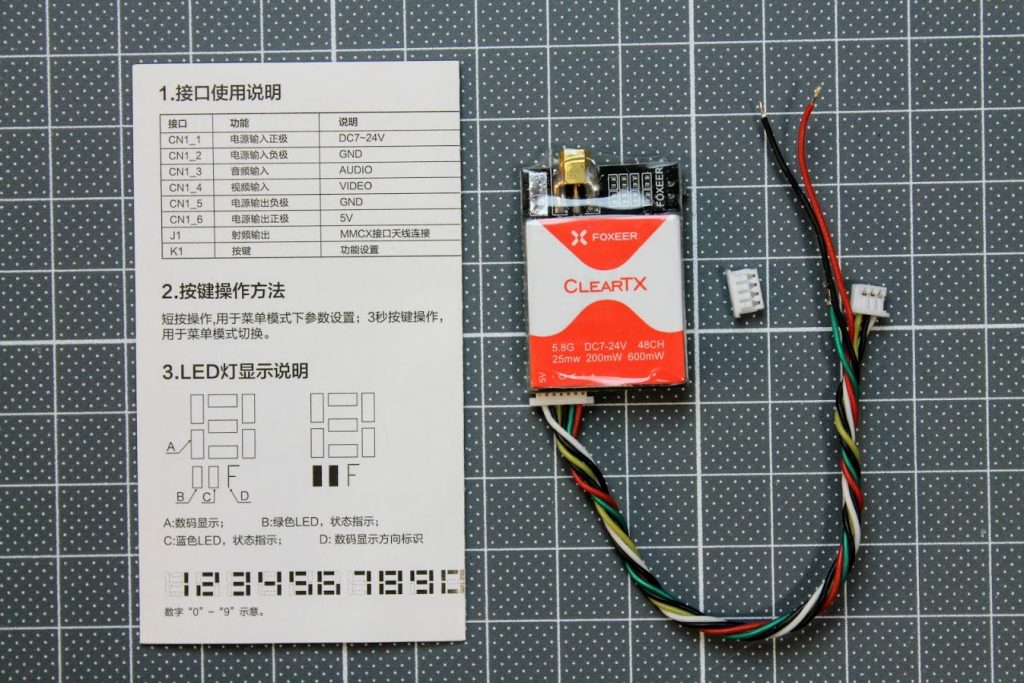 VTX comes with locked out 200mW and 600mW power levels also with some locked channels. If you want to use the full power and all raceband channels, you need to unlock the VTX by long pressing the (about 10 sec) the push button. The lower 3 leds should flash 3 times, meaning the VTX is unlocked.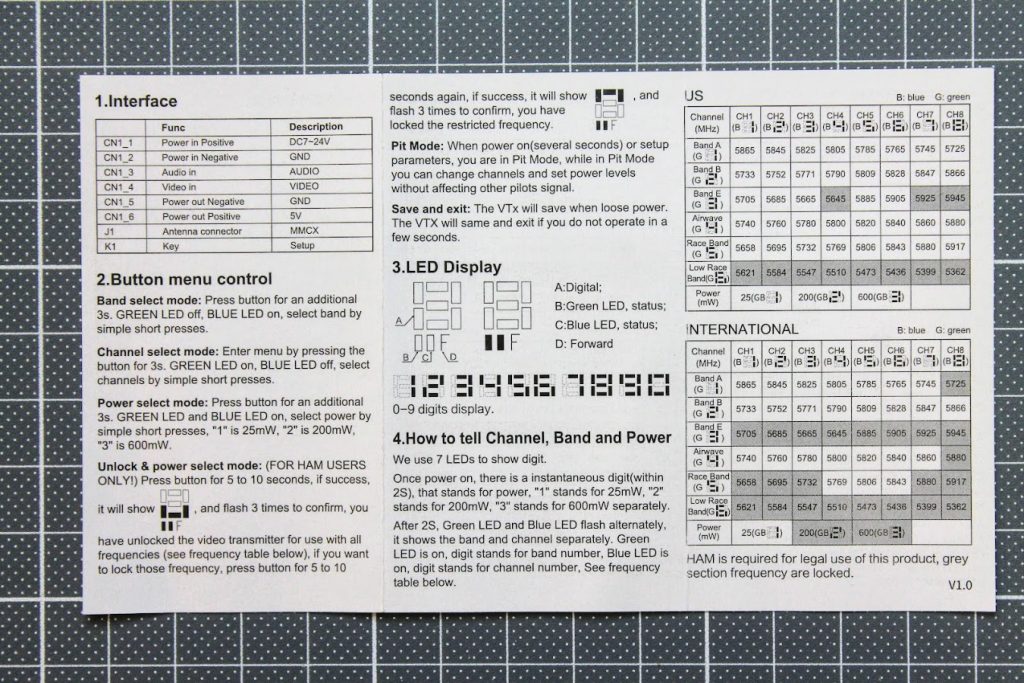 First surprise was presented when I tried to power ClearTX VTX on. It just refused to turn on. After closer inspection I have noticed that power cables were mixed up. JST power plug GND (–) wire is connected to the Audio In (A) pin. I was just lucky that my VTX didn't burn out.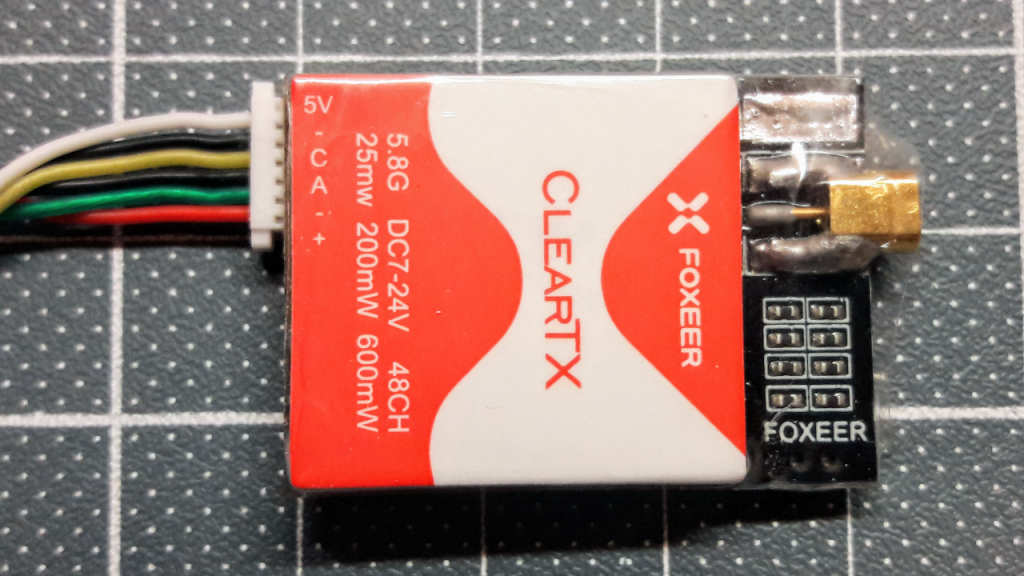 RF Power tests
I have connected the Foxeer ClearTX to the RF power meter via MMCX pigtail. VTX was actively cooled with fan while taking the measurements. Power measurements were taken on channel A1 (5865 MHz).
Testing at 25mW output setting – ClearTX it is outputting only 7.4 mW (8.7dBm). 4 times less than expected!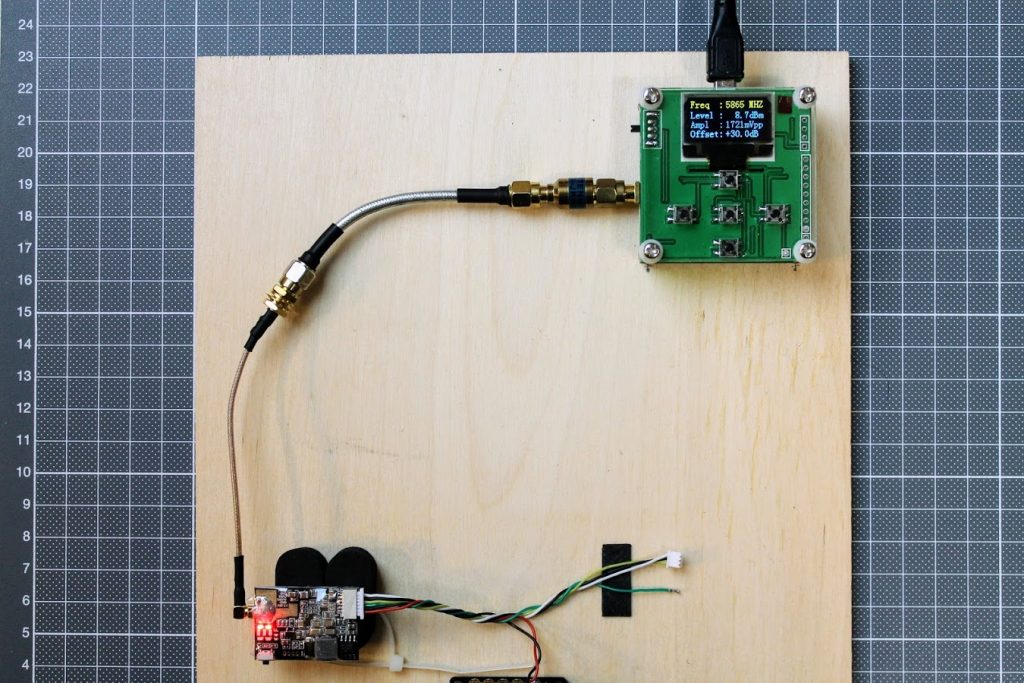 At 200mW setting VTX outputs miserable 43.7 mW (16.4 dBm), totaly unaceptable.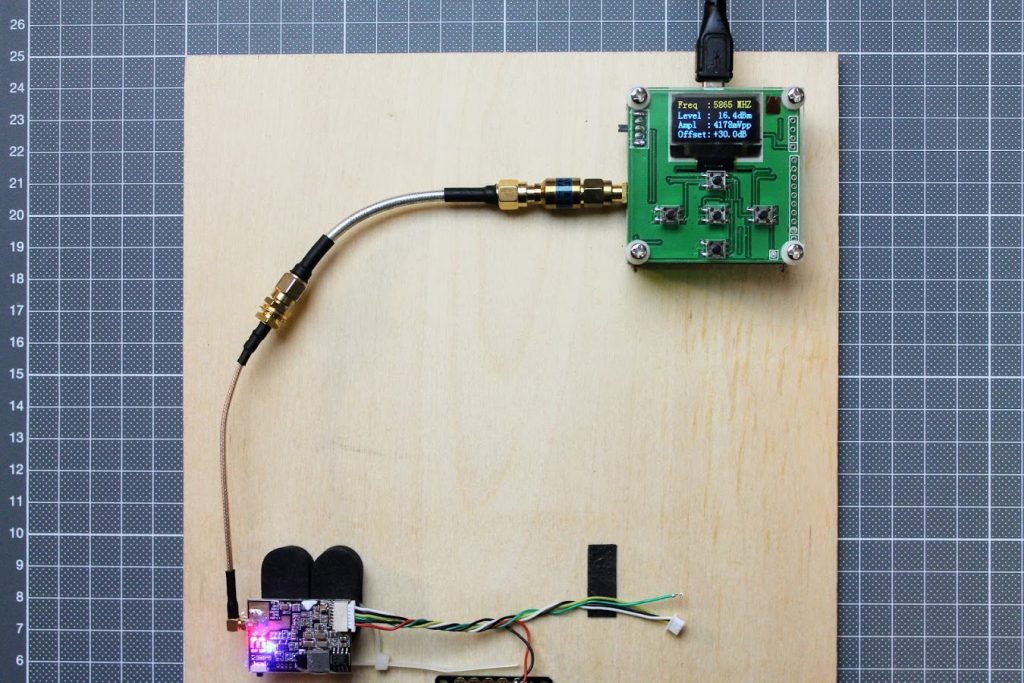 At 600mW setting VTX outputs only 112.2 mW (20.5 dBm). Thats 5 times less than expected 600 mW!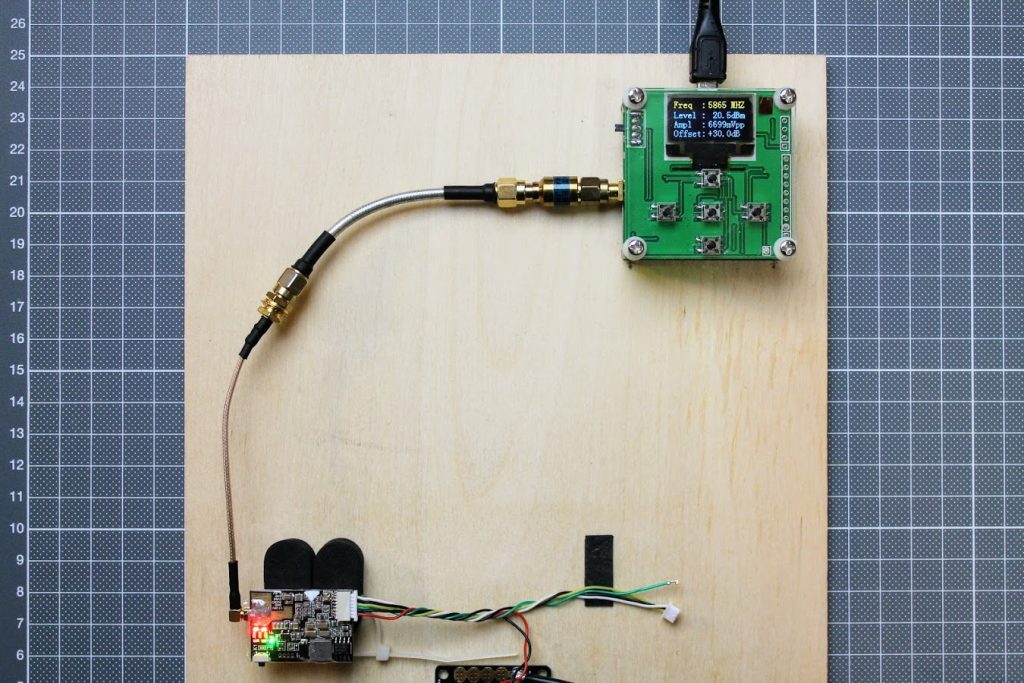 Graphic repepresentation of the power output. Red bar is expected value, blue bar is actual measured value.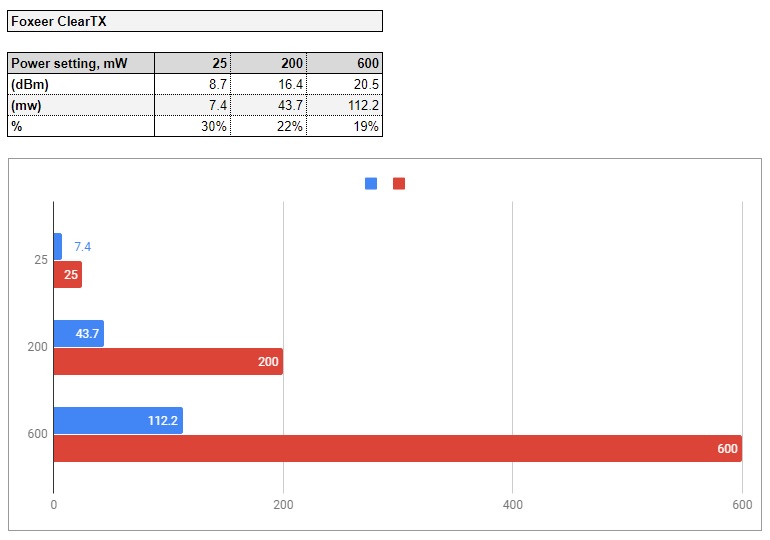 Power output linearity on the Raceband channels with 25mW setting: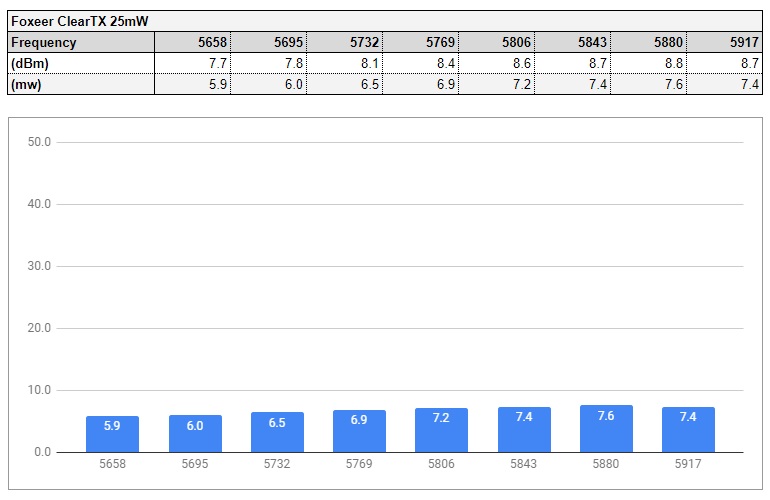 Power output linearity with 200mW setting: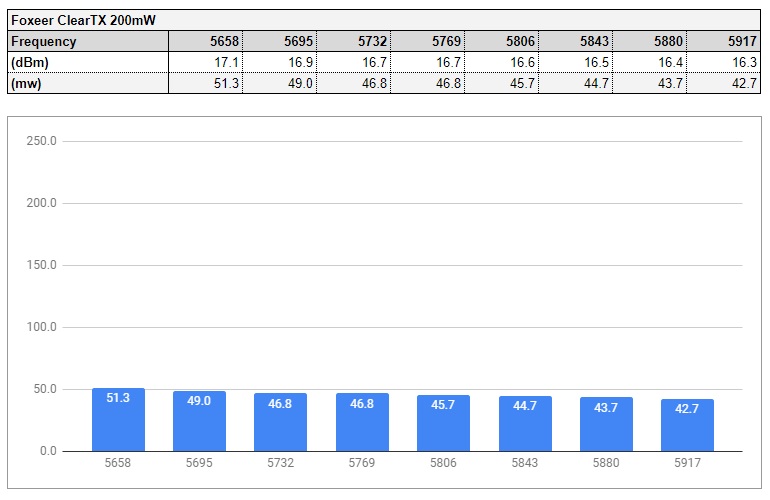 Power output linearity with 600mW setting: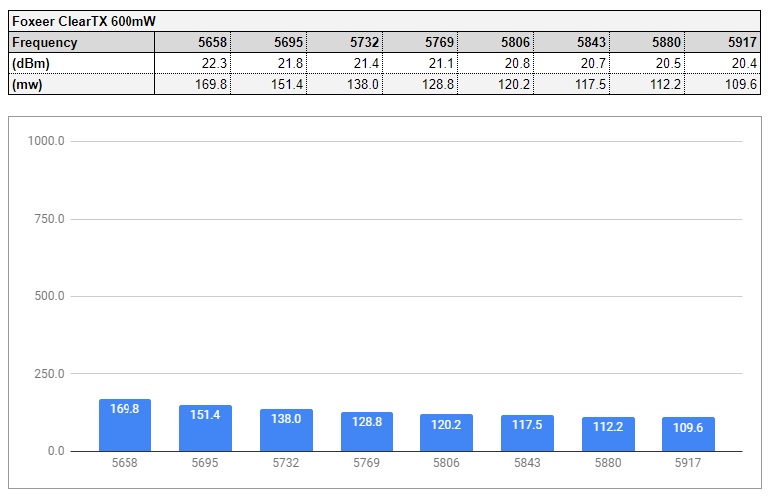 Undocumented Calibration feature!
I have found that this VTX has undocumented calibration feature (thanks to RCSchim). Calibration procedure is: Hold the push button while powering the VTX and it will enter into calibration mode. You can increase/decrease the power output for every power level setting (25/200/600 mW). So you can calibrate this VTX, but only if you have RF power meter. Otherwise you can only guess what power output your VTX has.
[to be continued]
PROS
Pit mode/25m/200/600 mW switchable power modes
Clear and interference free video feed [to be tested]
CONS
No Smart Audio control
No Microphone on board (but has audio in)
Output power is not calibrated
Cable with incorrect pinout
No MMCX antenna or pigtail in the package
CONCLUSION
First of all, power output test is dissapointing – Foxeer ClearTX VTX outputs miserable 7.4 mW at 25 mW setting, and only 112 mW at 600 mW setting. I have discovered, that ClearTX has undocumented calibration feature. It means that you can calibrate your VTX to the exact power output you need. However as a customer I expect that this VTX should be calibrated from the factory to the declared 25/200/600mW values. It was sold simply uncalibrated. Foxeer also has mixed the power with the audio in wires in the connection plug, so you cannot trust the manufacturer and have to double check the cables and connections.
Foxeer ClearTX has no SmartAudio that has already become the standart feature for any modern VTX. This is real drawback of this VTX.
Clear video transmission feature was not tested yet.
Lets hope the next Foxeer VTX iterations will have these issues fixed!