Review: T-MOTOR F7 PRO Flight Controller
T-MOTOR F7 PRO is the the updated version of the T-MOTOR F7 flight controller. T-MOTOR F7 PRO now can drive up to 8 motors (octacopters), supports 3-8S Lipo input, has 6 UARTS, BMP280 barometer, BlackBox, VTX power (PIT) control and wireless configuration feature.
Page Contents for Review: T-MOTOR F7 PRO Flight Controller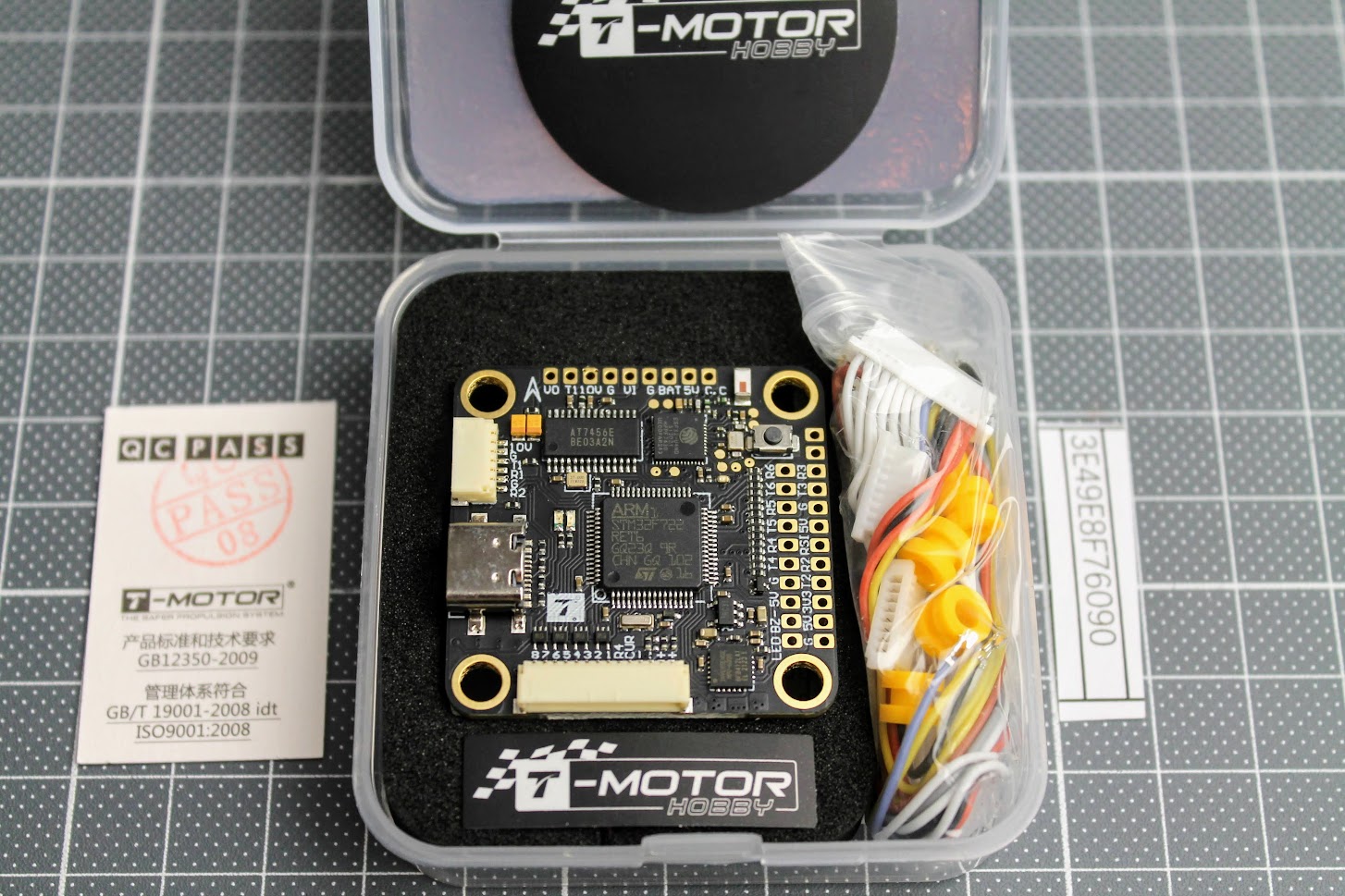 Specifications
MCU: STM32F722RET6
IMU: MPU6000
Barometer: BMP280
Input Voltage: 3-8S Lipo
BEC Output: 10V/2A 5V/3A
Built-in OSD(AT7456)
Built-in 16Mb Flash for data logging
ESC signal: M1 – M8
Size: 37mmX37mmX7.5mm
Installing Hole: 30.5X30.5mm/M3
USB: Type-C
Weight: 8. 1g 8.5g
Built-in SpeedyBee Bluetooth & WiFi
1.BetaFlight tuning wirelessly
2.Flash firmware wirelessly
3.Analyze Black-box data wirelessly
4.Set motor directions on BLHeli_ 32/S wirelessly
Target: TMOTORF7 V2
(Beta Flight /INAV)
UARTS: 6 sets
UART1: VTX/TX
UART2: Receiver(CRSF/SBUS/iBUS/DSMX/R9MM)
UART3: GPS
UART4: ESC telemetry/RX
UART5: Vacancy
UART6: Vacancy
Closer look
T-MOTOR F7 PRO flight controller comes with rubber grommets for vibration dampening, two sets of ESC cable with variable size SH1.0 connector, DJI Air unit compatible connector cable.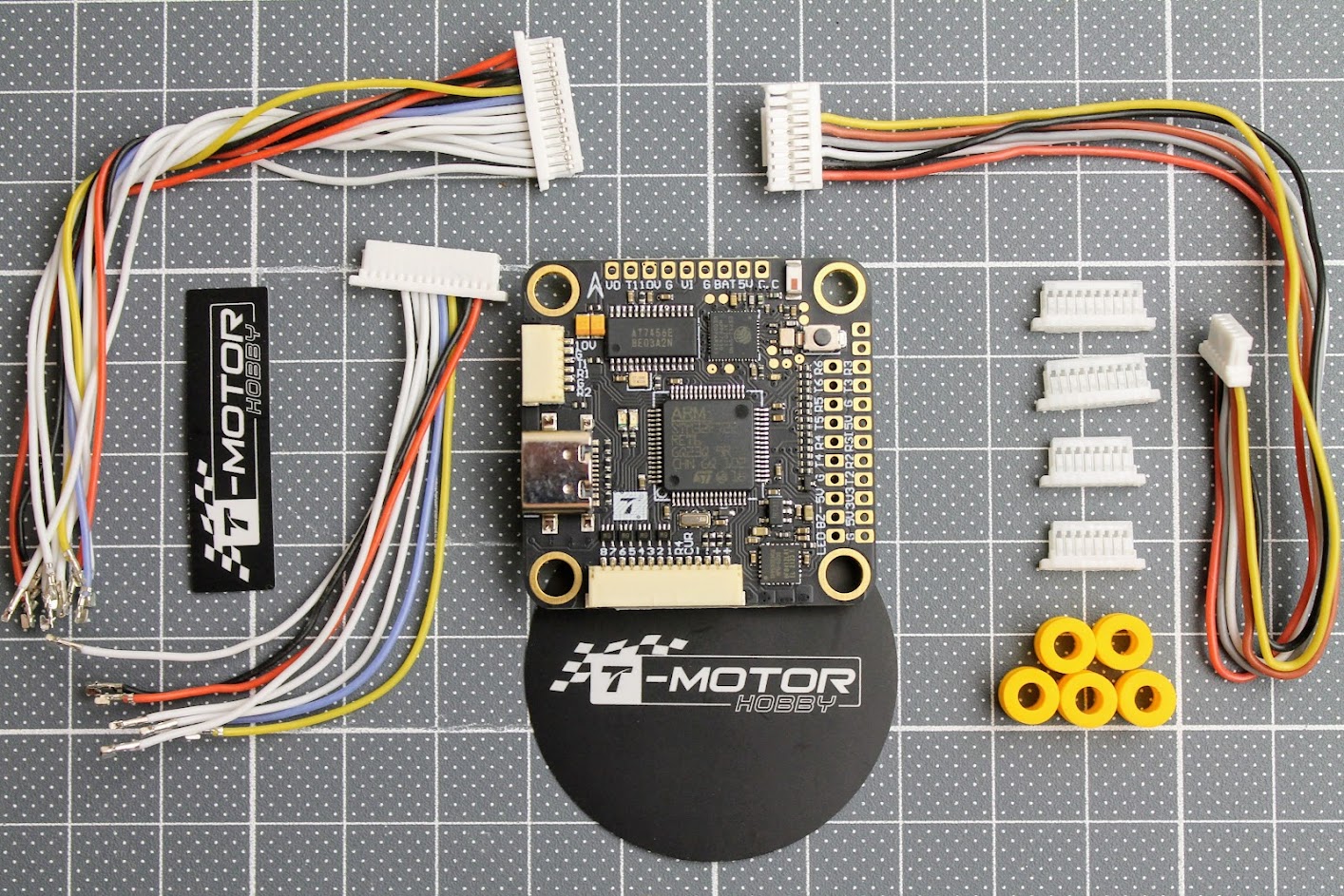 There are two ESC cables provided, one with 14 wires for setups with 6-8 motors and other, most popular, with 8 wires for up to 4 motors.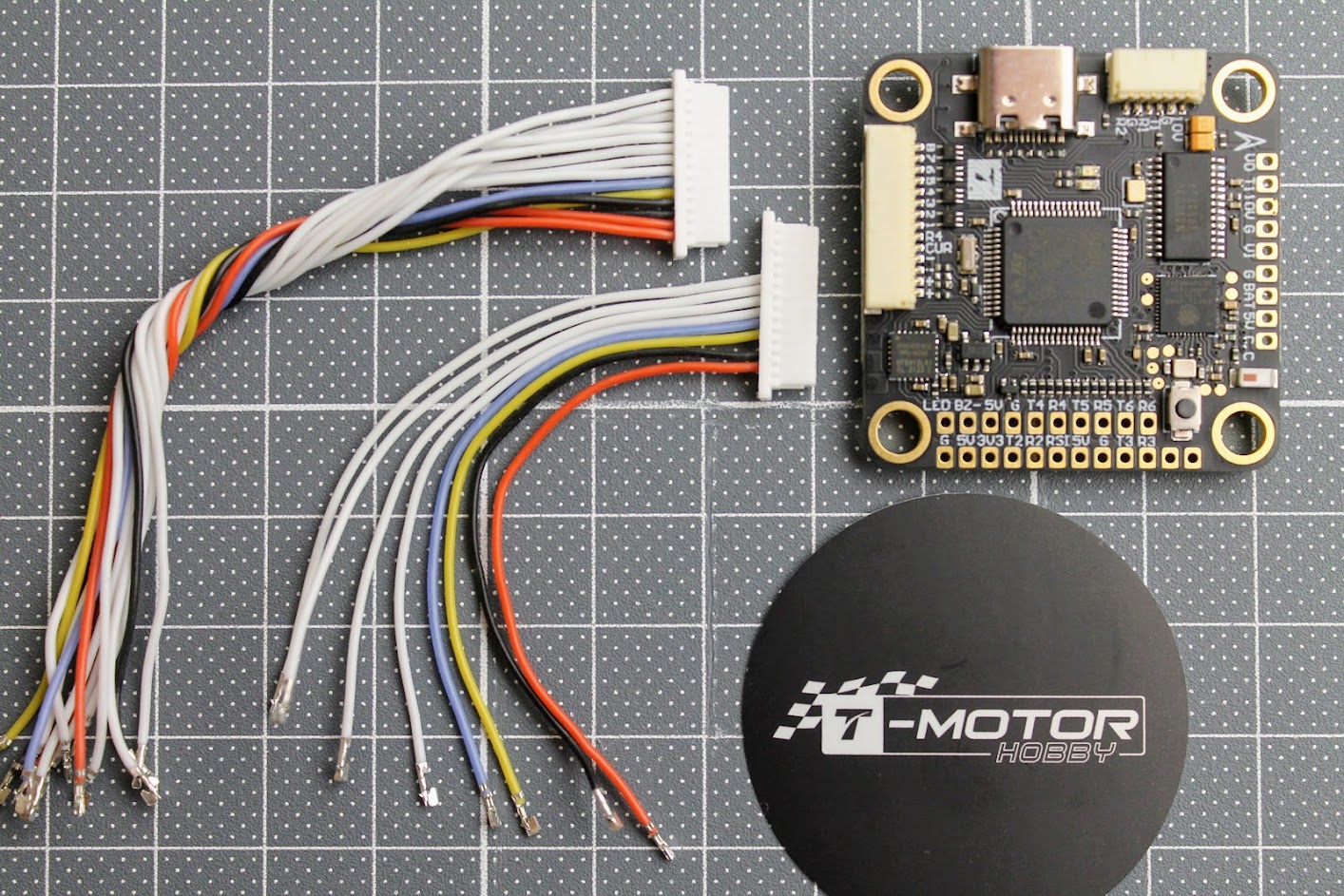 Other side of the cable can be customized to fit almost any of the ESC. You just need to push the pins inside the required size connector and in the correct order.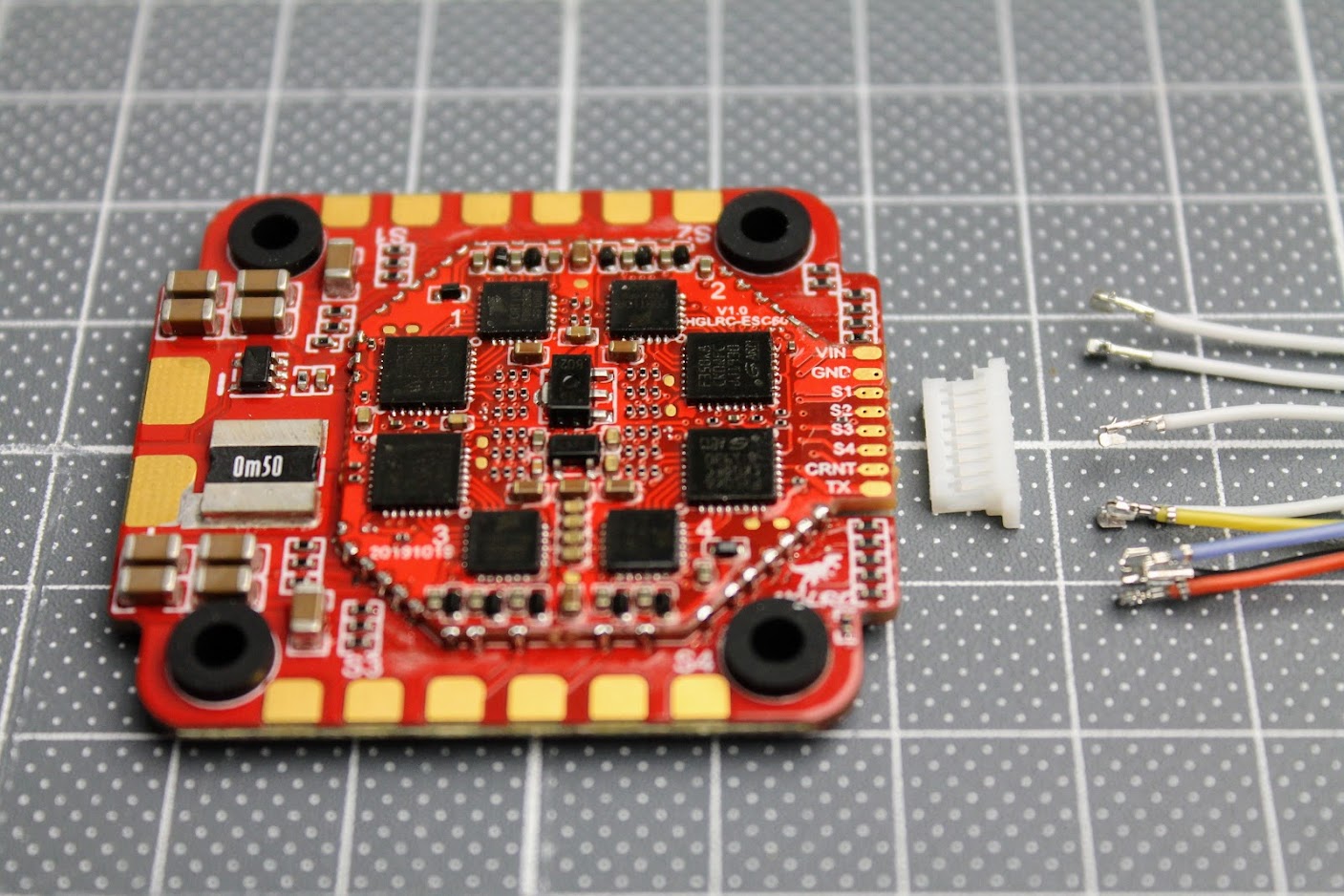 And here is the final result of customized ESC cable to HGLRC Forward 55A ESC.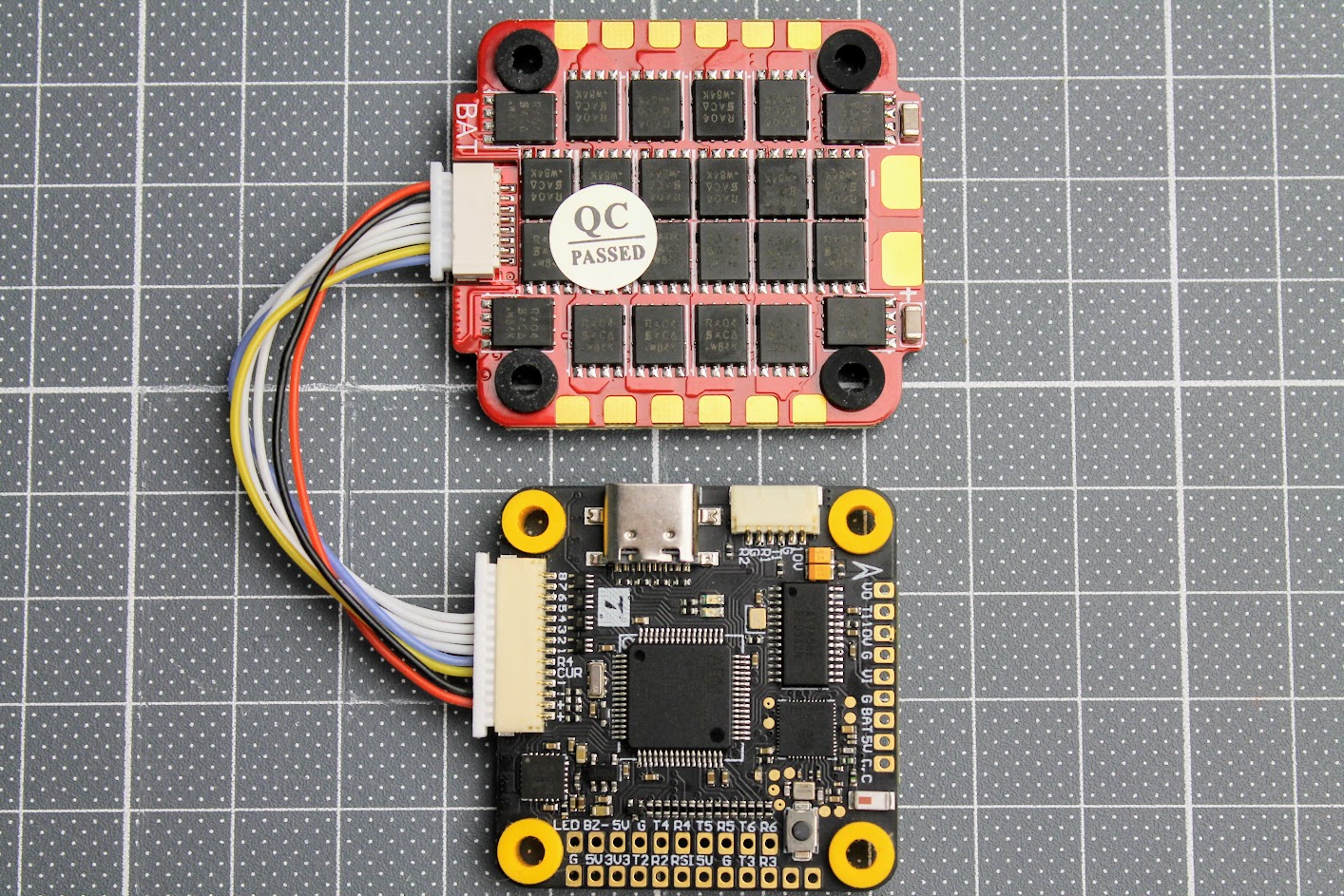 On the top side of the board you can find the Espressif ESP32 chip that enables the Bluetooth and WiFi connectivity.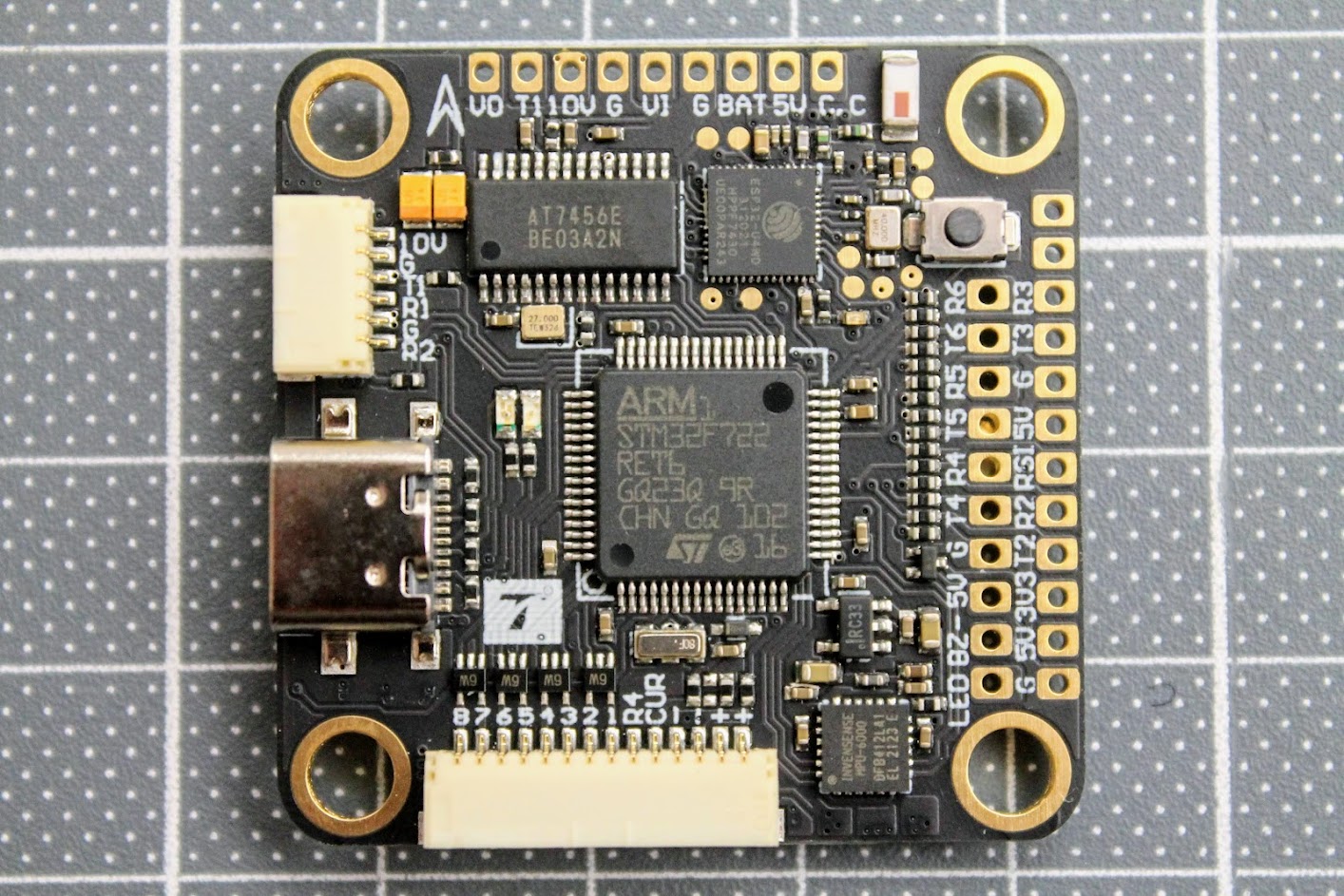 On the "front" side of the FC you can find Camera Control (C.C), 5V and BAT, GND and Video In (VI) pads for analog FPV camera. You can select +5V or battery power source for your FPV camera. Next to them there are GND, +10V, TX1 and Video Out (VO) pads.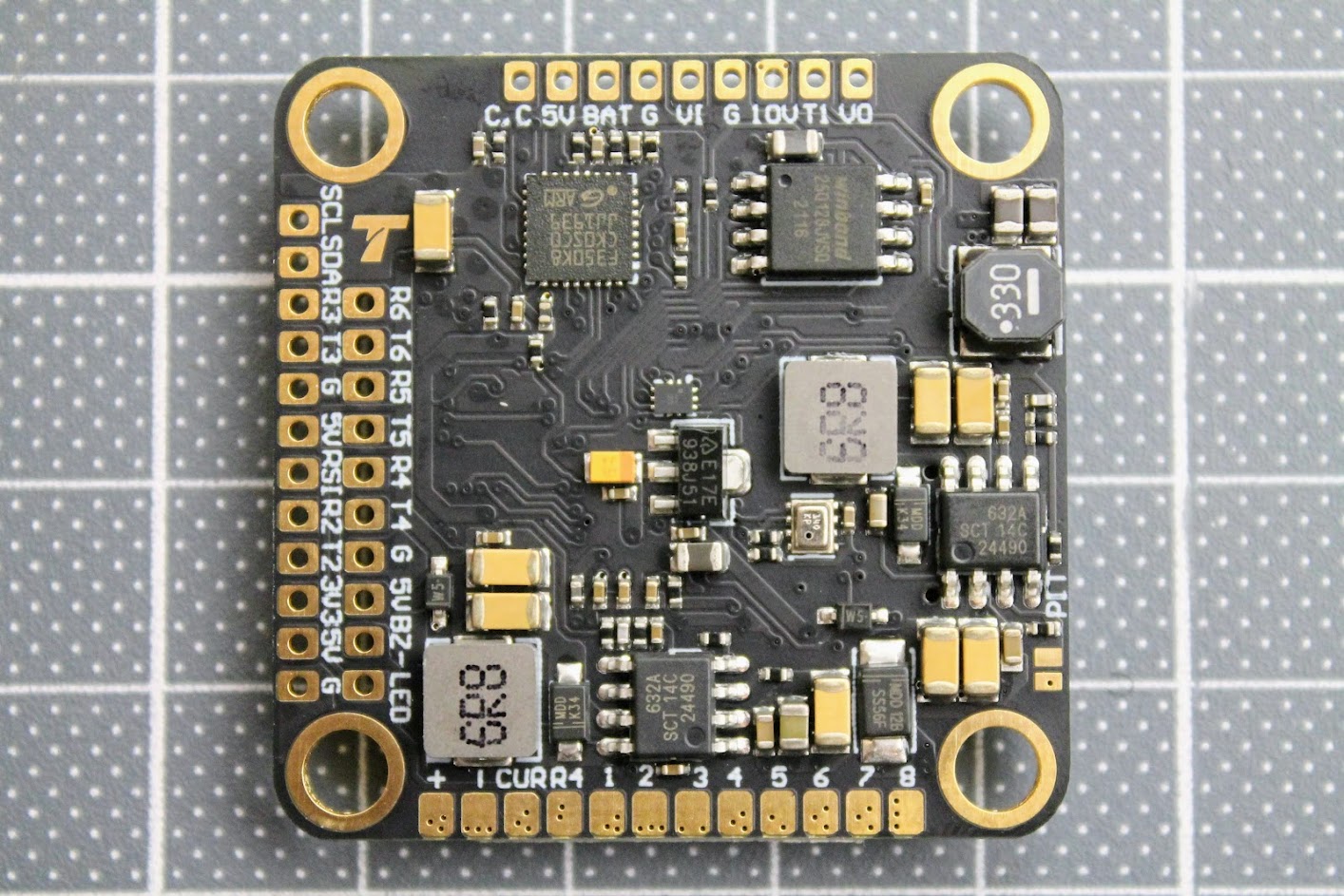 Video transmitter +10V power source can be controlled by radio transmitters switch. For this to work you need to short the two solder pads marked PIT.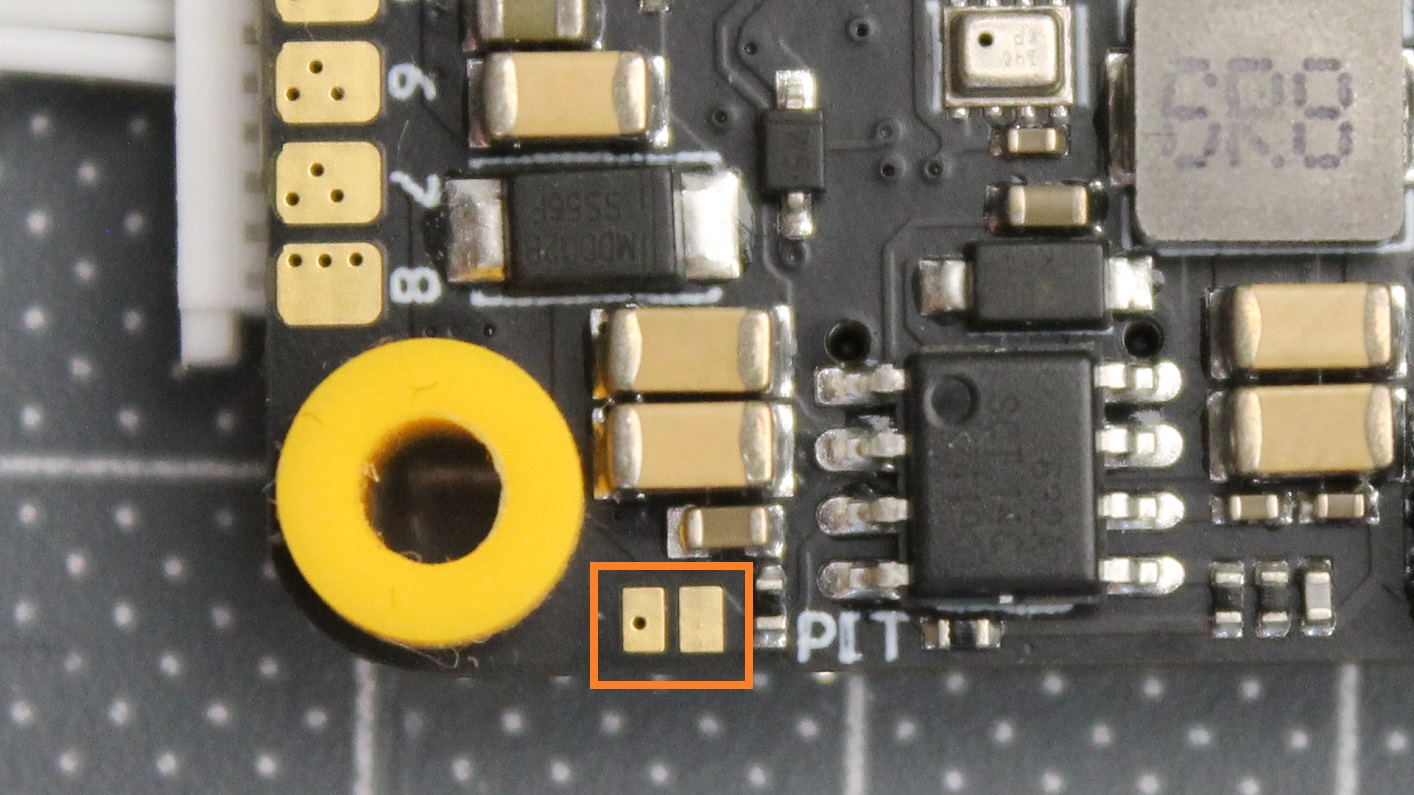 T-MOTOR F7 PRO view with cables connected.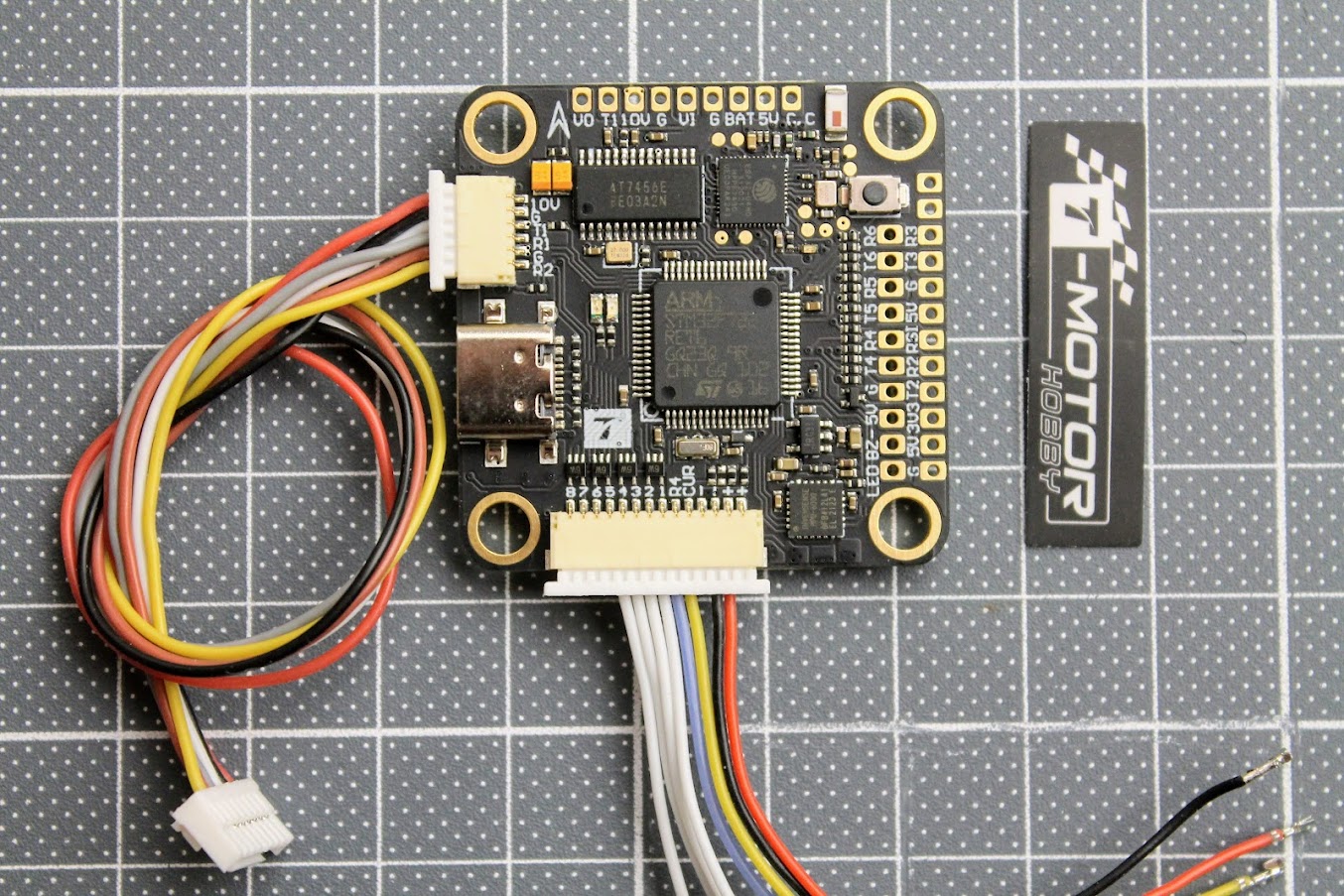 The weight of the F7 PRO flight controller is 8.5 grams.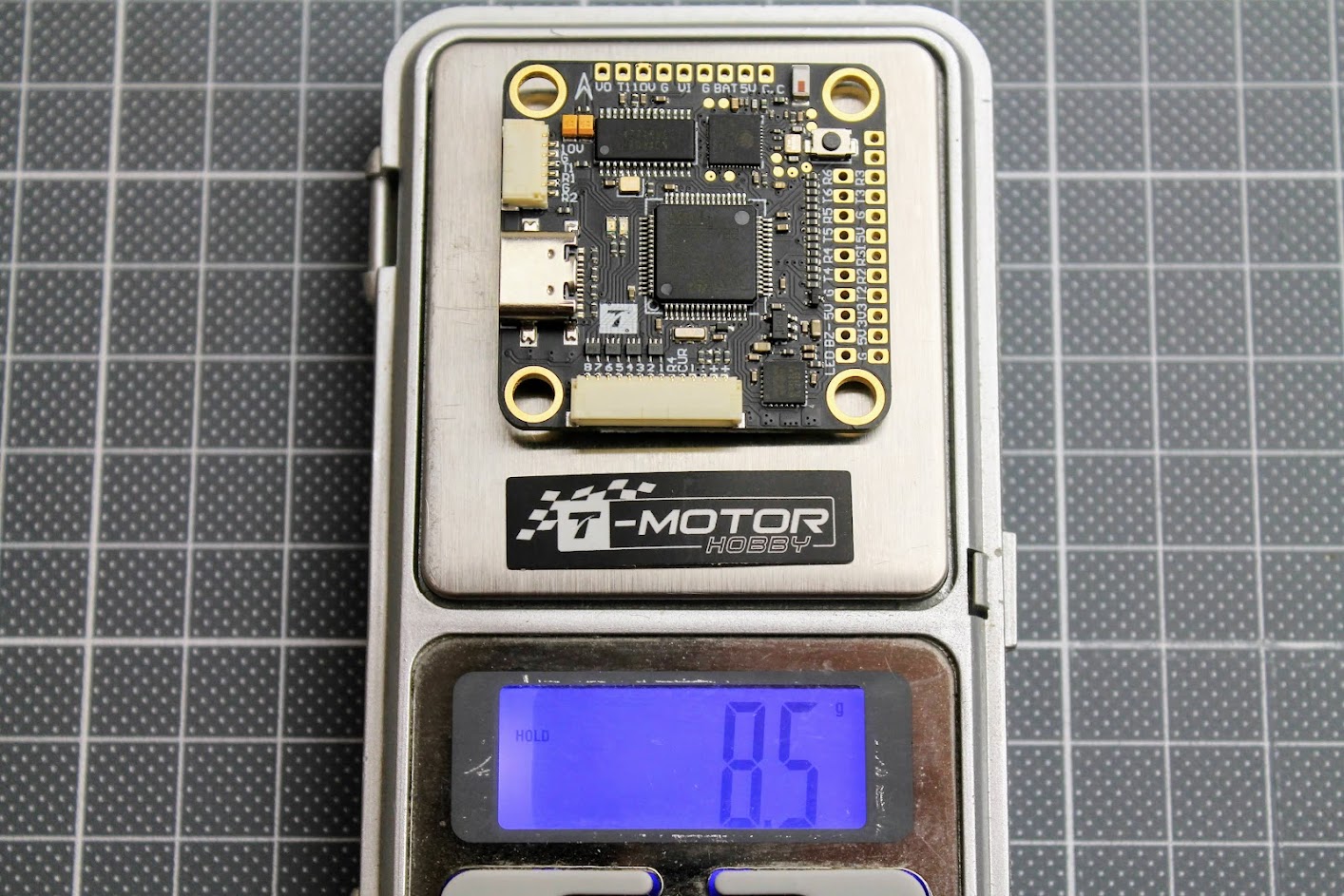 Connection diagram
T-MOTOR F7 PRO flight controller connection diagram.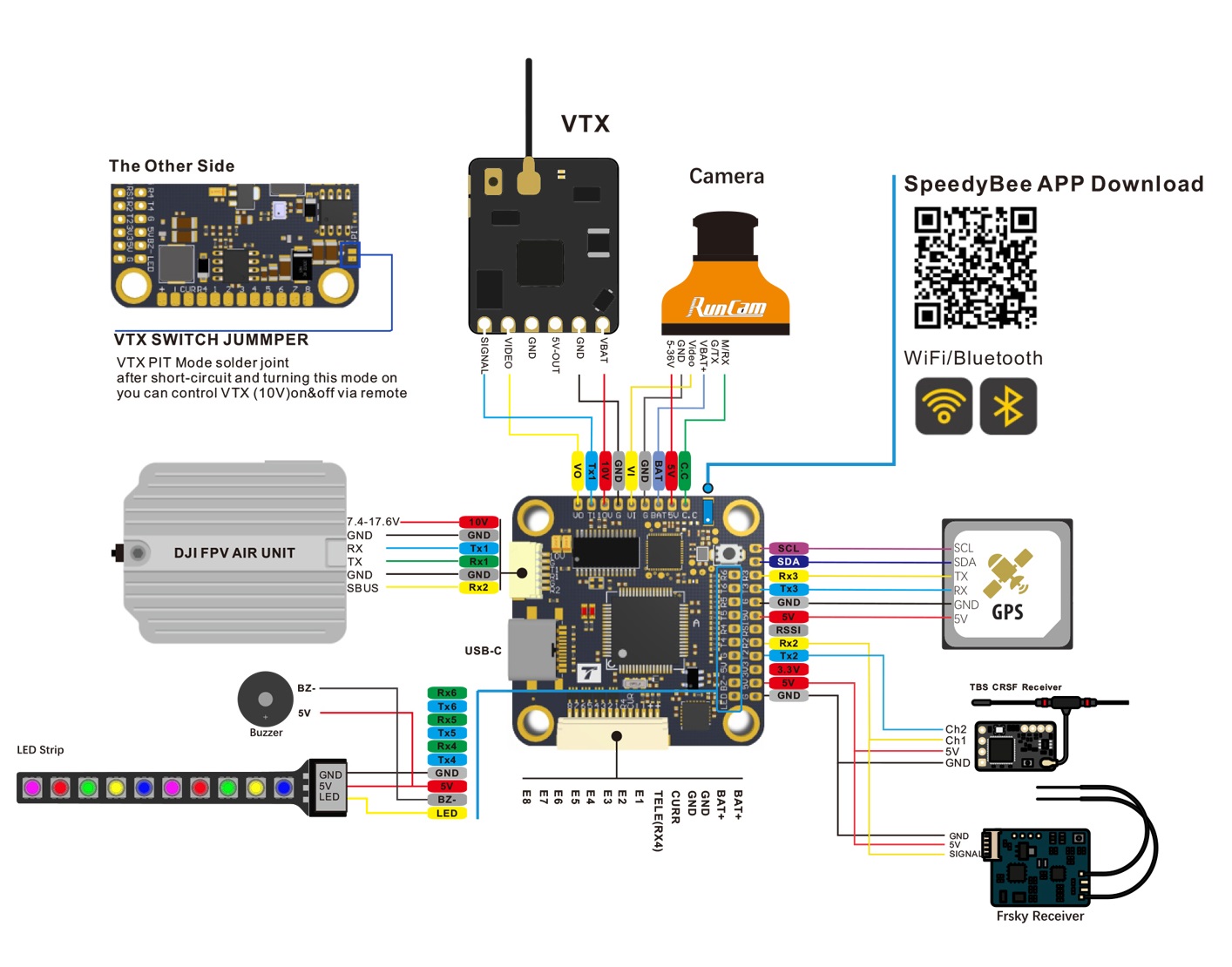 T-MOTOR F7 PRO Flight Controller default CLI dump can be found here:
https://drive.google.com/drive/folders/14sEyh1sJ2UATAgraCu9T0XeLVqJ9FHLb
Wireless configuration
One of the most interesting features of this Flight Controller is Wireless connectivity. There is an app called SpeedyBee you can use with your phone/tablet to access almost all the Betaflight/INAV/Emuflight settings.
You can get the Android app here: https://play.google.com/store/apps/details?id=com.runcam.android.runcambf
iOS App: https://apps.apple.com/us/app/speedybee-app/id1150315028
Once you have installed and run the app, select the Bluetooth option on the start screen. SpeedyBee app will find the available board, connect to it by selecting the [Connect] button.
With SpeedyBee app you can configure or upgrade the Betaflight/INAV/Emuflight firmware, configure the BLHeli ESC settings and analyze BlackBox data.
Some notes
SpeedyBee app sometimes refused to connect to the F7 PRO FC after it was left connected for a longer time on the bench. Looks like the board gets too hot with active Bluetooth or WiFi connectivity. You have to keep the FC board cooled actively if you want to maintain the stable connectivity. My observations say that F7 PRO FC heats up the most with WiFi connectivity on.
T-MOTOR F7 PRO can be purchased from
Banggood: https://banggood.com/30_5mm-T-Motor-F7-PRO-3~8S-Flight-Controller-INAV-BetaFlight-Tuning-wirelessly-8-PWM-Outputs-for-X8-Cinelifter-FPV-Cinematic-RC-Caddx-Air-Unit-Drone-p-1938586.html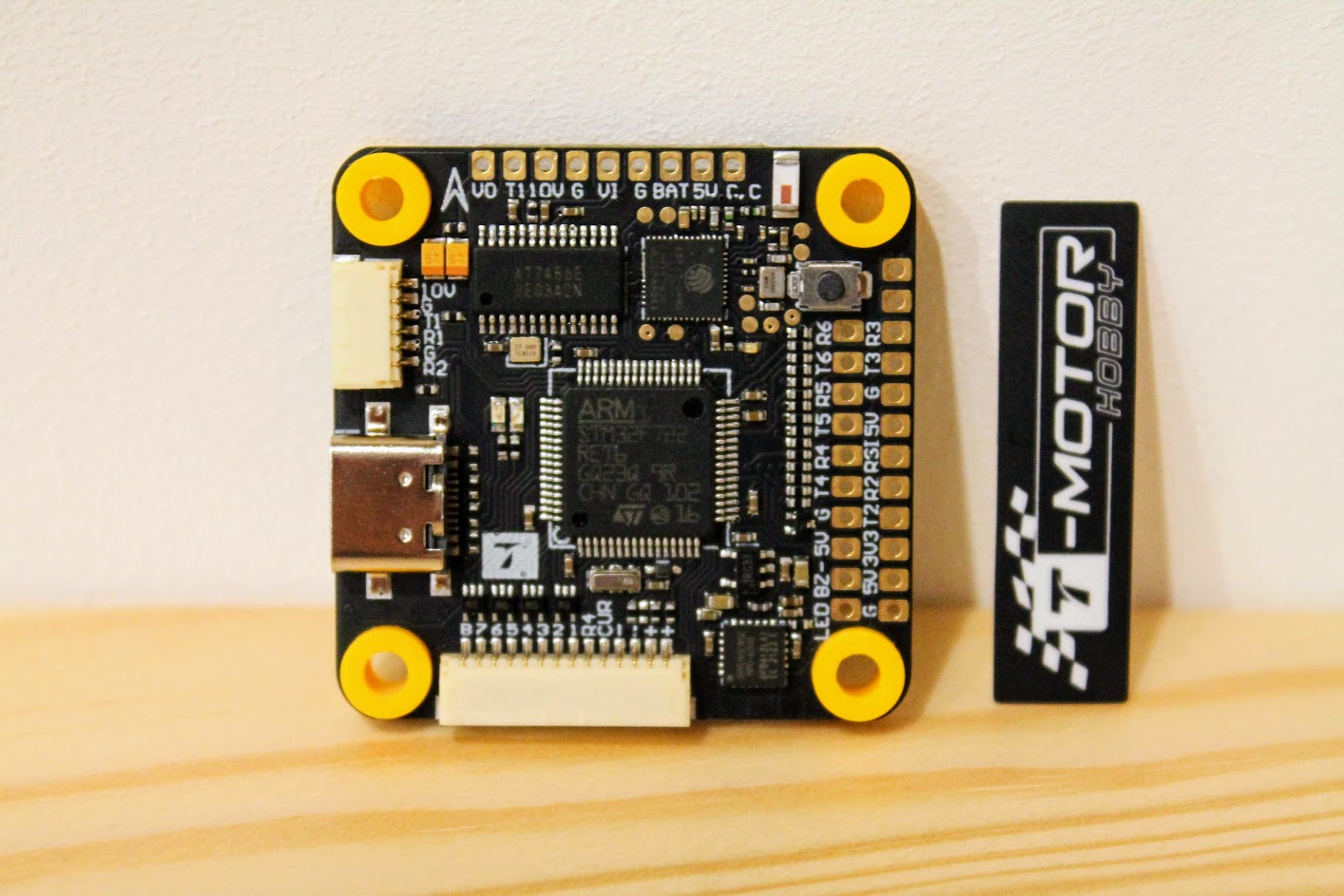 Disclaimer: This item was supplied by Banggood for a fair and unbiased review. Banggood never asked for a positive review and never influenced my opinion in any way. I'm trying my best to stay uninfluenced and give only my own opinion. All affiliate links if there are any help me purchase items for future reviews and tests.