Review: Eachine Wizard TS130 quadcopter
Eachine has released Wizard TS130, the smaller version of the TS215 quadcopter. On the paper it look very good, but how is it in reality? I was happy to have an opportunity to review this quadcopter.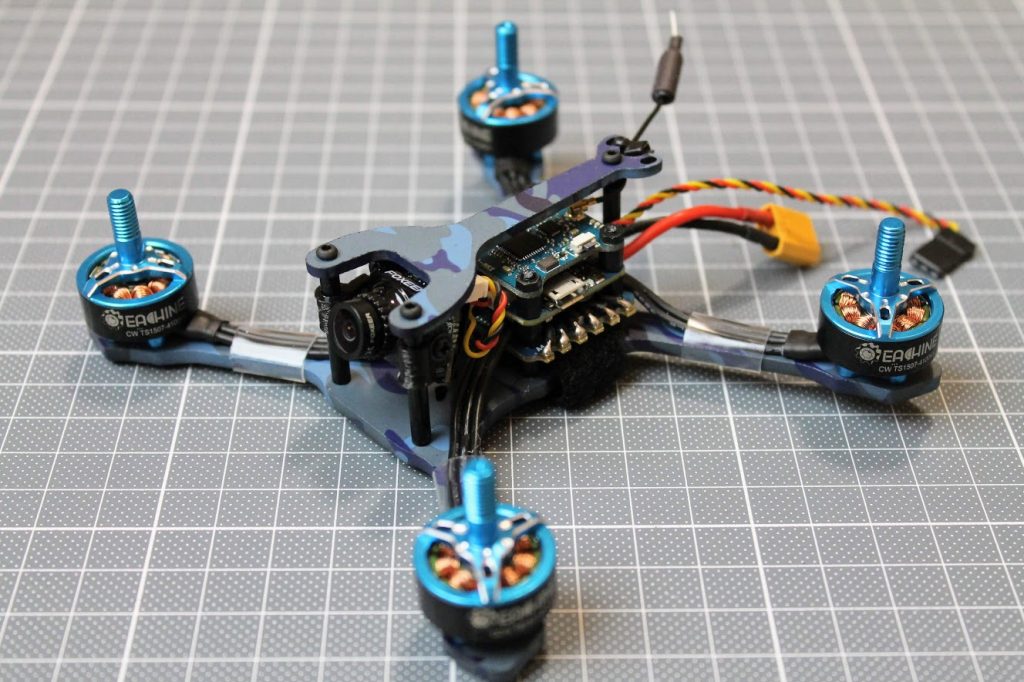 Specifications
Frame
Wheelbase: 130mm
Material: 3K carbon fiber
Top plate thickness: 2mm
Bottom plate thickness: 3mm
Artist: hydrographics transfer printing
4in1 Brushless ESC
Continuous current: 20A
Peak current (5S): 25A
Input voltage: 2-4S
Supports Dshot600, Dshot300, Dshot150
Size: 27x27mm
Weight: 3.3g
Omnibus F4 Flight Controller
CPU: F4STM32 F405 SCM
Input voltage: 3-4S
Sensor: MPU6000 SPI
Built in OSD
Built in 5V 2A BEC
Size: 25x25mm
Weight: 2.3g
TS1507 4100KV Brushless Motor
KV: 4100
NO.OF cell: 2-4S
5.8G 40CH VTX
Input voltage: 7-24V
Dimensions: 20x20mm
Size: 27mm×27mm×4.5mm
Adjustable 25mw / 100mw / 200mw
Supports smart audio (remote OSD parameter adjustment)
Camera
FOXEER Arrow MICRO PRO Camera
Sensor: 1/3" Sony SUPER HAD II CCD+Nextchip 2040 DSP
Resolution: 600TVL(color) 650TVL(B&W)
Min. Illumination: 0.01Lux
WDR: support
OSD programming board: support
DNR: 2D DNR
OSD: Edit Name, Power, Flying time
Input Power: 5-40V
Power Consumption: 70mA
Low voltage alarm: Support
Preset mode: DEF, VIVID, SUNNY, CLOUDY,LED TR,USR1
Size: 18.5*19mm (bracket excluded)
Weight: 5.3g (bracket excluded)
Components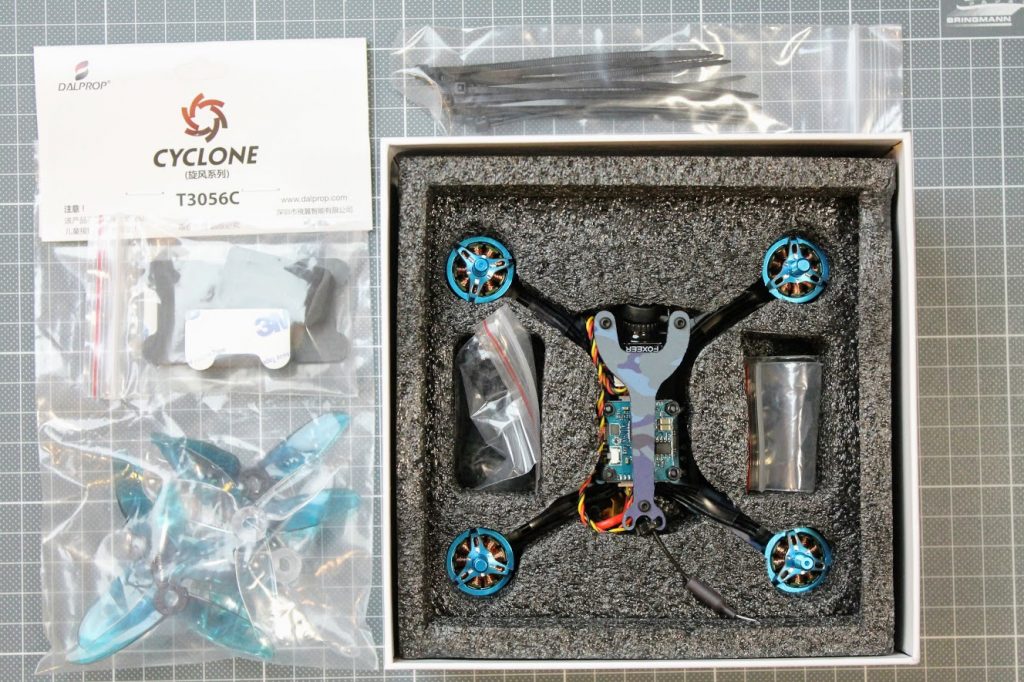 Quadcopter package contents: TS130 quad, 4 pairs of the Dalprop 3056 propellers, 3M battery non slip mat, protective battery holder and battery strap, spare screws, zip ties, two carbon fiber wrenches that can be used to tighten the prop nuts or to be hanged on the key ring as a decoration.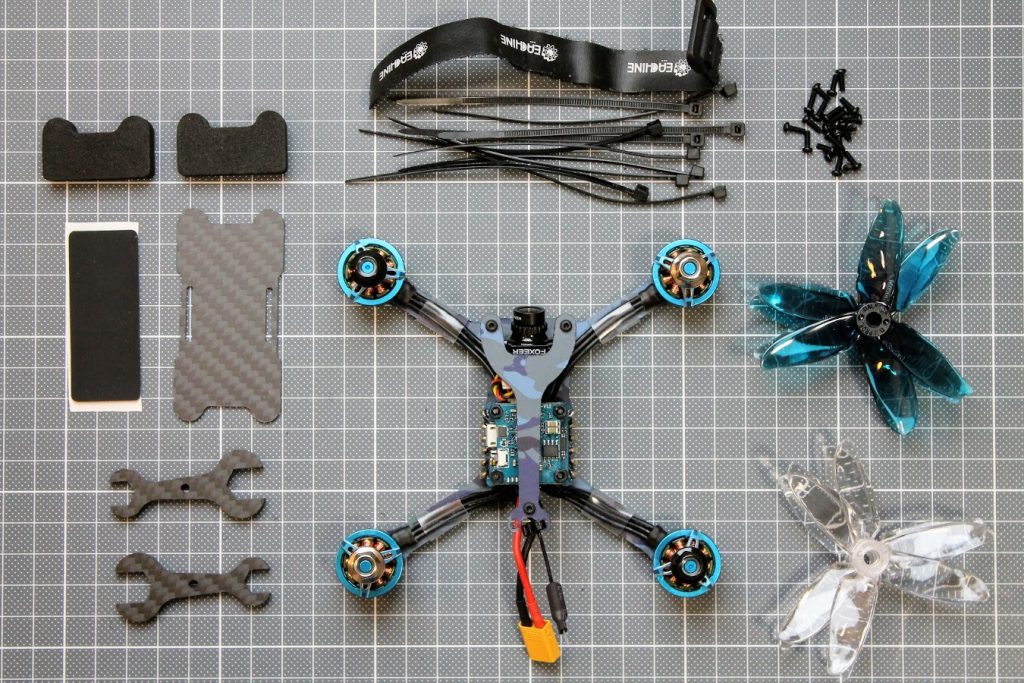 Frame size is 135 mm between the motor axis.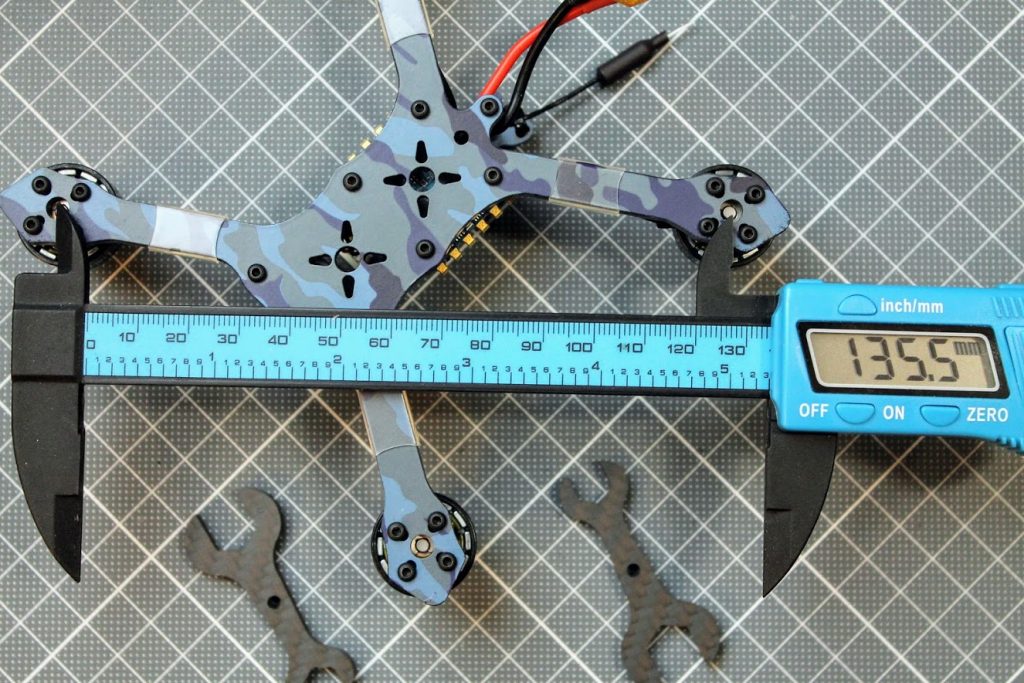 Frame thickness is 3 mm.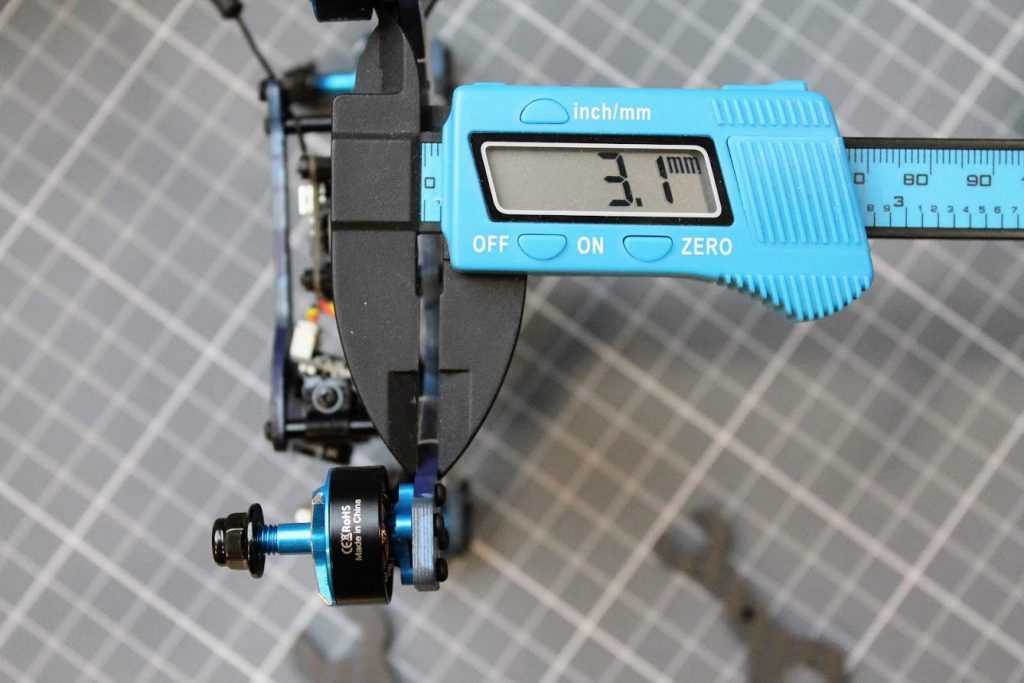 Frame height between the lower and upper plates is 25 mm.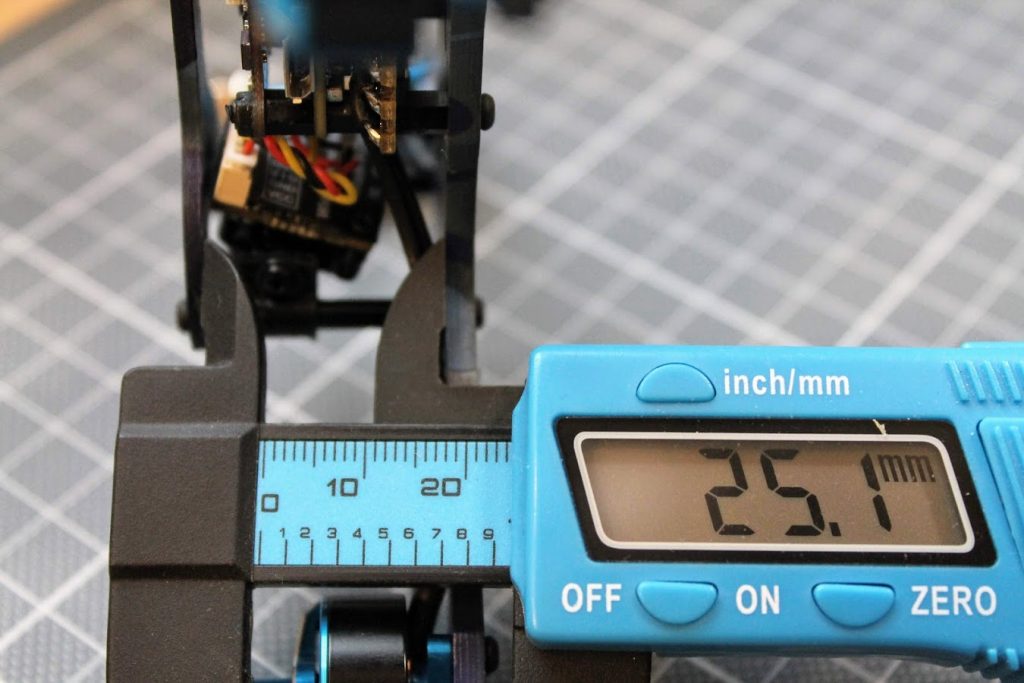 Frame itself looks like the shrunken version of the TS215 frame.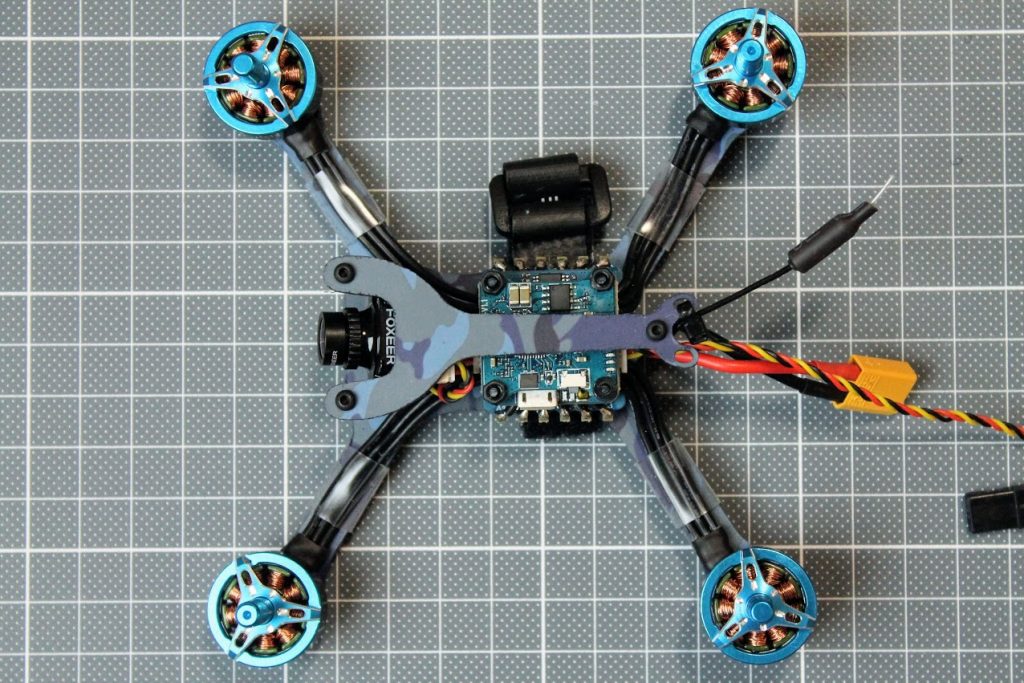 TS130 quadcopter weight is only 139 grams.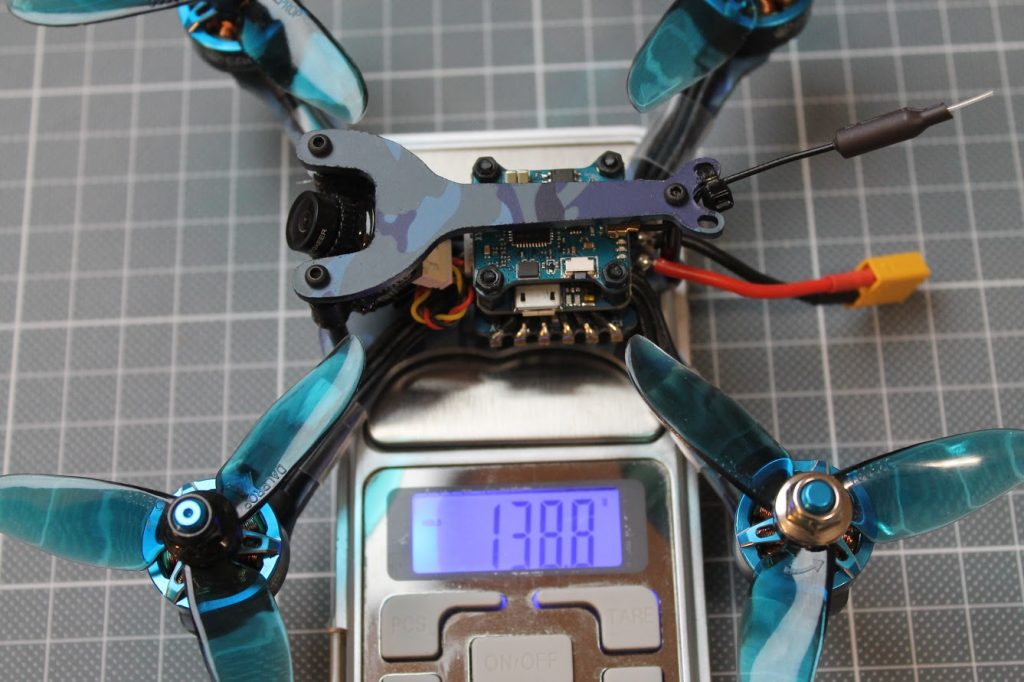 Weight with XM+ receiver is 140 grams.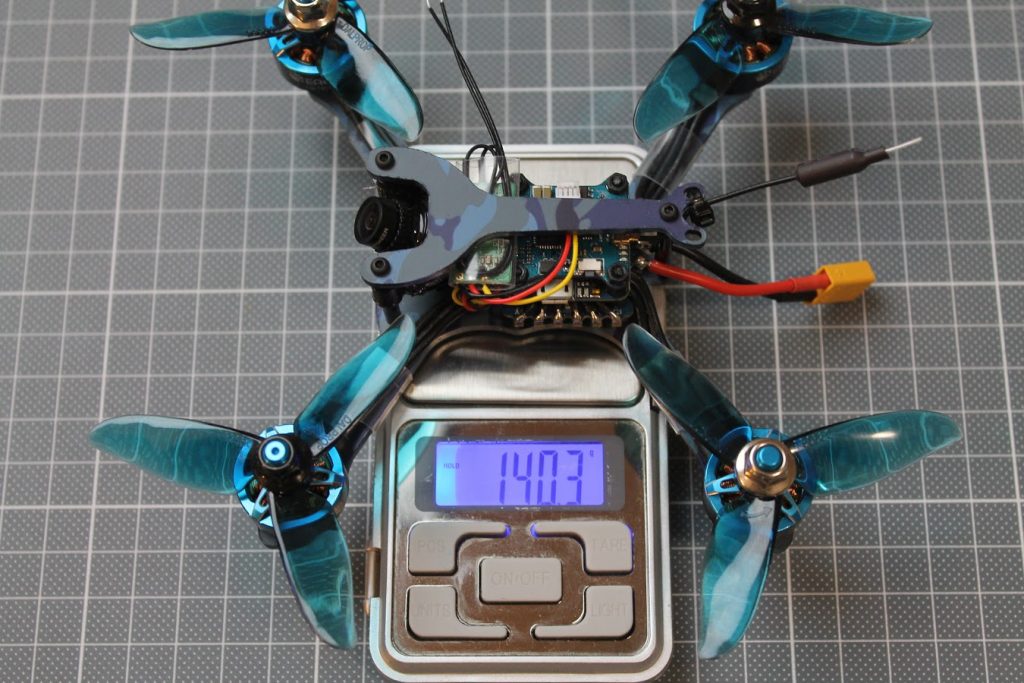 Camera is FOXEER Arrow MICRO PRO, which is nice, but a little outdated and not the best choice for this quad.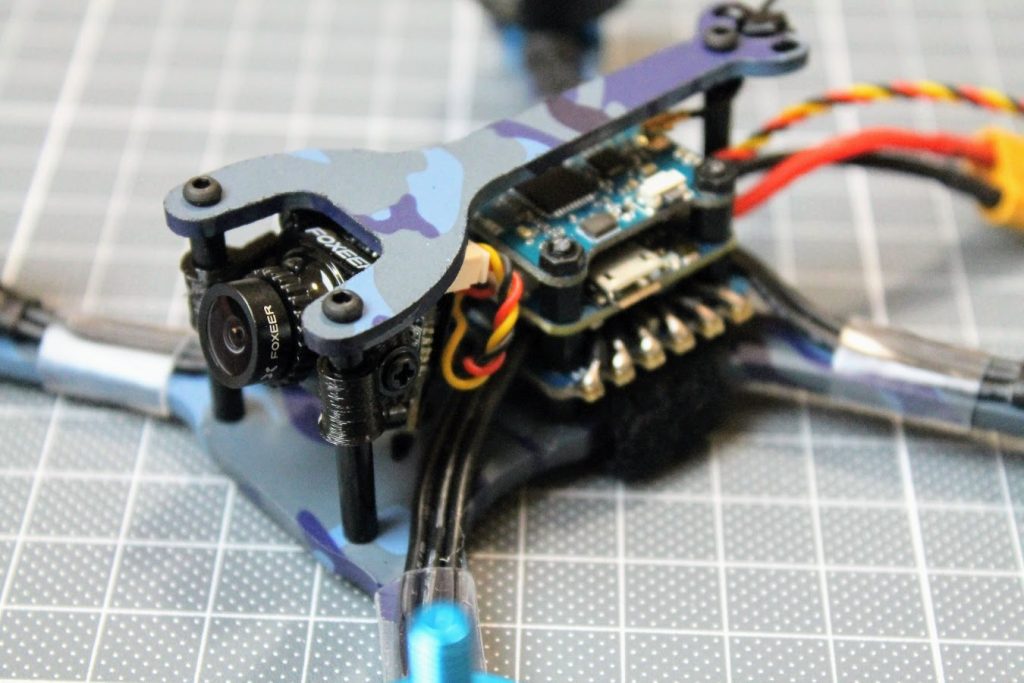 Motors are 1507 sized 4100KV. They are rated for 2-4S battery.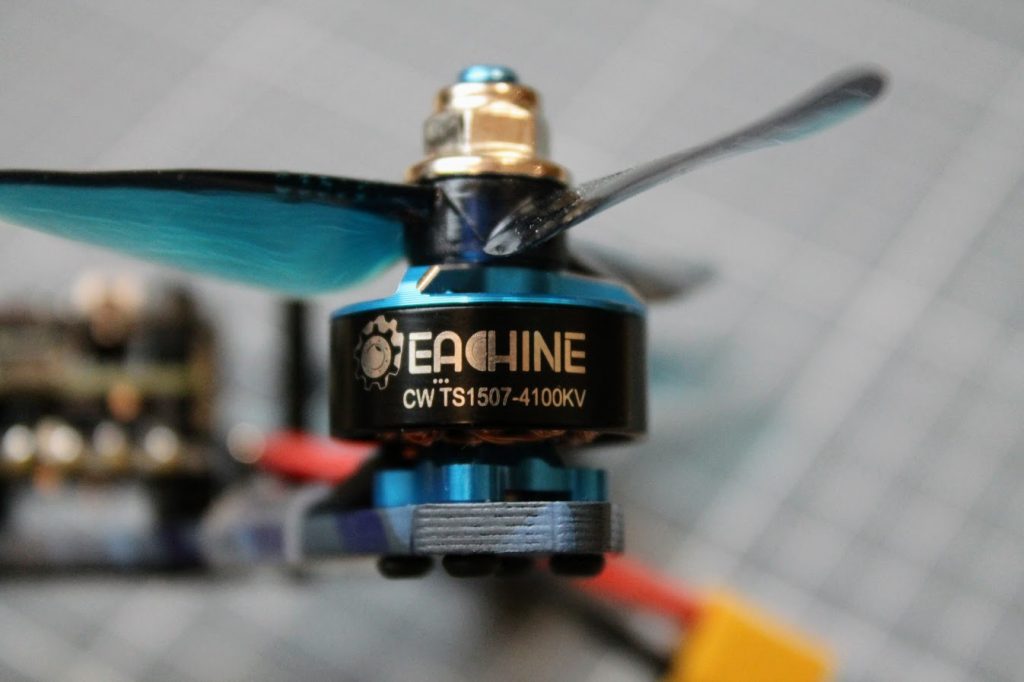 Inside the frame there is 3 level stack with 20A 4in1 ESC, F4 FC and VTX.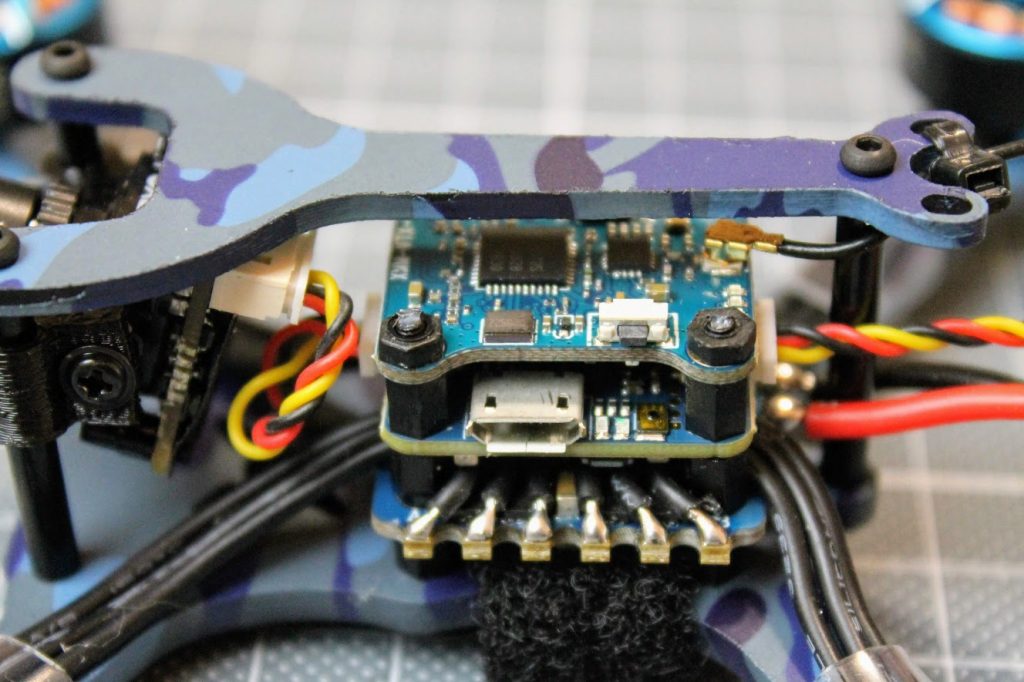 All three boards are stacked one on another by 10pin connectors. The whole stack can be disassembled easily – all components are plugged in, except the motors are soldered to the 4 in 1 ESC.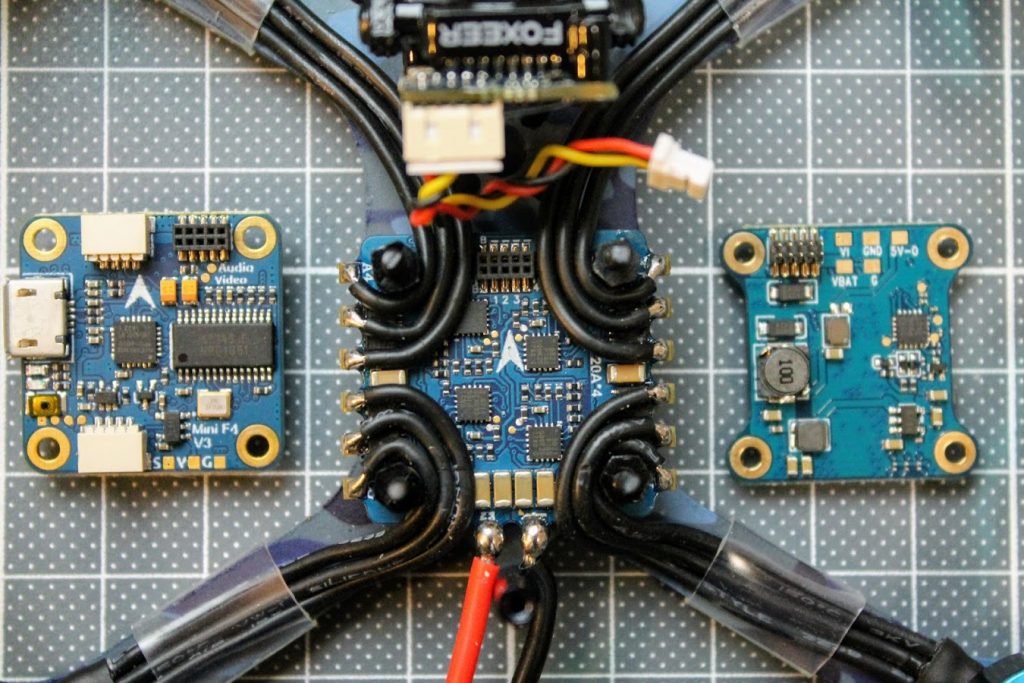 The VTX has minimun controls – one button and 3 LED for displaying the status. Antenna is connected by the uFL (iPEX) connector.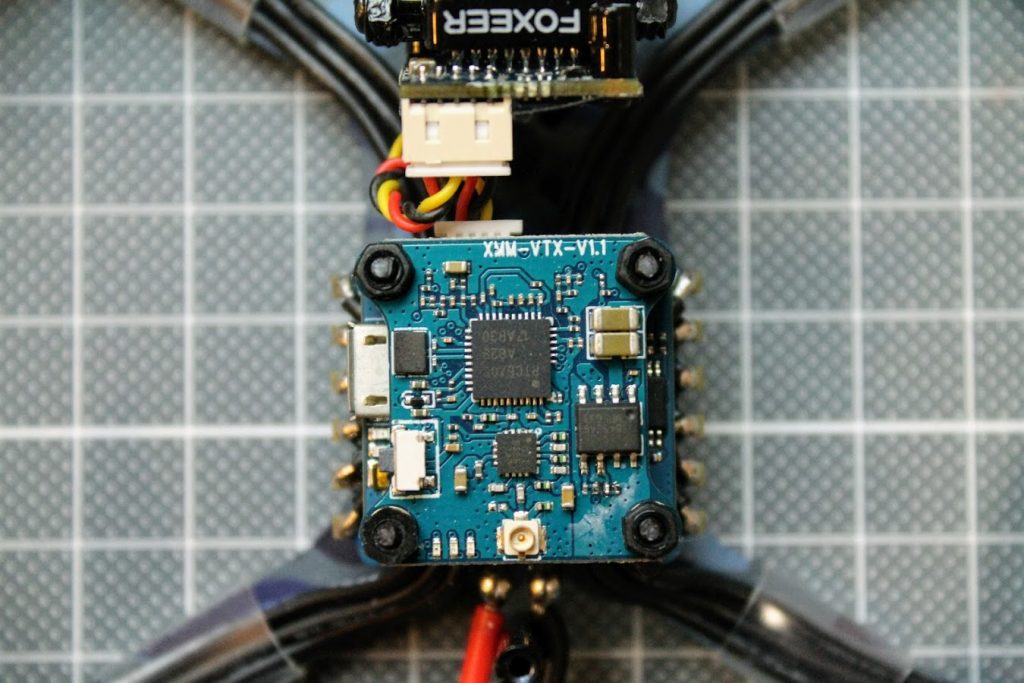 FC has F4 MCU and MPU-6000 SPI gyro on board.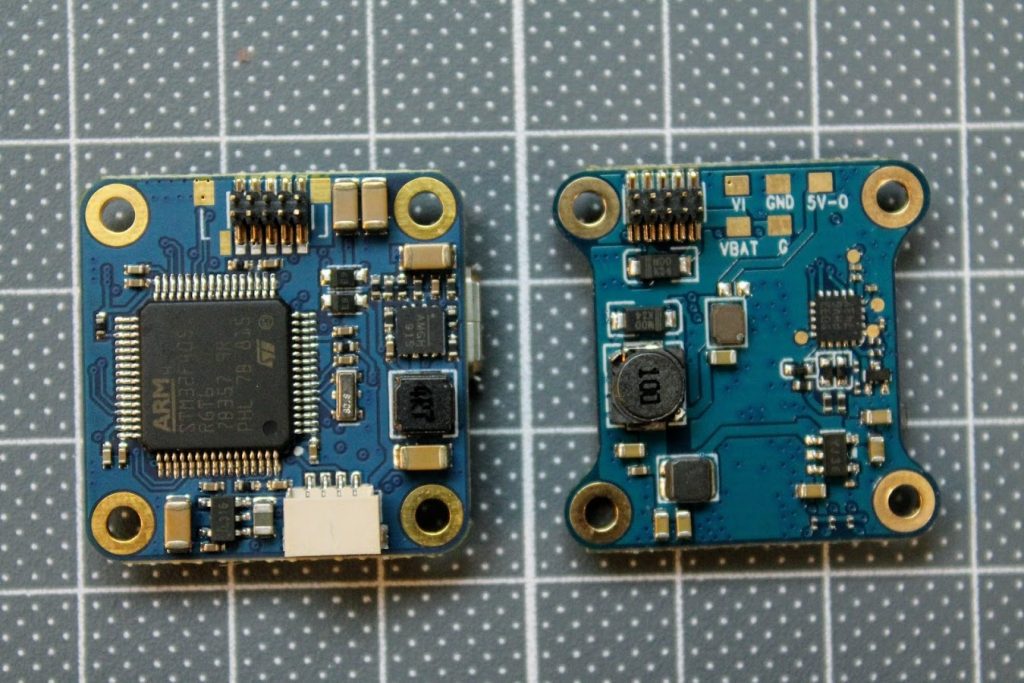 FC has OSD Interesting that FC has Video and Audio inputs and VTX also transmits the supplied audio together with the video feed.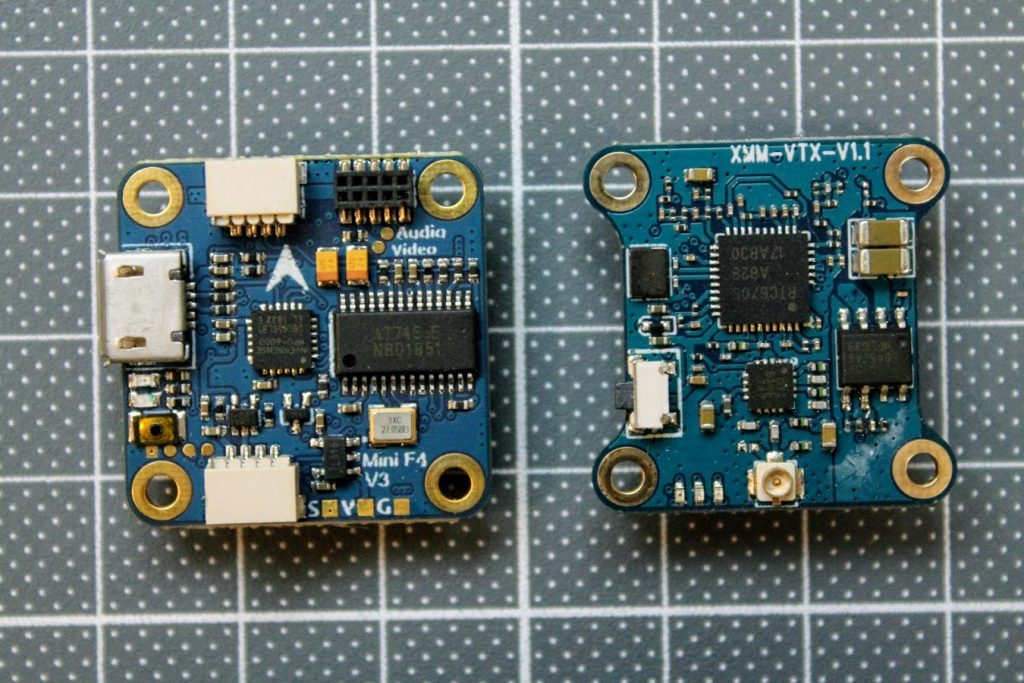 I have found out that the stack is actually the LDARC/KingKong 20x20mm 20A Flytower. It is either manufactured by LDARC or it is a cloned stack. Except the VTX it is unique and not seen before, but also possible has just redesigned PCB.
Here are the photos side by side of the Wizard TS130 stack and LDARC Flytower stack. Notice the same placement of the components and the orientation arrow in the middle in the 20A 4in1 ESC photos.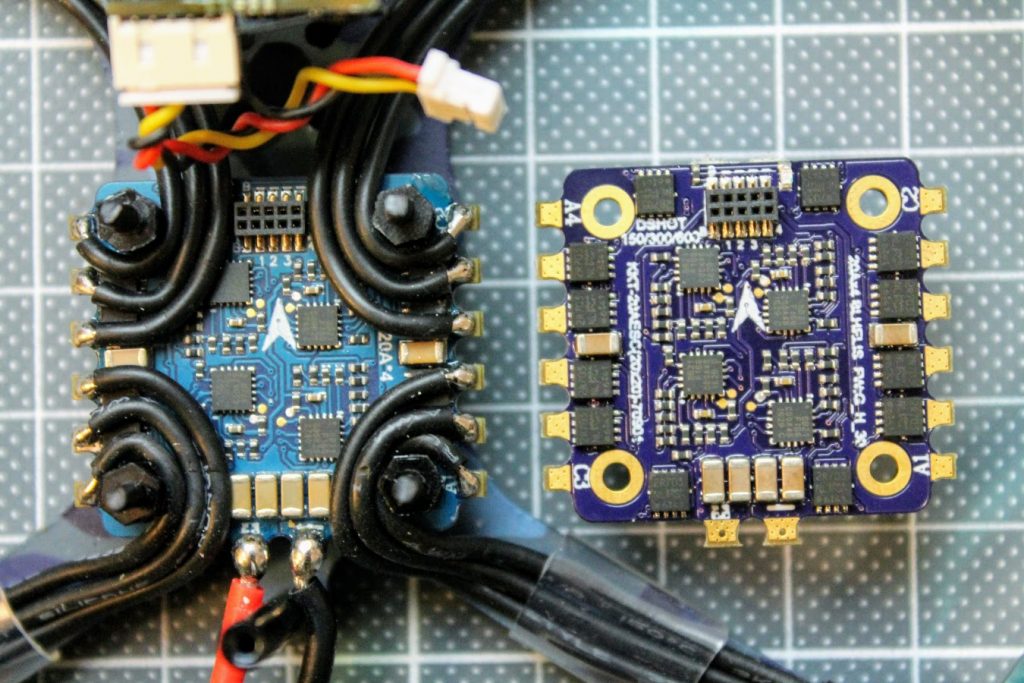 Flight controllers looks like the twins.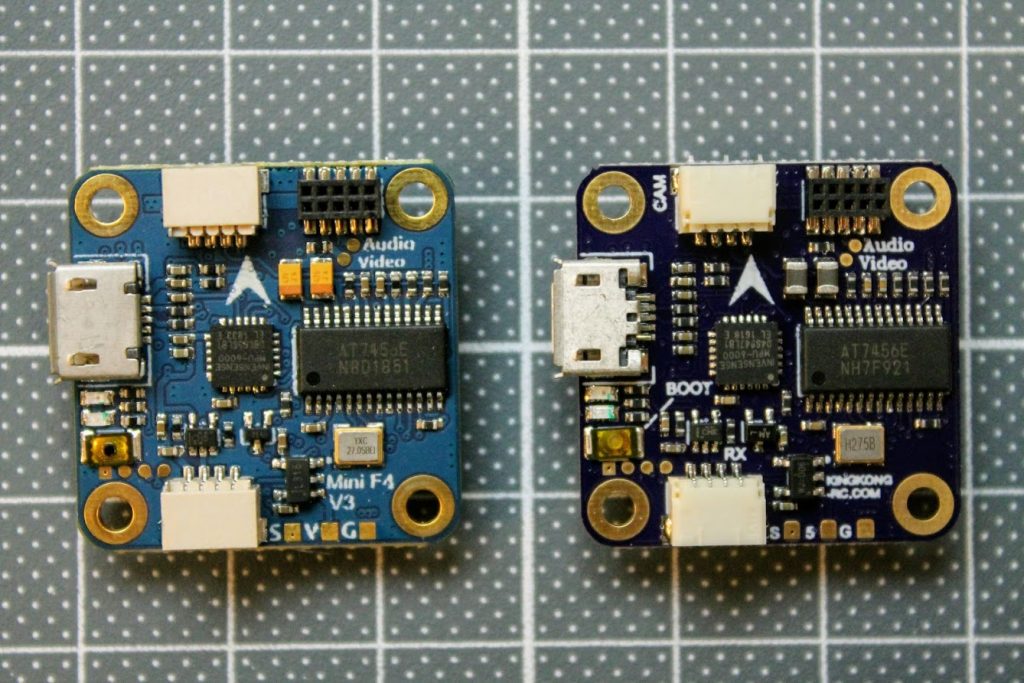 Wizard TS130 VTX (on the right) is different from the Kingkong/LDARC Flytower VTX, but the specs are the same and the firmware is probably the same, just redesigned PCB.
LDARC Flotower user manual can also be used as Wizard TS130 stack user manual: http://15736572.s21d-15.faiusrd.com/61/ABUIABA9GAAg8rC31gUo_Nrp3wI.pdf
Connection diagrams
[To be continued]
Available @ Banggood: https://www.banggood.com/Eachine-Wizard-TS130-FPV-Racing-Drone-PNP-Omnibus-F4-OSD-20A-Dshot600-40CH-Smart-Audio-200mW-VTX-p-1356738.html
Frame: https://www.banggood.com/Eachine-Wizard-TS130-135mm-Wheelbase-Frame-Kit-3K-Carbon-Fiber-for-RC-FPV-Racing-Drone-p-1387519.html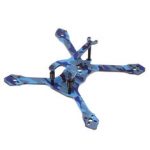 Motors: https://www.banggood.com/Eachine-TS130-FPV-Racing-Drone-Spare-Part-1507-4100KV-3-4S-Brushless-Motor-CW-CCW-p-1384955.html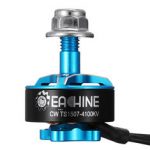 All spare parts list: https://www.banggood.com/search/ts130.html