Ryze Tello quadcopter (powered by DJI)
Chineese startup company called RYZE Tech released new drone – Tello. The Tello has been developed with the use of technology from DJI and also from another well known company, Intel. The usage of technologies from these two comapnies enables us to expect for an interesting and at least decently working product. Despite the fact that DJI is not manufacturing this drone by itself (the manufacturing process is made by RYZE Tech), this Tello drone is sold on DJI Store. This is the half of the success already.
Tello uses an Intel Movidius Myriad 2 VPU, which handles visual object recognition in other DJI drones, letting them do things like respond to hand gestures. In the Tello, it's supposed to help the drone hover in one place more consistently, or land in an outstretched palm. This Intel technology will help novice users to easily control an learn to operate the Tello quadcopter.
Tello weights 80 grams, flight times expected up to 13 mins with 1100mAh 1S battery. The quadcpter will have 5 megapixel camera that transmitts 720p video stream signal with up to 100m of distance. Camera even has electronic image stabilisation (EIS) that will help to make more steady pictures and video. Another advanced sensors are infrared range finder, barometer, vision positioning.
Remember the Kudrone Drone? Will this drone be a success or a failure? Well at least the DJI-Ryze Tello is having the more realistic specifications and a background of the working and proven technologies of the DJI and Intel companies.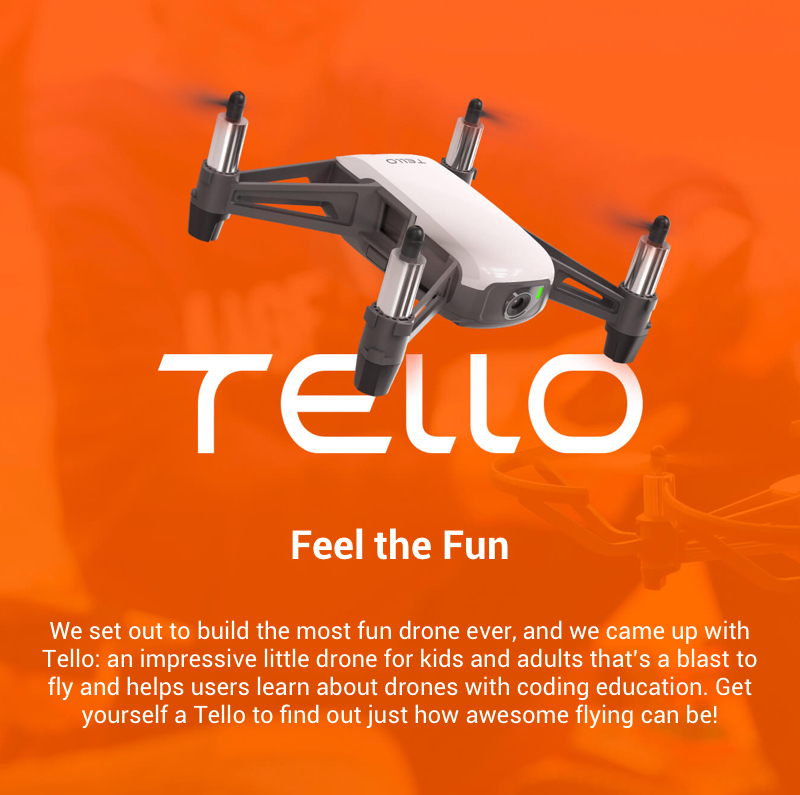 Tello can be purchased:
@ DJI Store: https://store.dji.com/product/tello
@ Banggood: https://www.banggood.com/DJI-Tello-with-5MP-HD-Camera-…-p-1249480.html
Camera specifications:
Photo: 5MP (2592×1936)
FOV: 82.6°
Video: HD 720P 30fps
Format: JPG(Photo); MP4(Video)
Electronic Image Stabilization: Yes
Quadcopter specifications:
Weight: 80 g (with propellers and battery)
Dimensions: 98mm*92.5mm*41mm
Propeller: 3 inch
Built-In Functions: Range Finder, Barometer, LED, Vision System, WIFI 802.11n 2.4G, 720P Live View
Port: Micro USB Charging Port