The HDZero Digital FPV Goggles are officially released. They are the first digital goggles with HDZero technology (if we don't count the Fat Shark Scout HD, because they were box style goggles with single screen).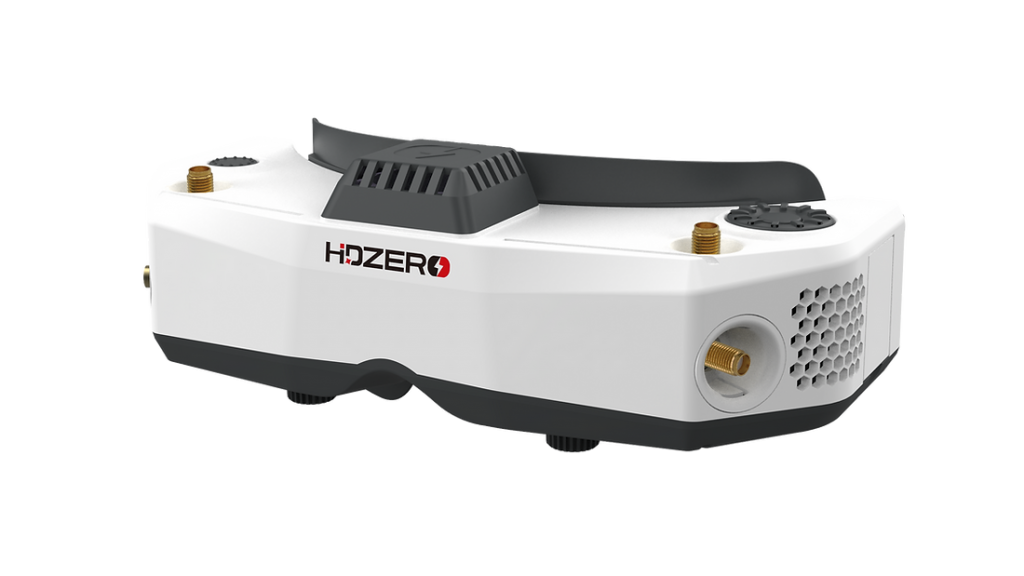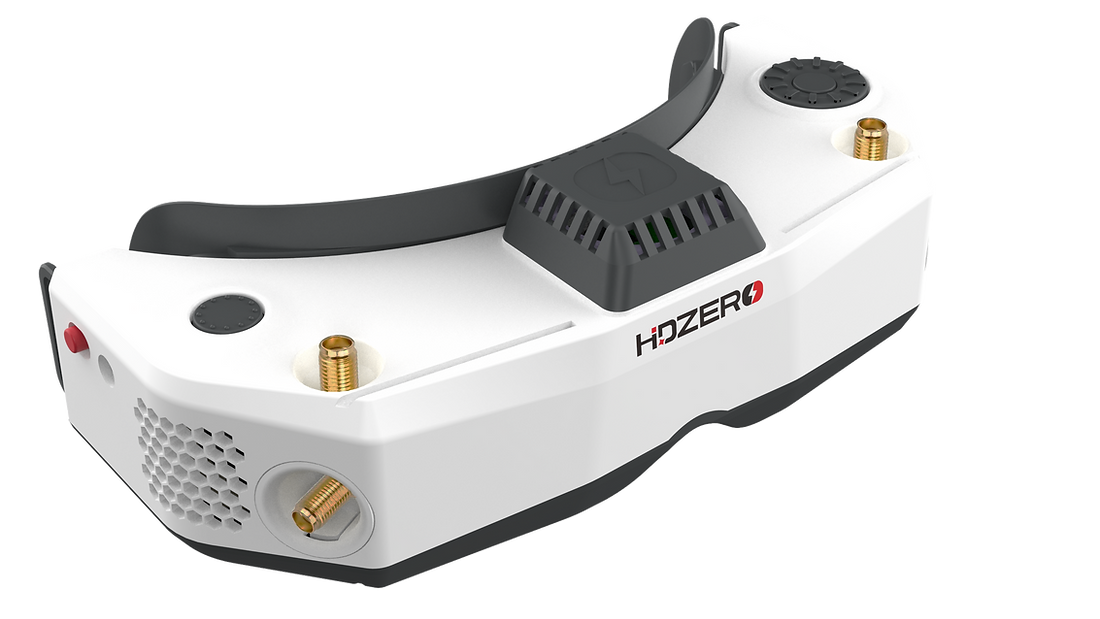 HDZero goggles have 1920×1080 native resolution and 90Hz refresh rate OLED displays. This is the best resolution goggles on the market with the 90Hz refresh rate.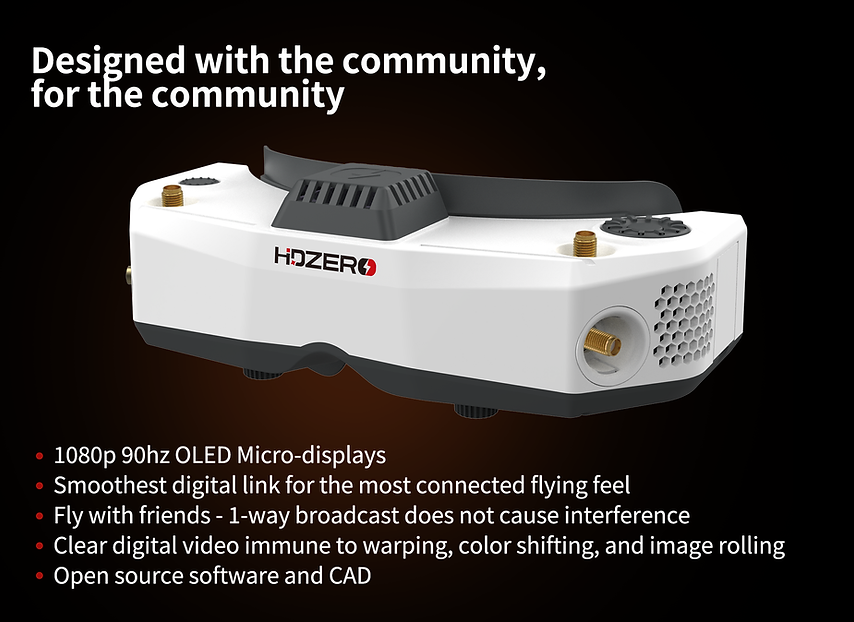 HDZero is digital wireless video transceiver technology developed and fully owned by Divimath Inc. A HDZero transmitter broadcasts uncompressed video streams, and HDZero receivers are able to pick up the video with less than 1ms fixed latency. With its smart de-Noise techniques (patent pending), HDZero is able to reach a much longer range per mW.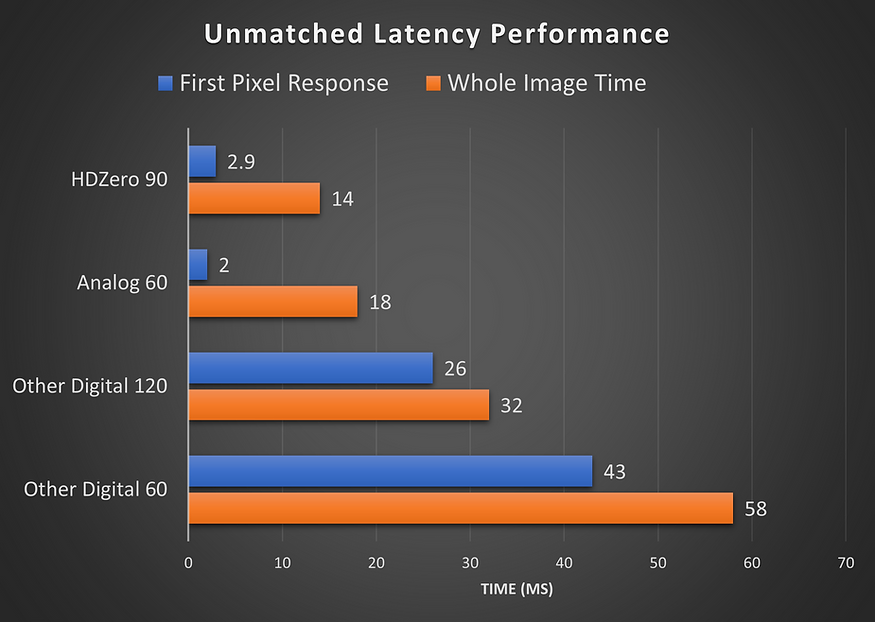 HDZero goggles have optional analog FPV video module bay with real time analog video deinterlacer. So the analog video quality should be superior comparing to other analog goggles.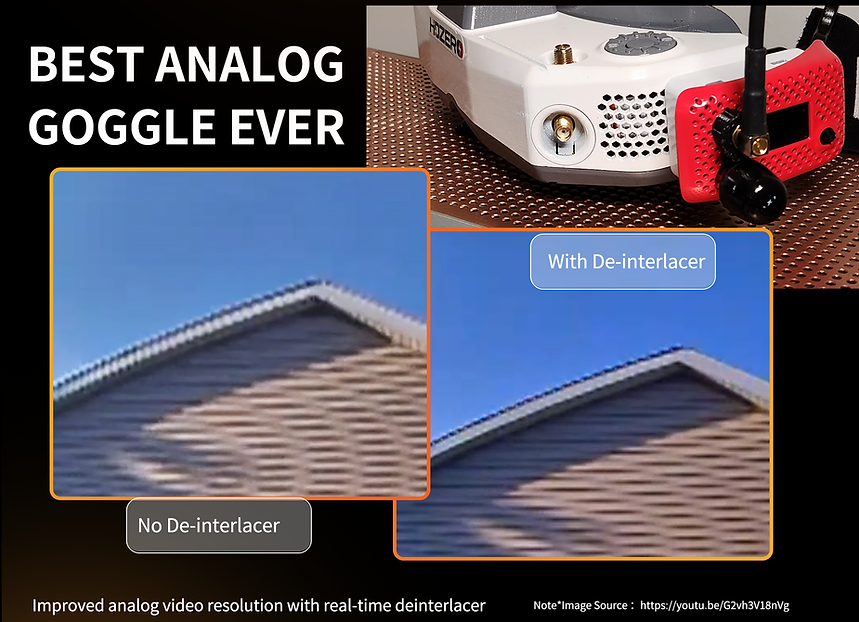 HDZero goggles have built in digital FPV receiver, but also features all kinds of possible inputs and outputs – HDMI in and HDMI out ports, 3.5mm AV in port and 3.5mm audio out for headphones and input for external microphone. Goggles even have built in microphone for narrated DVR recordings of the FPV feed.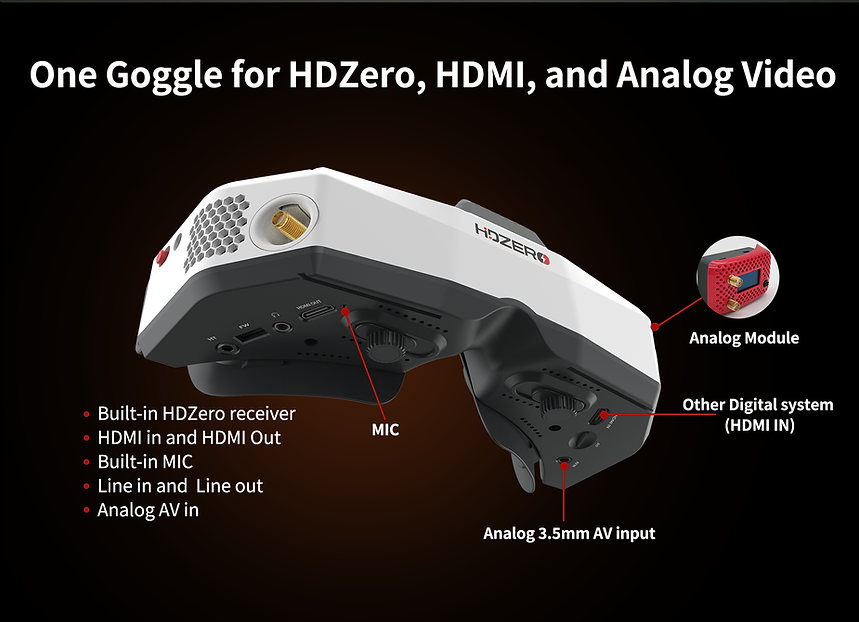 There are special mounting rails for the patch antennas on the HDZero goggles.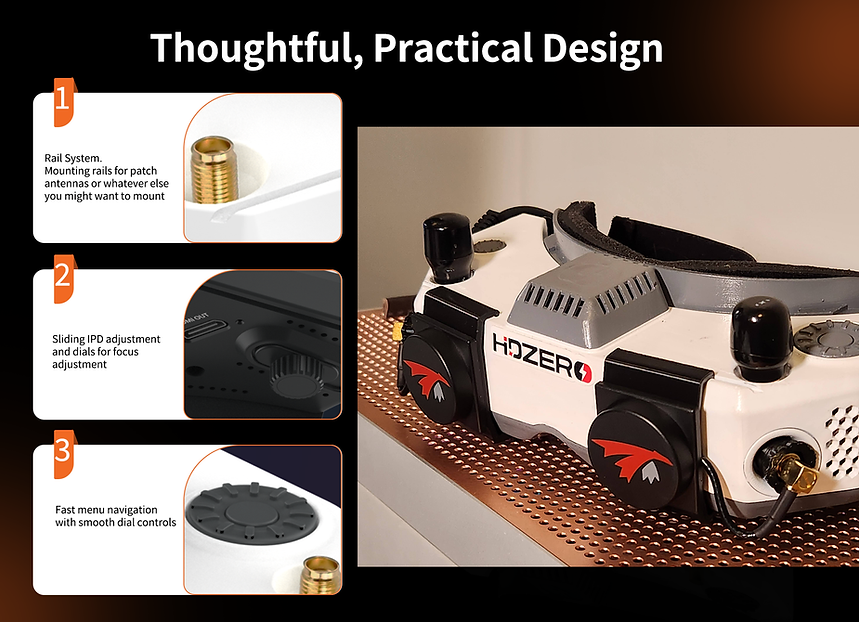 HDZero goggles software is Open Source and is open for the community (however it is still not available on the gitHub https://github.com/hd-zero/hdzero-goggle at the moment of writing this post). Also the CAD files for printing and customizing the goggle shell is available.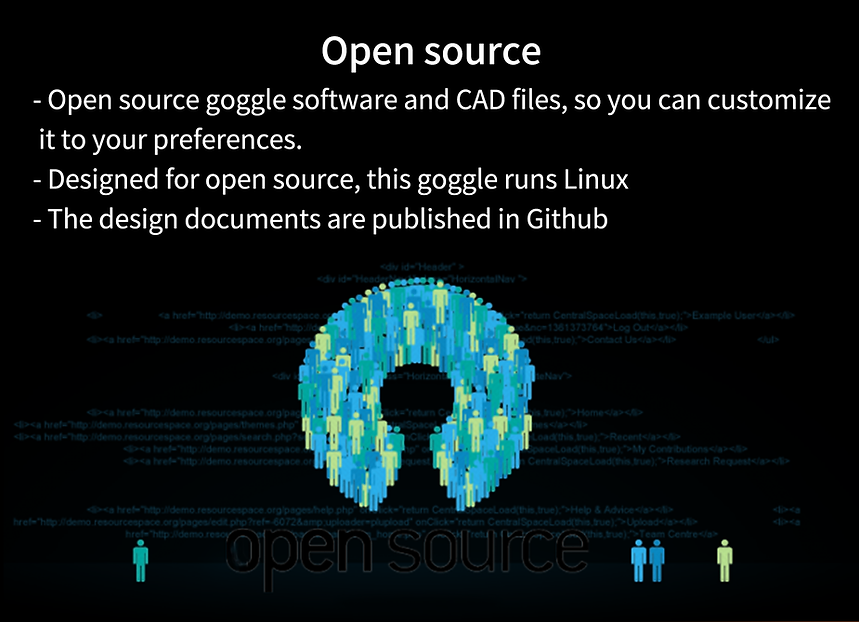 Specifications:
HDZero Camera glass-to-goggle glass latency: <3ms
Adjust IPD range: 57-70mm
Adjustable focus range: +6 to -6 diopter
Full HD 1920x1080p 90fps OLED micro display
FOV: 46deg (16:9 aspect ratio) and ~ 38deg (4:3 aspect ratio)
Input voltage: 7V-21V (2S-5S) 7V–25.2V (2S-6S)1
1 DO NOT use a 6S or above HV lipo to power on the goggle, it will permanently damage
the goggle.
2 18650 battery cases can kill your goggle (blow the fuse). Always install batteries in
correct polarity, check with case's battery checker beforehand, if the checker lights
don't turn on, the batteries are installed backwards and the goggle's fuse will blow to
protect the goggle. This can be repaired by replacing the fuse inside the goggles, but at
owner's own cost.
Includes:
1x HDZero goggle
1x wide face plate
1x narrow face plate
1x foam padding
1x Goggle Strap
1x 1200mm XT60 cable
1x 150mm HDZero VTX programing cable
1x Thick Canvas Goggle Bag
1x Lens cloth
A note about the power supply
HDZero Goggles support 6s input (same power regulator as Freestyle VTX batch 2). For good measure, only plug in 6s battery when power switch is in off position. So far, the only blown fuse case has been from reverse polarity, not 6s voltage.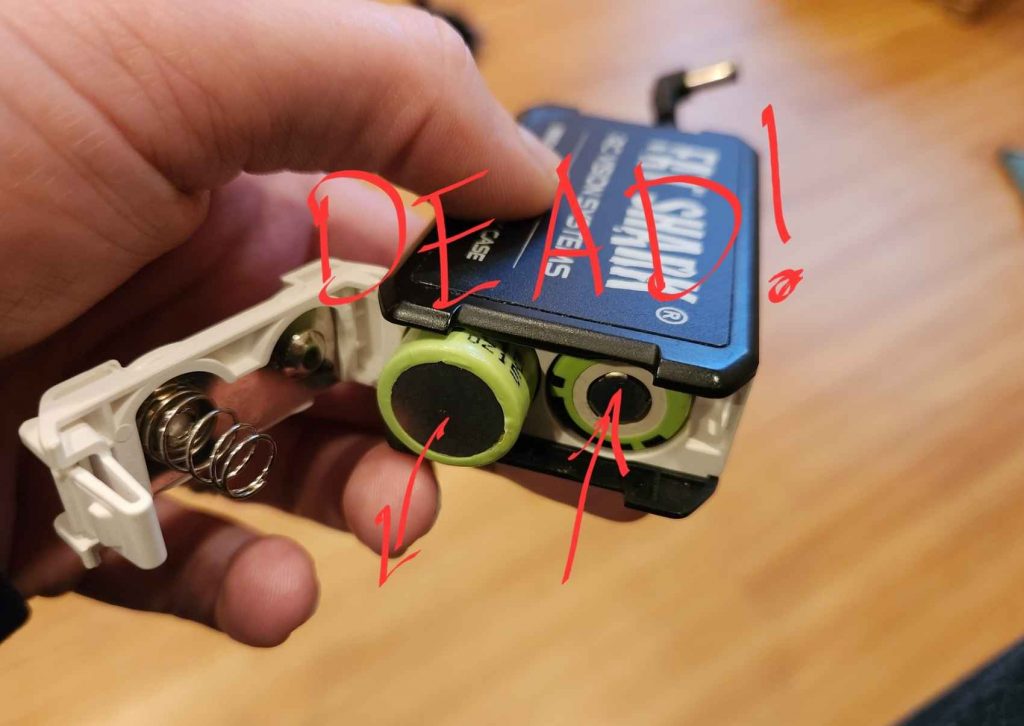 Estimated shipping date of the first batch is Dec 15 2022. Second batch – January 2023. Third batch March 2023.
HDZero Goggles User Manual: https://www.hd-zero.com/_files/ugd/967e02_2cd839d8532f4a6f812c4eaab1053da5.pdf
HDZero Goggles
Available (pre-order): https://www.hd-zero.com/product-page/hdzero-goggle
HDZero Analog video module bay
The analog module bay will not include WiFi for the first version and its price is reduced to $29.99. Later when WiFi is working you may purchase a new board to install that adds WiFi for $29.99.
Available (pre-order): https://www.hd-zero.com/product-page/hdzero-goggle-expansion-module-v1-without-wifi
HDZero Nano 90 camera
The new Nano 90 camera is available to order in limited quantities. This camera offers 720x540p 90 FPS video and, in the future, will add a 720x540p 60 FPS mode which will increase RF signal quality and penetration.
Available: https://www.hd-zero.com/product-page/runcam-hdzero-nano-90
Information from Carl Zhou on May 16, 2022
Our goggle has progressed greatly since I last discussed it with you all. Thank you for your input early on, it was invaluable – this will be your goggle!
I want to set expectations about release date first. The goggle will be ready for a small group of testers in the June/July timeframe. General availability will be around September/October timeframe. If you have a set of goggles with HDMI input, I recommend purchasing the HDZero VRX now – don't hold off flying HDZero all summer!
Whether you fly HDZero or analog, I'm confident that these will be your favorite set of goggles to reach for.
– On/off sliding switch – be confident that the goggle is on or off at a glance or by feel
– Designed for open source, the new goggle runs Linux. All code for the user interface is new and will be open source
– 90Hz 1080p OLED screens with sliding IPD adjustment and dials for focus adjustment
– By integrating the entire goggle display pipeline with HDZero's fixed-latency video transmission, these goggles achieve 4ms glass-to-glass sub-frame latency with no jitter or dropped frames
– Mounting rails for patch antennas or whatever else you might want to mount
– Recessed front SMA jacks so you don't have to remove antennas when packing the goggle away. Whether you install stubby antennas or TrueRC slide on patches, setup and teardown will be fast and easy
– Three independently addressable fans work in combination to cool the internals and prevent fogging. They are soft mounted to prevent screen vibration and noise
– HDMI input so you can use a ground station receiver, use for simulators, on the go movies, etc…
– HDMI output so you can share your video feed to others
– 3.5mm combination headphone / microphone jack so you can listen to analog or HDMI source audio or use a high-quality microphone for the pit-mic feature
– 3.5mm analog video/audio input for use with ground station inputs
– Analog input solves the vertical jitter problem found in analog OLED goggles today by using a 2D deinterlacer that adds no delay. This might be the best looking analog goggle display, despite it being a digital goggle
– ELRS backpack support so the goggle can automatically follow the channel of the VTX
– Add-on side-mounted analog module bay that accepts most of today's analog modules
– Add-on 2.4Ghz WiFi video streaming module to live steam your flights
– Swappable faceplates to support different shaped faces and prevent light leak
Thank you,
Carl
Update on August 15, 2022
We are nearing the final stages of development. Many final touches have been determined. I have chosen some accessory parts based on user recommendations, and I think you'll like them:
Beta goggle ready to try at August 27th HDZero Team Race event (https://www.multigp.com/races/view/?race=24041/HDZero-Team-Race)
Adding 1080p30 and 540p90 camera options;
PCB assembly is complete and under testing and development
End to end video is working (Camera -> VTX -> Goggle internal VRX -> Goggle OLED display (and HDMI output)
Head strap chosen (see picture)
Power cables chosen (see picture)
Goggle carrying bag chosen (see picture)
Faceplate foam chosen (see picture)
Curved and flat faceplates are included (see picture)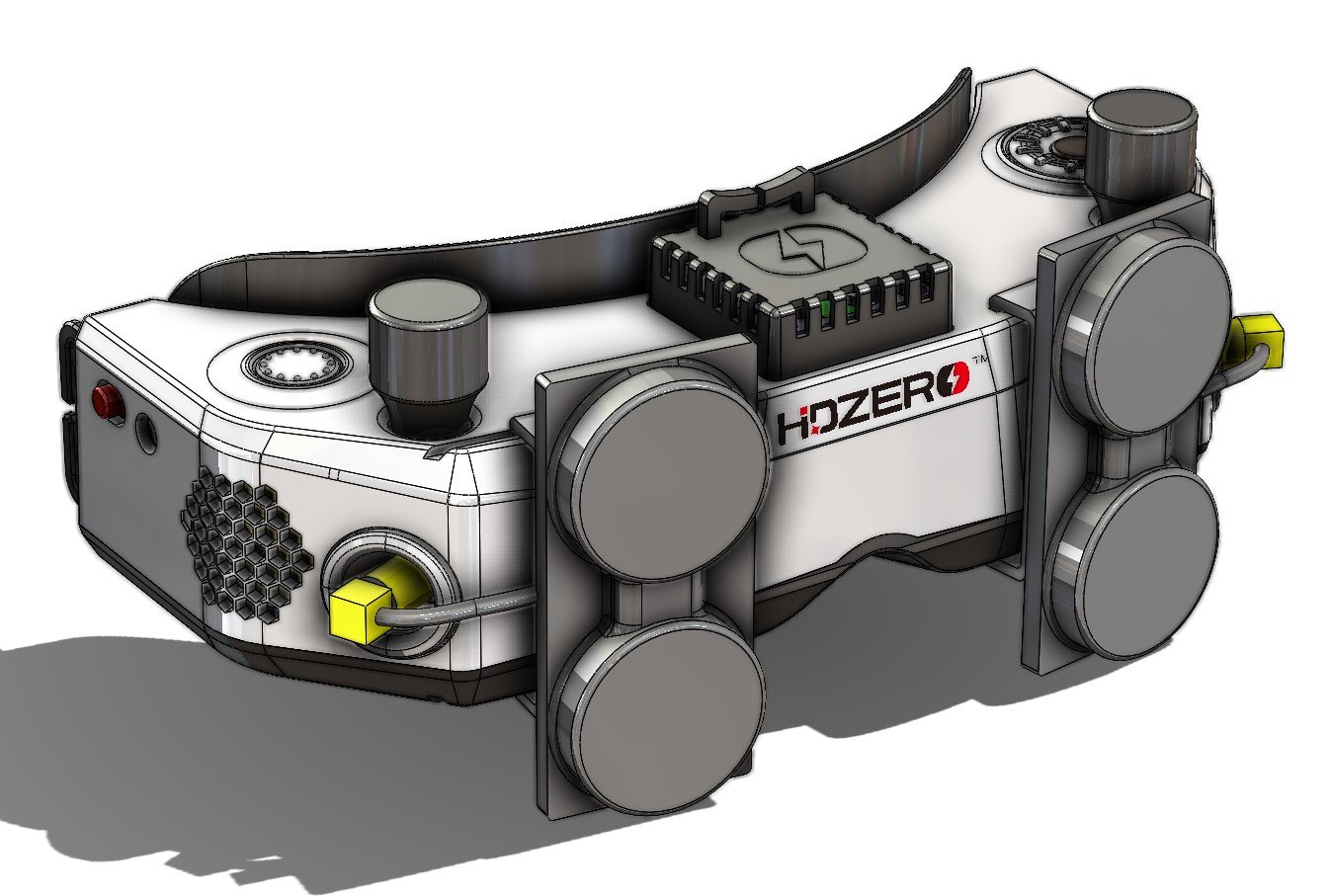 Information about the Open Source on July 12, 2022
I'm happy to announce the official HDZero Open Source Project on GitHub https://github.com/hd-zero
VTX source code is the first code to be released as open source, goggle source code will be released later. We are committed to working with the community to build the best digital video system for everyone. Mechanical CAD data is also included – these products are meant to be reference designs for manufacturers to build from and to allow pilots to customize the product to their needs.
Open source VTX software allows for:
1. Community feature requests, bug reporting, and bug fix pull requests;
2. Manufacturers to make customizations for new VTXs and cameras;
3. Custom control of startup behavior;
4. Processing new commands from MSP like MSP VTX control (a replacement for Smart Audio);
5. Color OSD elements; and
6. Canvas mode (the current OSD is MSP Display Port)
Today, the VTX code is compiled with Keil C (a closed-source IDE), so we need to target a new open source compiler like SDCC.
Thanks for supporting HDZero. I'm excited for what we can build together as more of the project is open sourced.
Information about price drop on January 04, 2023
Hi all,
I am pleased to announce that the HDZero goggle is ready for full mass production with the completion of the beta testing program (100 units) and production pilot run (550 units). Many thanks to beta testers for they have volunteered their time to find bugs and propose new features. Nearly all goggles have shipped to customers: the remaining orders should be delivered in 1-1.5 weeks.
The HDZero Goggle is an amazing collaboration between the community and HDZero team. I am thankful for all the help and encouragement from the community. HDZero Goggle would not exist without this community support! I am proud that this is the best product I have made in my 25-year career. Please check if current HDZero Goggle owners are satisfied, and stop reading this post if they don't love it! I am so humbled by the positive response I see from customers so far.

Some background about myself and my company: I immigrated to the United States in 2001 and have been an US citizen for 12 years. Divimath is an American company based in California with a factory in Shenzhen, and R&D office in Xi'an, China. We started the near zero latency video transceiver project in 2016. To my knowledge, HDZero is the only American-owned digital FPV system.

My plan is to collect a large amount pre-orders which will help lower the manufacturing cost. Please support us if you like the goggle and/or HDZero video link.
In order to help pilots afford this goggle and for HDZero to grow quickly at the start of the year, I've decided to lower the price of the goggle to $495 (sold directly from HD-Zero shop). This is a special promotional price, and is only available for 1 month. Current goggle customers will receive store credit for the price difference.
Promotion period: Jan 4, 2023 to Feb 4, 2023
Customers who bought HDZero Goggle at $599.99 will receive a $105 store credit,
Beta testers who bought HDZero Goggle at 25% discount will receive a $79 store credit
Orders from USA customers will be shipped no later than the second day from California
Orders from international regions will be shipped no later than the second day from China. We can help on custom declaration.
First 300 USA orders are ready to ship from California starting January 23rd
First 100 international orders are ready to ship from China starting January 16th
Orders after this will ship from the factory in order received. Note that this batch will be delivered later, starting mid-March

There are also some bundles with the goggle to save even more:
The HDZero goggle = $495
Expansion Module V1 (Analog only) = $29.99
HDZero Nano 90 Camera (With 80 MIPI cable) = $64.99
Race bundle: Nano90 Camera + 80mm MIPI cable + Race V2 VTX + Goggle = $599.99 (Save $30)
Freestyle bundle: Micro V2 Camera+120mm MIPI cable + Freestyle VTX + Antenna + Goggle = $619.99 (Save $35)
The above items are available to (pre-)order at www.hd-zero.com/shop now. I would suggest you watch review videos from your favorite YouTuber that just released before making a decision.
Here is warranty and repair policy for the goggle:
Warranty: The HDZero Goggle can be exchanged for a new unit within 7 days for any manufacturing defects if returned in new condition. The optic module will be warrantied for repair for 6 months, and all other components, for 2 years.
Repair Centers: Divimath has setup repair centers in
Germany for EU region
USA for North American region
China for Asian region
Thank you
Carl