Lumenier ALPHA AIO Flight Controller – F4 FC with OSD and 30A BLHeli_32 ESC
Lumenier released ALPHA AIO Flight Controller after the sucessful Lumenier F4 AIO FC. It is F4 FC, 4in1 30A BLHeli_32 bit ESCs, Betaflight OSD, PDB, 5v 3A BEC and Current Sensor on one board and with total weight only 16g. Together with FC you'll find the newest state of the art 30A BLHELI_32 ESC's that can be configured or firmware updated via betaflight configurator.
Some things that this AIO FC is missing: microSD card slot for BlackBox (but there is some unknown size flash chip for it) and additional UART pads for telemetry and SmartAudio output. Maybe they are under the heatshrink…?
Update 2017-09-27: Yes, additional UART pads (TX,RX) are under the heatshrink. Also I think there are Buzzer pads also.
This Lumenier ALPHA AIO FC look very similar to the Racerstar Tattoo F4 AIO FC . Even the writings on the back are the same. It leads to the thoughts that the same design might be used…
Update (2017-10-20): Actually Lumenier ALPHA AIO and Racerstar TattoF4 AIO appears to be just rebranded Sunrise Siskin BLHeli_32 30A AIO FC.
For those who have bought Lumenier ALPHA AIO and have no user manual nor know how to connect GPS (RX6 TX6), buzzer an LED's, take a look at the connection diagram that works for all of these FC boards: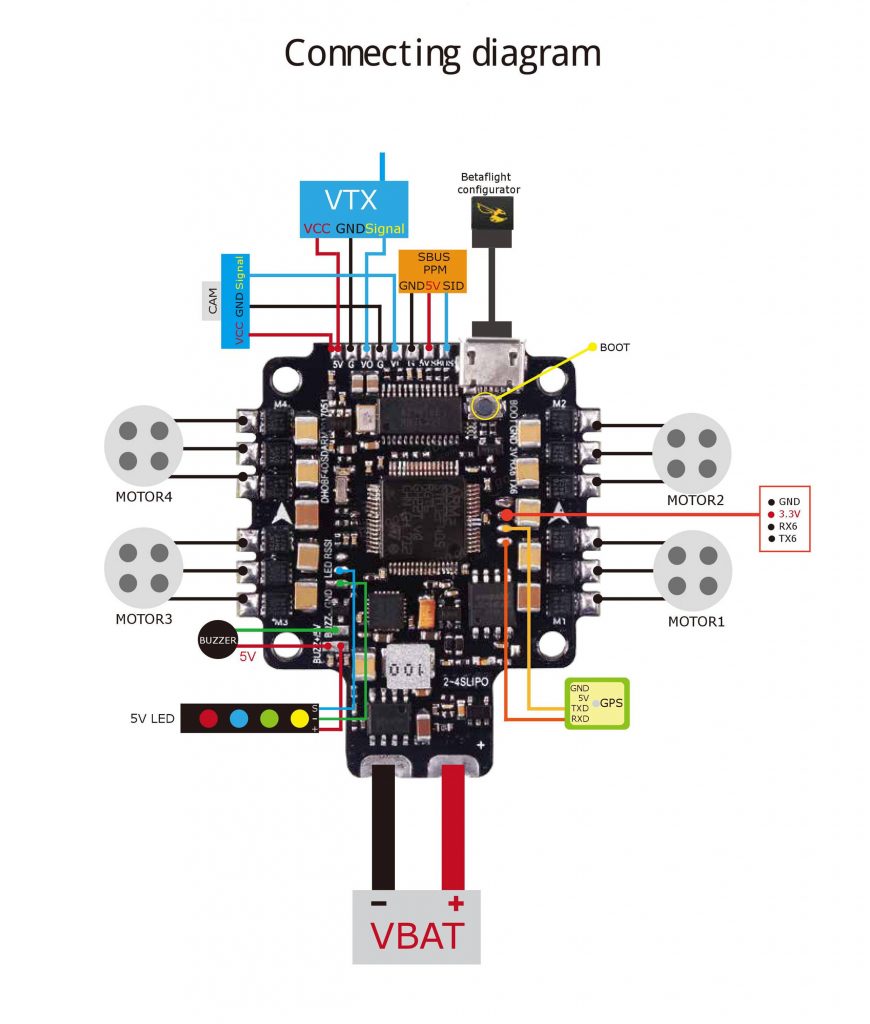 Update 2018-02-08: Another rebrand of this board appeared on the HobbyKing website – Turnigy MultiStar 30A BLHeli-32 4-in-1 Race Spec AIO. (Thanks to the Scott for the link)
Boards can be purchased:
Lumenier ALPHA AIO @ GetFPV: http://www.getfpv.com/lumenier-alpha-aio-flight-controller-f4-fc-4x-30a-blheli-32-esc-osd-pdb-curr.html
Turnigy Multistar AIO @ Hobbyking: https://hobbyking.com/en_us/turnigy-multistar-30a-blheli-32-4-in-1-race-spec-esc-w-f4-fc-osd-bec-2-4s.html
Racerstar Tattoo AIO @Banggood: https://www.banggood.com/Racerstar-TattooF4S-30A-BLHELI_32-4in1-…-p-1184869.html
Sunrise Siskin AIO @TeamBlackSheep: http://team-blacksheep.com/products/product:1808
Specifications:
BLHELI_32 4in1 30A+F4+OSD
Con.current: 30A
Peak current(10s): 35A
SBEC: 3A/5V
F4+OSD+BEC+CURRENT
Input: 2-4S lipo
Output voltage: 5V/2A
STM32F4 CPU
Black box
ICM-MPU6000 Accelerometers and Gyroscopes
MicroUSB socket
Weight: 16g
Size(PCB): 36*36mm
BetaFlight software target is VGOODHF4 for 3.1.7 or below. For BetaFlight 3.2 and higher use the LUXF4OSD
Includes:
1x 30A 4in1 ESC built-in F4 flight controller
1x 16AWG Power Cable
1x Plastic spacers (M3x 5mm and 3mm tall) and screws (M3x20)