Radiomaster has released new radio called Boxer. This radio looks to be an evolution of the compact TX12 radio and stands somewhere in between TX12 and TX16s radios.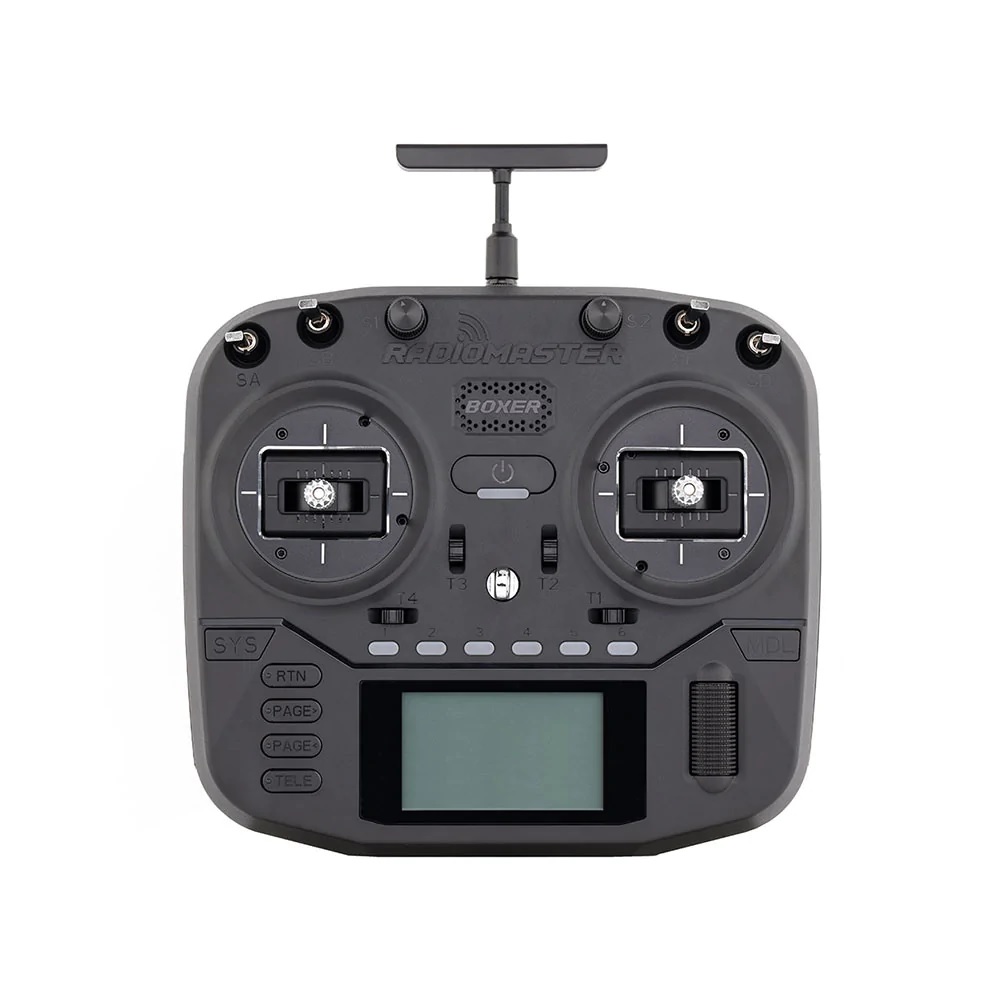 Radiomaster Boxer is wider (235mm) than Radiomaster TX16s radio (183mm), but is significantly shorter than TX16s, thus making it smaller and lighter radio. Design wise it has many similarities with TBS Mambo radio, probably could be called inspired by it.
On the top side of the radio you will find the new latching push switch and momentary switch. Just like on the TBS Mamba radio.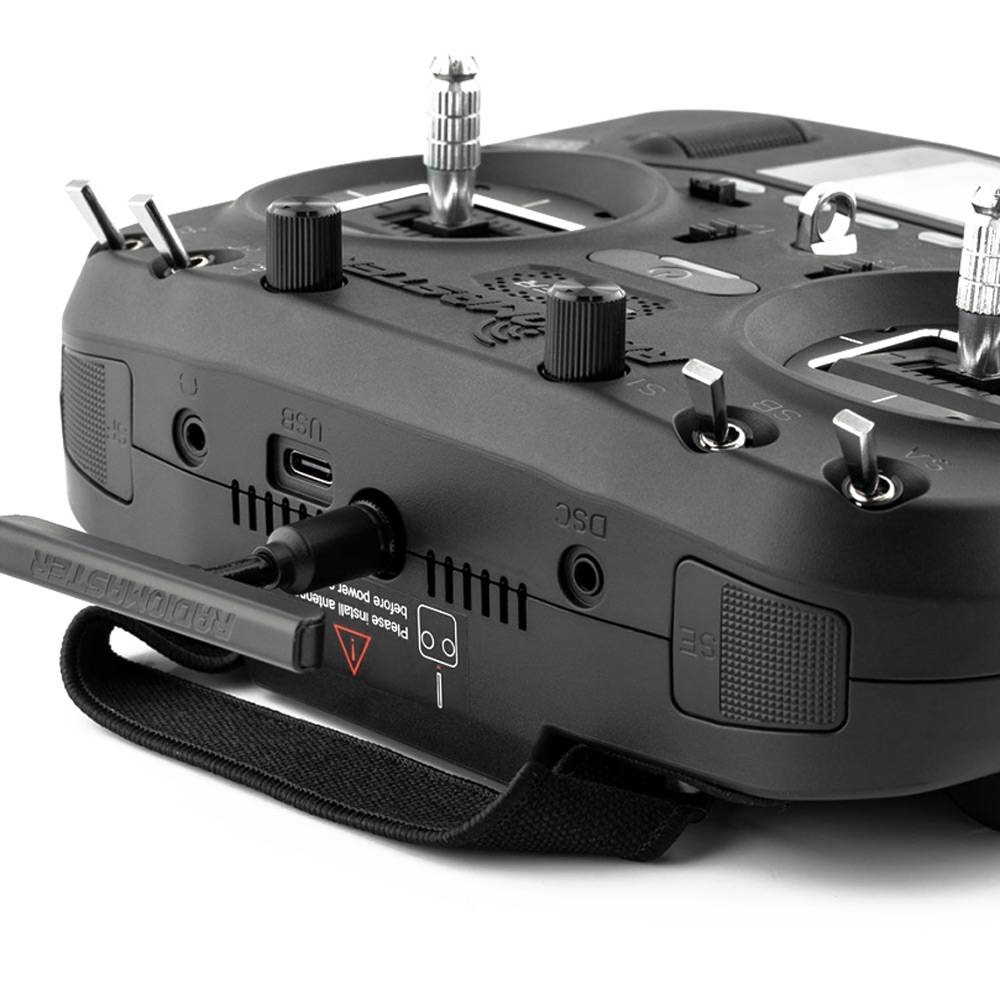 Boxer has T-shape bendable and removable antenna.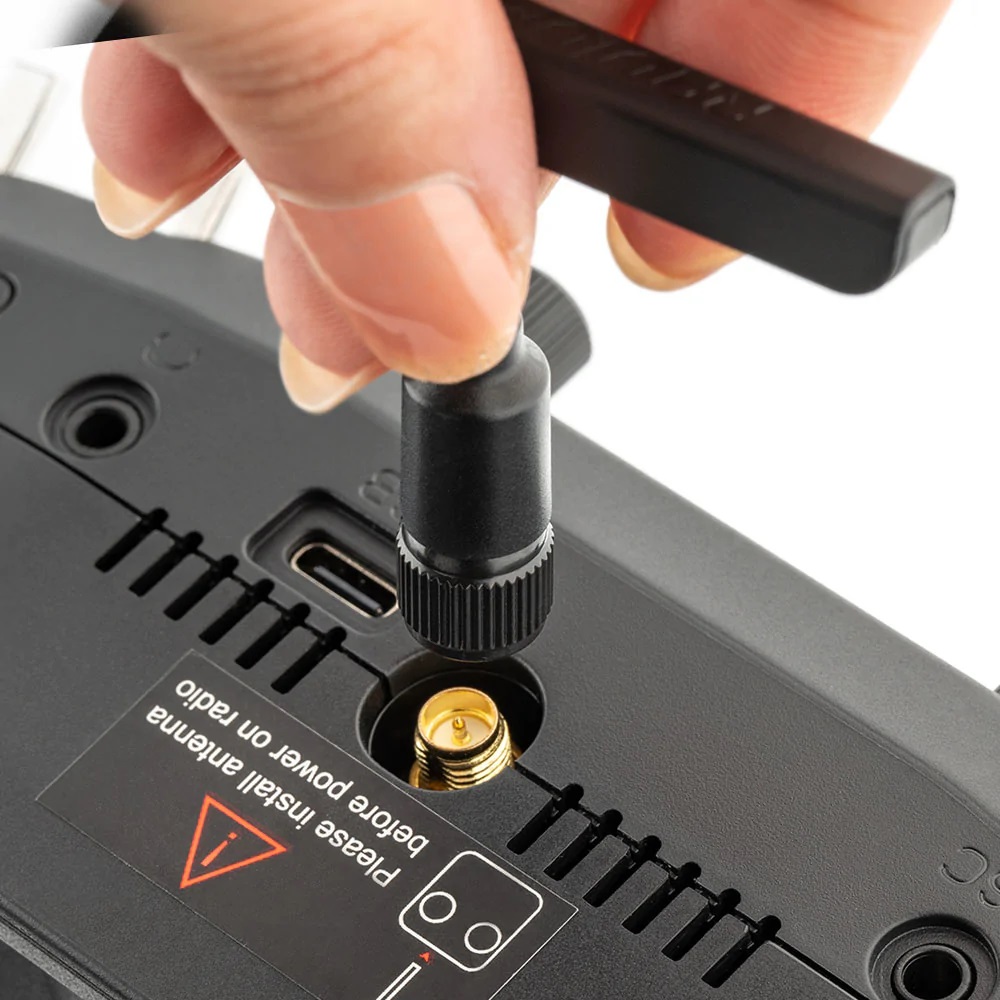 Radiomaster Boxer has full size easy adjustable gimbals. They can be upgraded with the high quality AG01 gimbals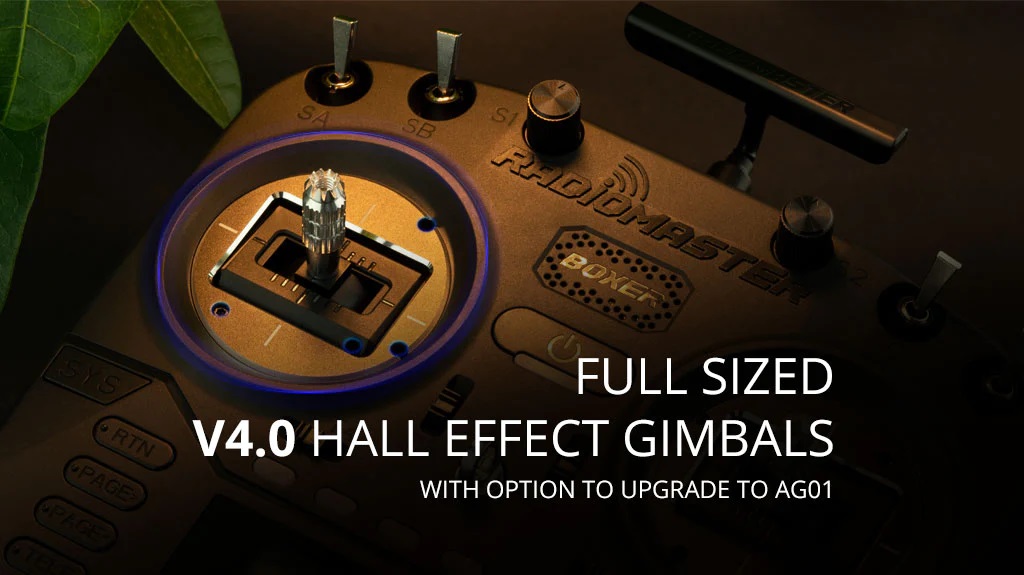 6 position switches were moved from the top to the bottom part, right over the LCD screen. By the way it was Jumper who introduced them first.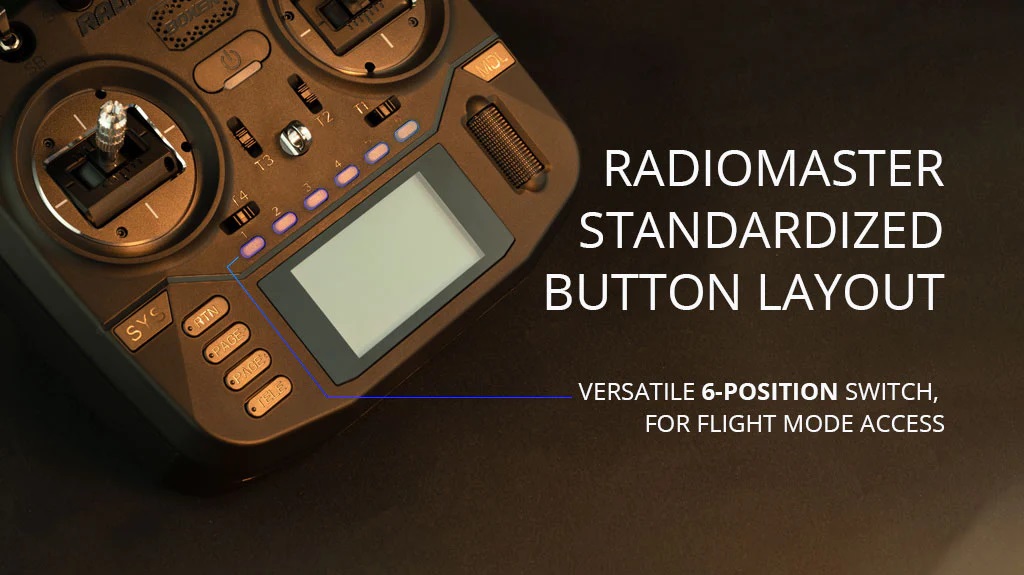 Boxer can be charged by USB-C cable with a charger supporting QC3.0 fast charging with up to 2.0A.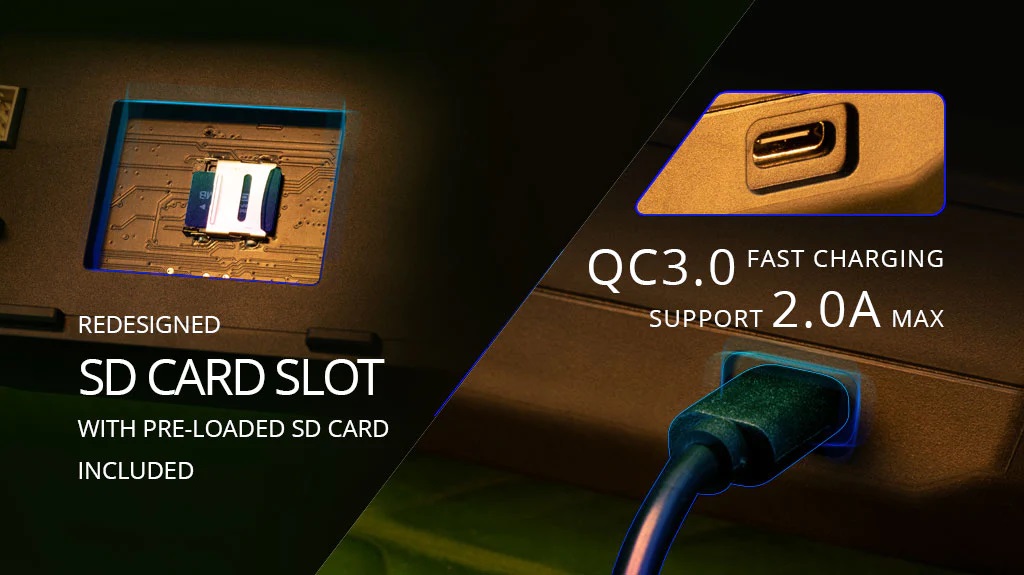 Radiomaster Boxer also has standard JR type bay for full size external modules.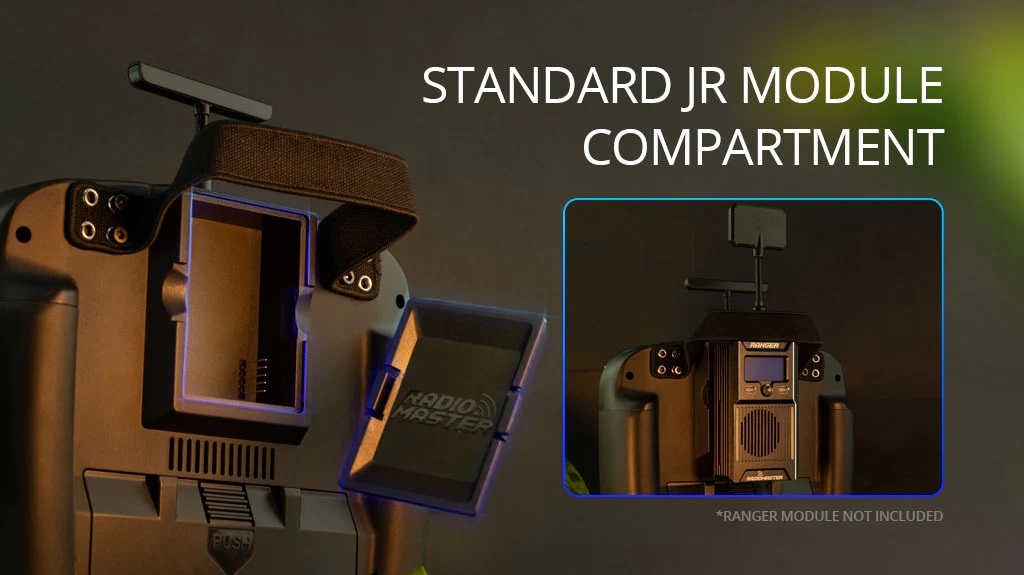 Internal ExpressLRS module provides up to 1W of RF output and is actively cooled with internal cooling fan.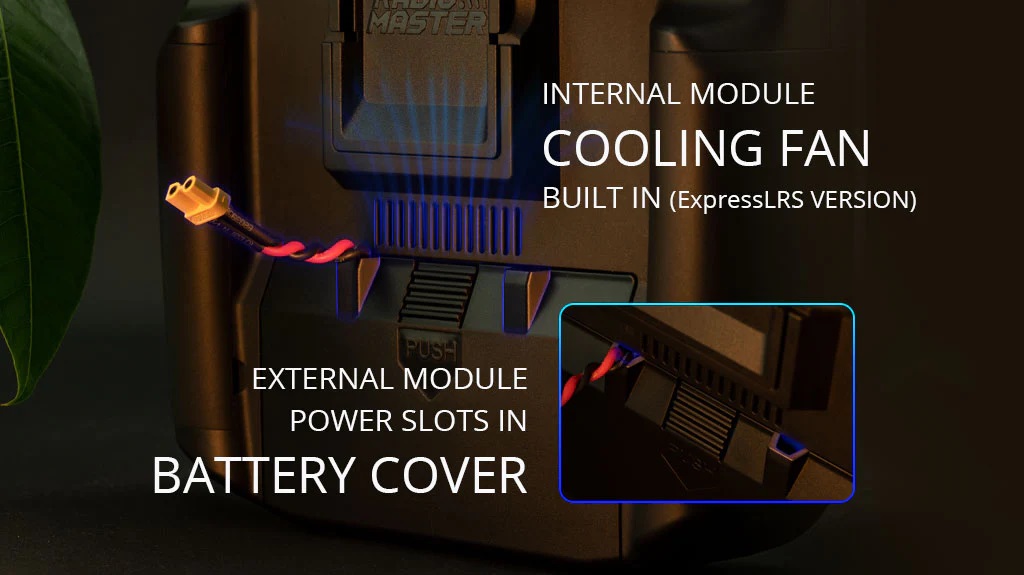 Radiomaster Boxer has never seen before soft fabric handle for weight and space savings.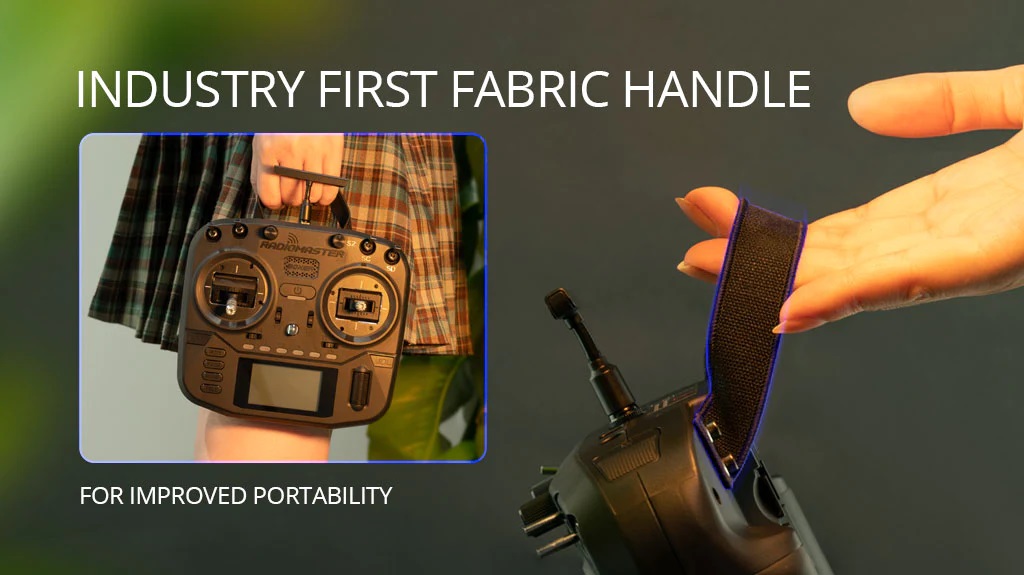 Radiomaster Boxer can be purchased @
RadioMaster: https://www.radiomasterrc.com/products/boxer-radio-controller-m2
GetFPV: https://www.getfpv.com/radiomaster-boxer-radio-transmitter-4-in-1-multi-protocol-cc2500-elrs-2-ghz.html
Features
Available with built-in ExpressLRS or 4-in-1/CC2500 MPM RF modules
Featuring a powerful STM32VGT6 processor with 1MB RAM
Preinstalled EdgeTX firmware
Internal ELRS module capable of 1,000Hz refresh rate
Adjustable ELRS RF output (30dBm max FCC or 20dBm Max EU LBT)
4-in-1 or CC2500 only version capable of up to 20dBm RF output
QC3.0 fast charging support 2.0A MAX
Compact design with excellent ergonomics
New low-profile latching SE switch and momentary SF switch
Oversized battery compartment- Space for a 2S 6200mAh pack, up to 20-hour duration (Batteries not included)
Full sized V4.0 Hall effect gimbals as standard, upgradable to AG01 CNC Hall effect gimbals
Standard JR module compartment
Internal module cooling fan built in (ELRS version)
RadioMaster standardized button layout
Versatile 6-position switch for flight mode access
Adjustable and Removable T-shape Antenna
Industry first fabric handle for improved portability
Changeable, ergonomic grips
Redesigned SD card slot with pre-loaded SD card included
External module power slots in battery cover
RadioMaster signature carry case and gimbal protector are included as standard to ensure your radio stays safe while on the move
Specification
Item: BOXER Radio
Size: 235*178*77mm
Weight: 532.5g
Frequency: 2.400GHz-2.480GHz
Internal RF Options: CC2500 multi-protocol / 4-in-1 multi-protocol / ELRS 2.4GHz
Supported protocols: Module dependent
Transmitting Power CC2500 and 4IN1: Max 20dBm
Transmitting Power ExpressLRS: Max 30dBm (international) / Max 20dBm (EU LBT)
Cooling fan: Built in (ELRS version)
Voltage Range: 6.6-8.4V DC
Radio Firmware: EdgeTX (Transmitter) / Multi-Module (RF module) / ELRS
Channels: Max 16 channels (Receiver dependent)
Battery: 7.4V 2-cell Lithium-Polymer / Two 3.7V 18650 Lithium-Ion cells (batteries not included)
Display: 128*64 Monochrome LCD display
Gimbal: High precision 4.0 Hall gimbals as standard (AG01 Optional)
External module: JR/FrSKY/Crossfire compatible
Upgrade Method: USB/SD card & EdgeTX Companion PC software
Radiomaster Boxer Radio User Manual: https://cdn.shopify.com/s/…/files/Boxer_Radio_User_Manual.pdf