Rumors: Foxeer is preparing to release Legend 3 and GoPro Session type cameras
Foxeer is going to release their variant of Session cubic type camera. No official release date nor any official details. We have only a sketch picture of the outlook of this camera: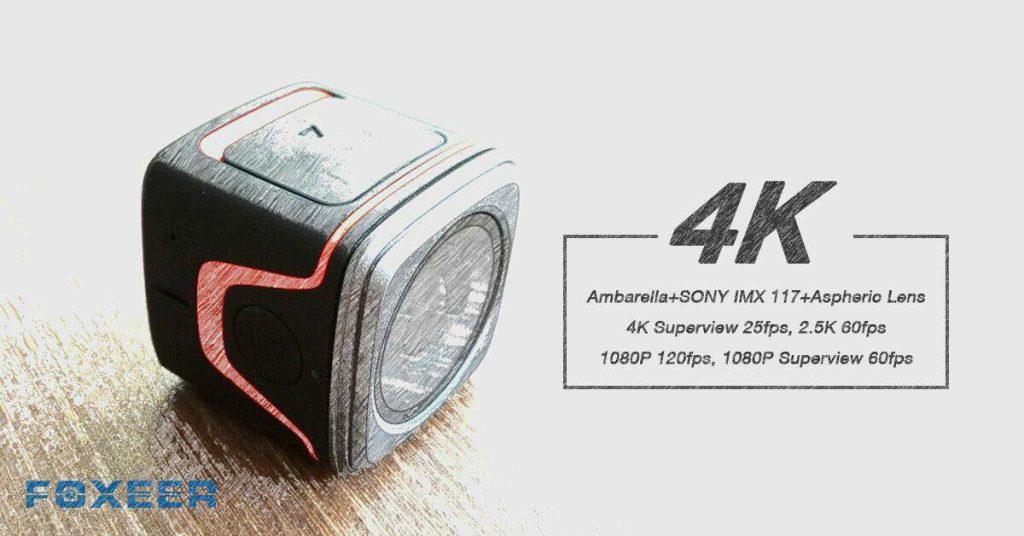 We see, that cubic camera will be based on Ambarella A12 chip + SonyIMX 117 sensor + Aspheric lens. No information on FOV size. But it is going to be a real 4K camera (Runcam 3 action camera will be 1080x60fps only). Also will have a SuperView capability.  Looks like we have a real GoPro competitor.
And the new Foxeer Legend 3 is not far away. It will have the same Legend form factor, but this time it is going to be 4K camera. Here is picture of Legend 3: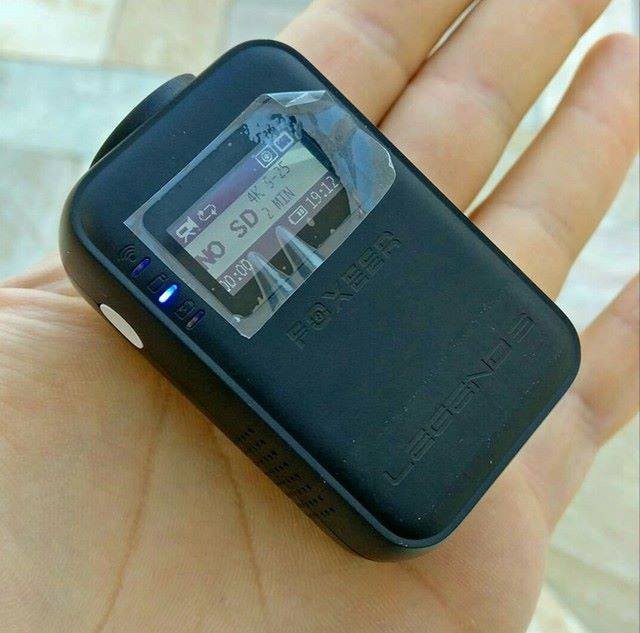 EDIT(2017-02-21): There is some footage on official Foxeer Youtube channel, that turns out to be filmed with Foxeer Legend 3
(video was deleted)
Also we have got more details about new Foxeer (goPro Session type) action camera:
Ambrella A12
Sony IMX117
7G 155° F2.8
OLED
Wifi+Bluetooth
microUSB HDMI
stereo Mic
1100mAh unremovable battery
EIS (electronic image stabilization)
40*40*40mm
2.5K/60fps, superview 4K/25fps, 1080P/120fps, 180P/60fps superview
IP64 waterproof
Lens protection glass
ISO: 100 200 400 800 1600
Shutter speed for pic: 1/30~60
EV comp: -2.0~2.0
Price estimated around 150$ and april 2017 for release date. Camera preliminary name – Foxeer Box .
Newest rendered picture: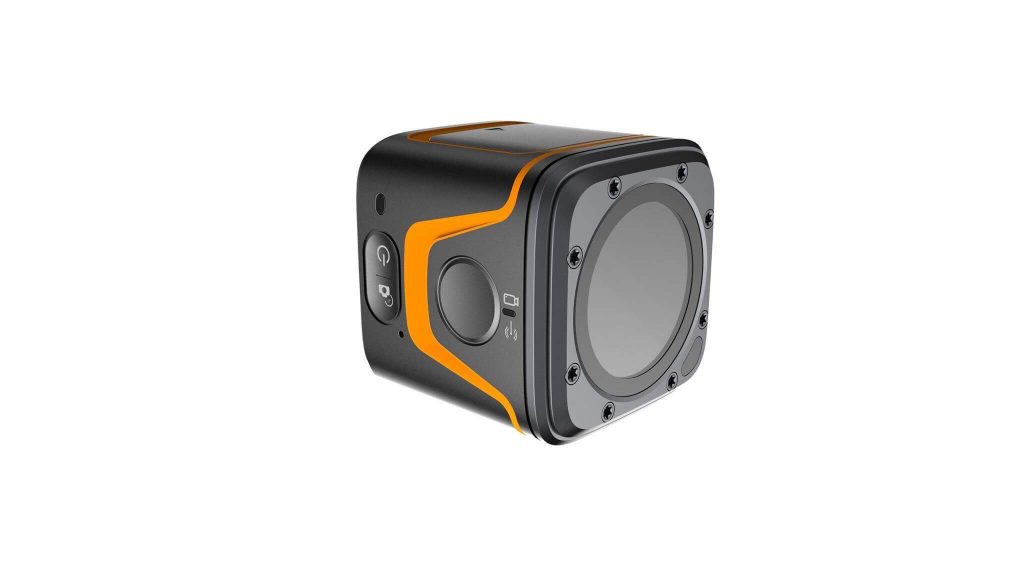 EDIT (2017-02-22): New picture of Foxeer Legend 3: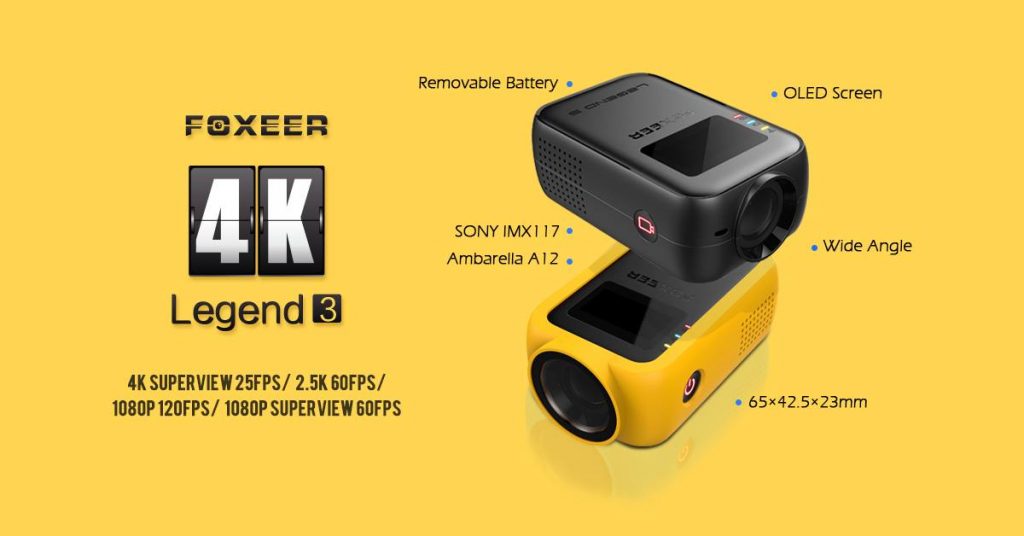 EDIT (2017-03-15): Foxeer Box 4K camera was listed for only $100 @ Gearbest. Check the availability here: http://www.gearbest.com/camera/pp_617166.html
EDIT (2017-03-17): Foxeer Box 4K camera estimated price changed to $159.99 @ Gearbest. More info available:
Specifications
Ambrella A12 imaging processor;
Sony IMX117 CMOS image sensor;
Electronic image stabilization (EIS);
7G 155° F2.8 wide angle lens;
4K/25fps, 4K/25fps and 1080P/120fps video resolutions;
Super view mode;
Stereo microphone;
Integrated 1100mAh battery;
Wi-Fi and Bluetooth wireless connections;
Micro USB and micro HDMI ports;
Lens protection glass;
ISO speed: 100 – 1600;
Shutter speed for pic: 1/30~60;
IP64 waterproof;
size of 40x40x40mm.
So the size is different than GoPro Session size (33 x 33 x 31.3 mm) and GoPro type camera accessories will be incompatible . That is a bit dissapointing. The Foxeer Box 4k is IP64 rated, so it can not worry about flying in the tropical rain 🙂
Look at the 1080p 120fps slow motion video:
And some flight footage:
Flight  footage in 4K
EDIT (2017-03-22): Foxeer BOX 4K was listed on Banggood:
http://www.banggood.com/FOXEER-Box-4K-CMOS-FOV-155-Degree-Micro-Bluetooth-WiFi-Camera-Mini-FPV-Sport-Action-Cam-p-1136301.html
Supports up to 4K 30fps also 1080P resolution with 120fps. Has Electronic image stabilisation and SuperVision mode (some kind of WDR)
Description :
Brand Name : Foxeer
Item Name : Box 4K Camera
Sensor: IMX117 CMOS
Lens: 155 degree FOV
Connectivity: WiFi + Bluetooth
Interface: micro USB HDMI
Lens protection glass: yes
Stereo microphone: yes
Display: OLED
Waterproof level: IP64
Image stabilization: EIS
Video format: H.264 codec,mp4
Resolution:4K30fps/2.5K60fps/1080P120fps/720P240fps/4K25fps SuperVision/2.7K30fps SuperVision/1080P60fps SuperVision/720P120fps
ISO range: Auto,100, 200, 400, 800, 1600
Shutter speed: 1/30 – 1/60
EV compensation: -2.0 to 2.0
Size : 4 x 4 x 4cm
Battery: 1100Mah (non-removable)
Weight : 70g
Package Included :
1 x Foxeer Box 4K Camera
Also Foxeer Legend 3 was listed on Banggood:
http://www.banggood.com/Foxeer-Legend-3-UHD-4K-FOV-155-Degree-Wide-Angle-WIFI-FPV-Camera-with-OLED-Sport-Action-Cam-p-1136300.html
Also on the Surveilzone:
http://www.surveilzone.com/-Foxeer-Legend-3-4K-SuperVision-OLED-WIFI-Action-Camera-g-1679
Description : 
General
Brand: Foxeer
Item Name: Legend 3 WIFI FPV Camera
Camera Size: 67 X 42.5 X 23mm
Weight: 67g (with Battery)
Main Chip: Ambarella A12S75
Image Sensor: Sony IMX117 1/2.3 Inch 12MP
ISO : AUTO,100, 200, 400, 800, 1600
Lens: F2.8 ((includes 1 x aspherical glass lens))
Angle of Field: FOV 155 degree
TV Output: NTSC/PAL
Resolution:
4K30fps/2.5K60fps/1080P120fps/720P240fps/4K25fps SuperVision/2.7K30fps SuperVision/1080P60fps SuperVision/720P120fps SuperVision
Focal Length: 2.6+/-0.2mm
Color: Black / Yellow
Video
Video Mode: Normal/Time-lapse/Loop record
Resolution:4K (16:9)2160(4:3)2.7K(4:3)2.7K(16:9)2.5K(16:9)1440(4:3)1080(16:9)960 (4:3)720(4:3)
Frame rate: 3025
Time interval: 1,2,5,10,30,60s
Loop Record:
Record continuous loop video recording self-coverage
Video loop length: can be set to 2min / 3min / 5min
Video Format: H.264 codec,mp4PhotoPhoto resolution:
16M: 4608×3456 4:3
14M: 4254×3264 4:3
12M: 4000×3000 4:3
8.3M: 3840×2160 16:9
5M: 2560×1920 4:3
3M: 2048×1536 4:3
Photo Mode: Normal/Timer/Auto/Continuous
Timer: Countdown timer 2/3/5/10/30/60s
Auto: Press the shutter to set the time interval (3s/5s/10s/30s/60s)
Continuous: Keep pressing shutter, photograph at 3s/5s/10s/ speed
Time exposure: apply only to single photo
Shutter setting: 1/30s,1s,2s,5s,10,30s,60sEISBuilt-in 3 axis gyroscope and 3 axis accelerometer. Uses a cross-border compensation algorithm to compensate the motion change to produce stable video quality
Resolutions supported:1080p
Fps:60503025AudioBuilt in HiFi microphone,4800Hz sampling rate,AAC compressionInterfacesMicroUSB,MicroHDMIStorage CardSupport 16-128GB microSD card (not included)Battery5V/1A 1000mAh lithium batteryOthersOperate Temperature: -20 – 55 degree centigrade
Operate Humidity: 15-85%RH
Storage Temperatur:-20 – 70 degree centigrade
Waterproof: Up to 40 meters with the waterproof case.
Bluetooth: Support Bluetooth 4.0,compatible with Bluetooth 2.0
G-Sensor: Built-in 6-axis gyroscopic, provides precise acceleration and angular rate measurement.
Indicator Light: Bicolor power indicator(blue,green),a red status indicator.
Focal length: 2.6+/-0.2mm
Max code rate: 60Mbps
Features:
Ambarella A12S75
Sony IMX117 1/2.3 Inch sensor
155 degrees Ultra Wide Angle Lens
Built-in 3 axis gyroscope and 3 axis accelerometer
1000mAh battery provides longer service life
Package Included:
1 X Legend 3 Camera
1 X Battery
1 X MicroUSB to USB Cable
1 X TV-Out Cable
1 X Engligh Manual