RunCam Racer 3 FPV camera
RunCam Racer camera has been upgraded. Racer 3 now has 1000TVL Super WDR CMOS Sensor, updated firmware and camera case. The other specs have not changed it has same 6ms latency, joystic/UART control, Super WDR, 160° and 145° FOV width lenses.
Firmware updatable!
RunCam Racer 3
firmware can be easily updated from
SpeedyBee
app. All you need is to connect
Tx
&
Rx
pads to your flight controller, plug in the
SpeedyBee
Bluetooth Module (or OTG cable for Android), launch the
SpeedyBee
app and update the firmware.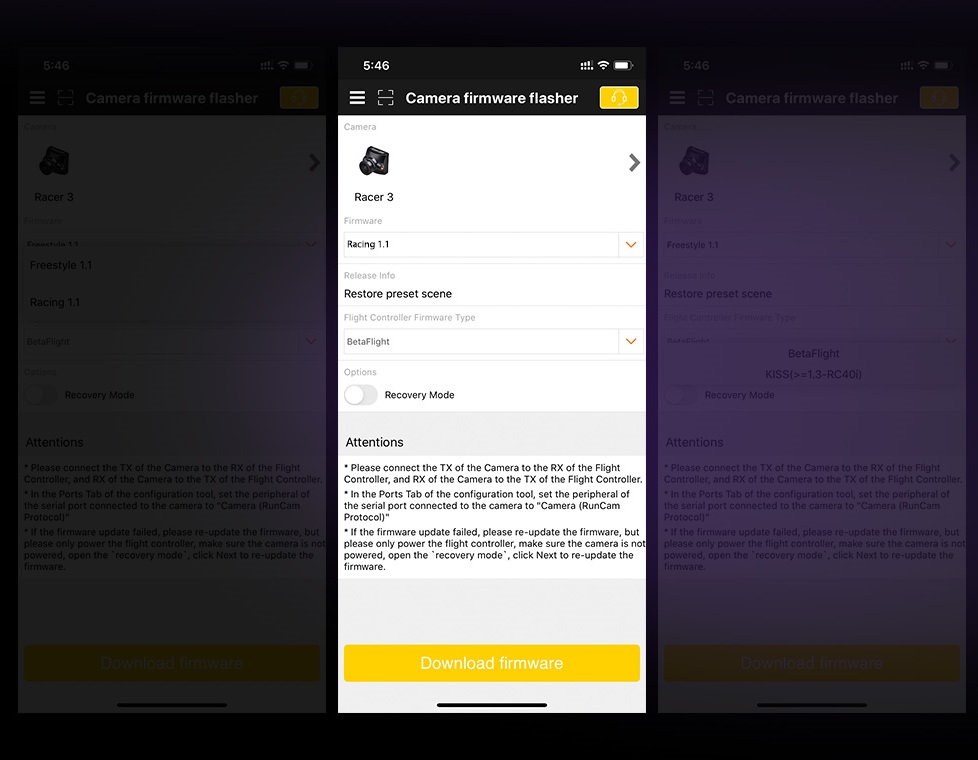 The winner of the 2019 World Drone Racing Championship, Korean pilot Changhyeon Kang was flying with this camera. Look at the recording of his winning flight:
Available @
Specifications:
Model: RunCam Racer 3
Image Sensor: Super WDR CMOS Sensor
Horizontal Resolution: 1000TVL
Lens:1.8mm – FOV 160°, 2.1mm – FOV 145°
Screen Format: 4:3 / Widescreen Switchable
Signal System: NTSC / PAL Switchable
Mirror/Flip: Available
Integrated OSD: Yes
One Touch Scene Setting: Personal / Lightrax / Darkness
S/N Ratio: > 50dB
Electronic Shutter Speed: Auto
Min. Illumination: 0.01Lux@1.2F
WDR: Super WDR
Day/Night: Auto
Menu Control: Joystick Control / UART Control Switchable
Power: DC 5-36V
Current: 110mA @ 5V / 40mA @ 12V
Housing Material: ABS
Net Weight: 5.5g
Dimensions: 19x9x18mm