Review: BetaFPV Meteor65 brushless whoop
Meteor65 is the newest and the most advanced brushless whoop from BetaFPV. It has the lightest F4 1S flight controller, lightest 65mm frame and upgraded 0802 size motors. Let's look at the Meteor65 in details.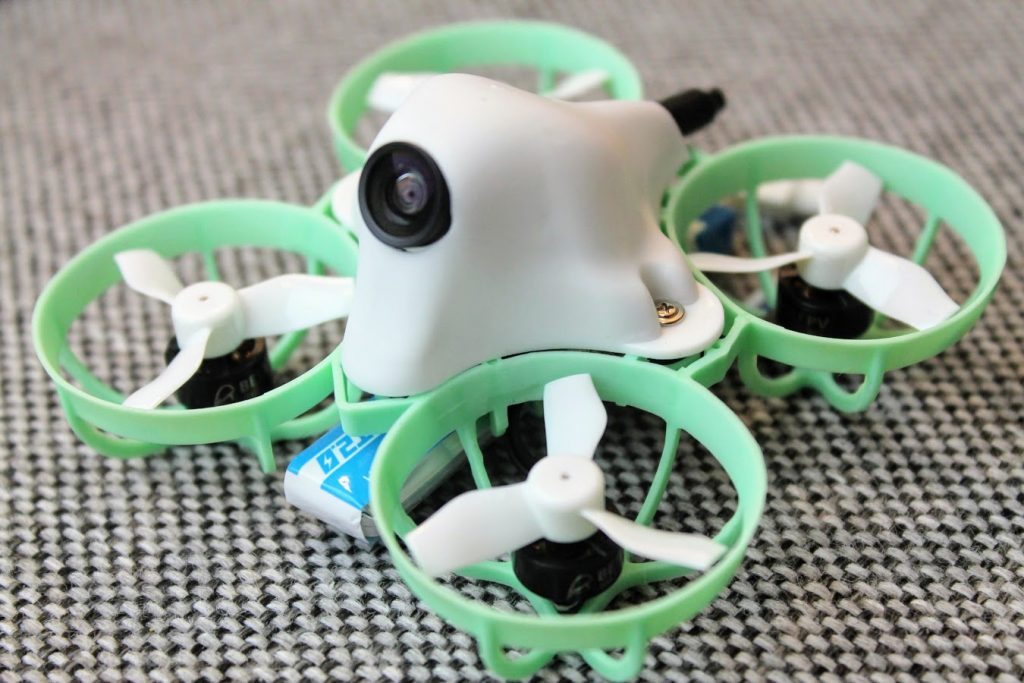 Flight Controller
The heart of the Meteor65 is BetaFPV F4 1S V2.1 Brushless Flight Controller.
Specification
FC
CPU: F4 STM32F411CEU6 ( 100MHZ )
Gyro: MPU-6000 accelerometer / gyroscope (SPI connection)
Size: 29mm x 29mm, fully compatible with the whoop frame in the current market
Firmware version: Frsky / Futaba: Betaflight MATEKF411RX (MK41R) , DSMX: Betaflight MATEKF411
OSD: Built-in BetaFlight OSD (STM32 controls OSD chip over SPI in DMA mode)
Power Cable: 55mm, with BT2.0 connector
Weight: 2.69g
ESC
Power supply: 1S
Current: 5A continuous and peak 6A (3 seconds)
Support BLHeliSuite, BLHeli Configurator, JESC Configurator
Factory firmware: O_L_5_REV16_6.HEX (later versions O_H_5_REV16_6.HEX)
Signal Support: Dshot150, Dshot300, Dshot600, Oneshot125, Multishot, PWM
BetaFPV F4 1S V2.1 is one of the lightest brushless whoop flight controllers, with the weight of only 2.69g. It comes in three options: with integrated FrSky/Futaba, DSM or no RX.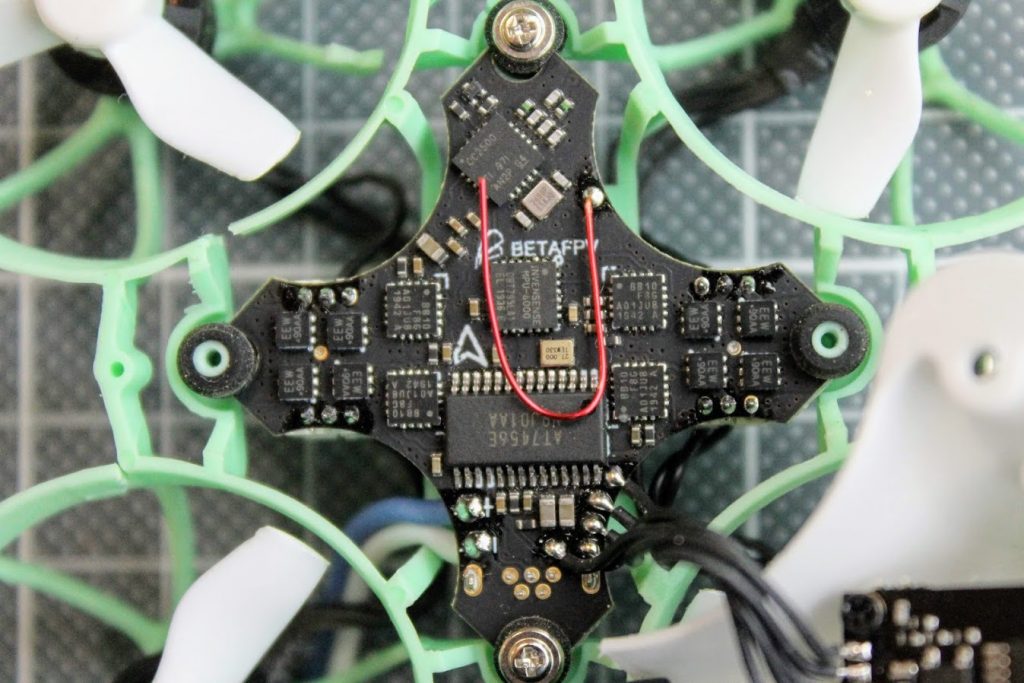 Note that this particular BetaFPV F4 1S board has Silabs EFM8BB10 ("L" type) ESC MCU. Latest batches have upgraded EFM8BB21 ("H" type) MCU. Boards with "L" type BLHeli_S firmware have lower processing power and will work only with the lower DSHOT150 protocol reliably using RPM filtering. Read more about it below.
Motors
Meteor65 is powered by BetaFPV 0802 19500KV or 22000KV motors.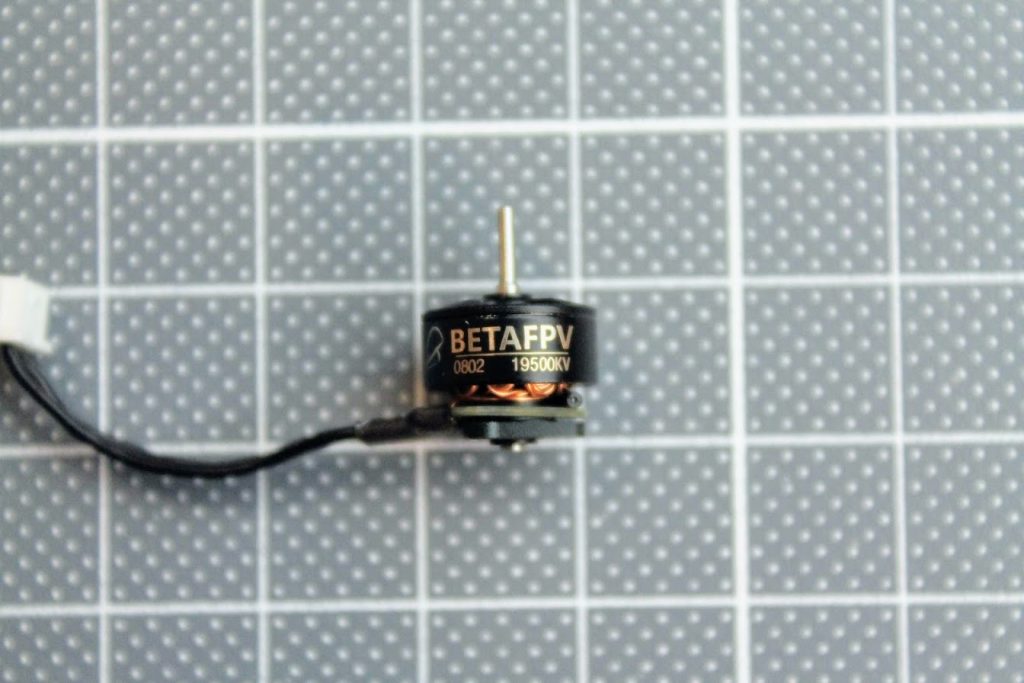 19500KV motors will give you more flight time than 22000KV motors, but 22000KV motors are more agressive and faster. I would recommend to choose 19500KV motors as they are fast enough, unless you need a brushless whoop for extreme racing and you are fine with flight times less <2min, then choose 22000KV option.
BetaFPV 0802 19500KV motors.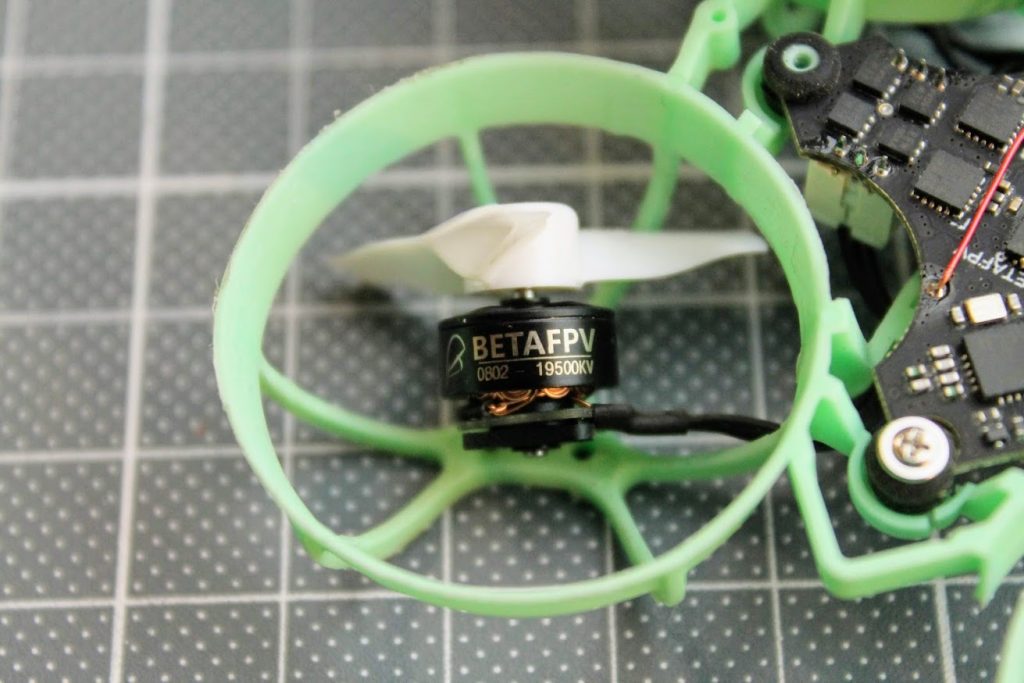 22000KV/19500KV 0802 motors have ball bearings instead of the brass bushings. Motors with linear ball bearings generally run smoother than with brass bushings. Also, the motors are more durable and their lifespan is longer.
Motor wires are soldered to the small PCB, which allows you easy soldering of the replacement wires.
BetaFPV 0802 motors weight only 2.1g each.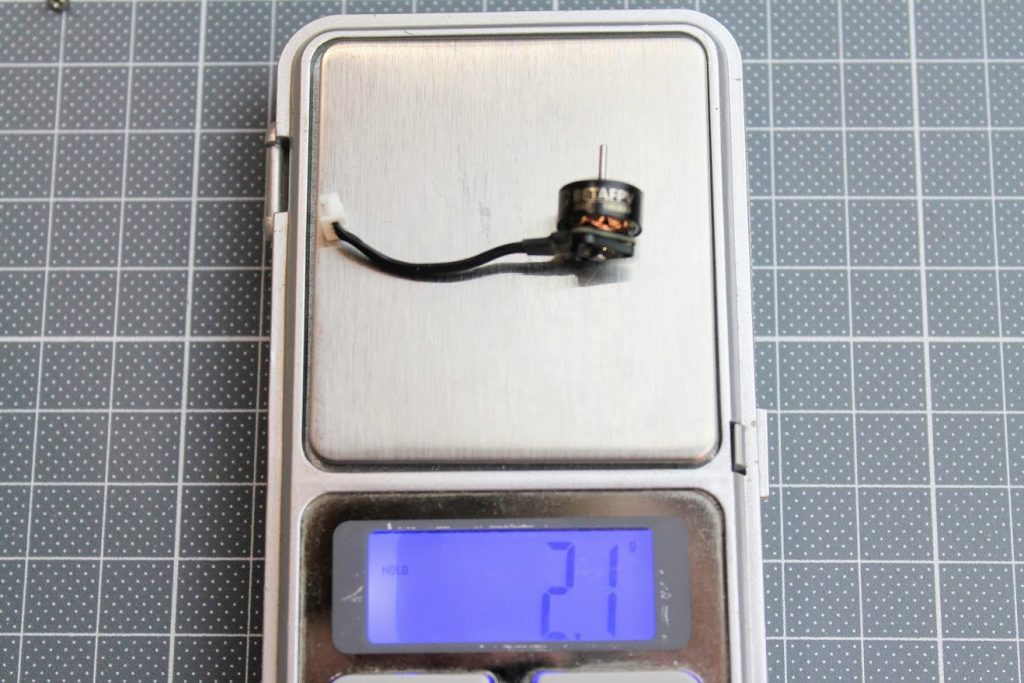 Camera and VTX
FPV part consists of M01 AIO Camera and VTX.
Specification
Item: M01 Camera AIO VTX
TVL: 600TVL
FOV: H:120°/V:100°
Video System: NTSC
Horizontal Resolution: 640X480, 1/4" sensor
VTX Output power: 25mW
Supply Voltage: 5V
Size: 18*14*4.5mm(VTX)
Weight: 3g
Antenna: RG178 Antenna
Frequency: 5.8GHz 6 bands 37 channels, with Raceband: 5362~5945MHz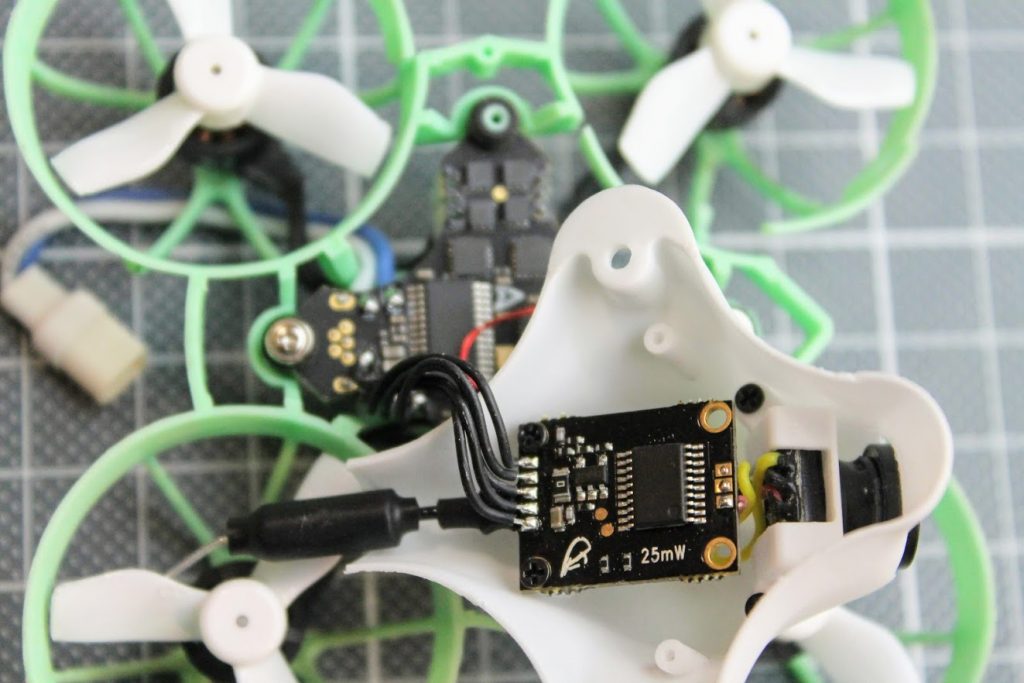 BetaFPV M01 VTX pinout.
Frame
The frame of the Meteor65 is one of the lightest 65mm frames in the market. It was completely redesigned from Beta65 Pro frame.
Battery slot is now located more in the drone's gravity center and the size of is reduced.
Propeller ducts now have triangle bilateral stretch structure and are more break resistant (however I have managed to break them very quickly :)).
With a new frame Meteor65 now lands with all four motor pads instead of the battery.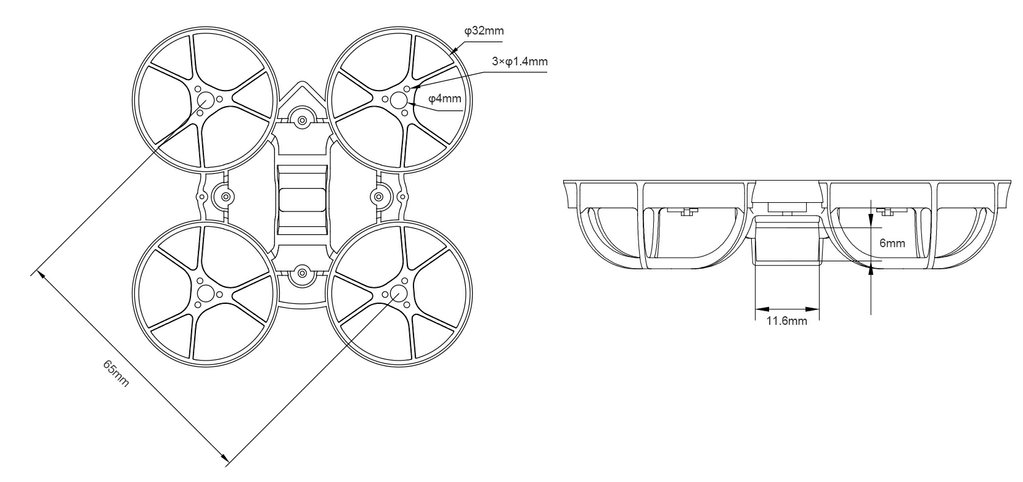 The weight of the bare BetaFPV Meteor65 is only 3.1grams.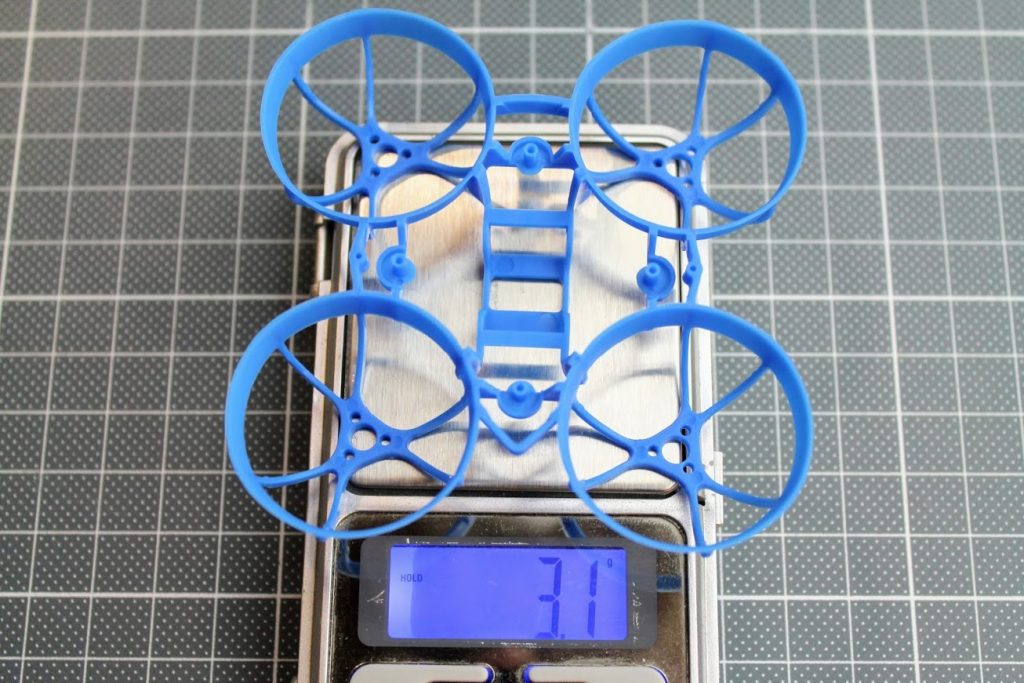 The dry weight of the Meteor65 is 22.1g.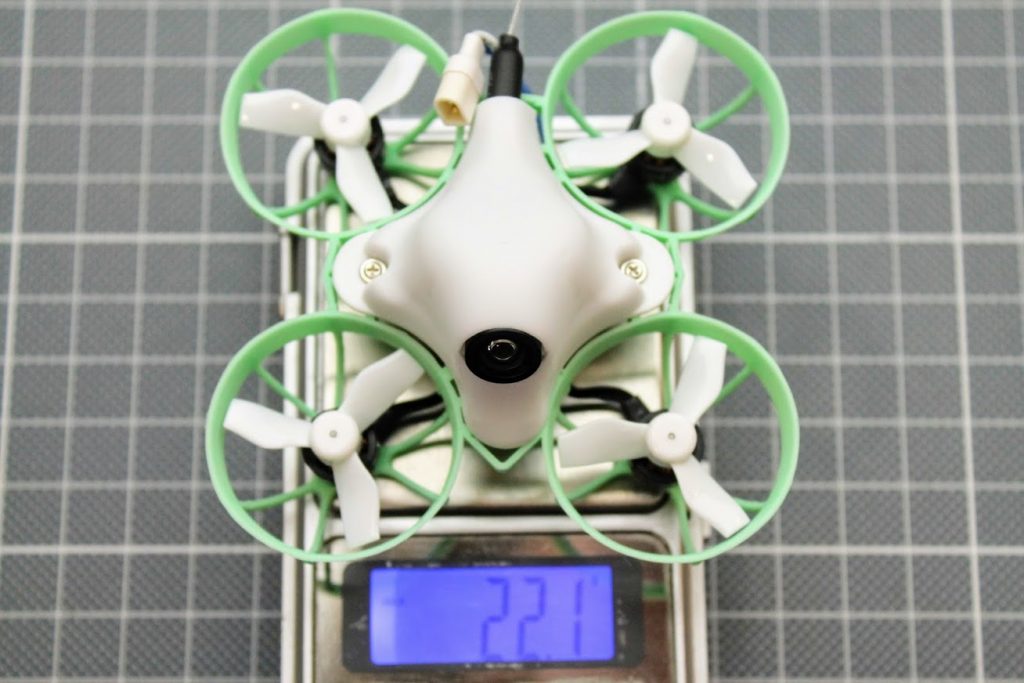 Supplied BetaFPV 300mAh battery weight is 8.3g.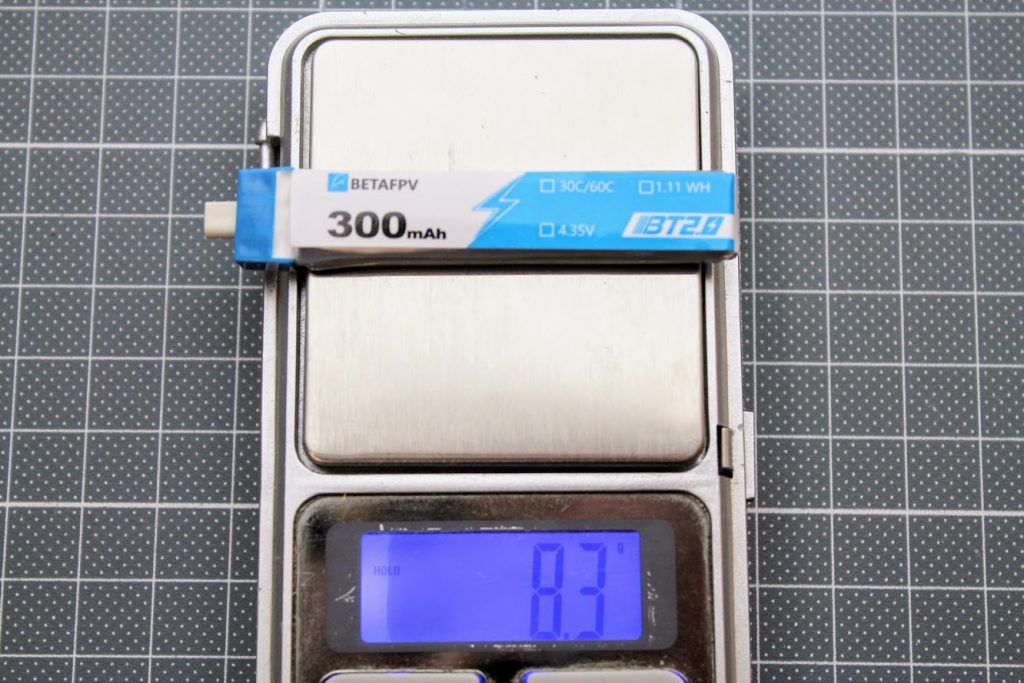 And total ready to fly weight is 30.2g.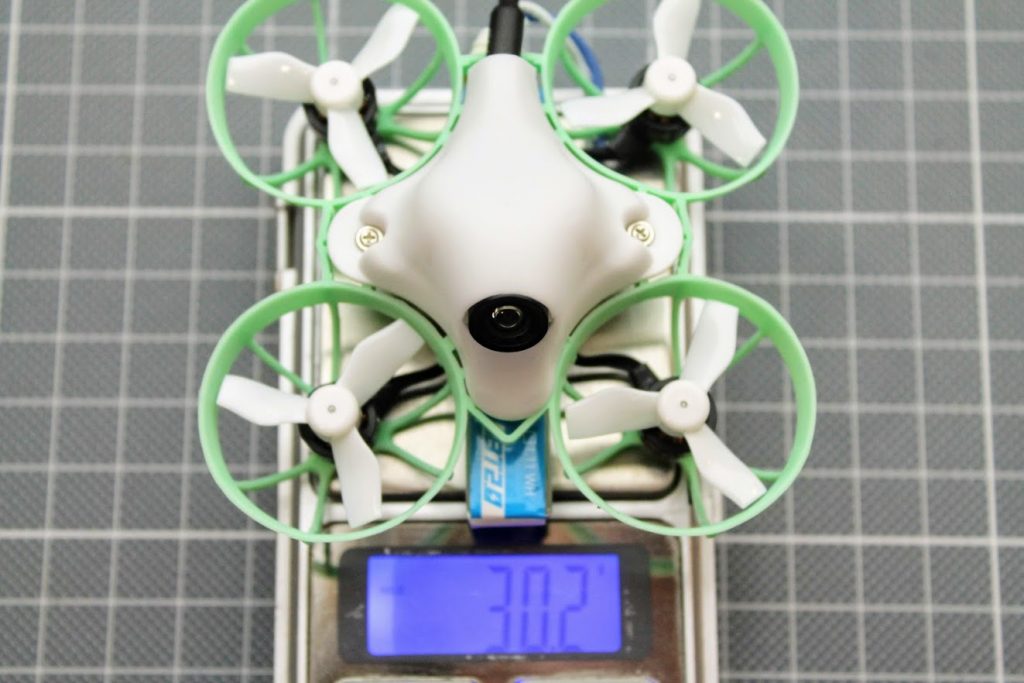 How to bind the Meteor65 with button
1) Plug in the quad battery, then press the bind button for 3 seconds. Receiver LED (green) is on, which means entering the binding mode.
2) Choose "BIND" option in the transmitter.
3) Binding is successful when receiver LED (green) flashes.
4) Power off and on the quad, receiver LED (green) is on, which means bind is successful and quad is functional.
Bind button is located on the bottom side of the flight controller.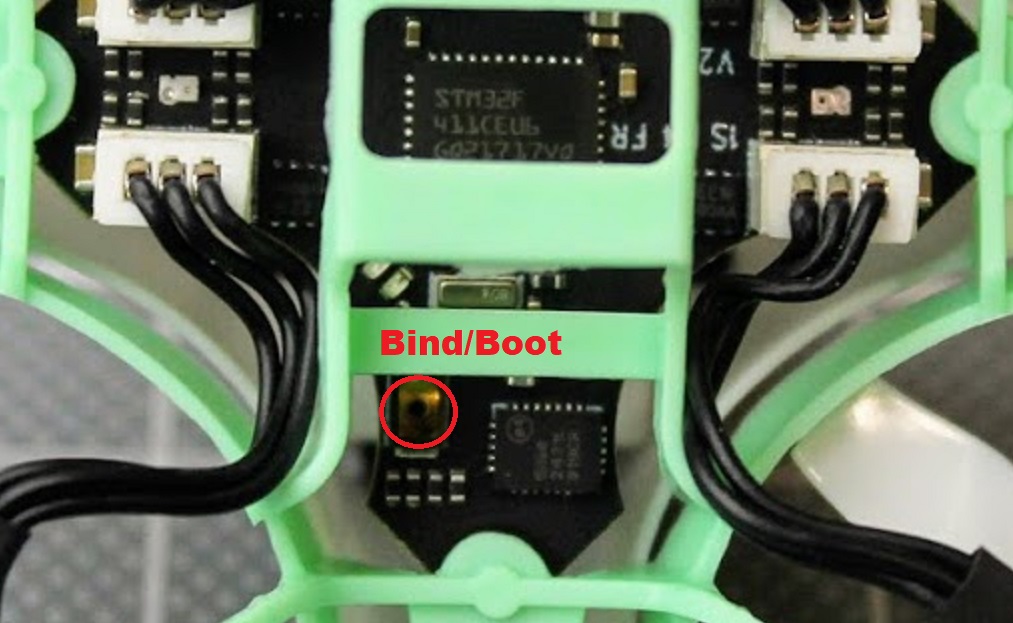 BetaFPV Meteor65 and BT2.0 battery connector
BT2.0 battery connector, developed by BetaFPV, decreases internal resistance of connector effectively to allow more current to flow through the junction and decrease the voltage sag due to the resistance (Ohms law!). This provides stronger power and longer flight times on 1S brushless drones.
Here is the comparison chart for the PH2.0 and BT2.0 connectors. You can see that BT2.0 connector holds the voltage level for almost twice the time.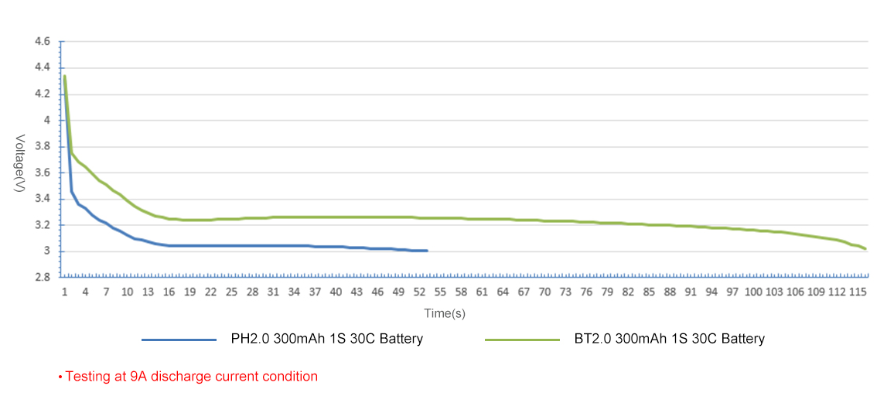 Meteor65 is the first brushless whoop with BT2.0 battery connector.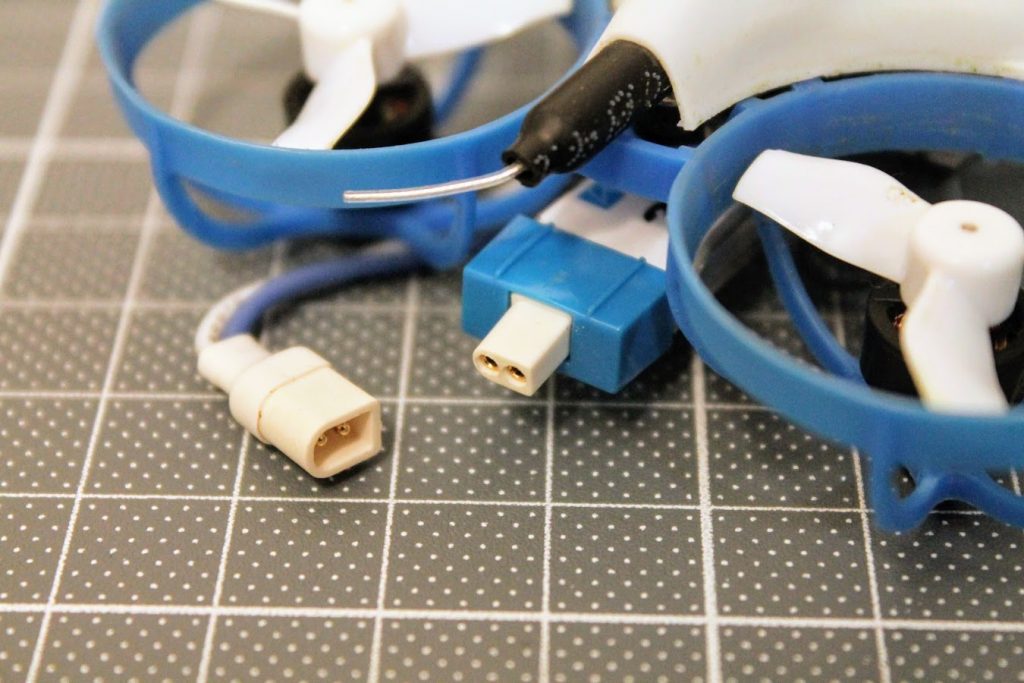 How to bind the Meteor65 with CLI command
1) Plug in the quad battery, connet the USB cable to PC, and start the Betaflight Configurator
2) Depending on the Betaflight version type the folowing vcommand in CLI tab:
Betaflight 3.x

frsky_bind

Betaflight 4.0.x

bind_rx_spi

Betaflight 4.1.x

bind_rx

There also was beta version of Betaflight 4.0.x that used the command
bind
This command puts the SPI receiver into Bind mode exactly the same as bind button
2) Choose "BIND" option in the transmitter.
3) Binding is successful when receiver LED (green) flashes.
4) Power off and on the quad, receiver LED (green) is on, which means bind is successful and quad is functional.
Setting up the Meteor65
Meteor65 comes already preconfigured with Betaflight 3.5.7. You can bind and fly the quad out of the box (which I did) and it flies just good.
Here are the default settings in Betaflight Configurator.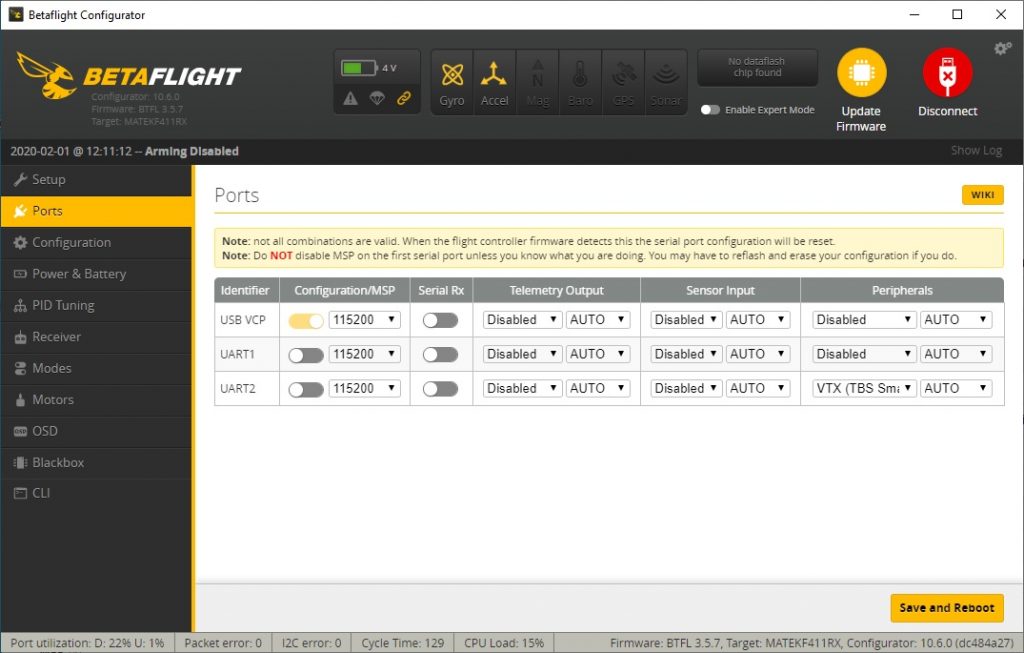 If BetaFPV F4 1S flight controller ESC's have Silabs BB10 (so called "L" type ESC) then default ESC protocol is DSHOT300, if the ESC's have BB21 (so called "H" type ESC), then default ESC protocol is DSHOT600. Actually the DSHOT300 is more than enough for this brushless whoop.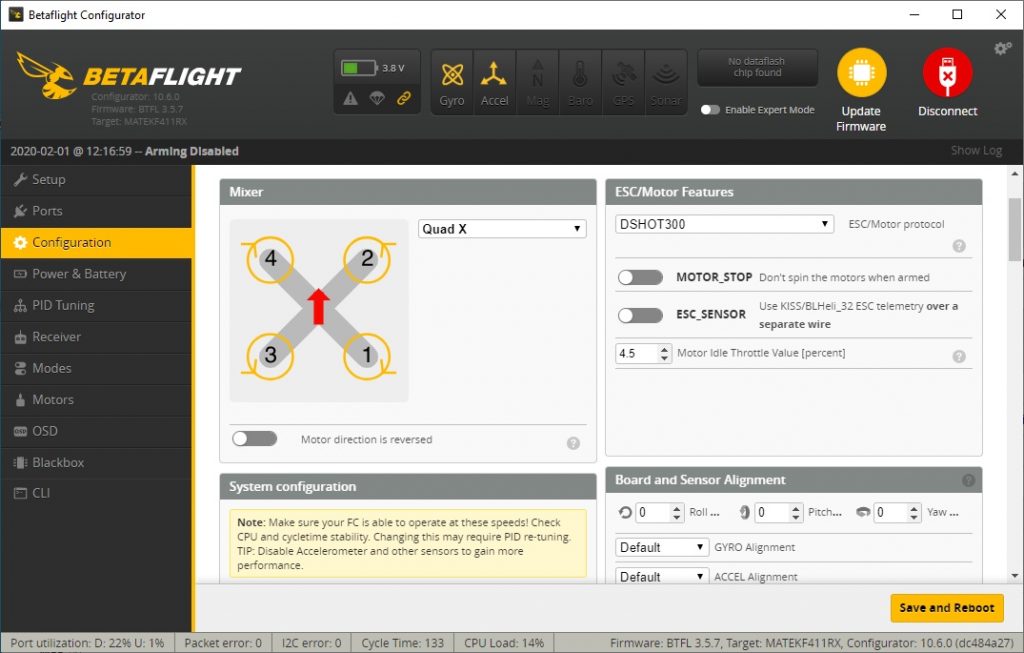 Default Gyro/PID loop frequency is 8k/2k.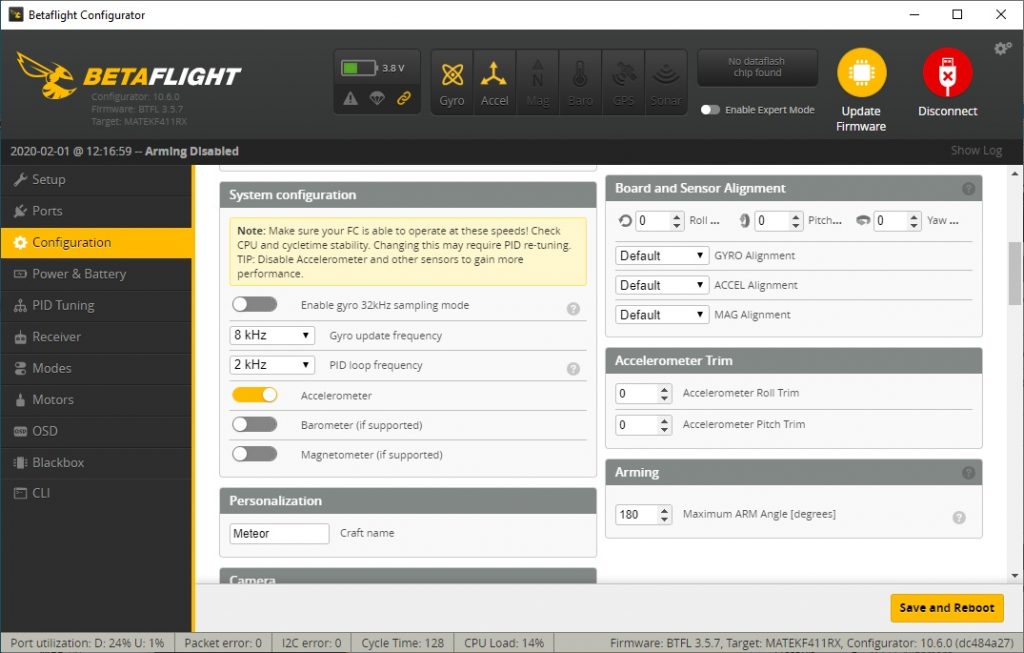 BetaFPV Meteor65 default PIDS. Flies great with these.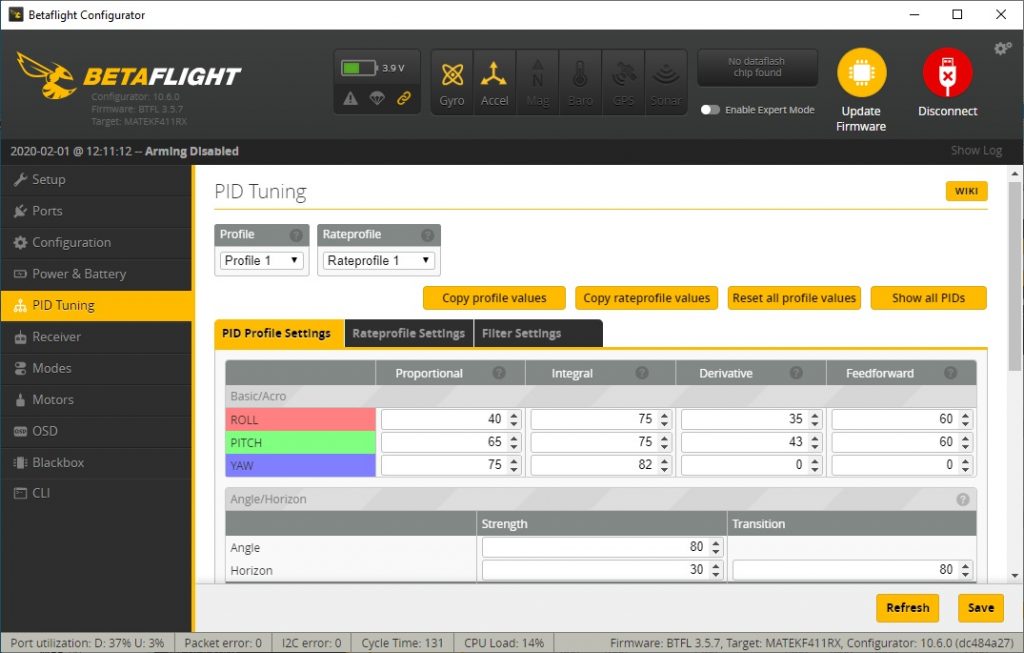 And modes are also set up. You can change them to your liking.
Increasing flight time with 48KHz JESC BLHeli_s firmware
The 48kHz PWM BLHeli_s firmware has greater efficiency in the middle throttle range, less energy is converted into the heat and it increases the flight time up to the 24%, according to my tests.
Developer of the JESC firmware has released the 48kHz version of BLHeli_S firmware for "H" type and "L" type ESCs. He has also released early preview of the BLHeli_S for "L" type ESCs with RPM filtering for FREE.
Here is the flight (hover) time results table with the different ESC firmwares.
| | | | |
| --- | --- | --- | --- |
| Battery # | BLHeli_S 16.7 | JESC 2.3 48kHz | Increase % |
| 1 | 3:02 | 3:45 | 24% |
| 2 | 3:00 | 3:42 | 23% |
How to flash the JESC 48kHz BLHeli_S firmware to Meteor65
Download JESC configurator forom Github: https://github.com/jflight-public/jesc-configurator/releases. Start JESC configurator. Connect the Meteor65 quadcopter to the PC via usb cable. JESC Configurator should automatically detect the serial port number. Hit the [Connect] button.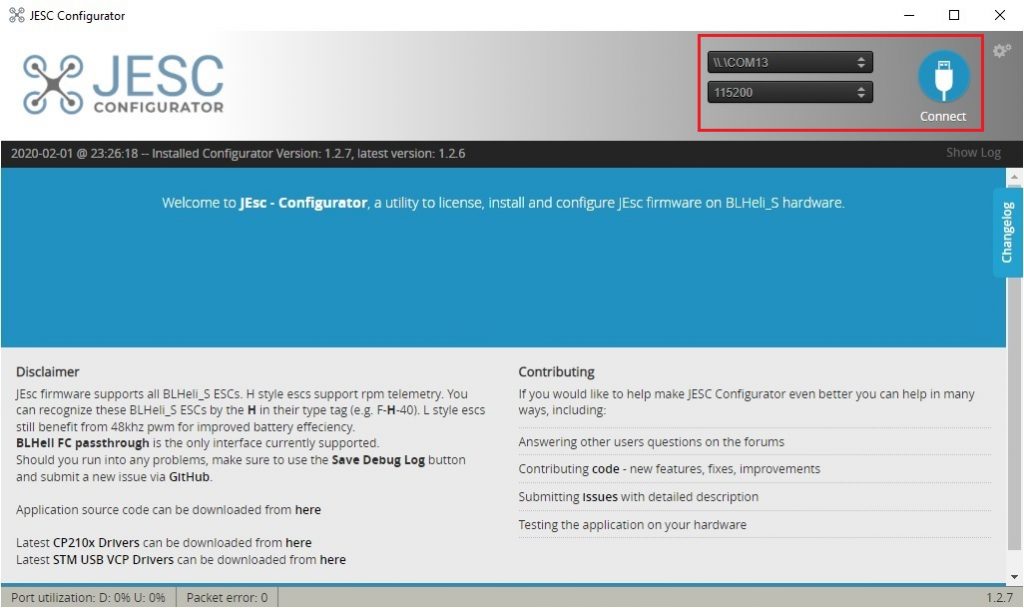 After you have connected to the Meteor65 Flight Controller, plug in the battery and click on the [Read Setup] button.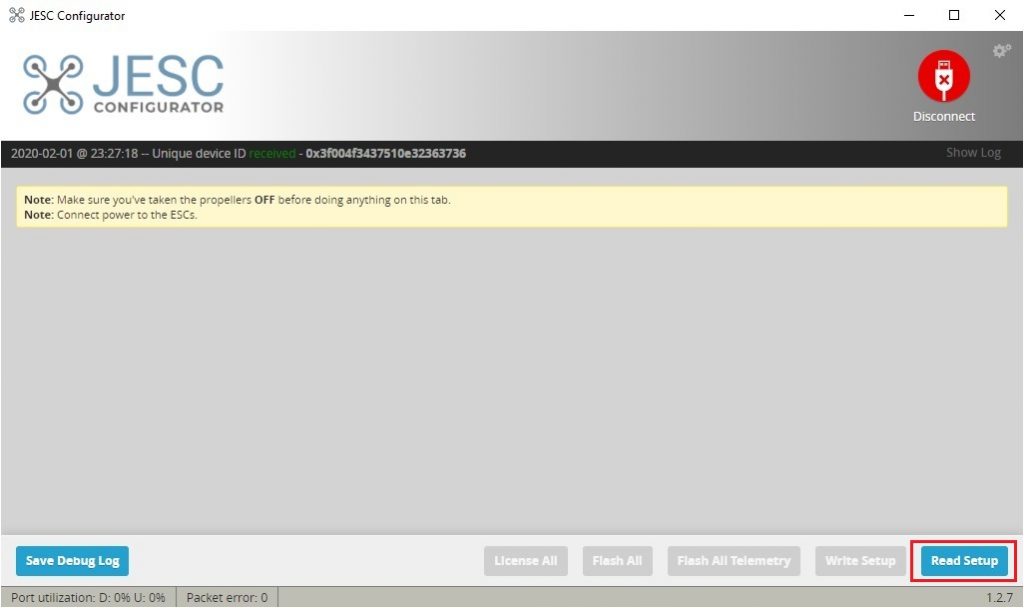 You can see the the BLHeli_s firmware type and version in each ESC tab header. My Meteor65 has O-L-5 type ESCs with BLHeli_S version 16.7 firmware. BLHeli_s 16.7 is the standart BLHeli_s firmware, with the last updates from . We need to flash the JESC firmware. Click the [Flash All]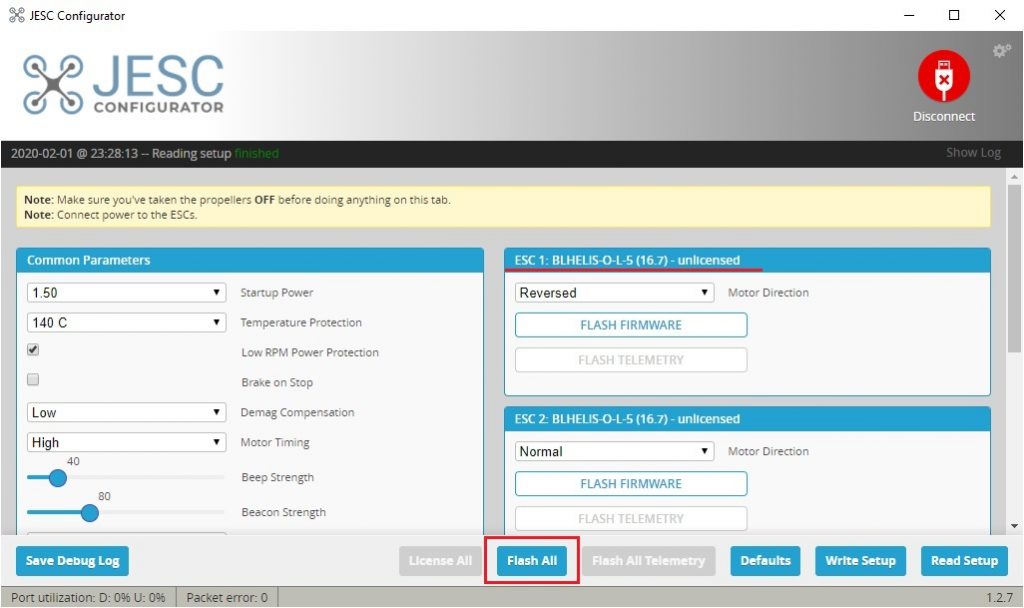 Select the JESC 2.3 RC1 48kHz PWM version from the list.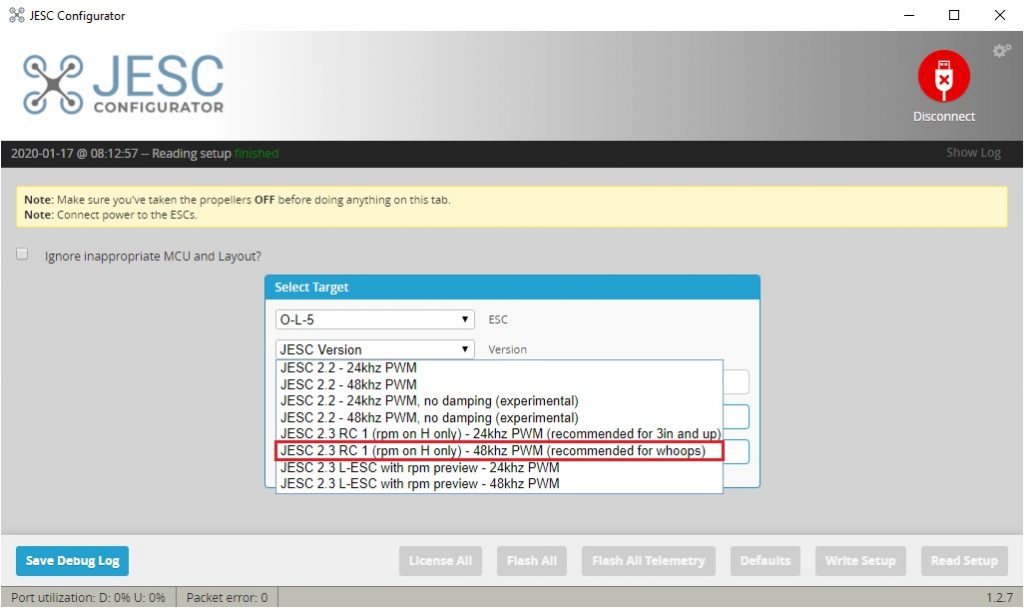 Wait for all of the 4 ESC firmware to be flashed. Do not disconnect the battery until the flashing is completed! Make sure the battery is charged. You may brick the ESC if you disconnect the battery while the ESC is flashing.
After you flashed the Meteor65 with JESC firmware, you will notice the motor startup sounds changed. Flight characteristics will also be slightly changed and most important your flight times will be increased greatly. Share you experience with Moeteor65 and JESC firmware in the comments.
BetaFPV Meteor65 is avilable @: https://betafpv.com/products/meteor65-brushless-whoop-quadcopter-1s
Disclaimer: This item was supplied by BetaFPV for a fair and unbiased review. BetaFPV never asked for a positive review and never infuenced my opinion in any way. I'm trying my best to stay uninfluenced and give only my own opinion. All affiliate links if there are any help me purchase items for future reviews.