Review: HGLRC Zeus F760 stack
HGLRC Zeus F760 is second generation stack with F7 MCU and 60A BLHeli_32 ESC. This stack is has number of changes from previous HGLRC F7 stack. HGLRC has removed the second ICM20608 (32K) Gyro from the FC, changed the MCU to F722, added 9V BEC for DJI digital FPV support. Previous DynoShot 60A ESC was in fact capable only 40A at 6S battery voltage, while FD60A is rated for full 60A at 6S battery input.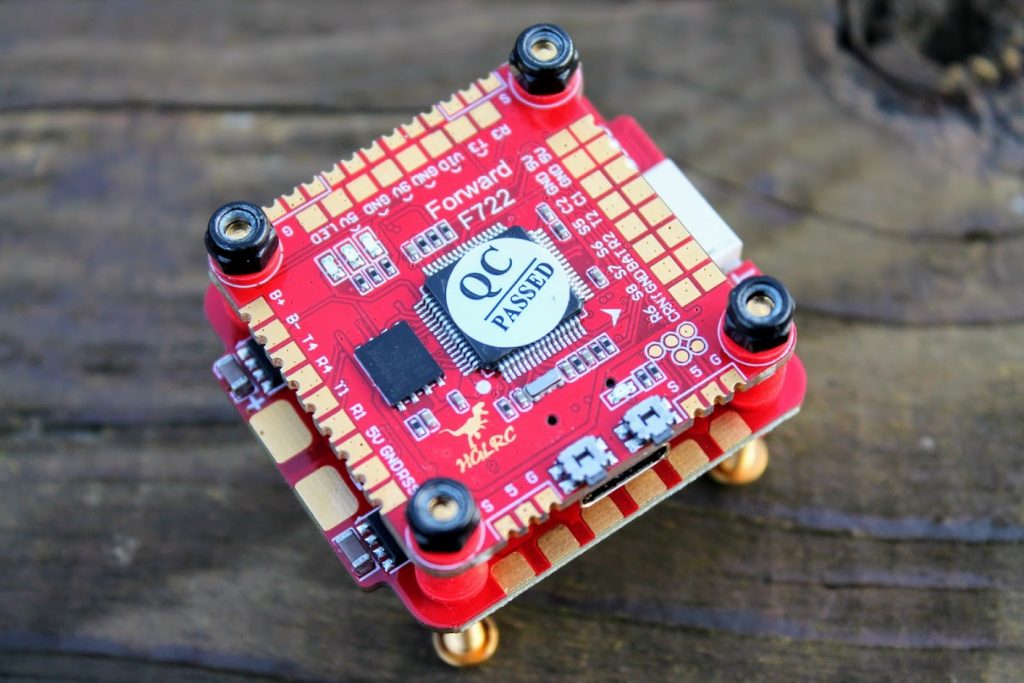 Specifications
F722 Flight Controller
MPU: MPU6000 (SPI)
CPU: STM32F722 RET6
Input Voltage:3-6S Lipo
BEC Output: 5V/3A, 9V/2A
Weight: 7.6g
60A BLHeli_32 3-6S 4in1 ESC
CPU: STM32F051
Input Voltage: 3-6S Lipo
Steady Current: 60A
Peak Current: 65A(10 Sec)
Weight: 18g
Total stack weight: 32.7g or 34.5g with supplied longer screws.
Package contents
Package contains HGLRC F722 FC, FD60A 4in1 ESC, 4 cables for LED strips, cable for connecting FC and ESC, cable for GPS, Low ESR capacitor, silicone cable and XT60 connector, silicon rubber standoffs and 4 screws with lock nuts.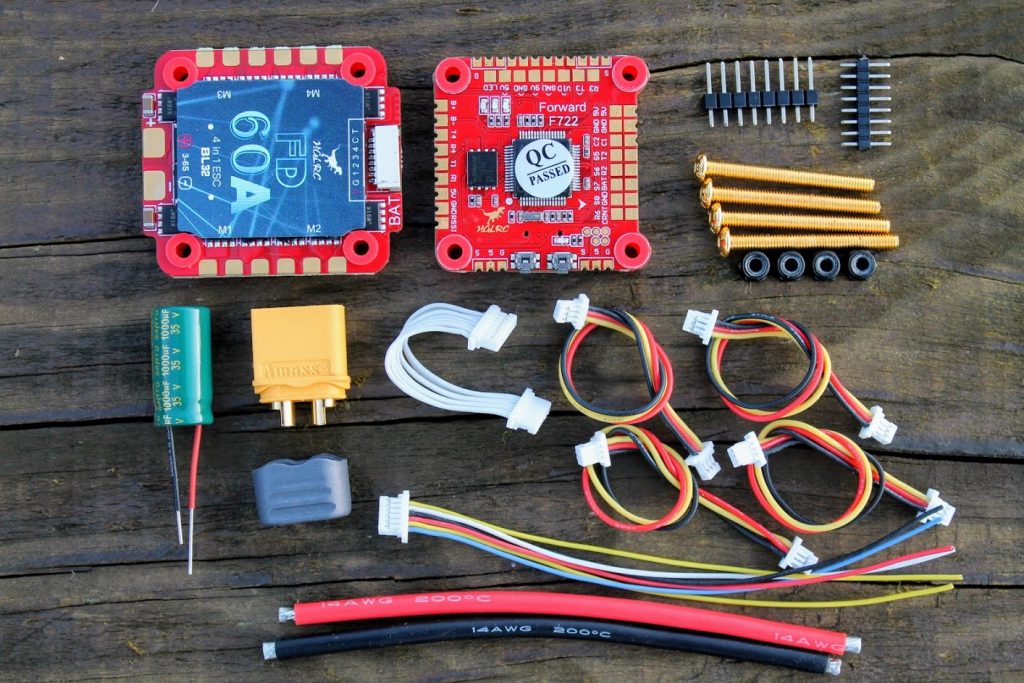 FC
Top side of the HGLRC Zeus F722 FC.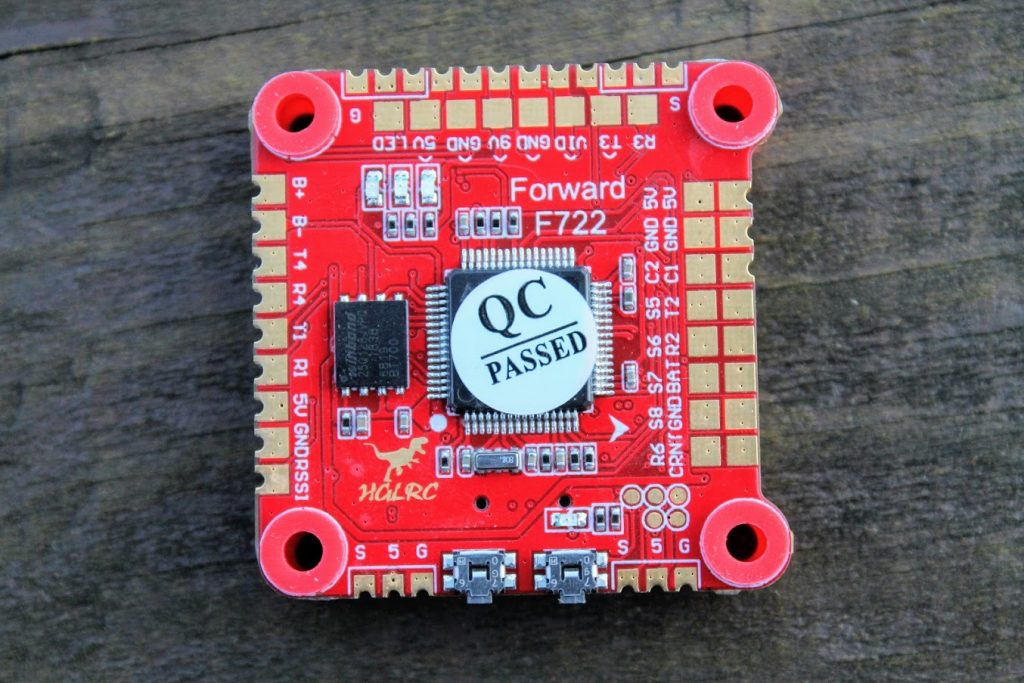 Bottom side of the HGLRC F722 FC.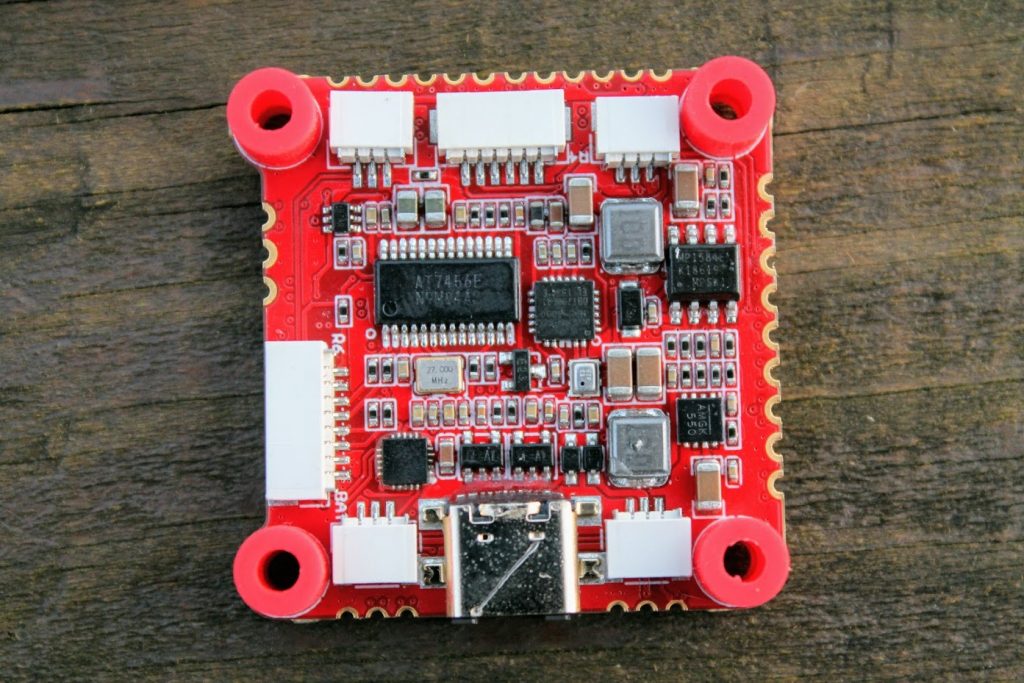 On the right side of the HGLRC F722 FC you can find the pads for RX2, TX2 (UART 2), Current sensor and battery voltage pads, RX6 input, 4 PWM (S5, S6, S7, S8) outputs for motors or servos. Board has 2 FPV camera inputs. The C2 (camera two) input is active by default. you need to set up the USER function in the BetaFlight configurator to be able to switch between two cameras.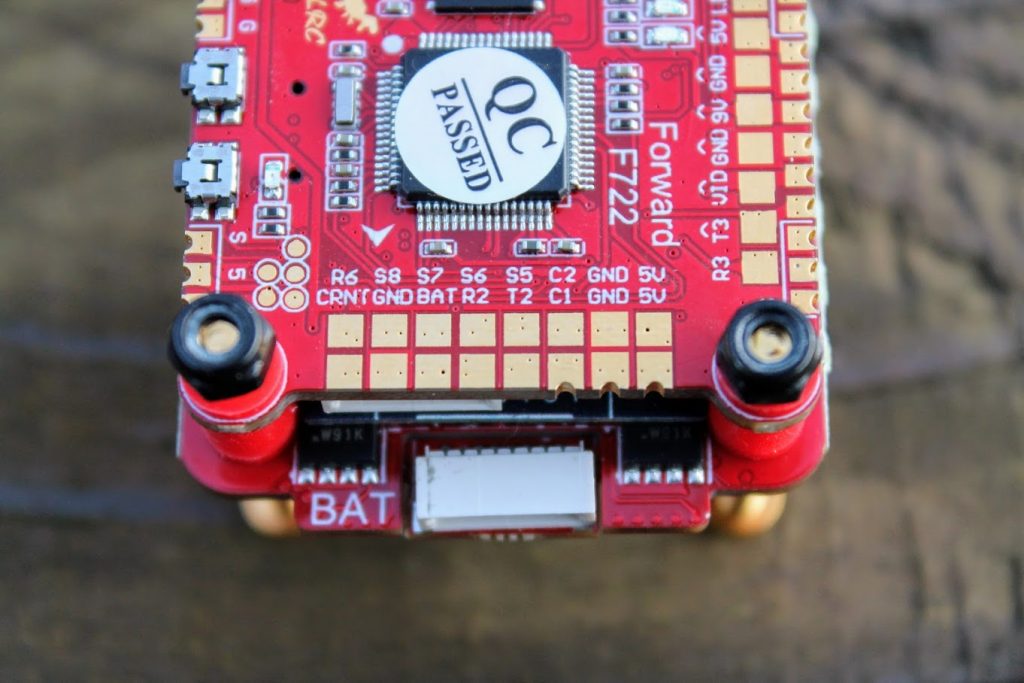 On the top side you can find RX3, TX3 (UART 3) pads, Video output to the VTX, 9V and 5V pads. There are Betaflight controllable LED pad and two "S 5V G" FC controllable LED pads. There are also pads for connecting to the ESCs in case you will not use the connector for this.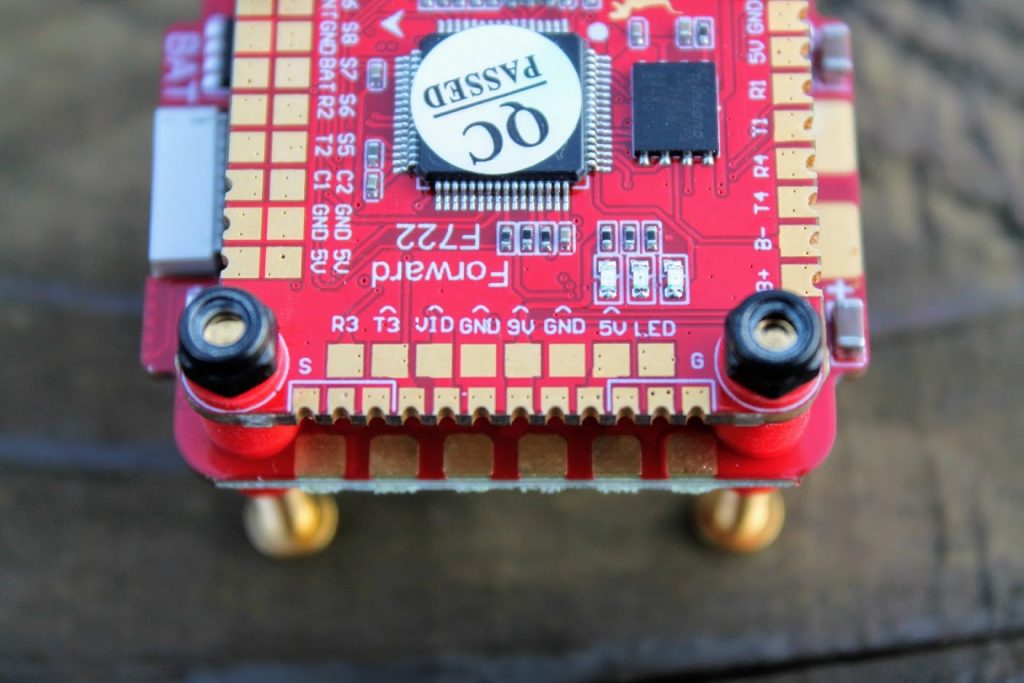 And on the left side there are RX4/TX4 (UART4), RX1/TX1 (UART1) pads. Also the pads for buzzer (B+, B-) and RSSI input with 5V and GND.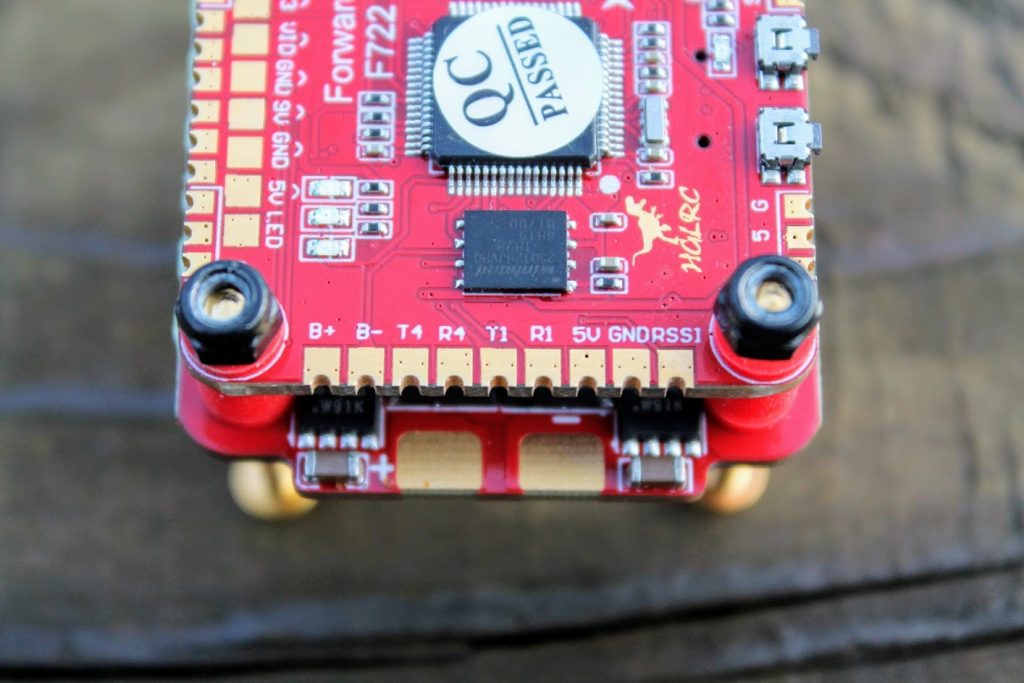 Two push buttons are located on the bottom edge of the FC. One is for booting in the ESC into the DFU mode and another for controlling the LED lights. "S 5 G" pads are for soldering the wires to controllable LED lights.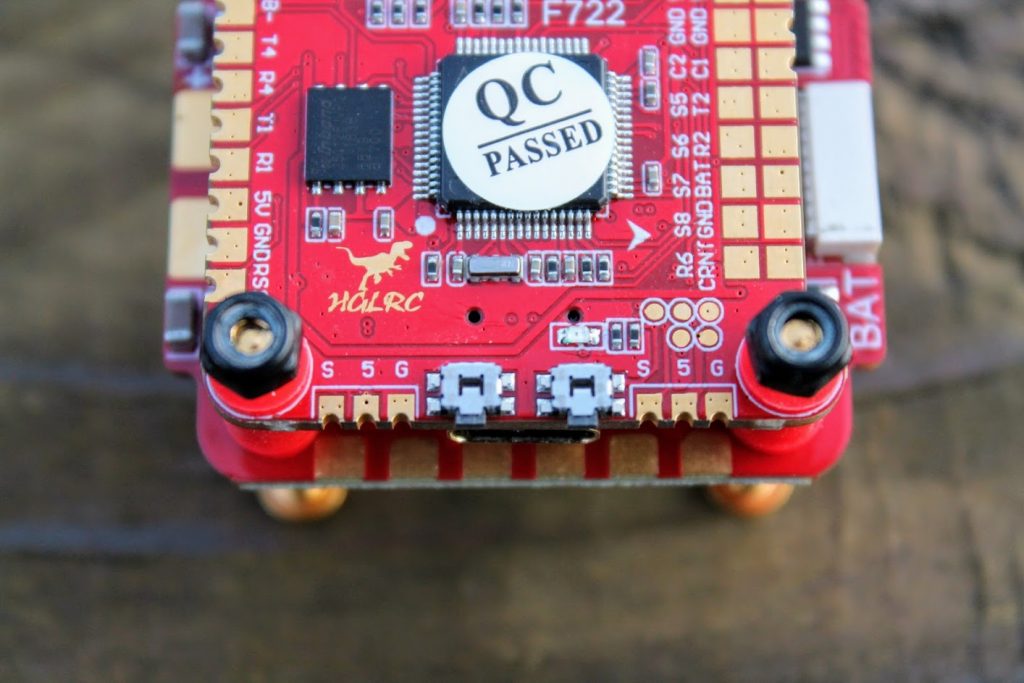 HGLRC Zeus F722 FC has USB-C type connector. Also two 3pin SH1.0 connectors for controllable LEDs.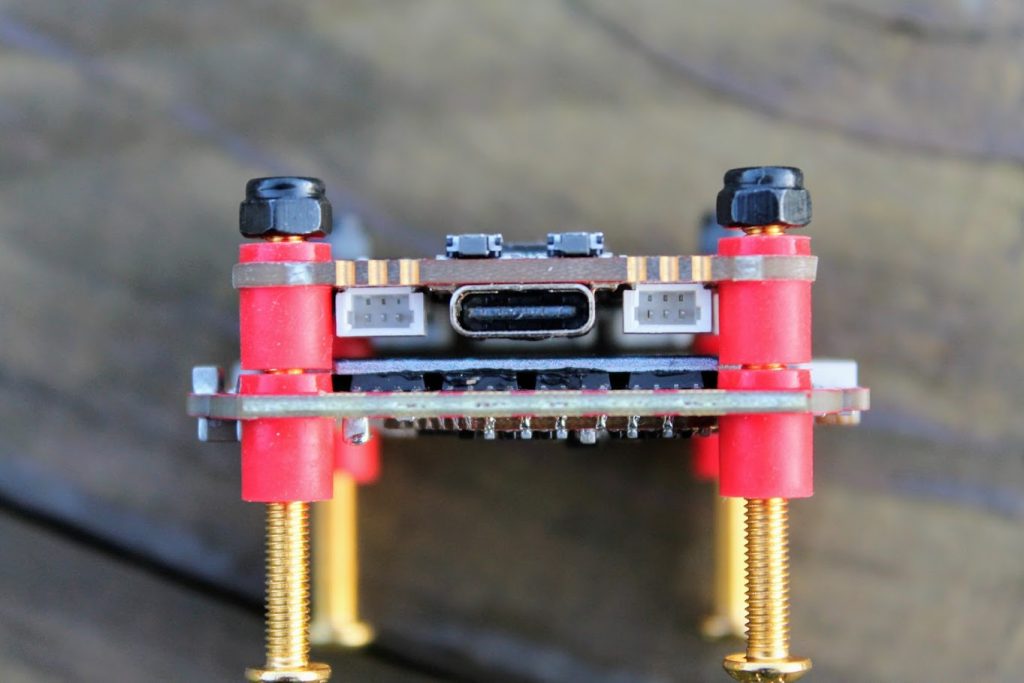 Separate 6pin SH1.0 connector socket for easy GPS and compass installation. Two 3pin SH1.0 connector sockets for controllable LEDs.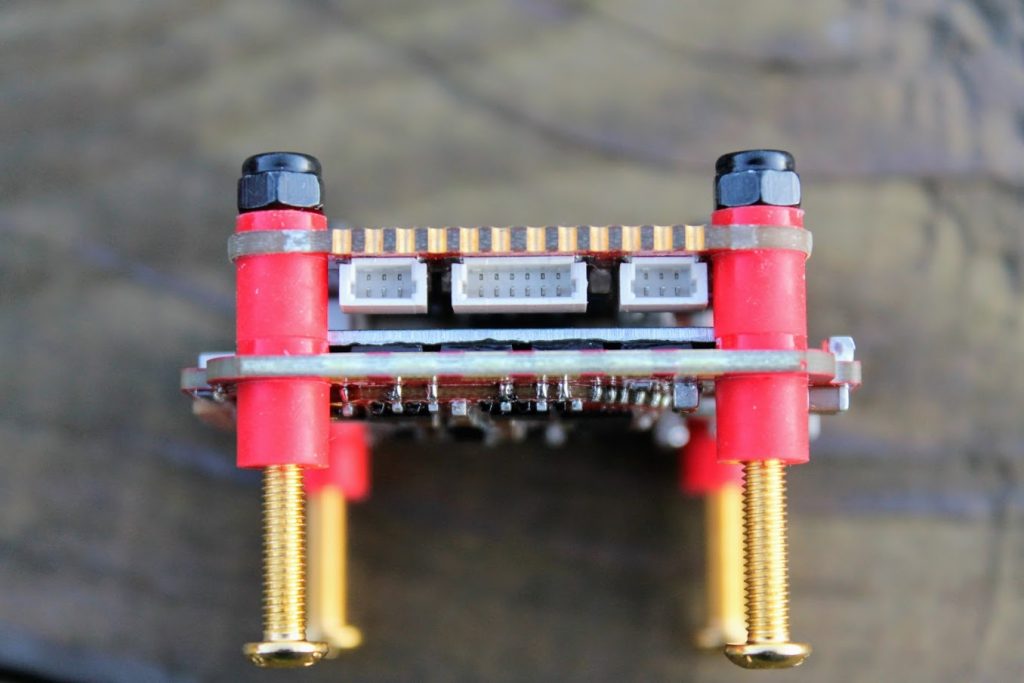 FC and the 4in1 ESC can be connected with 8pin SH1.0 flat cable.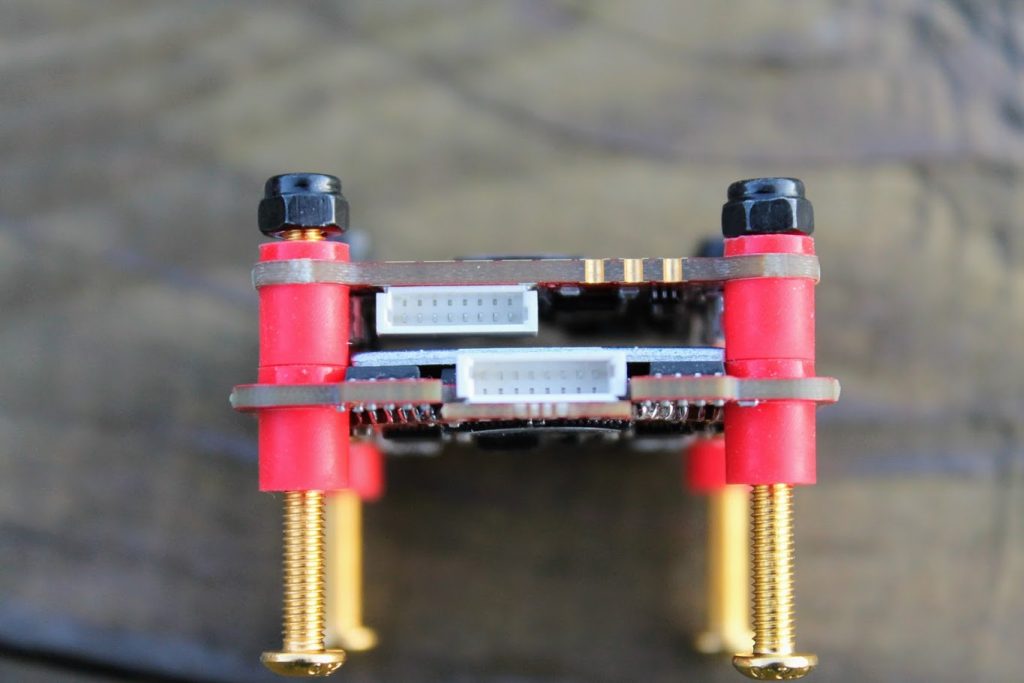 I wish the cable would be shorter. Now its a little too long and just takes up the unnecessary space.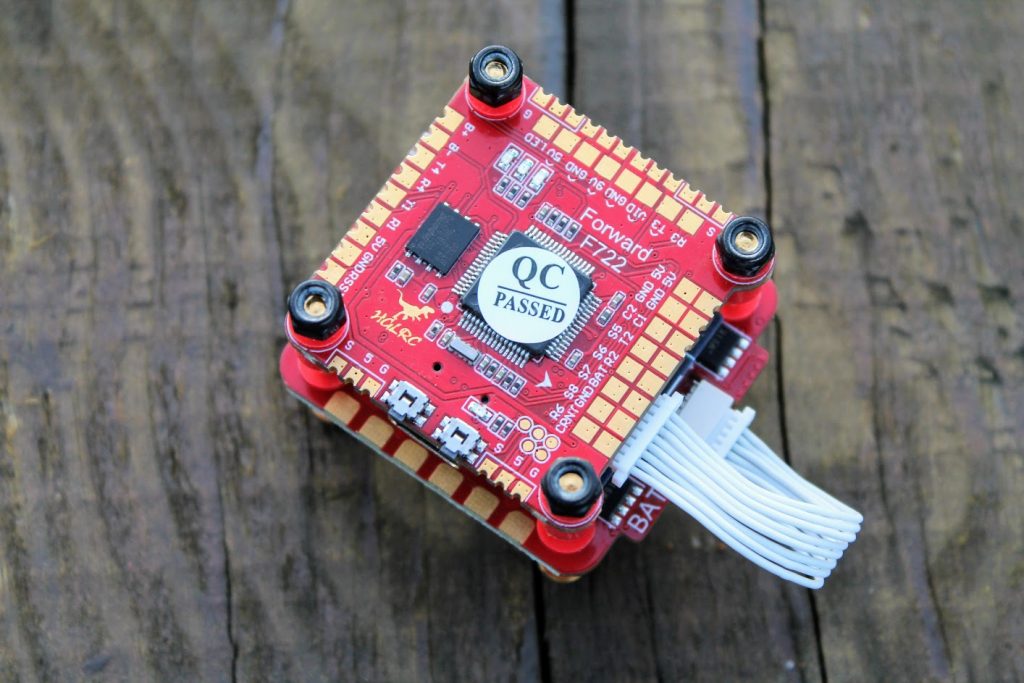 ESC
Top side of the HGLRC FD60A 4in1 ESC. There is an aluminum heatsink glued down to the MOSFETS.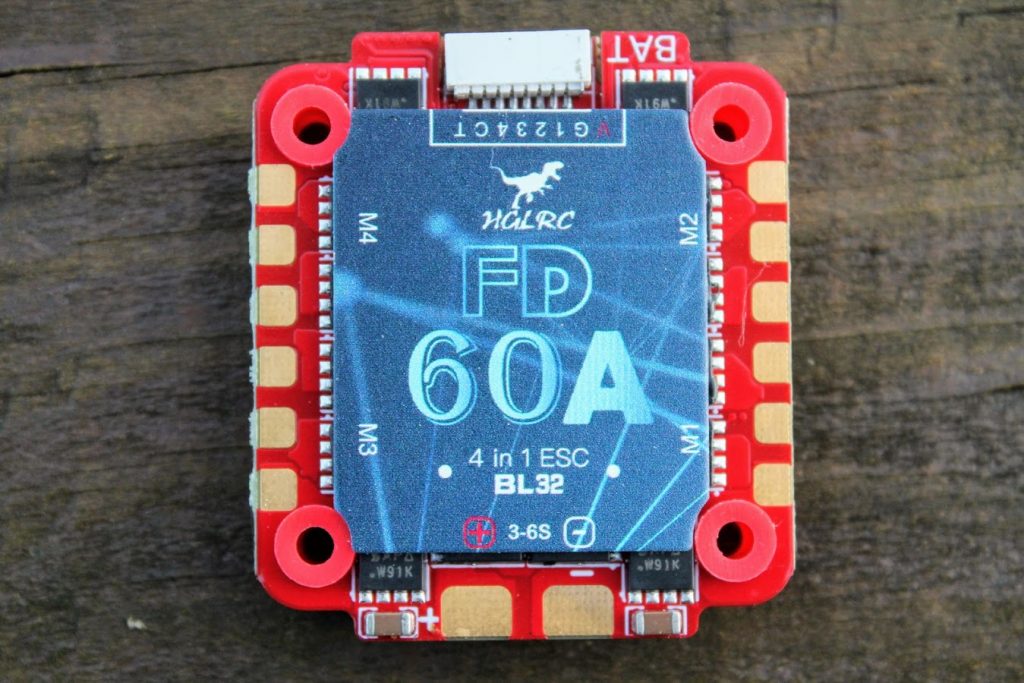 On the bottom side of the FD60A 4in1 ESC you can see the ESC control part located on the separate PCB, attached to the main PCB with power MOSFETS. The bottom of the ESC is conformal coated for the water splash resistance.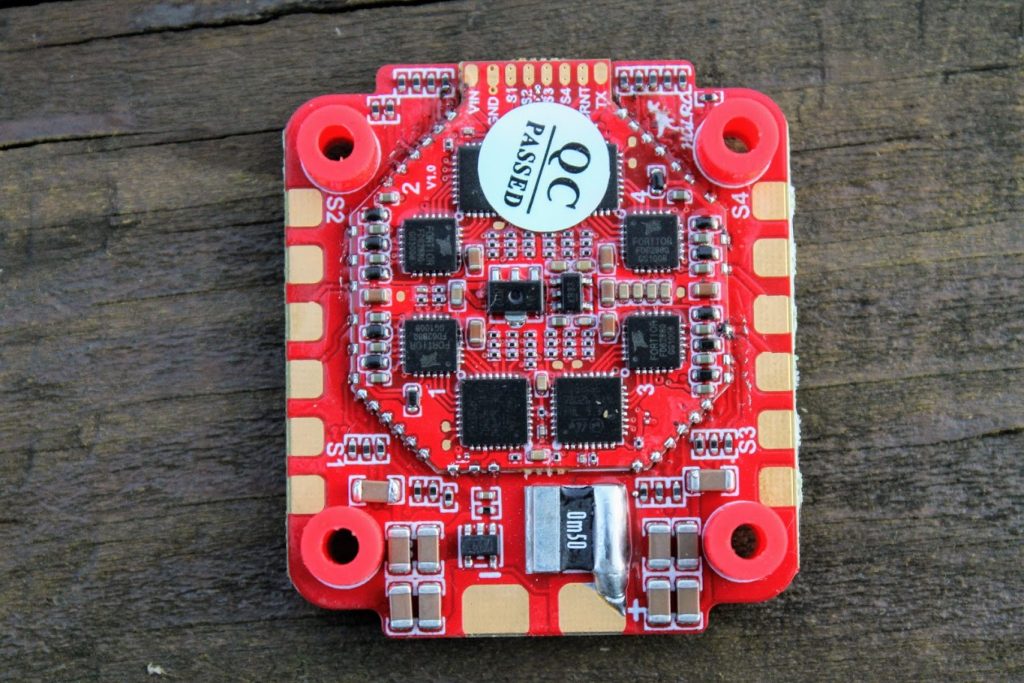 ESC has large pads for battery leads.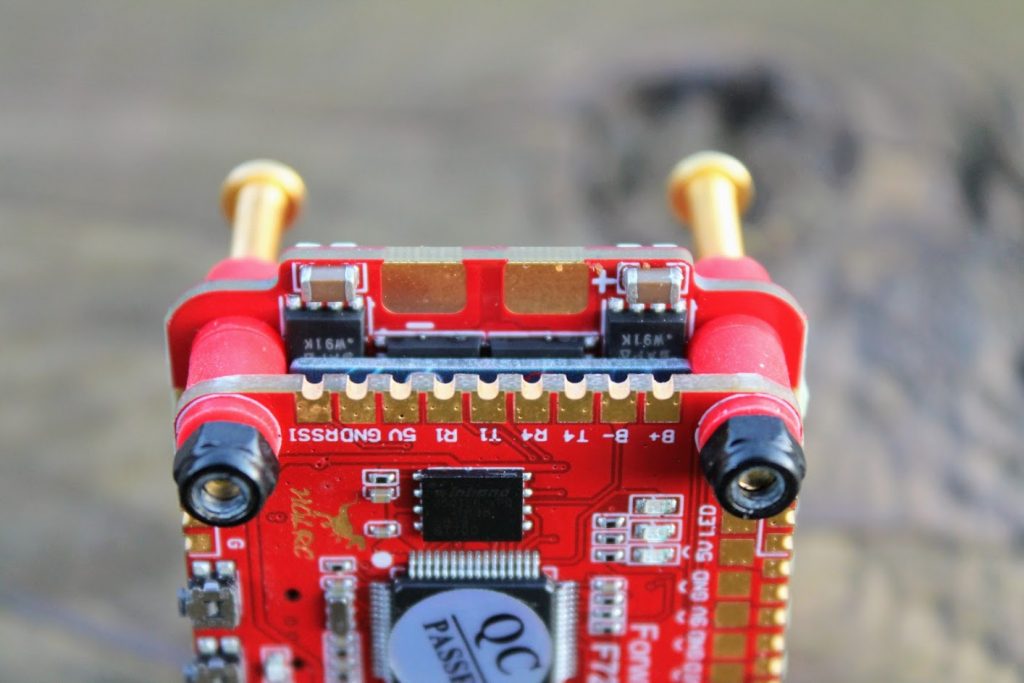 HGLRC FD60A ESC has BLHeli_32 firmware and can work with the bidirectional DSHOT ESC protocol for RPM filtering. HGLRC FD60A ESC in fact is the same HGLRC FD55A ESC just with the added heatsink to be able to provide the higher currents.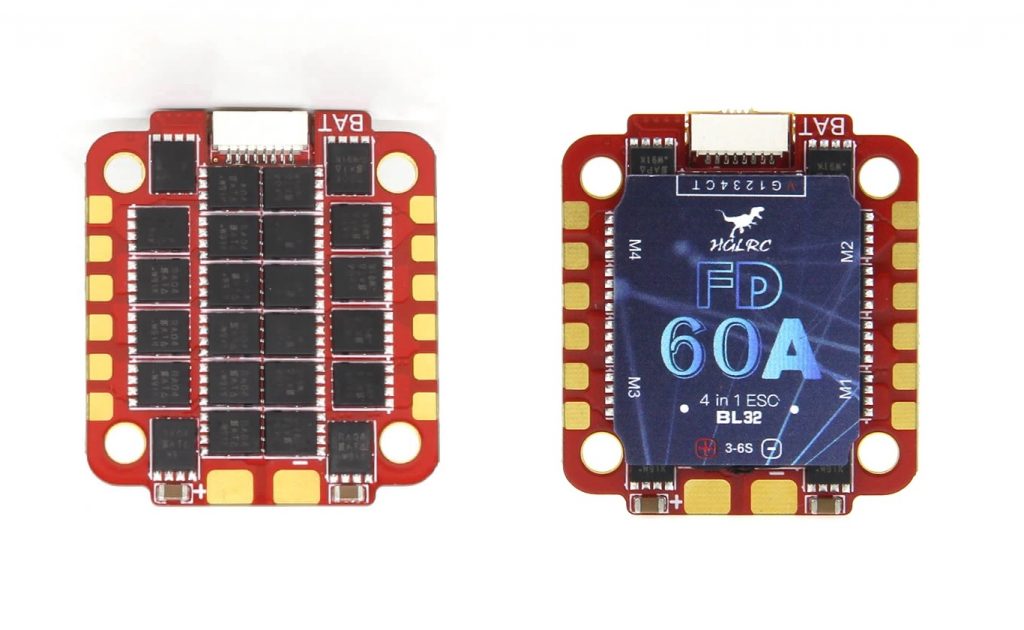 HGLRC FD760 FC and ESC only weight is 27.2g.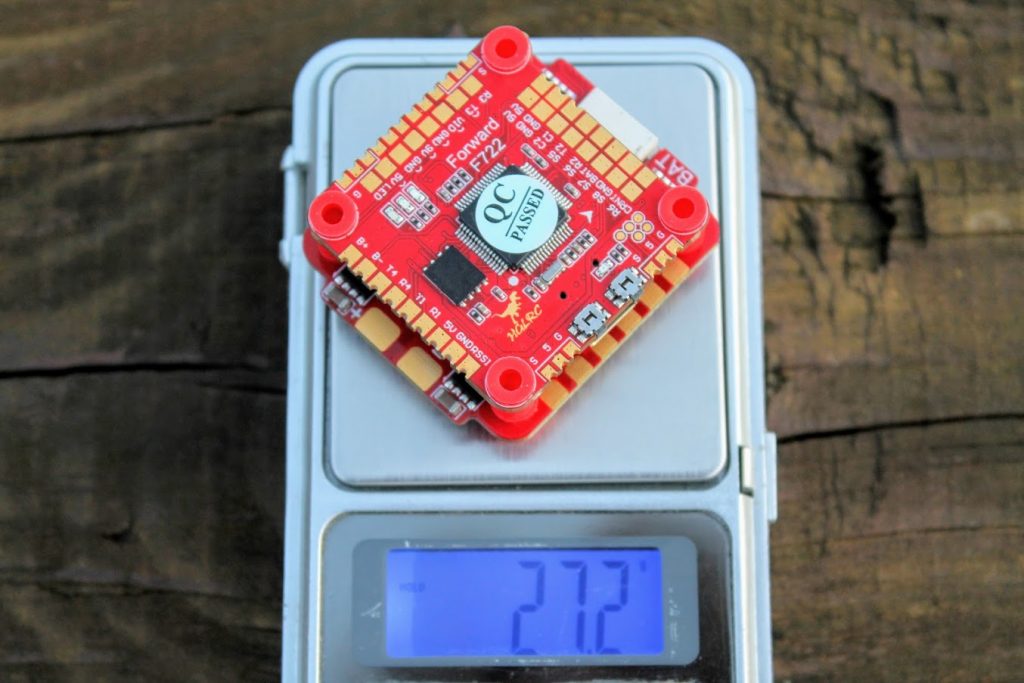 FC and ESC weight with supplied screws and lock nuts is 34.5g.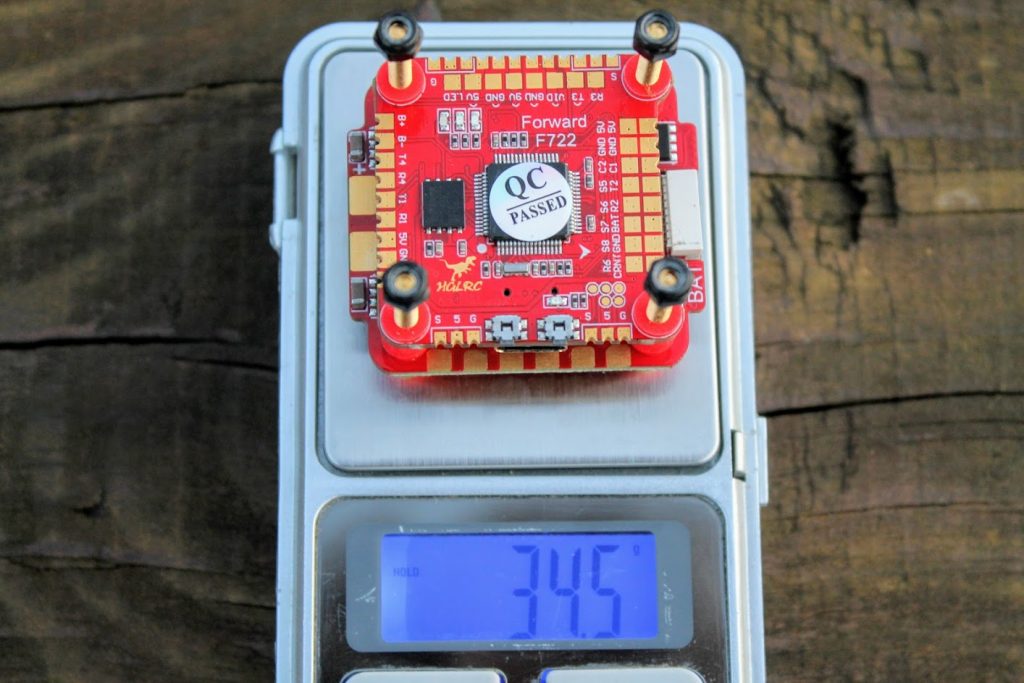 TBS Crossfire nano receiver and TBS Unify Pro 32 Nano VTX mounting option: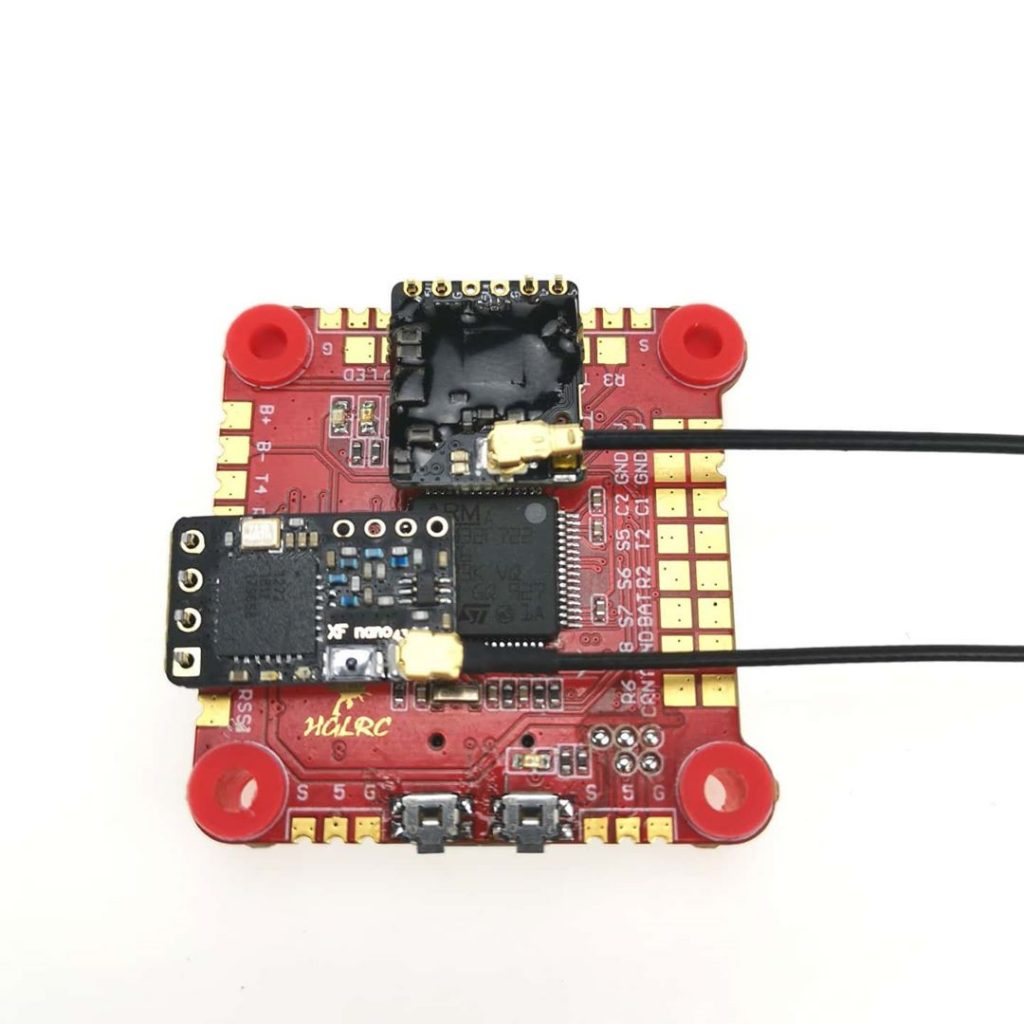 HGLRC Zeus (Forward) F722 connection diagram: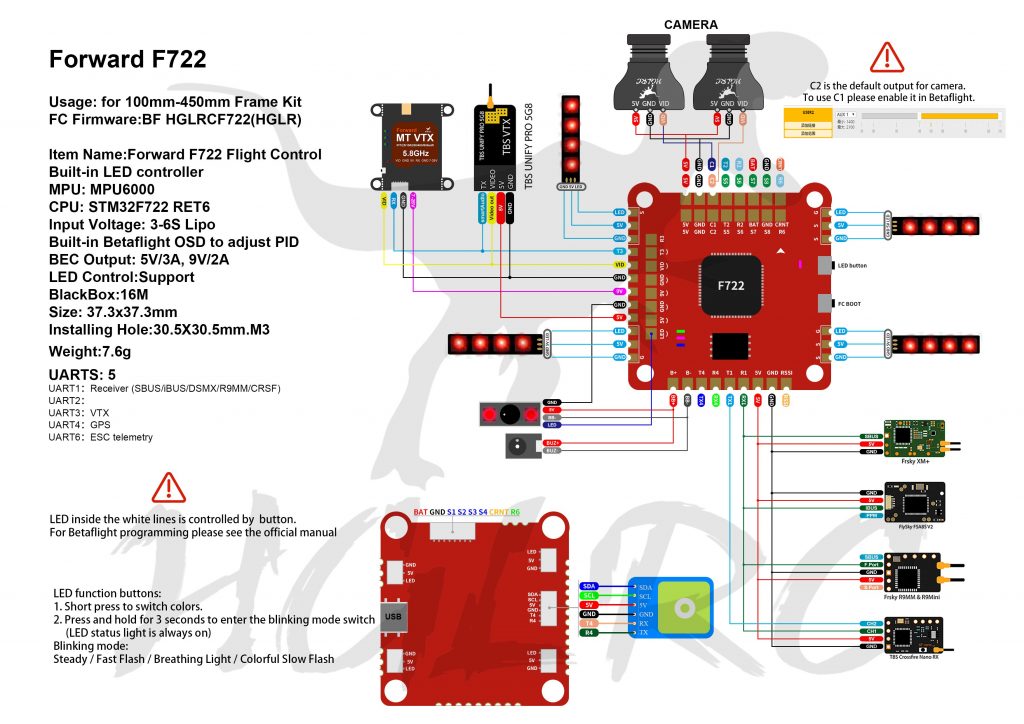 HGLRC Zeus F760 User Manual: https://cdn.shopify.cn/s/files/1/2672/8290/files/Zeus_F760_Stack_Manual.pdf
Available @:
Zeus F760 stack:
HGLRC: https://www.hglrc.com/products/hglrc-zeus-f760-stack-30×30-3-6s-f722-flight-controller-60a-bl32-4in1-esc
Banggood: https://www.banggood.com/30_5x30_5mm-HGLRC-Zeus-F760-F7-Flight-Controller-…-1682969.html
Forward FD60A ESC:
HGLRC: https://www.hglrc.com/products/hglrc-forward-60a-3-6s-blheli-32-4in1-esc-for-fpv-racing-drone
Banggood: https://www.banggood.com/HGLRC-Forward-60A-3-6S-BLHeli-32-4in1-ESC-30_530_5mm-for-FPV-Racing-Drone-p-1651469.html