Review: HGLRC Zeus VTX Nano
Zeus Nano VTX is the smallest VTX from HGLRC. It is uniquely shaped and has multiple mount options. Let's take a closer look at this interesting VTX.
Page Contents for Review: HGLRC Zeus VTX Nano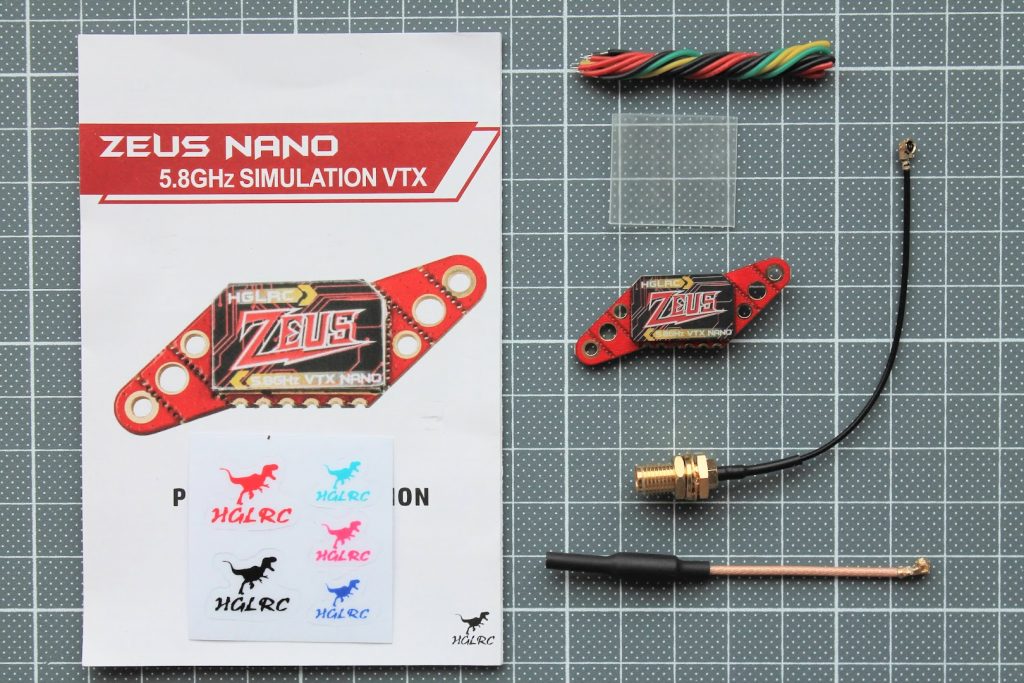 Specifications
Model: Zeus Nano VTX
Built-in Microphone
Input voltage: DC 5V
PIT@75mA
25mW@180mA/16dBm
100mW@280mA/21.5dBm
200mW@330mA/24.5dBm
350mW@400mA/27.5dBm
Antenna interface: ipex
Output power: PIT/25/100/200/350mW
Standard 40 channels. A/B/E/F/R frequency group
Installing Hole: 16X16/25.5X25.5mm.M2/20X20mm.M3
Size: 18.6mm x 13.6mm x 6mm
Weight: 2.4g
Closer look
Zeus Nano VTX has breakable side tabs for various mounts. There is also protective metal casing on the front side of the VTX.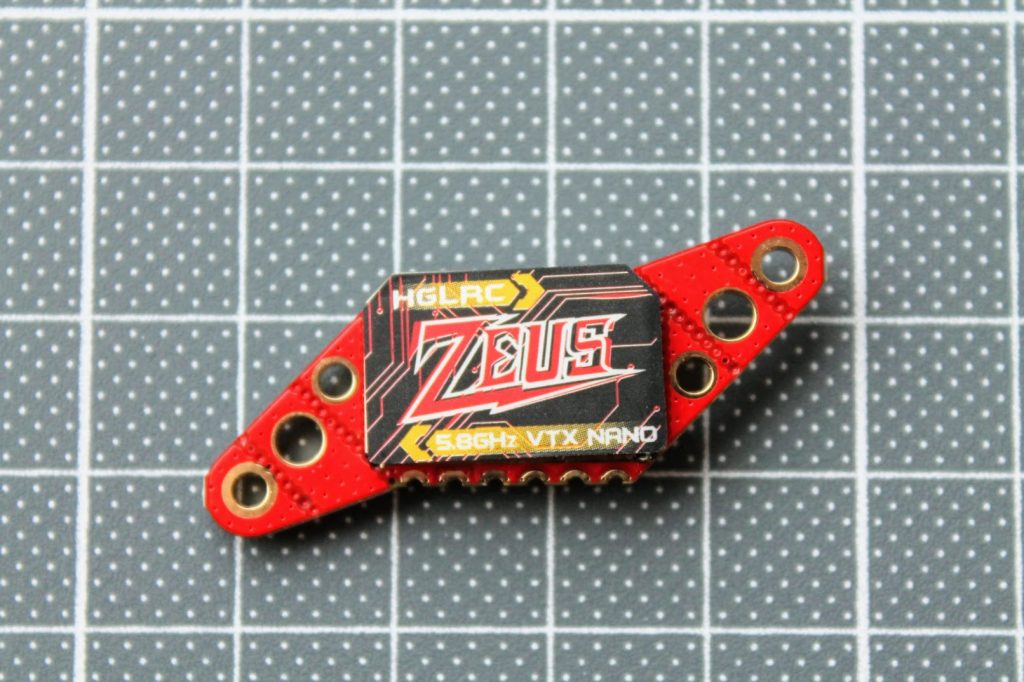 On the bac of the VTX you can find the push button for setting the channels, bands and power output level. There is also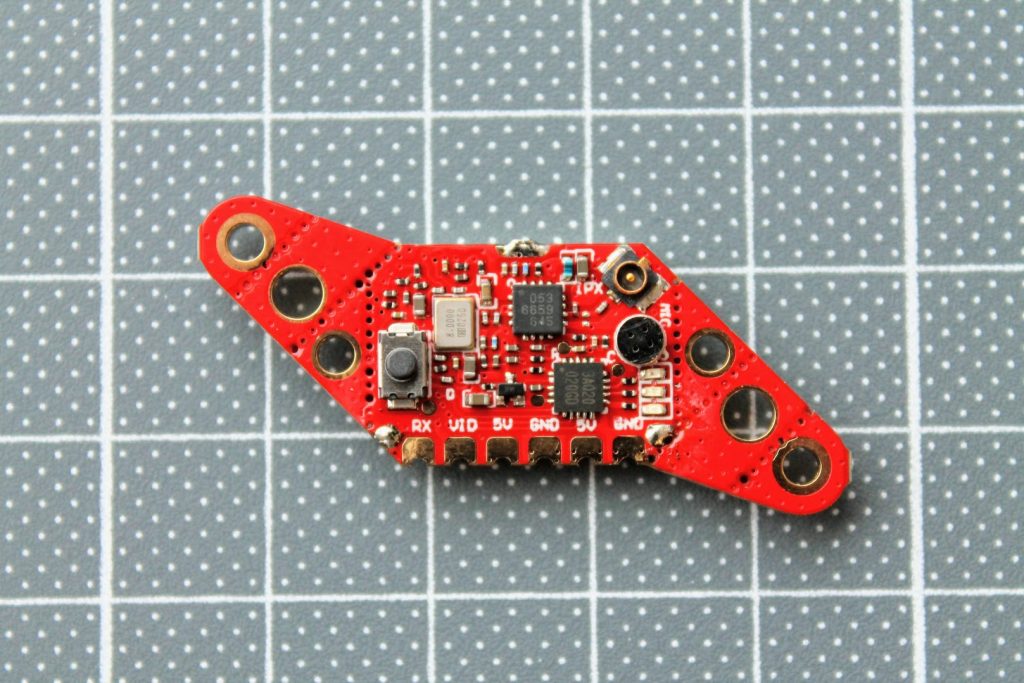 The weight of the Zeus Nano VTX is 2.5 grams.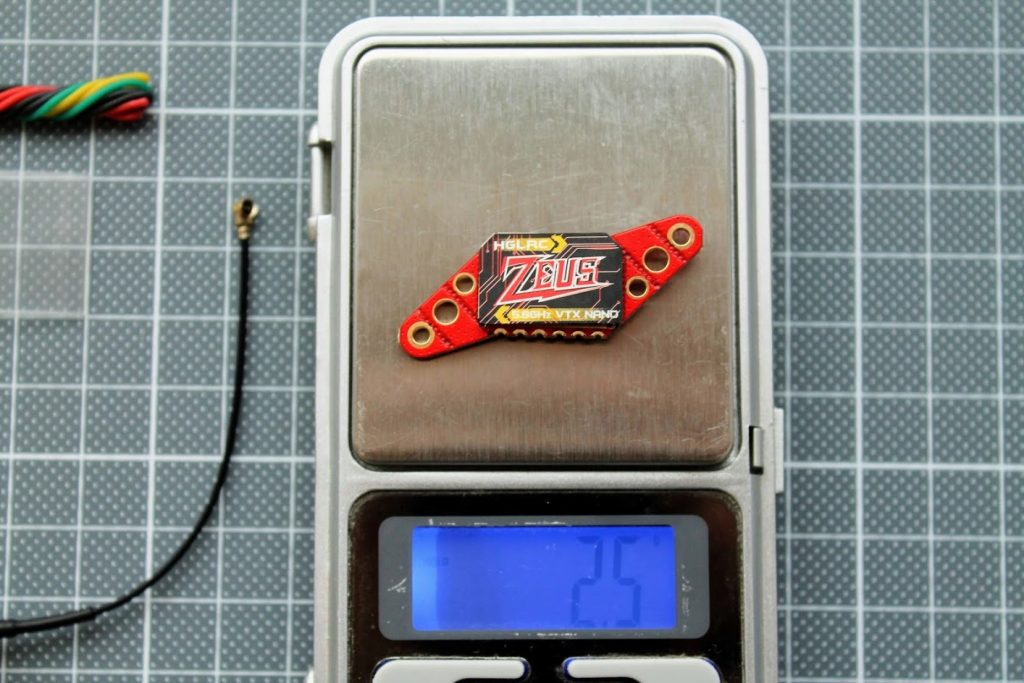 HGLRC Zeus Nano VTX pinout and connection schemes.
RF power measurements
Power output test on 25mW setting. RF power meter shows 35mW.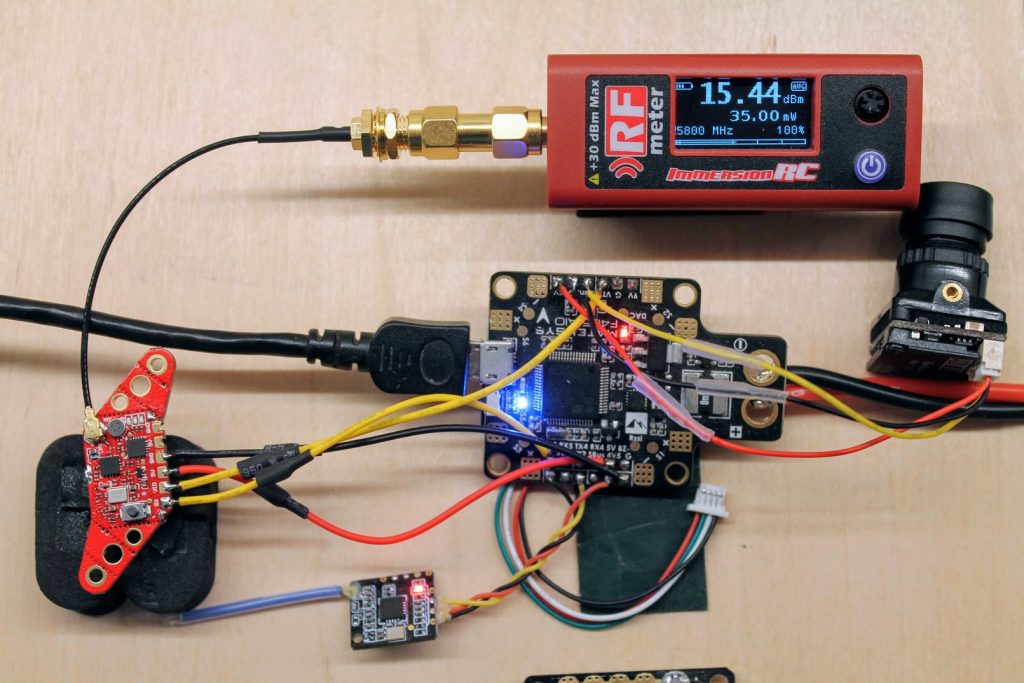 On 100mW setting RF power meter shows 116 mW.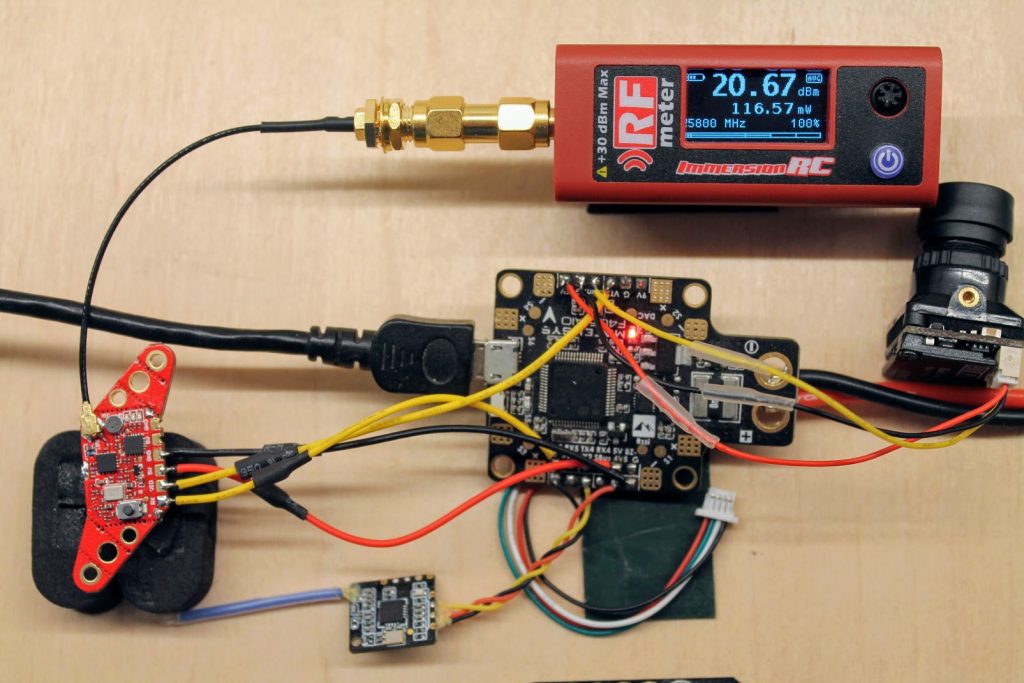 On 200mW setting RF power meter shows 211 mW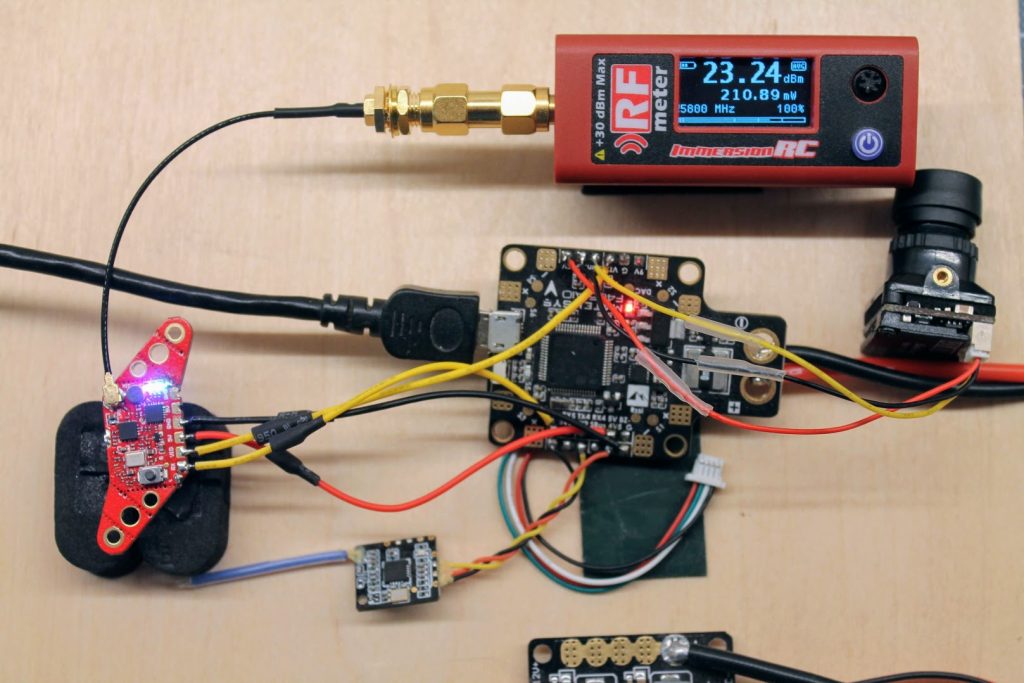 And on 350mW setting RF power meter shows 343mW. Almost on spot, despite the fact it does heat up.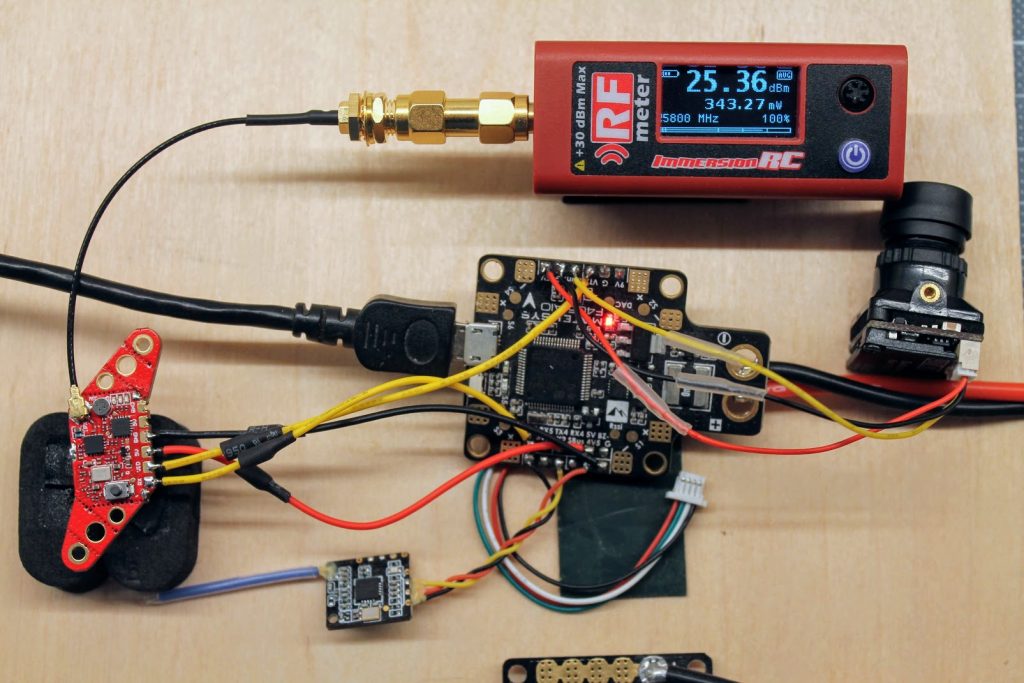 On 350mW power level setting and no active cooling the VTX heats up and the power output drops down to 1mW.
Below are the RF power outputs for all power levels. Measured at Raceband, Channel 5.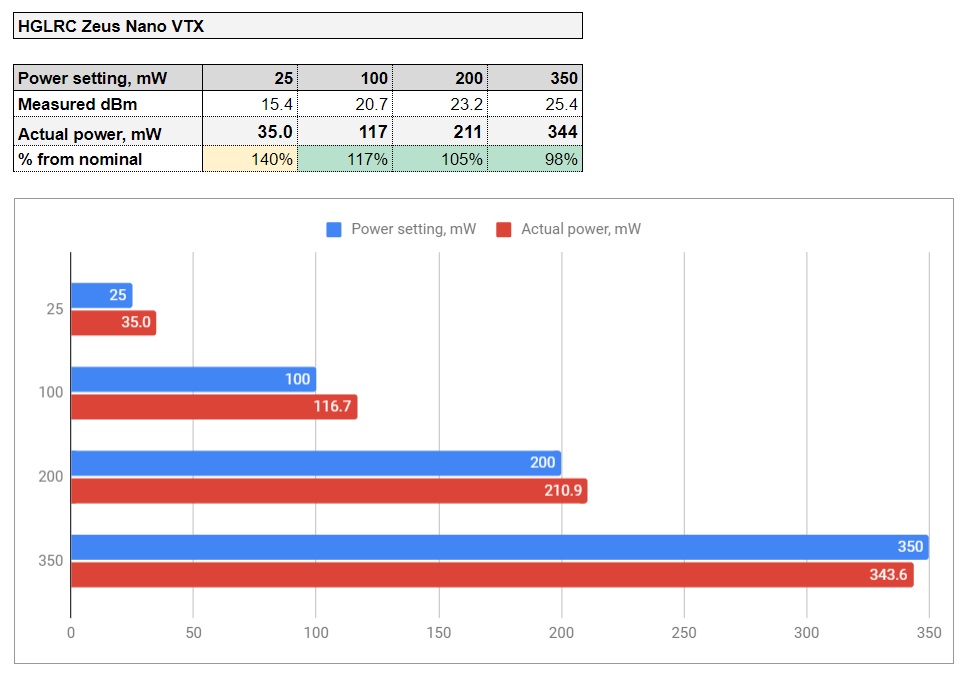 Power output vs frequency for 25mW power level on Raceband.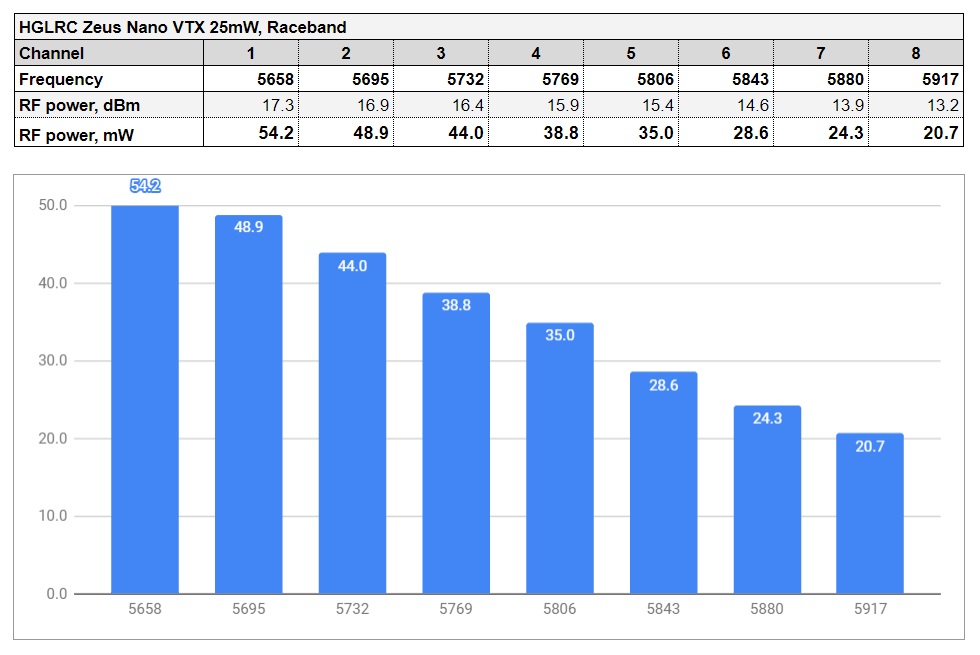 Power output vs frequency for 100mW power level on Raceband.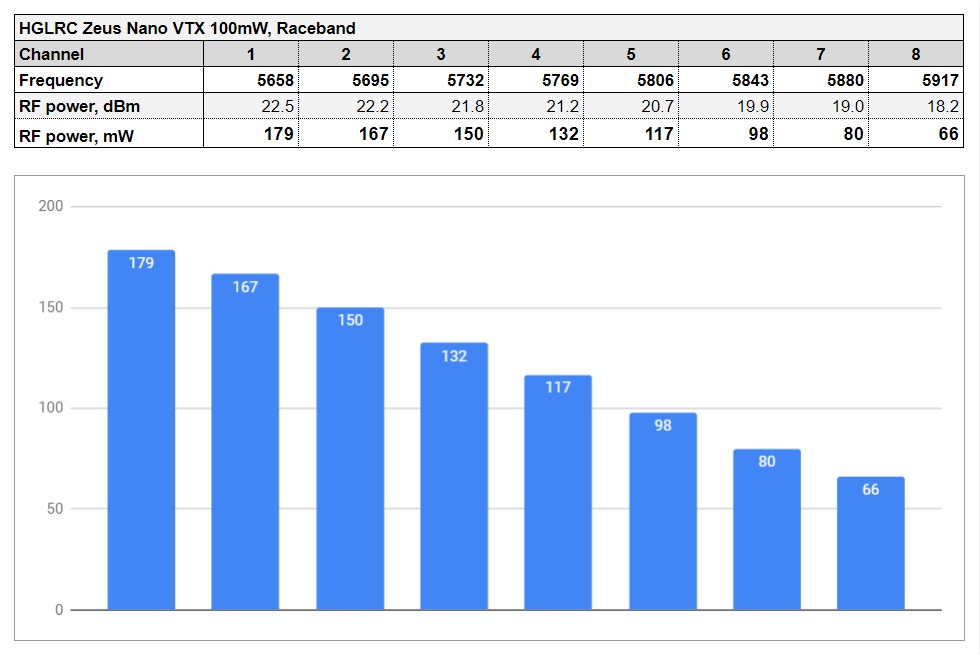 Power output vs frequency for 200mW power level on Raceband.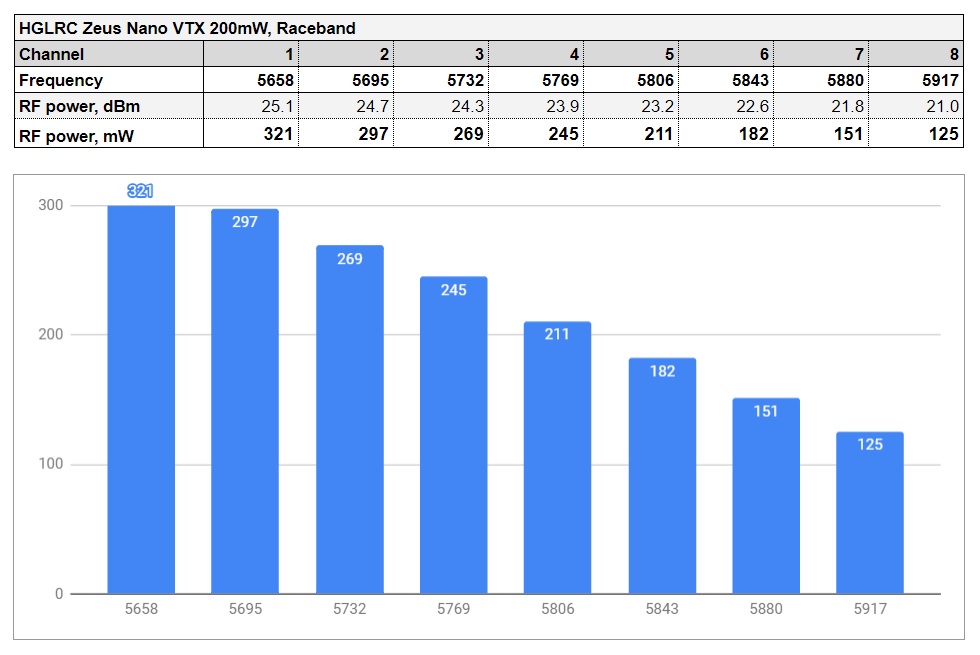 Power output vs frequency for 350mW power level on Raceband.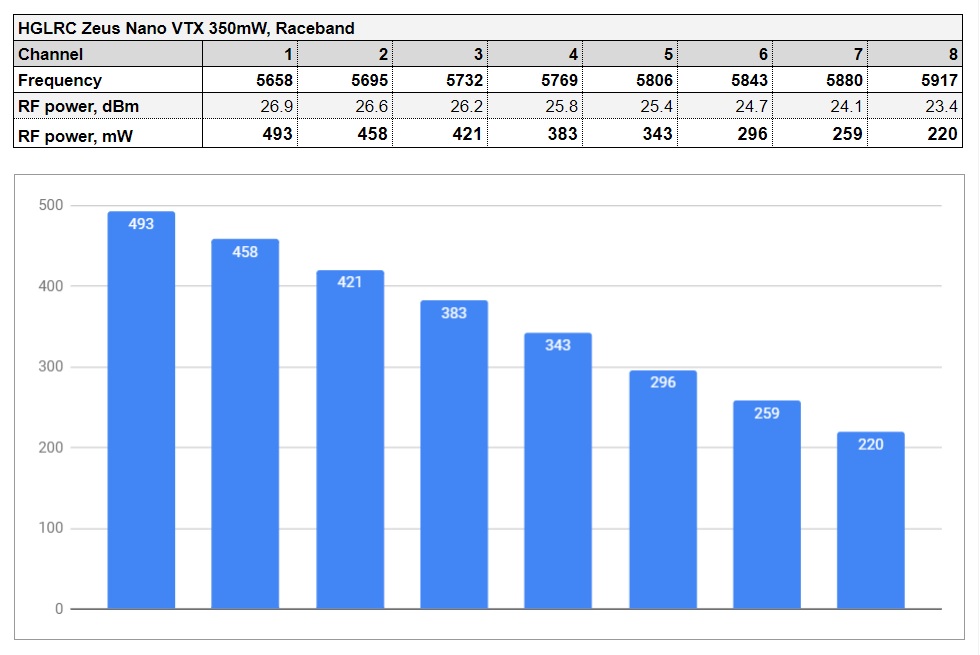 Betaflight VTX Tables
If you are using (or planing to use) the Betaflight versions 4.x  and want to control the VTX by Betaflight OSD, then you should set up the VTX Tables.
Read more on setting up the VTX tables here: VTX Tables and how to set them up
Open Betaflight Configurator, connect to the flight controller, select "Video Transmitter" tab. Load the VTX table from the file by clicking on the "Load from file".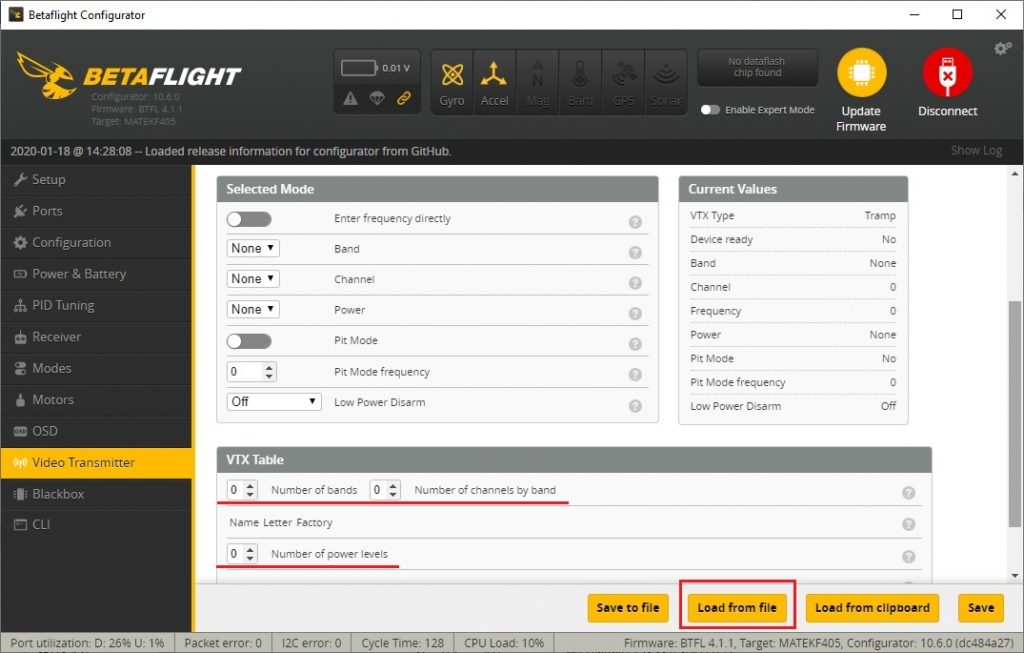 Select the VTX table file. There can be separate VTX table files for US and EU region as there are different range of the allowed frequencies to use. (Hint: European table has only the 3 channels on Raceband).
HGLRC Zeus Nano VTX Table file: https://drive.google.com/file/d/1r6O1PC8CZZMefmyf0BdWRY-i9JlX2xFz/view?usp=sharing
Once VTX Table is loaded from the file, don't forget to hit the [Save] button.
Conclusions
HGLRC Zeus Nano VTX is really small, has one of the kind boomerang shape and multiple mount options (16×16, 20×20 and whoop mount). It can be installed almost into any stack of any frame you build. The side tabs can be even broken off to minimize the footprint and fit into any spot.
RF output tests showed that Zeus Nano VTX really delivers the declared power levels.  On 25mW setting it outputs 35mW, on 100mW – 117mW, on 200mW – 211mW and on 350mW setting it reached solid 343mW output. I have to say that HGLRC Zeus Nano VTX has performed the best so far in the RF output tests.
I give another thumbs up for adding the microphone on board. This allows to hear the motor sounds for those audiophile pilots (me including).
I need to notice that this VTX, being so small, heats up pretty much and when it overheats it drops the power output down to 1mW. So have in mind that this VTX has to be installed in the place with enough of the airflow. Also use pit mode and lower power levels, while powering this VTX on the bench.
Overall I'm very happy with this VTX and this is one of my favorite Nano sized VTX.
Available @ Banggood: https://www.banggood.com/HGLRC-Zeus-nano-VTX-…-1773780.html
Disclaimer: This item was supplied by HGLRC for a fair and unbiased review. HGLRC never asked for a positive review and never influenced my opinion in any way. I'm trying my best to stay uninfluenced and give only my own opinion. All affiliate links if there are any help me purchase items for future reviews and tests.