Happymodel Crux3 – 3inch toothpick
Happymodel has announced their second 3 inch toothpick called Crux3. This toothpick has new Happymodel 1202.5 6400KV motors. There is new CrazybeeX V2.2 flight controller installed in the heart of the Crux3 toothpick. CrazybeeX V2.2 is AIO flight controller with integrated 5.8GHz video transmitter and Flysky/Frsky/DSMX receiver.
Happymodel Crux3 can be powered with 2S batteries and should have Insta360 camera mount.
The total weight of the Happymodel Crux3 is only 41g (without the battery).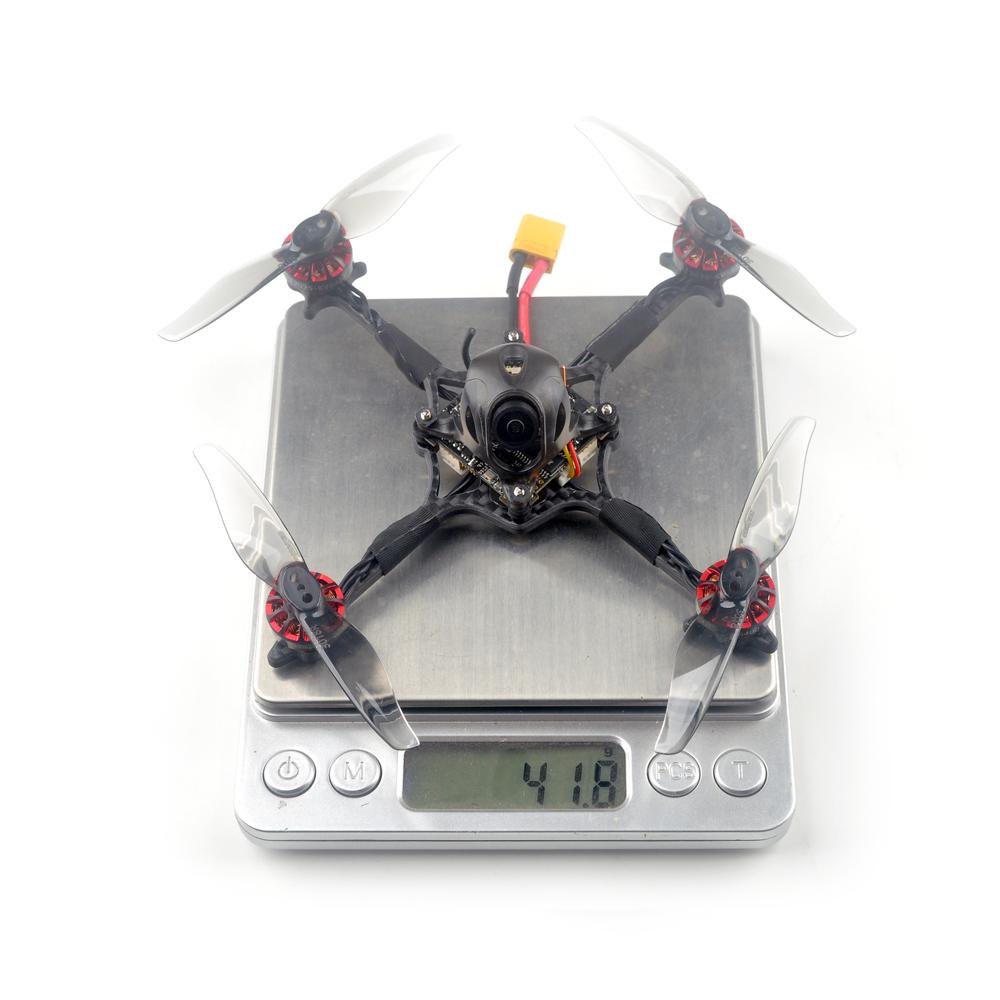 Some video footage shot with Insta on Crux3:
Release date: ~20th October
Available @
Banggood: https://www.banggood.com/41g-Happymodel-Crux3-…-1-2S-3-Inch-Toothpick-…-1749947.html
Makerfire: https://shop.makerfire.com/products/happymodel-1-2s-crux3-3-inch-spi-fpv-drone
Features:
41gram 1-2s brushless Toothpick drone
New AIO 4in1 CrazybeeX flight controller
CADDX ANT Camera
New 1202.5 brushless motor
XT30 connector
Recommend to use 2s 350mah/400mah/450mah/520mah battery
Compatible with Insta360 Go Camera
Specifications:
Brand Name: Happymodel Crux3
Wheelbase: 115mm
Size: 97mmx97mmx35mm(without propellers)
Weight: 41g (without battery)
Receiver option:
Internal SPI Frsky version (Compatible with ACCST D8/D16, Recommend D8 mode)
Internal SPI Flysky version(Compatible with AFHDS and AFHDS-2A Flysky transmitter)
Internal SPI DSM2/DSMX version(Compatible with Spektrum or Multiprotocol DSM2/X radio)
External Frsky RXSR receiver version(ACCST D16 sbus output)
External TBS Crossfire Nano receiver version
Introduction:
Motor
Mode: EX1202.5 KV 6400
Configuration: 9N12P
Stator Diameter:12mm
Stator Length:2.5mm
Shaft Diameter:Φ1.5mm
Motor Dimension(Dia.*Len):Φ14mm*14.5mm
Weight(g): 4.4g
No.of Cells(Lipo): 1-2S
Propellers
Gemfan 3018-2
Center Thickness:5.5mm
Prop Diameter:76.5mm
Center Hole diameter:1.5mm
Flight controller
(Frsky SPI RX version) CRAZYBEEX FR V2.2 FC Firmware target: CrazybeeF4FR
(Flysky SPI RX version) CRAZYBEEX FS V2.2 FC Firmware target: CrazybeeF4FS
(DSM2/X SPI RX version)CRAZYBEEX DXS V1.0 FC firmware target:CrazybeeF4DXS
(External Frsky RXSR version) CRAZYBEEX PNP V2.2 Firmware target:CrazybeeF4DX
(External TBS CRSF NANO version) CRAZYBEEX PNP V2.2 Firmware target:CrazybeeF4DX
MCU:STM32F411CEU6 (100MHZ, 512K FLASH)
Sensor: MPU-6000(SPI connection)
Board size: 28.5 * 28.5MM
Power supply: 1-2S battery input (DC 2.9V-8.7V)
Built-in 5A(each) Blheli_S 4in1 ESC Dshot600 ready
Built-in Betaflight OSD(SPI Control)
Built-in 5.8G VTX
Built-in SPI Frsky/Flysky receiver or no receiver
Built-in 5V 1A BEC
Onboard 4in1 ESC
MCU upgraded to EFM8BB21
Power supply: 1S LiPo/LiPo HV
Current: 5A continuous peak 6A (3 seconds)
Support BLHeliSuite programmable
Factory firmware: S_H_50_REV16_7.HEX
Default protocol: DSHOT600
Onboard Frsky SPI D8 receiver Version
SPI BUS receiver Frsky D8 compatible
Compatible Non EU transmitter D8 model
Channels: 8ch
Failsafe support
No ground interference ( Transmitter and receiver 1 m from the ground): 200m~300m
Onboard Flysky SPI receiver Version
SPI BUS receiver
Protocol: AFHDS and AFHDS-2A Switchable
Channels: 8ch(AFHDS) or 14ch(AFHDS-2A)
No ground interference ( Transmitter and receiver 1 m from the ground): 200~300m
Failsafe support
Onboard DSM2/X SPI receiver Version
SPI BUS receiver DSM2/DSMX compatible
Channels: Max 12ch
Failsafe support
No ground interference ( Transmitter and receiver 1 m from the ground): 200m~300m
RSSI enable(show on the goggles)
External Frsky R-XSR receiver version
Weight: 1.5g
Number of channels: 16CH (1-16CH from SBUS channel, 1~8CH from CPPM channel)
Operating Voltage Range: 3.5V~10V
Operating Current:70mA@5V
Firmware Upgradable
Compatibility: FrSky X Series modules and radios in D16 mode
Could support Frsky New ACCESS Protocol ( Upgrade firmware)
External TBS CRSF Nano receiver version
Original TBS CROSSFIRE Receiver ,CRSF Protocol , Official TBS transmitter compatible
Onboard 5.8g VTX
Output power: 25mw~200mw switchable
Frequency: 40CH
Input voltage: 3.3V 5.5V
Current consumption: 300mA(type)
Frequency: 5.8GHz 5bands 40 channels
With Race band
Smartaudio ready
Caddx ANT 1200tvl camera
Image Sensor: 1/3″ CMOS Sensor
Horizontal Resolution: 1200 TVL
TV System: NTSC or PAL
IMAGE: 16:9 or 4:3
Synchronization: Internal
Electronic Shutter: PAL: 1/50~100,000; NTSC: 1/60~100,000
S/N Ratio : >52dB (AGC OFF)
Video Output: CVBS
Lens: 1.8mm
Min. Illumination: 0.001Lux@F1.2
Auto Gain Control: YES
BLC: YES
WDR: Global WDR
DNR: 3D DNR
Dimensions: 14*14mm(with bracket to 19*19mm)
Wide Power Input: DC 3.7-18V
Work Temperature: -20℃~+60℃
Weight: 2g (N.W.)
Package included:
Item Name
1*Crux3 Frame and canopy
Option1: CrazybeeX FR V2.2 built-in internal Frsky SPI D8/D16 receiver
Option2: CrazybeeX FS V2.2 built-in internal Flysky SPI receiver
Option3:CrazybeeX DXS V1.0 built-in internal DSM2/DSMX SPI receiver
Option4:CrazybeeX PNP V2.2 with External Frsky RXSR receiver
Option5:CrazybeeX PNP V2.2 with External TBS crossfire nano receiver
4*Happymodel EX1202.5 KV6400 brushless motor
1*Gemfan 3018 bi-blade Propellers(4cw+4ccw)
1*Caddx Ant 1200TVL Global WDR with OSD 2g Ultra Light Nano FPV Camera
1*5.8G 25mw~200mw 40ch vtx (Flight controller built-in)
1*Screw Driver
1*Propeller disassemble tool
1*Happymodel Handbag