Matek F405-CTR – a remake of F405-AIO
Mateksys is baking new flight controllers as cakes. This time it is F405-CTR – a remake of the the first Matek AIO flight controller F405-AIO. The main MCU is the same, STM32F405, it also has OSD, current sensor, microSd card slot, 5V BEC, but a lot of things was changed. New F405-CTR now has MPU6000 (working in SPI mode, 8Khz loop time) instead of the IMU20602, that was extremely sensitive and causing problems in some setups. BMP280 barometer was added. 6 PWM/DShot outputs, VCP and 5 UARTS are available on this board. There are I2C pads for external sensors and DAC pad for FPV camera settings control. Every ESC has its own + and – pads on the each corner as well as signal and RX5 pads for ESC telemetry.
The Matek F405-CTR comes with integrated silicone grommets for dampening like in the all of the latest Matek boards.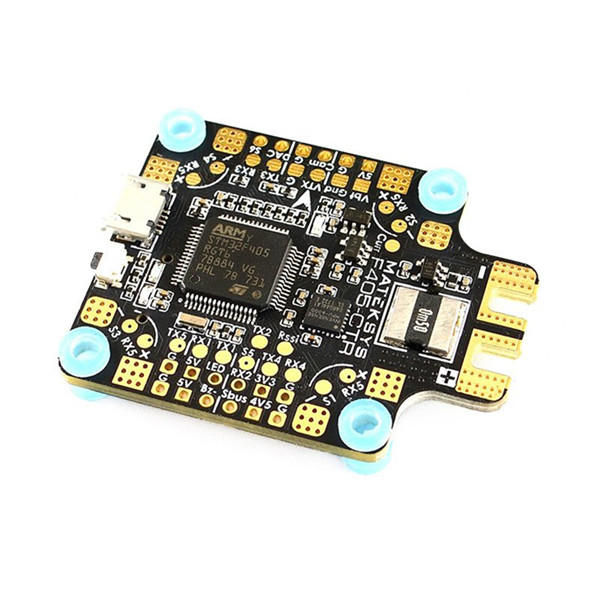 Can be purchased @ Banggood: https://www.banggood.com/Matek-Systems-BetaFlight-F405-AIO-Flight-Controller-…p-1165338.html
FC Specifications
MCU: 168MHz STM32F405
IMU: MPU6000 accelerometer / gyro (SPI)
Baro: BMP280 (I2C)
OSD: BetaFlight OSD w / AT7456E chip
Blackbox: MicroSD card slot (SD / SDHC)
VCP, UART1, UART2, UART3, UART4, UART5
Built in inverter for SBUS input (UART2-RX)
PPM / UART Shared: UART2-RX
SoftSerial on TX2, S5 or S6 optional
Camera control on S6 or DAC optional
Smartaudio & Tramp VTX protocol supported
WS2812 Led Strip: Yes
Beeper: Yes
RSSI: Yes