RunCam Racer 5, Foxeer Falkor 3 and Caddx Ratel 2
All three major FPV camera manufacturers have released the newest versions of their top end cameras RunCam Racer 5, Foxeer Falkor 3 and Caddx Ratel 2.
RunCam Racer 5
The newest Racer 5 is fully analog FPV camera as opposite to the Racer 4 that was digital/analog and made a stir in the community as Caddx accused in the copying their digital FPV camera technology.
RunCam Racer 5 has the 1000TVL CMOS sensor and is available in two lens options: 1.8mm lens with 160° FOV or 2.1mm with 145° FOV.
RunCam Racer 5 is the first camera that has gyro built in. FPV pilots now can easily set the camera angle by looking at the angle value in the OSD.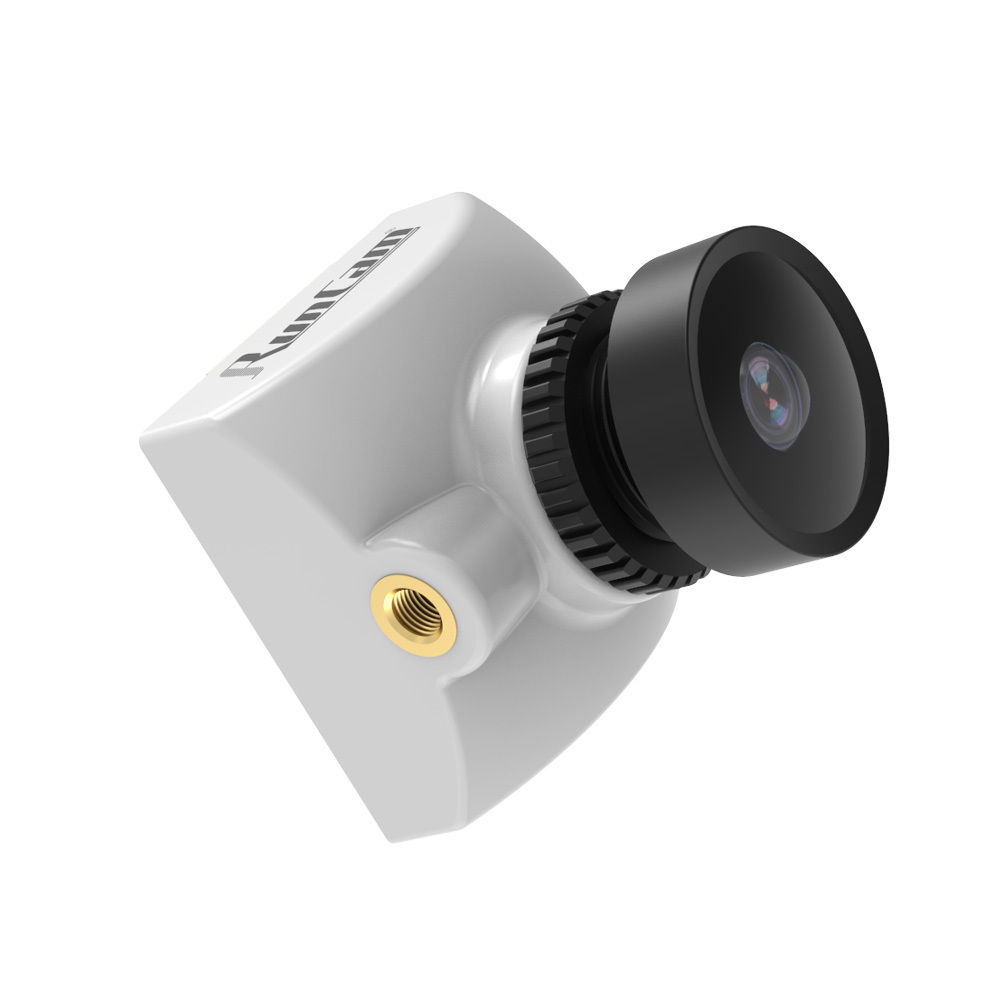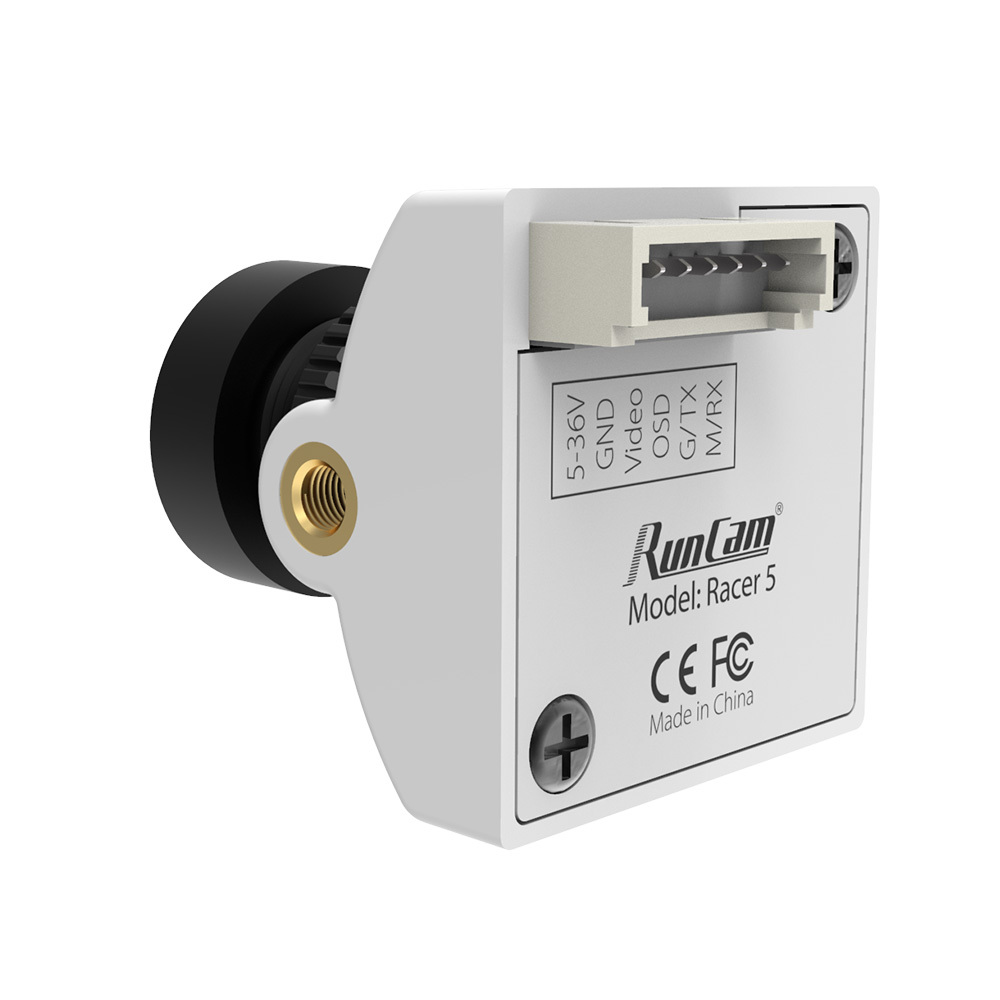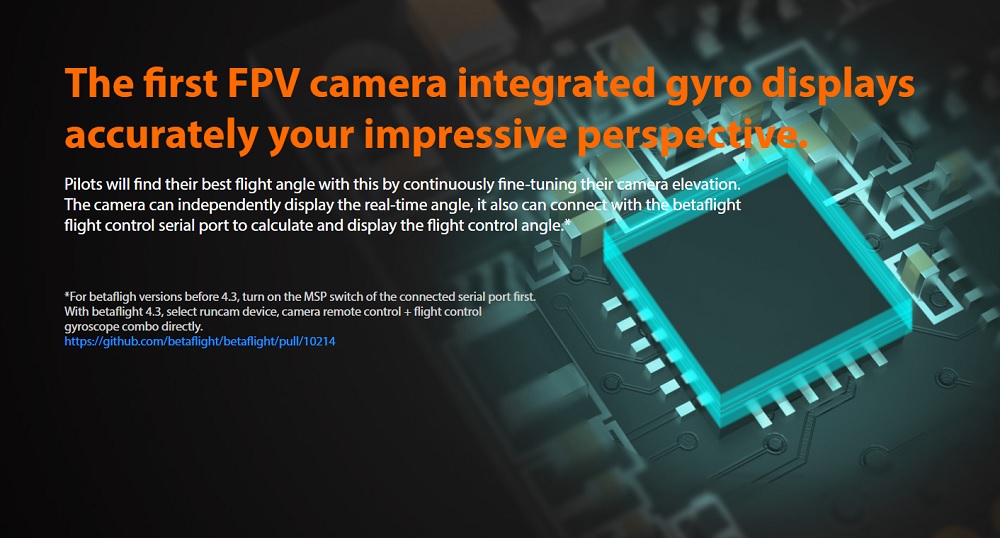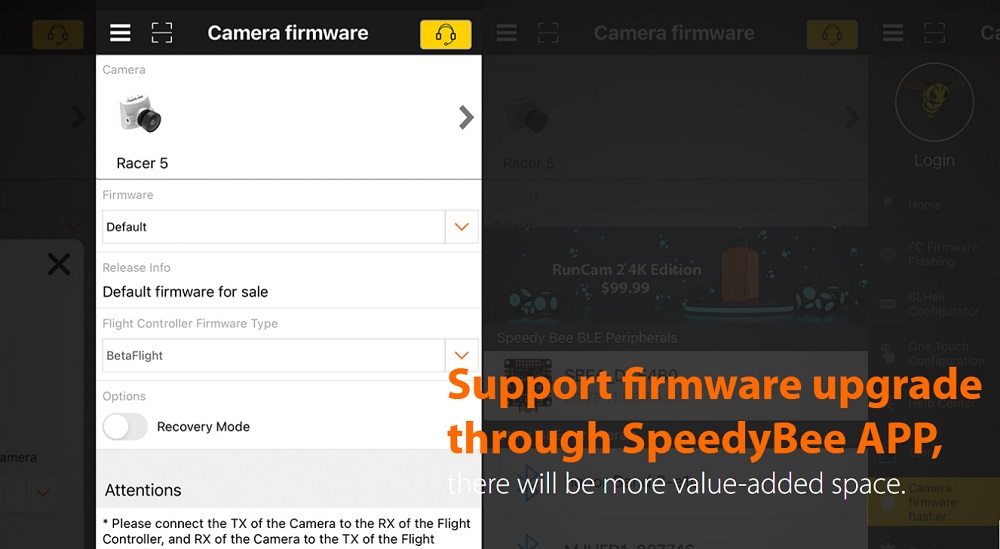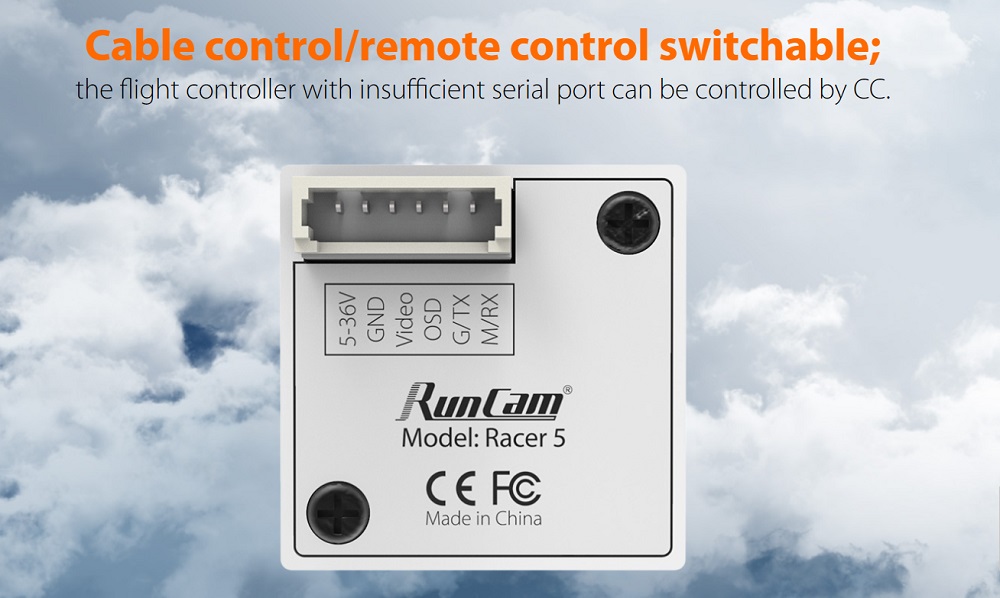 Note: For betafligh versions before 4.3, turn on the MSP switch of the connected serial port first.
With betaflight 4.3, select runcam device, camera remote control + flight control
gyroscope combo directly.
Available @
Banggood: https://www.banggood.com/Runcam-Racer-5-1000TVL-…-FPV-Camera-for-FPV-Racing-RC-Drone-p-1787265.html
Makerfire: https://shop.makerfire.com/collections/new-arrival/products/runcam-racer-5-camera
RunCam Racer 5 User Manual: https://www.runcam.com/download/Racer5/Racer5-Manual-OSD.pdf
Model: RunCam Racer 5
Image Sensor: Super WDR CMOS Sensor
Horizontal Resolution: 1000TVL
Lens: 1.8mm FOV 160° / 2.1mm FOV 145°
Screen Format: 4:3 / Widescreen Switchable
Signal System: NTSC / PAL Switchable
Mirror/Flip: Available
Integrated OSD: Yes
Built-in gyro: Yes
One Touch Scene Setting: Personal / Lightrax
S/N Ratio: >50dB
Electronic Shutter Speed: Auto
Min. Illumination: 0.01Lux@1.2F
WDR: Super WDR
Day/Night: Color
Menu Control: Cable Control / Remote Control
Power: DC 5-36V
Current: 110mA@5V / 40mA@12V
Housing Material: ABS
Net Weight: 6.1g
Dimensions: L19mm*W19mm*H21mm
Foxeer Falkor 3
Foxeer has released the third generation of the Falkor camera. Falkor 3 has a little bit improved latency (6ms) over the older Flakor 2 and the low light performance was improved also. Falkor 3 has 0.0001 Lux min illumination versus 0.001 Lux on the older Falkor 2. New Falkor has bigger M12 1.7mm lens versus the M8 1.8mm lens on the older Falkors.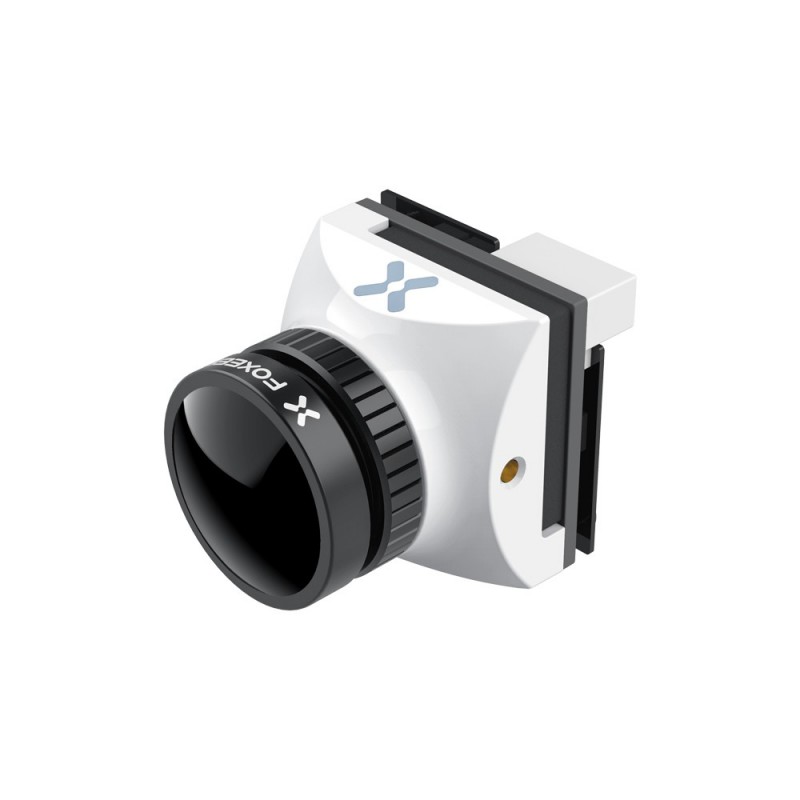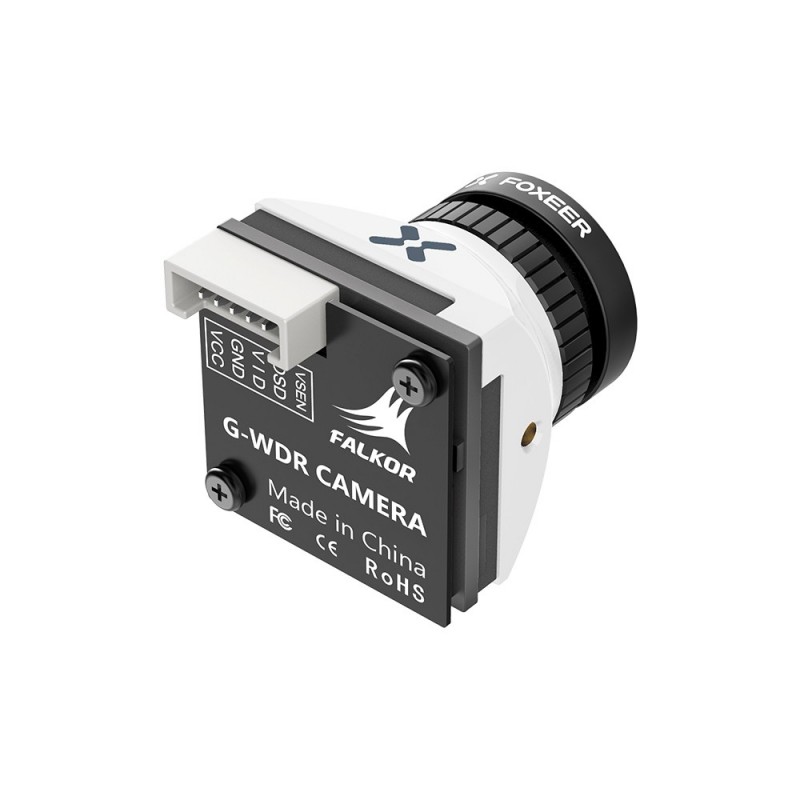 Available @
Surveilzone: http://www.surveilzone.com/Foxeer-Falkor-3-Micro-6ms-Latency-00001Lux-WDR-FPV-Camera-g-2371
Foxeer: https://www.foxeer.com/foxeer-falkor-3-micro-6ms-latency-starlight-wdr-fpv-camera-g-313
Falkor 3 User Manual: https://download.foxeer.com/Foxeer_FALKOR_3_Manual.pdf
Sensor Type: Sony 1/3″ CMOS Sensor
Scale: 4:3(Default)/16:9 Switchable
Tv System: PAL(Default)/NTSC Switchable
Resolution: 1200TVL
Lens:M12 1.7mm
FOV: 4:3 FOV-H: 138° FOV-D: 172°
16:9 FOV-H: 138° FOV-D: 158°
Shutter Speed: PAL 1/25~1/10000 sec; NTSC 1/30~1/10000 sec
Video Output: CVBS Analog Signal
Minimum Illumination: 0.0001Lux
White Balance: Auto
DNR: 3DNR
WDR: 100dB
DAY/NIGHT EXT/Auto/Color/B&W
Flight OSD Voltage/Cam Title/Time
Input Voltage 4.6V~20V
Language ENGLISH /中文/ PYCCKNN / ESPANOL / ITALIANO /FRANCAIS/POLSKIM/ PORTUGUES / 日本语 / EAAHNIKA
Working Temperature -10°~50°C RH90% MAX
Working Humidity 20~80%
Storage Temperature -20°~70°C
Consumption 95mA±15% @ DC12V
Dimension: 19*19
Weight: 8.8g(Exclude cable)
Caddx Ratel 2
Caddx has upgraded its best Ratel FPV camera. The Ratel 2 has the same 1/1.8″ sensor, but the Caddx has upgraded the firmware ad the colors now look more natural and vibrant.
New Caddx Ratel 2 has the same lens as on the DJI Air Unit camera. This lens has wider 165° field of view and has no annoying lens glare.
Caddx Ratel 2 now has metal case and is lighter. The weight is 5.9 grams.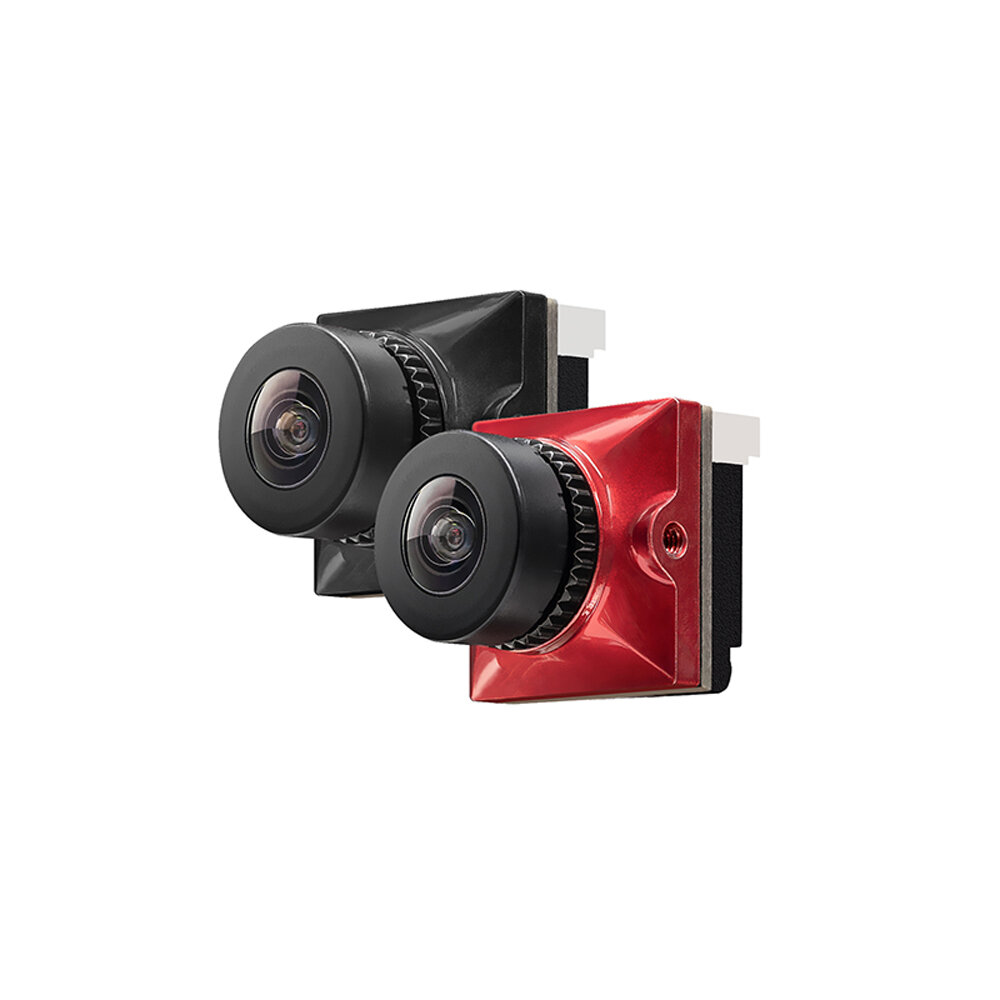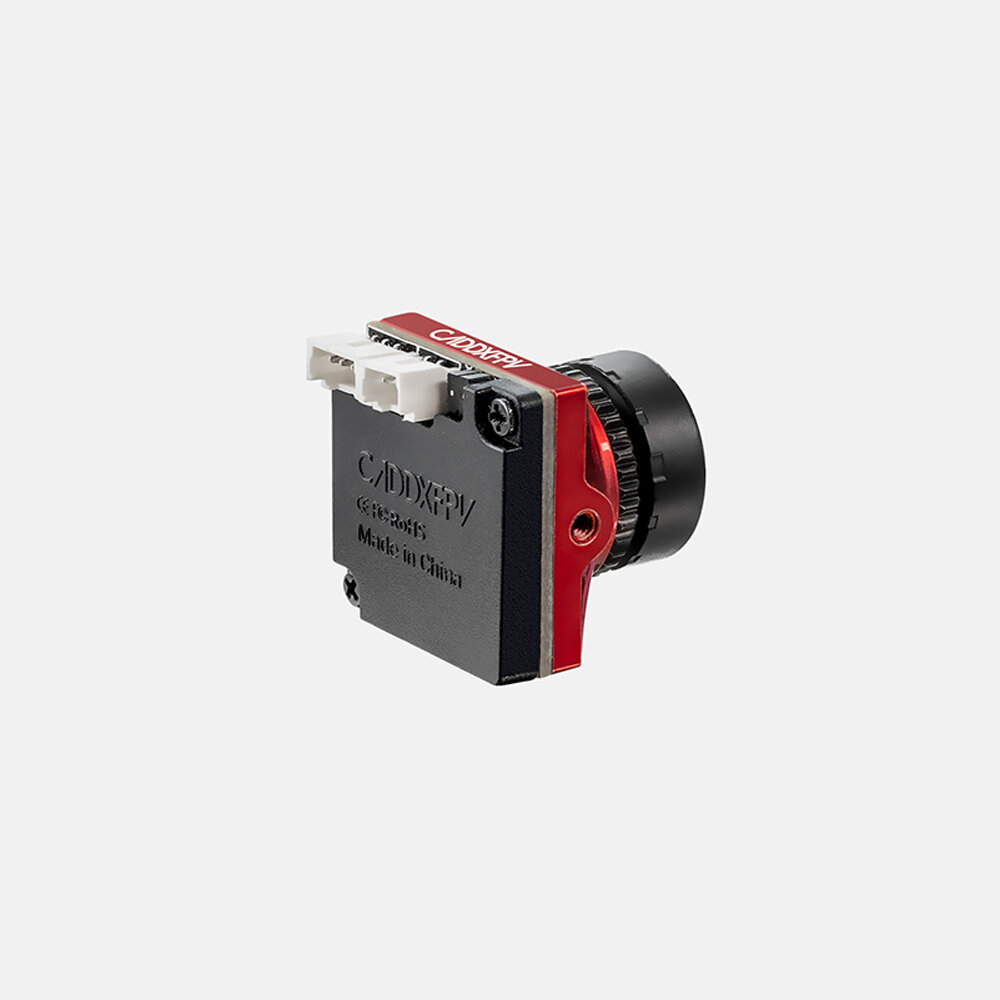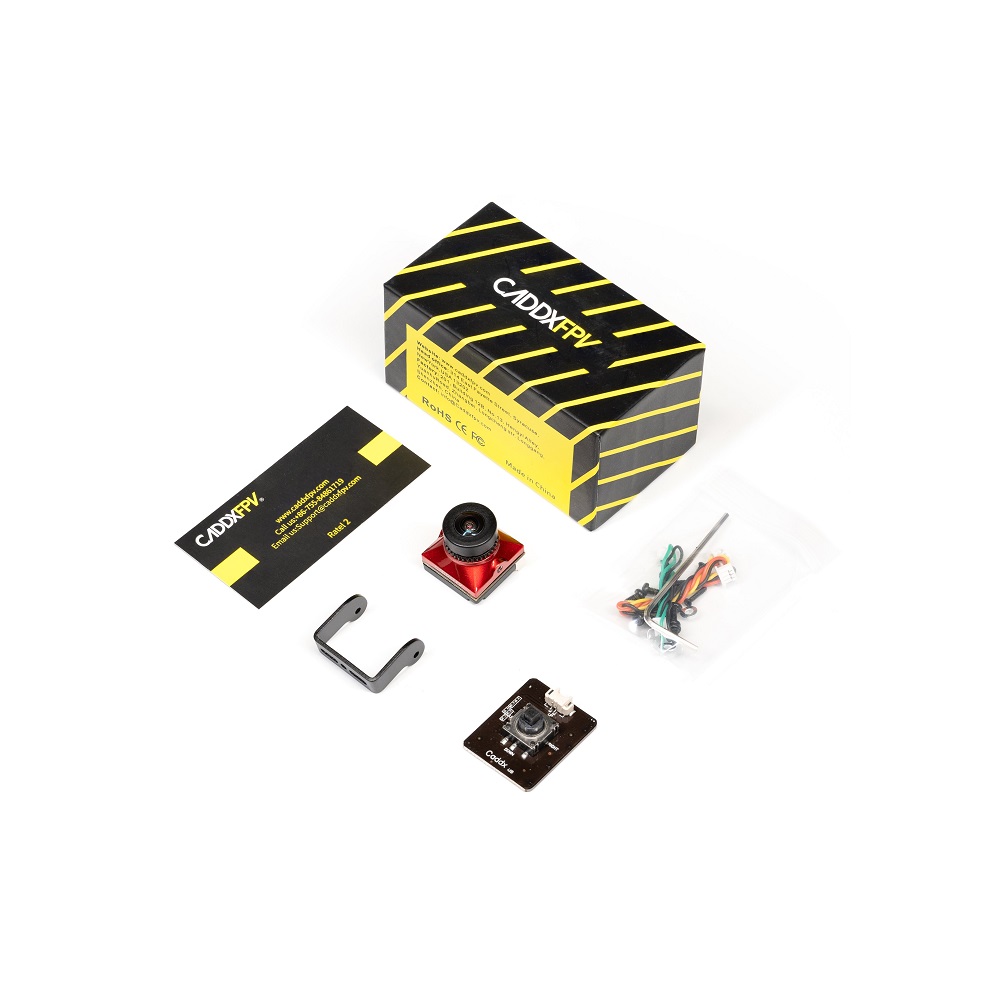 Available @
Banggood: https://www.banggood.com/Caddx-Ratel-…-FPV-Camera-For-RC-Drone-p-1779714.html
Makerfire: https://shop.makerfire.com/collections/new-arrival/products/caddx-ratel-fpv-camera
Caddx Ratel 2 User Manual:
Specifications:
Name: Caddx Ratel 2
Sensor: 1/1.8′' Inch Starlight
Resolution: 1200TVL
FOV: 165°
Lens: 2.1mm
TV System: NTSC & PAL (switchable)
Image: 4:3 & 16:9 (switchable)
WDR: Super WDR
DNR: 3DNR
Min. Illumination: 0.0001LUX
Video Output: CVBS
Day/Night: Auto/Color/B&W/EXT
Shutter Speed: PAL:1/50~100,000; NTSC: 1/60~100,000
Wide Power Input: 5-40V
Working Temperature: -20℃ ~ +60 ℃
Weight: 5.9g
Dimension: 19*19*20mm